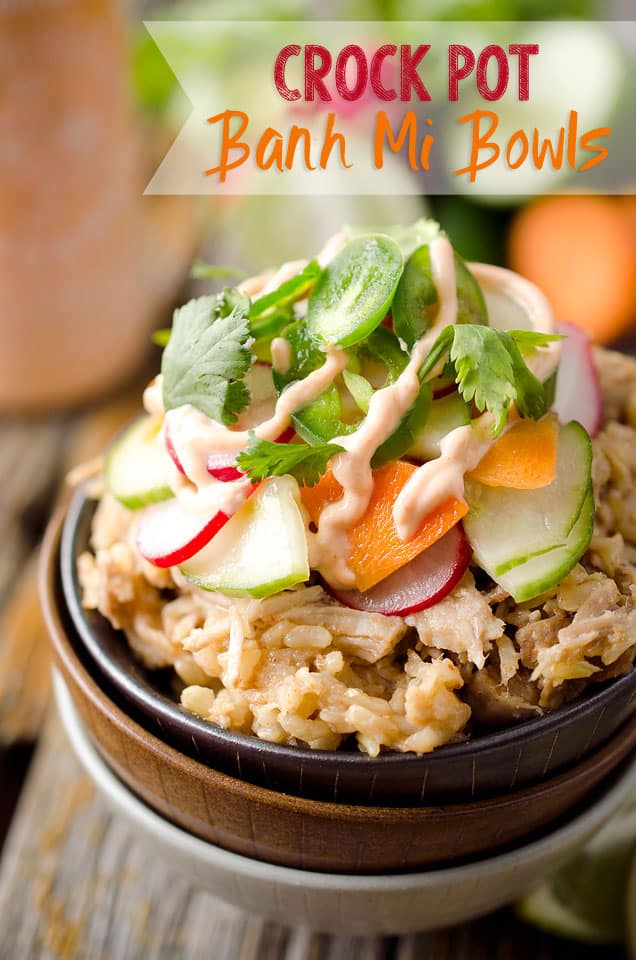 Crock Pot Banh Mi Bowls are a healthy and simple recipe that comes out of your slow cooker
and is filled with all the great flavors and textures of a Banh Mi Sandwich. Instead of the tranditional sandwich on a crusty piece of bread, we are adding in some rice, tossing it in a slow cooker and topping it with lightly pickled vegetables and sriracha mayo with Greek yogurt. All of the flavors and texture come together beautifully for a delicious dinner idea.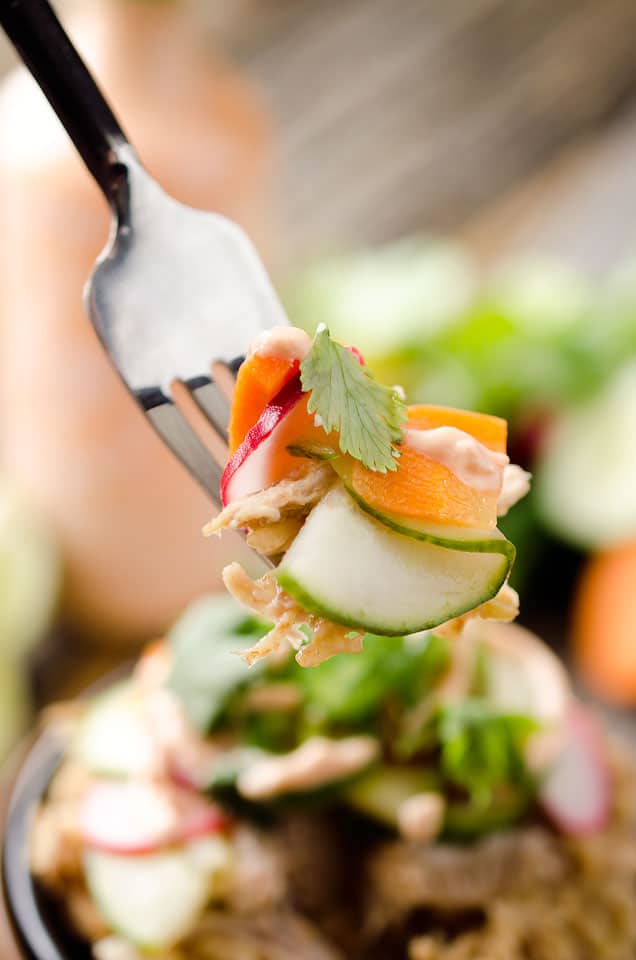 Last night we played our final games of the season for the recreational volleyball league we participate in each winter. I only joined the team a couple of years ago and by no means a great volleyball player, but these ladies have a lot of fun with it and we do alright. In the past we have always taken second place at the tournament and apparently that tradition goes many years back even before my time.
We did what we always do and lost the second game of the tournament last week which put us in the looser's bracket. So last night we were bound and determined to fight our way back to the championship game. We expected nothing more than second place at the championship game, but we wanted to be there none the less!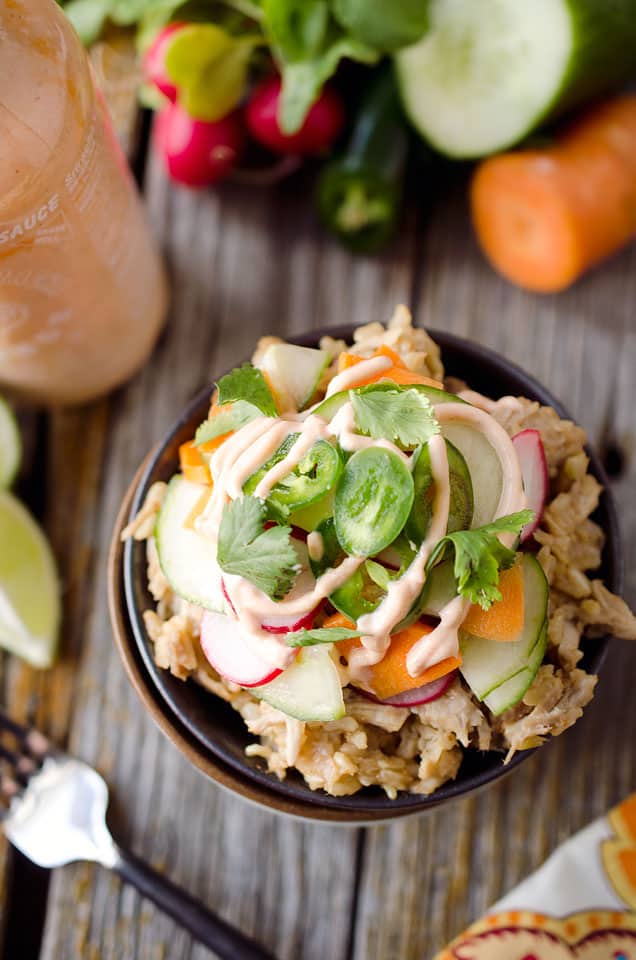 We made it to the championship game and to all of our surprise, we ended up winning the whole tournament! YAY! By the last match of the fourth game that evening we were all running on some seriously low energy. We managed to pull it out thankfully so we didn't have to play yet another match. Four hours of volleyball later, we were champions…and we were TIRED! We barely managed to huddle together for a quick team picture and we were all out of there to get home to our nice hot showers and soft comfortable beds.
When did we all become so old and out of shape?! Well I guess I should just speak for myself, but I remember as a teen playing hours and hours of basketball, softball, etc in the hot summer sun without it even phasing me. Now, as an adult, recreational volleyball in a gym has done me in. Getting old sucks and apparently I really need to hit the cardio harder at the gym!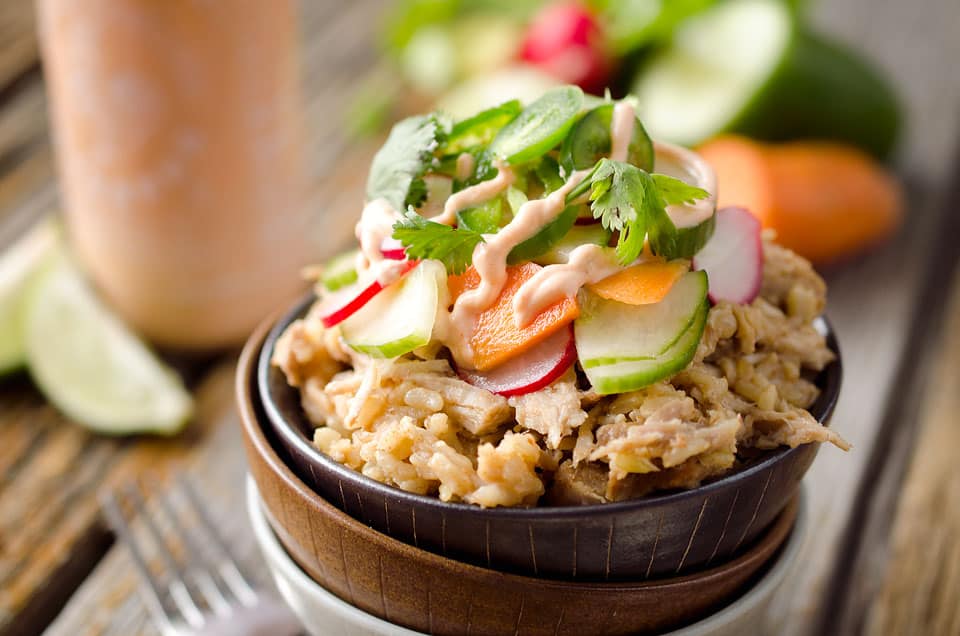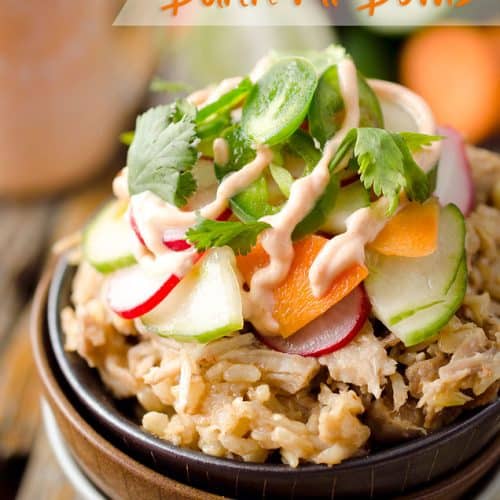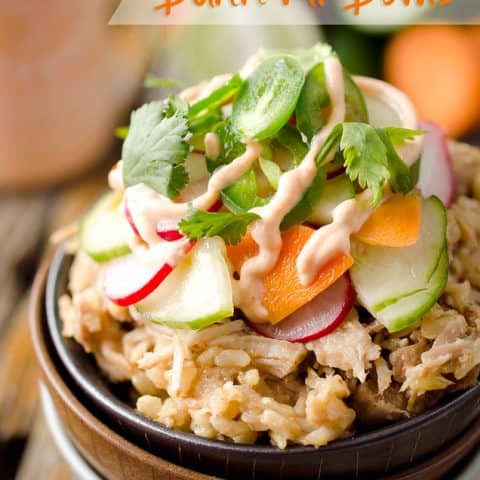 Crock Pot Banh Mi Bowls
Total Time:
4 hours
30 minutes
Crock Pot Banh Mi Bowls are a healthy and simple recipe that comes out of your slow cooker and is filled with all the great flavors and textures of a Banh Mi Sandwich.
Ingredients
1 c. brown rice, NOT Minute rice
1 Tbsp. soy sauce
1 Tbsp. fish sauce
1 tsp. grated ginger
2 tsp. garlic, diced
1 Tbsp. sesame oil
1 1/4 c. chicken or beef broth
1 1/2 lb pork roast
1/2 c. rice vinegar
1/3 c. water
1 1/2 c. cucumbers, thinly sliced
1 c. carrots, thinly sliced
1/2 c. radishes, thinly sliced
2 Tbsp. sriracha
2 Tbsp. mayonnaise
3/4 c. non-fat plain Greek yogurt
1 jalapeno, thinly sliced
3/4 c. cilantro, chopped.
1 lime, cut into wedges
Instructions
Cube your pork roast into 2"-3" pieces and trim off any excess fat. Place in a 4-5 quart Crock Pot along with the brown rice, soy sauce, fish sauce, ginger, garlic, sesame oil and broth. Give it a quick stir to combine everything and cook on low for 4 hours.
In a small container, combine the vinegar, water, cucumbers, carrots and radishes. Refrigerate covered for 4 hours.
In a separate small container, mix the sriracha, mayonnaise and yogurt until smooth and refrigerate.
When the pork and rice is done cooking, using two forks shred the pork and stir into the rice. Strain the vegetables that were pickling in your refrigerator and serve the pork and rice topped with pickled vegetables, jalapenos, cilantro, sriracha mayo and a wedge of lime.
Nutrition Information:
Yield:

5
Serving Size:

1 grams
Amount Per Serving:
Calories:

436
Total Fat:

17g
Saturated Fat:

1g
Unsaturated Fat:

0g
Cholesterol:

3mg
Sodium:

762mg
Carbohydrates:

34g
Fiber:

3g
Sugar:

5g
Protein:

35g
More great meals from the Crock Pot!