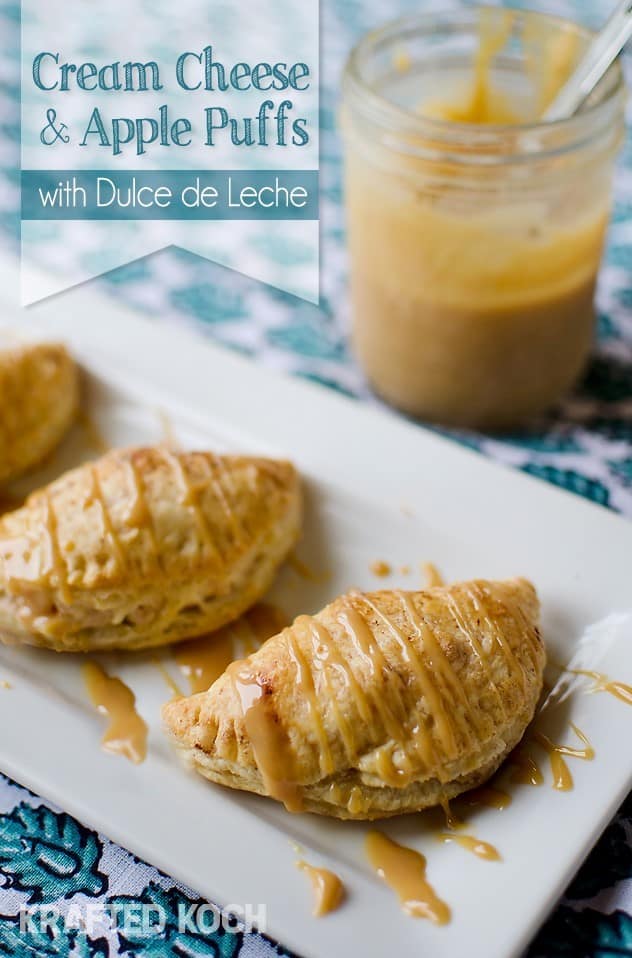 Cream Cheese & Apple Puffs with Dulce de Leche are flaky little pockets filled with tart apples and cinnamon cream cheese and drizzled with an easy decadent caramel sauce. With Labor Day weekend over, fall is right around the corner and it is time to start enjoying all of the fantastic flavors of fall such as apple and pumpkin.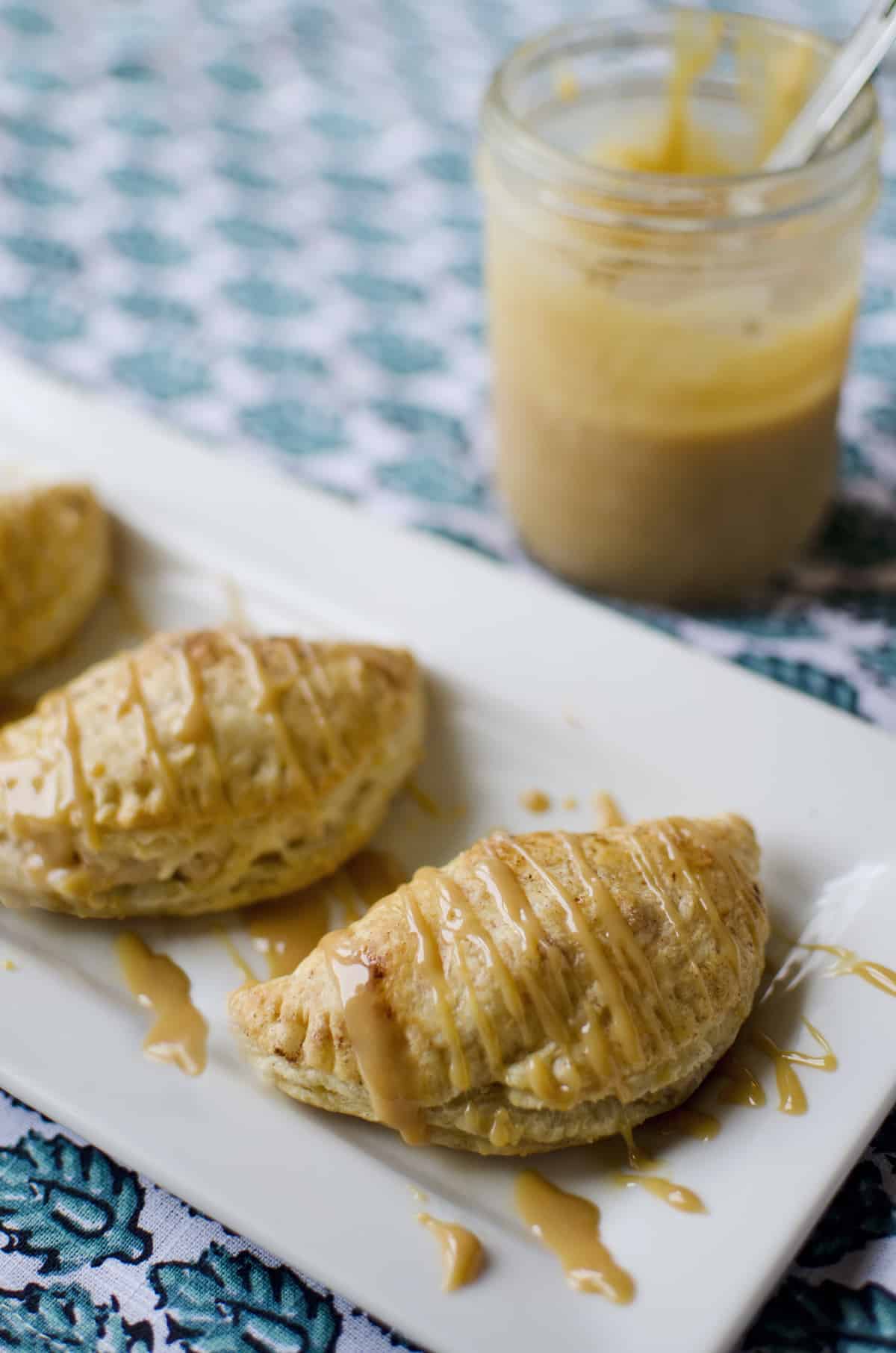 My parent's farm has one of the absolute best apple trees. It produces a fantastically crisp apple that is a perfect balance of sweet and tart and I always steal a large basket of apples every time I am there to visit in the fall. Soon this tree will by mine and there simply aren't enough apple recipes to enjoy all the goodness. These puffs are sure to be part of my new rotation of apple recipes though.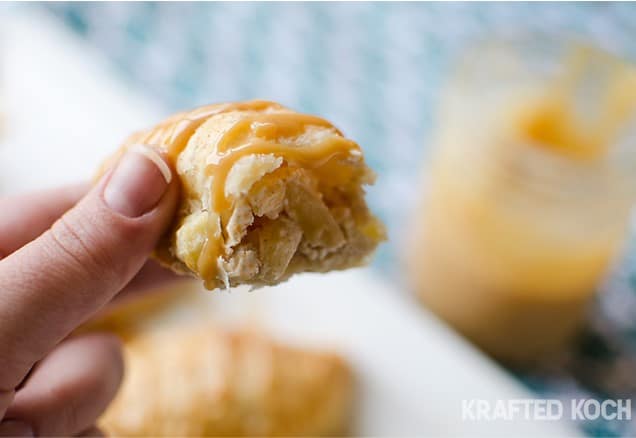 This tree sits in a precarious position on the property, and threats have been made over the years to cut it down. It sits in the perfect position where the older one-car garage could be expanded to a two-car garage. There are other apple trees on the property, but they just don't produce as great of an apple. No house expansion, in my opinion, is worth the loss of this amazing tree though! And besides, I will get to park my car in the one car stall anyways. 😉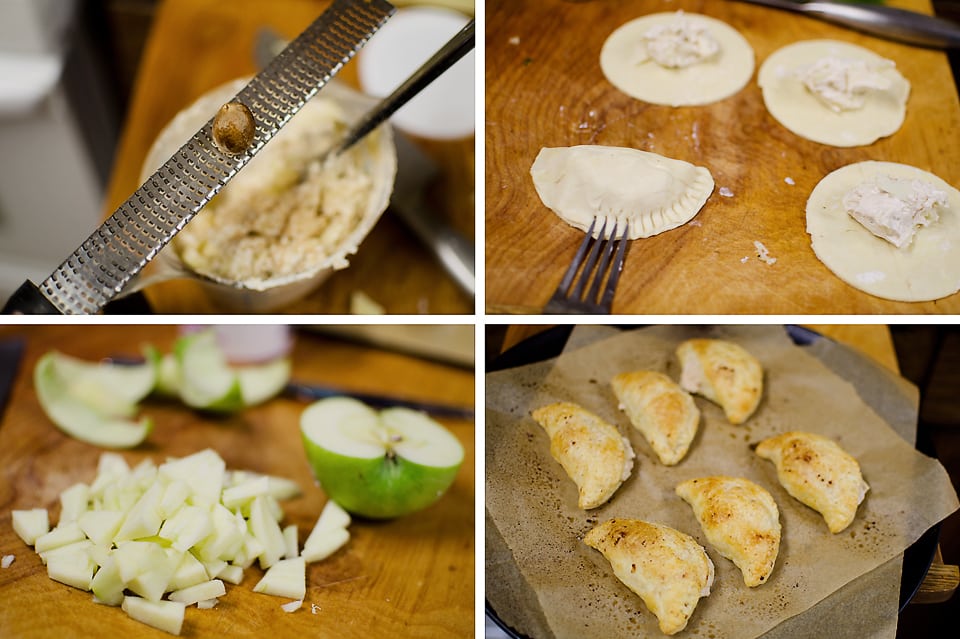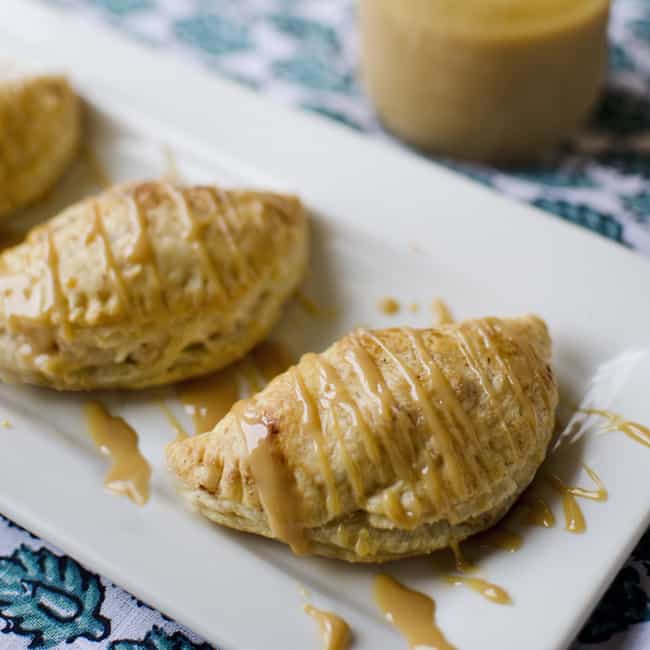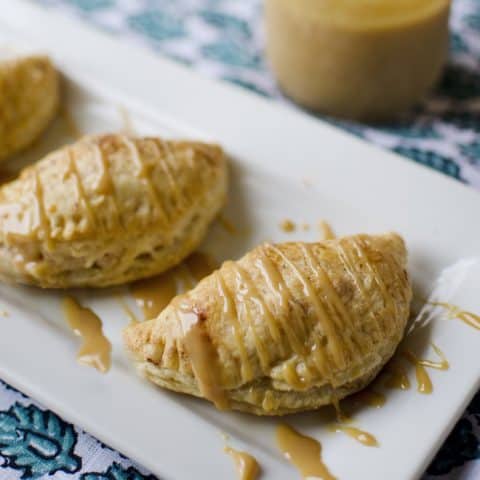 Cream Cheese & Apple Puffs with Dulce de Leche
Flaky puff pastry filled with tart apples and cream cheese, baked to golden perfection and drizzled with Dulce de Leche for a wonderfully decadent bite!
Ingredients
1 granny smith apples
1/2 lemon juiced
8 oz. whipped cream cheese
1/2 tsp. cinnamon + extra for garnish
1/8 tsp. nutmeg
1/4 tsp. salt
1 pkg puff pastry dough
1 egg beaten
1 can Dulce de Leche
Instructions
Preheat your oven to 350° and thaw your puff pastry dough in the refrigerator.
Dice your apples into small 1/4" size pieces and toss with the lemon juice as you go so they do not brown.
Mix your apple filling by combining the apples, cream cheese, cinnamon, nutmeg and salt.
Once your dough is thawed, lay it out flat and begin cutting 4" circles from it using a round cookie cutter.
Scoop roughly 2 Tbsp of the mixture into the center of each puff pastry circle. Using your beaten egg, gently brush the exposed edges of the puff pastry that are not topped with apple mixture. Fold the circle in half to form a half moon shape, and seal the edges together by creasing with a fork.
For a smooth finish, brush the remaining egg on the tops of the sealed puffs and sprinkle with a tiny bit of extra cinnamon for garnish.
Place on a piece of parchment paper or greased cookie sheet and bake at 350° for 20 minutes. Once the puffs are golden brown, remove from the oven. Drizzle generously with Dulce de Leche and serve warm or at room temperature.
Dulce de Leche Recipe: https://www.thecreativebite.com/dulce-de-leche-easy-one-ingredient-caramel-sauce
Nutrition Information:
Yield:

12
Serving Size:

1 grams
Amount Per Serving:
Unsaturated Fat:

0g
More great appetizers!