Brown Butter Sausage Penne Pasta is an easy 15 minute weeknight dinner recipe made with spicy Italian sausage, peas, sage and Parmesan cheese for amazing flavors in one simple meal.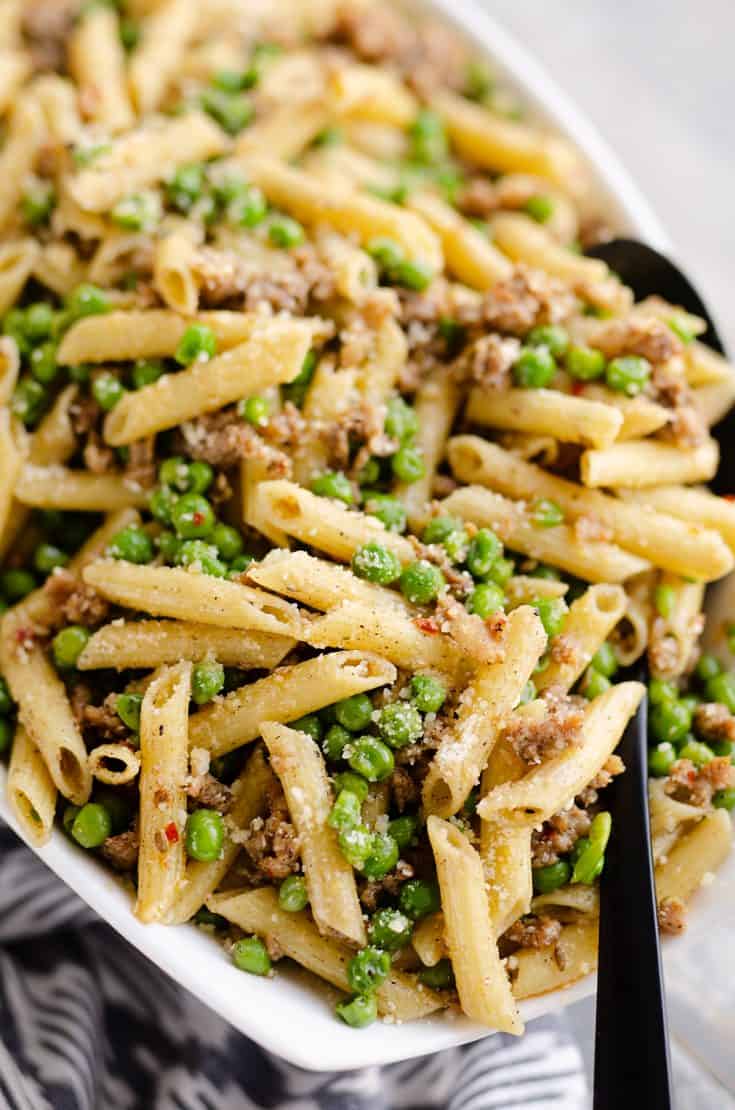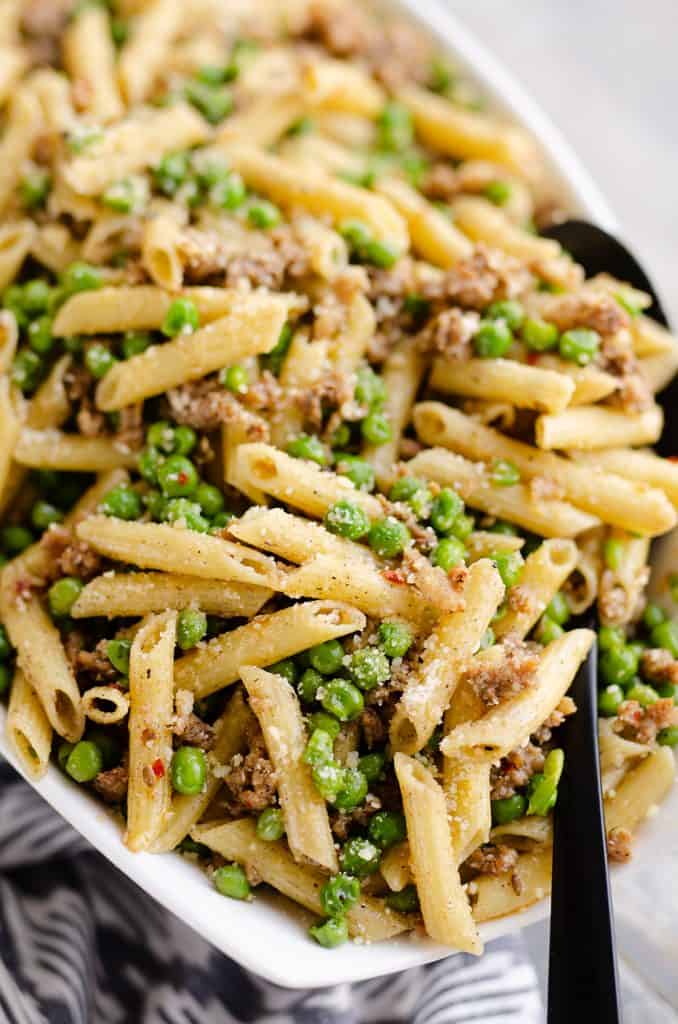 Brown Butter Sausage Penne Pasta
This super easy, savory sausage dinner is ready in just 15 minutes for a quick dinner on the table that will impress. With a hint of spice and a dash of sage, this delicious pasta dish is sure to be a family favorite in no time. It's one of my favorite recipes I have enjoyed from the Plated meal delivery kit.
This Brown Butter Sausage Penne is the perfect dish to serve up a busy family on a weeknight or any night! It can get pretty hectic with a couple of small kids to chase after, and quick dinners are a must some days. I've made 10 Minute Beef and Broccolini Bowls and a One Pot Cheesy Ham and Rice Skillet that were both great, and this sausage penne pasta is definitely going to join the rotation!
It has a rich, slightly spicy flavor, with a pop of bright green peas. It's pure comfort food that's faster to make than stopping for fast food. What more could you want?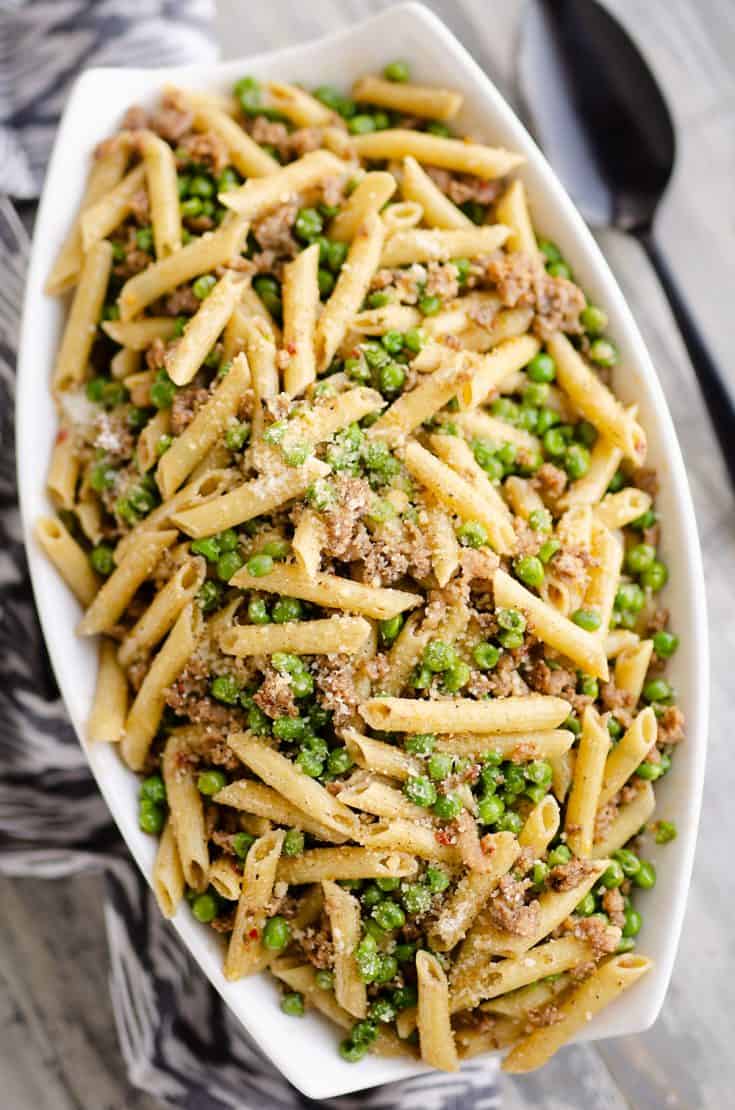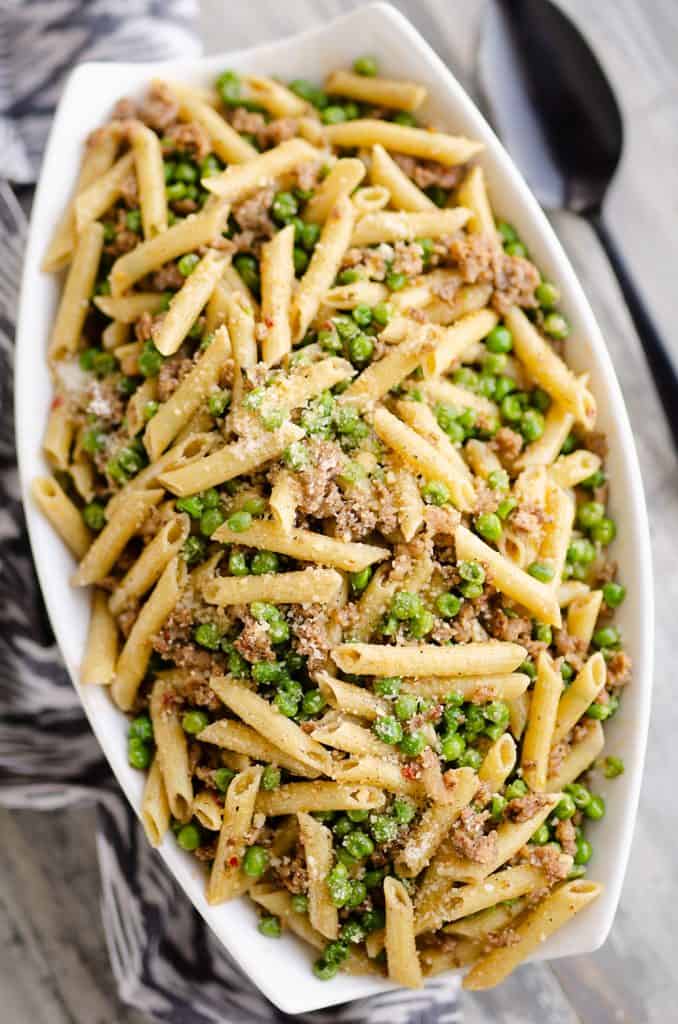 Brown Butter Pasta Sauce
Brown butter pasta sauce is an incredibly simple way of making a classic sauce. It's traditionally used on fish, but it's also great on vegetable and pasta. Sometimes called beurre noisette (doesn't that sound fancy?), it's butter that has been cooked down to remove excess water and until the milk solids of the butter turn to a beautiful caramel brown color.
The cooking process changes and enhances the flavor, so you are really getting a big bold flavor for just a few minutes of cooking! This traditional sauce has a slightly nutty flavor that has been compared to hazelnuts. It adds a richness to the food you serve it with that makes everything taste better.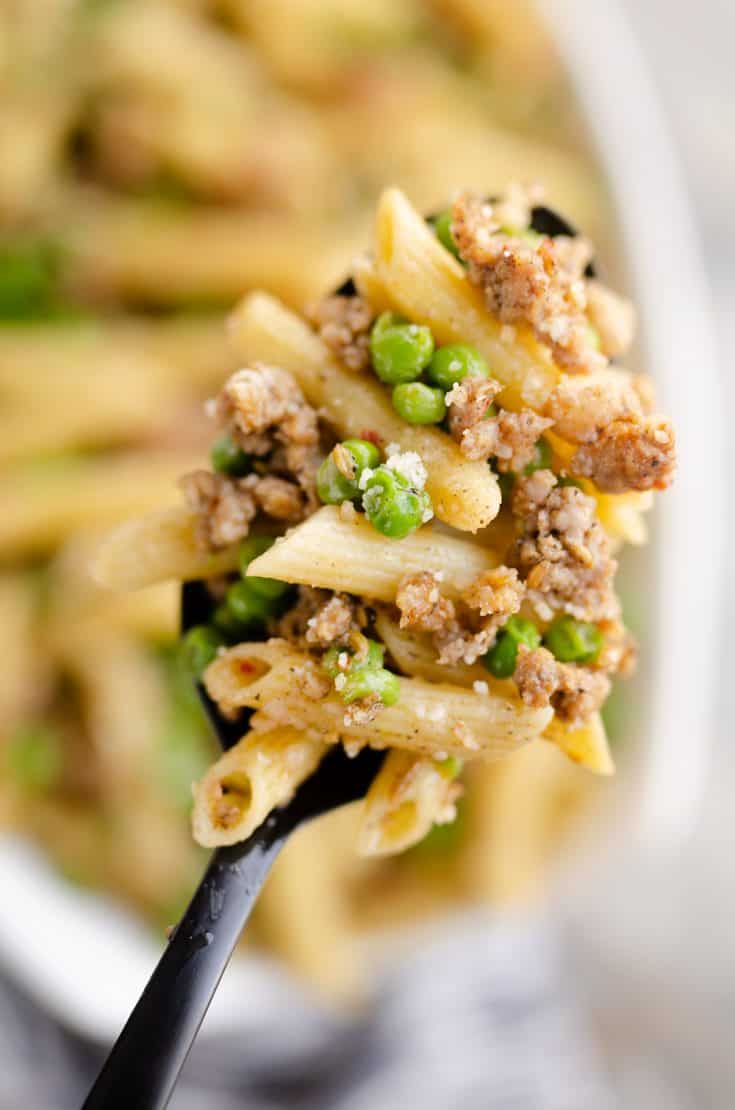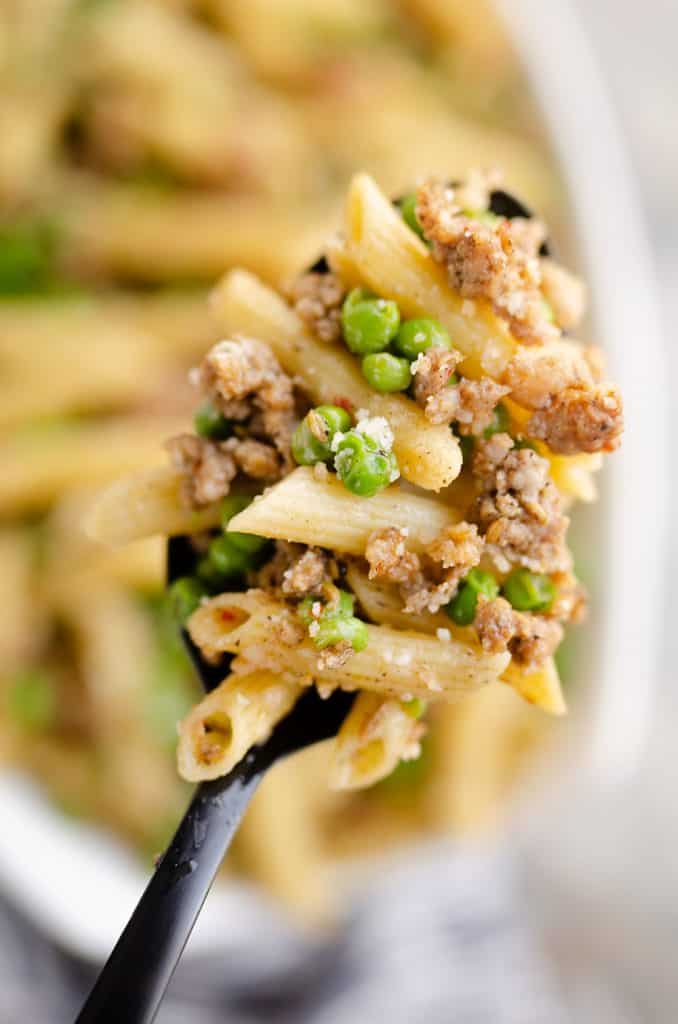 How To Make Brown Butter Pasta Sauce
Making browned butter is simple once you know how. There's only one required ingredient: butter! Follow these easy steps to get a great brown butter you can use in this sausage penne, and with lots of other recipes too!
Cut unsalted butter into slices so they cook more evenly in your pan.
Choose a light colored pan so you can watch the color change carefully.
Heat the butter on high for 4-5 minutes until it's light brown.
Stir constantly to prevent burning, paying special attention to the bottom. The milk solids can sink to the bottom of the pan and burn more easily. If the milk solids get burned, the butter flavor will be bitter.
Remove from heat as soon as the butter is light brown. It will continue to cook in the pan, so removing from the heat source quickly will help prevent burning.
HINT: Don't be silly like I once was and remove the brown bits at the bottom of the sauce. That is where all the amazing flavor is at!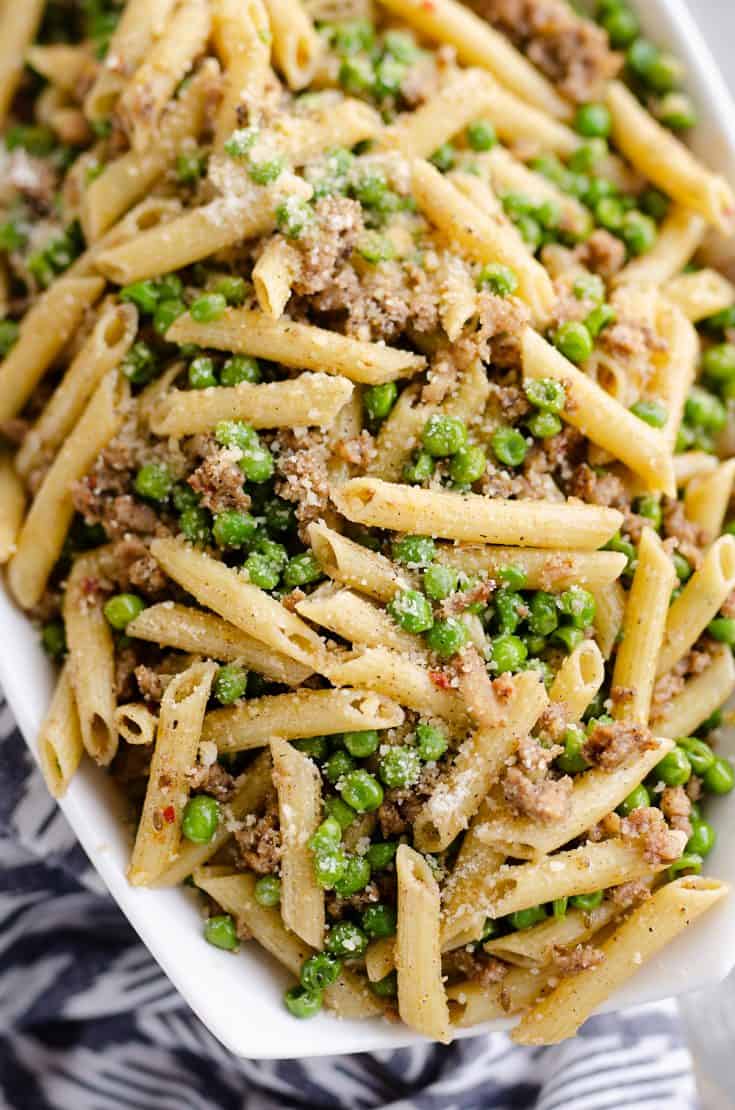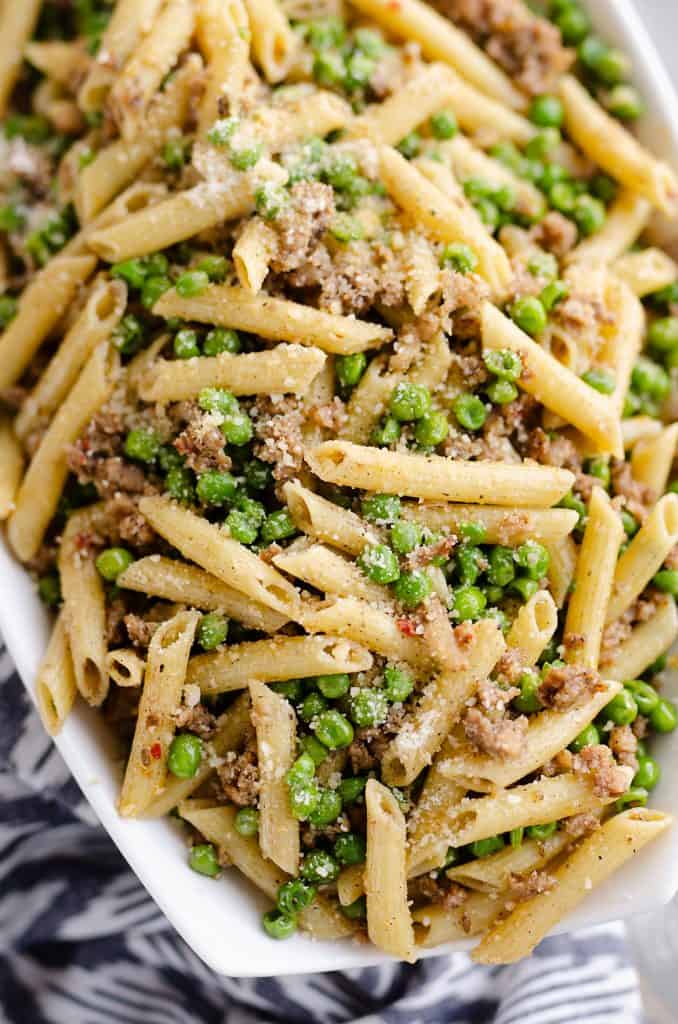 Italian Sausage vs. Pork Sausage: What's the Difference?
There are lots of different kinds of sausage. They're all good in their own way, but they are definitely different! Italian sausage is usually made from pork, and comes in mild and spicy varieties. They both feature fennel, and sometimes basil or garlic. Spicy Italian sausage has hot red pepper flakes as well.
Pork sausage is a more general term that can include other kinds of sausage. Typically, anything labeled "pork sausage" will be less seasoned than Italian sausage.
Can You Substitute Pork Sausage for Italian Sausage?
You can definitely substitute plain pork sausage for Italian sausage, but some of the flavor is going to be sacrificed. Adding Italian-inspired seasonings like basil, fennel, garlic powder, oregano, marjoram, or red pepper flakes will spice up plain sausage.
You will want to season the pork sausage as you begin cooking it, using a spatula to break it apart. Let it cook slowly as long as possible with the spices mixed in. When using dried herbs or spices, the longer they are cooked, the more flavor they'll lend to your dish. (Fresh herbs are the opposite-add them last for the biggest punch of flavor).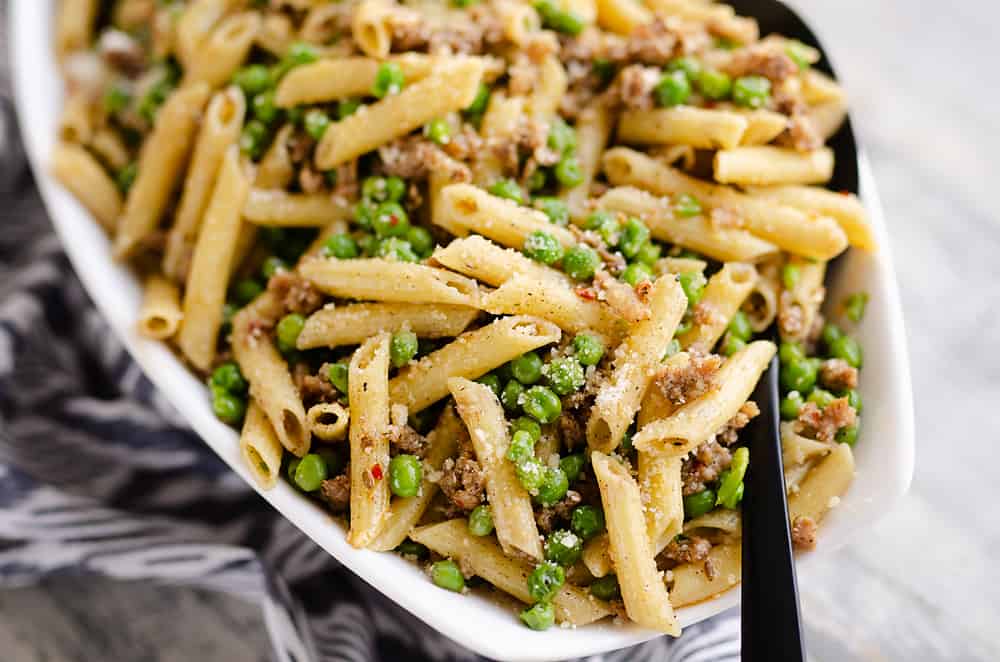 Perfect Penne
Penne pasta is the perfect choice for so many dishes! I love it because the shape makes plenty of surface area for sauce to stick to. Pasta is one of the first things a lot of people learn how to make because it's easy and versatile. With a few simple tips you can make your pasta even better!
Salt your pasta water after it boils to enhance the flavor of the pasta
Avoid adding oil to your pasta–it will prevent the sauce from sinking in!
Stir occasionally to prevent the pasta from sticking to the sides or bottom of the pot.
Penne pasta is cooked al dente (literally "to the teeth") which means it's still a little firm. If it's floppy, limp, or gummy it's overcooked.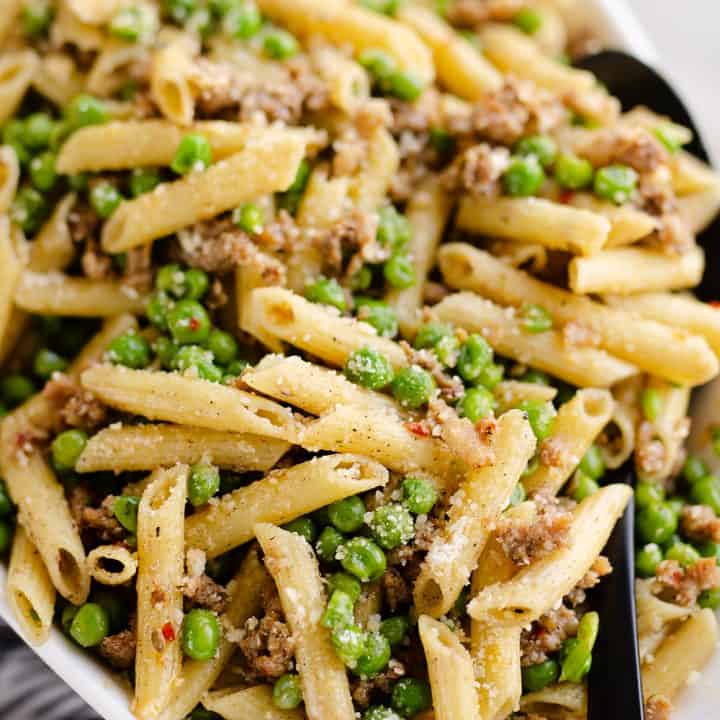 Brown Butter Sausage Penne Pasta
Brown Butter Sausage Penne Pasta is an easy 15 minute weeknight dinner recipe made with spicy Italian sausage, peas, sage and Parmesan cheese for amazing flavors in one simple meal.
Ingredients
1/4 c. salted butter
1/2 tsp. rubbed sage
1 lb. spicy Italian sausage
8 oz. penne pasta (1/2 box), *reserve 1 cup pasta water
12 oz. bag frozen peas
1/3 c. grated parmesan
Instructions
Cook pasta in salted water to al dente. (reserving pasta water)
Meanwhile, in a large skillet over high heat add the butter and cook for 4-5 minutes, until it is lightly browned.
Add the sage and sausage, using your meat chopper to break apart the sausage as it cooks. Cook for 7-8 minutes or until the sausage is cooked through.
Microwave the frozen peas according to package directions.
Drain the pasta, reserving 1 cup of pasta water.
Add the pasta, sasauge, cooked peas and 1/2 cup reserved pasta water back to large kettle and give a quick stir. Add the remaining 1/2 cup pasta water if it is a little dry.
Fold in the Parmesan cheese and season to taste with salt. Serve immediately.
Nutrition Information:
Yield:

4
Serving Size:

1 grams
Amount Per Serving:
Calories:

815
Total Fat:

51g
Saturated Fat:

22g
Unsaturated Fat:

0g
Cholesterol:

125mg
Sodium:

1068mg
Carbohydrates:

56g
Fiber:

6g
Sugar:

6g
Protein:

32g