Bacon Wrapped Pineapple is an easy and delicious side dish that you can feel good about with healthy fruit and protein packed bacon!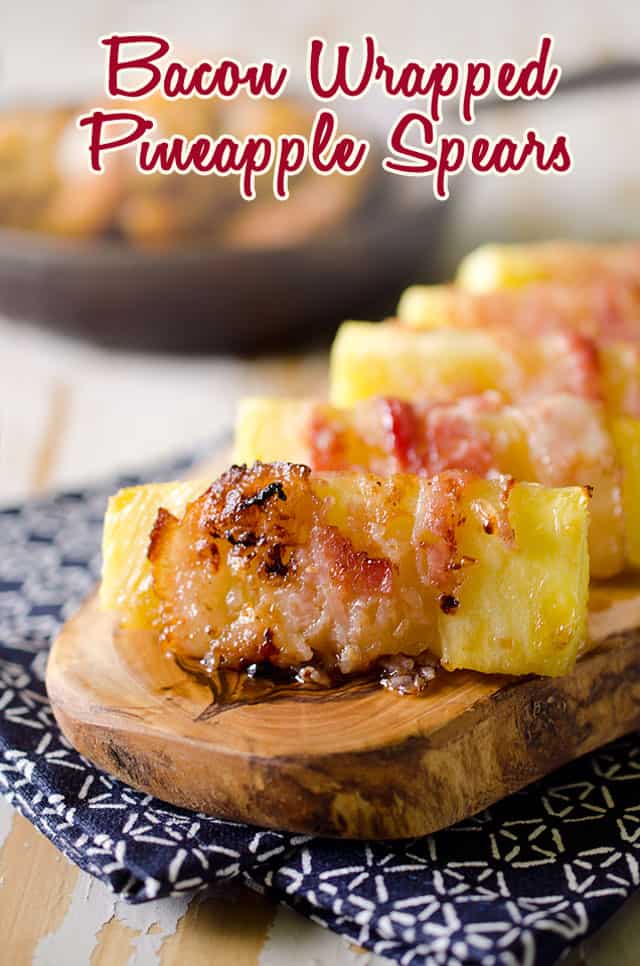 Bacon Wrapped Pineapple
I vividly remember as a child thinking Hawaiian pizza seemed so gross. WHY would you put fruit on pizza?! Then I grew up and actually gave it a shot…and LOVED it! As you can see by this Grilled Watermelon & Balsamic Chicken or Strawberry Basil & Honey Goat Cheese Quesadillas, I now have an affinity for fruit in savory dishes.

I had my three year old nephew over for the day and while he was taking a two hour nap (hallelujah!), I whipped up some lunch for us. I grilled some shrimp for myself and added in a piece of smoked sausage because I wasn't sure if Kaden was down for shrimp. For the side, I took wedges of pineapple and wrapped them in the thinnest bacon I could find. I wanted to add the flavor of bacon, but keep it light and lower in fat.
The amount of flavor that thin half slice of bacon adds to the warm and oh so sweet piece of pineapple is phenomenal. I could make these every day and be one happy lady!

It turned out there was no reason to add the sausage to the meal because Kaden eats just about anything. Literally. He devoured the shrimp and these Bacon Wrapped Pineapple. I have also fed him avocado, hummus, you name it, he eats it and loves it. This is despite having very picky eaters for parents, so it just goes to show, kids are going to eat how they eat! I just hope like heck I get such a good eater when I have kids.
While he was eating the pineapple, he commented with a big grin on his face, "Ooooo, you give me bacon too?!" Haha, he is so adorable. Yes Kaden, you get bacon too! 😉

Main dishes that would pair perfectly!