Bacon Wrapped Chicken Balsamic Squash Sheet Pan Dinner is an easy and healthy 30 minute weeknight dinner idea bursting with amazing flavors. Chicken tenders wrapped in bacon, squash and brussels sprouts come together to make this delicious chicken sheet pan dinner.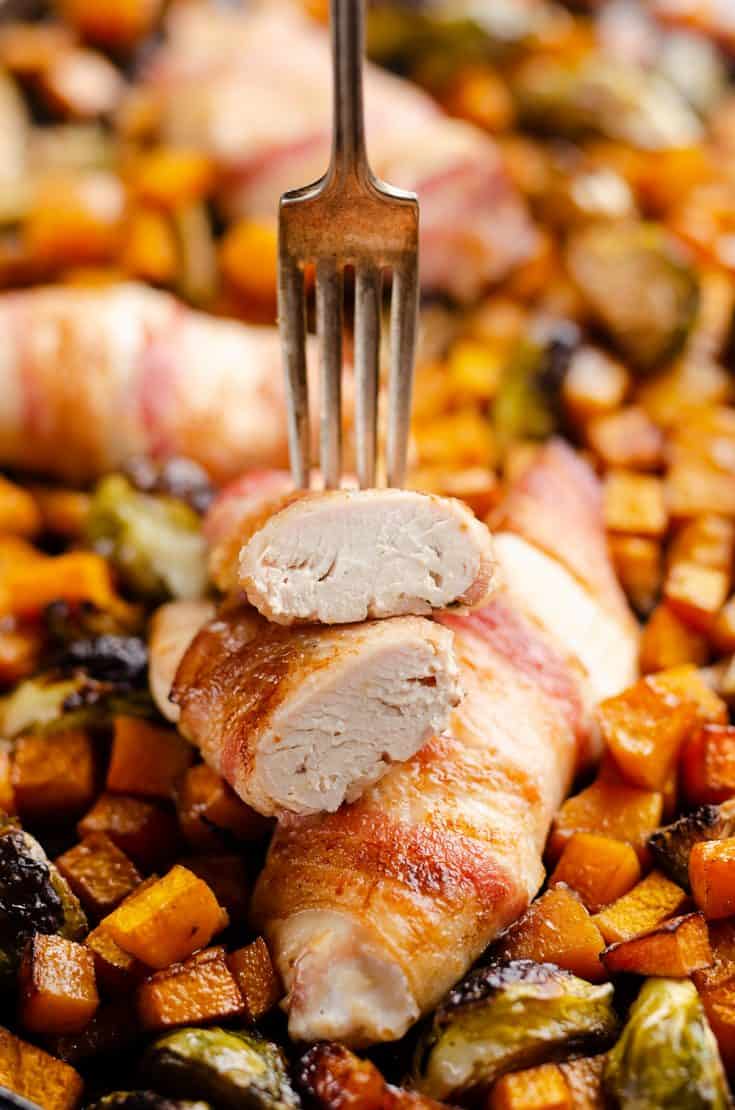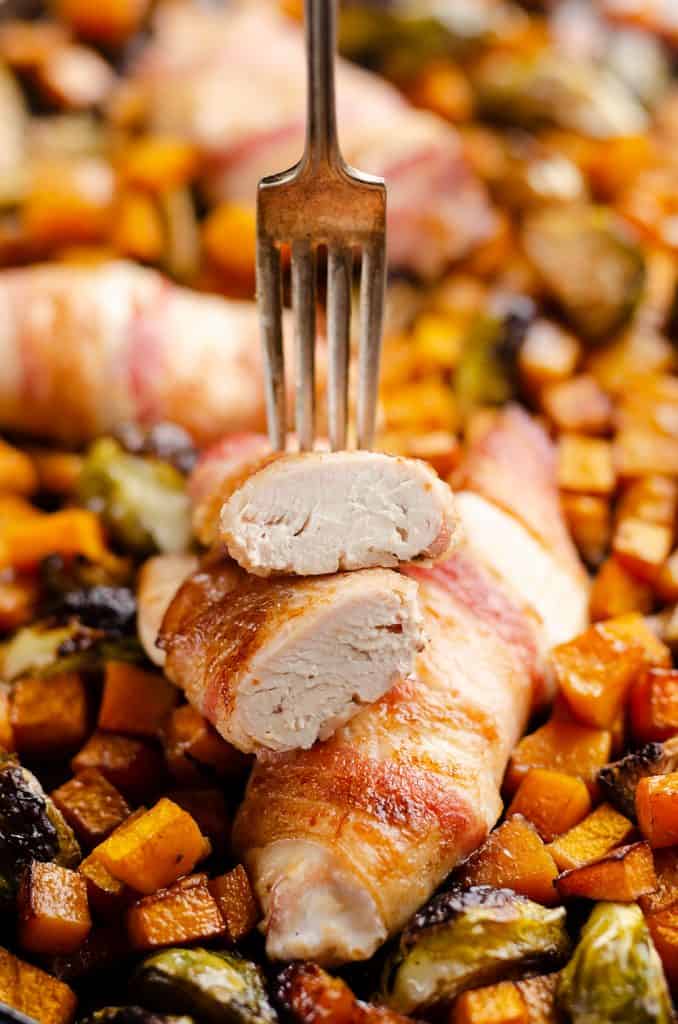 Chicken Sheet Pan Dinner
Bacon wrapped chicken tenders with balsamic seasoned squash roasts on a sheet pan. As the smell wafts through the kitchen, appetites grow ever stronger. A very hearty meal is on the way. This chicken sheet pan dinner is what fall dinner dreams are made of!
This is a recipe that fills you up and puts a smile on your face. Because this is the kind of meal that makes the heart grow fonder for eating well. Healthy, but still tasty. Easy to make, but deeply resonant with flavor like you have been cooking all day long.
Some of the best dishes only involve a few ingredients. They work so well because each ingredient brings something to the others and creates something greater than the sum of its parts. Bacon, for instance, works great with squash and chicken of course.
(check out this similar bacon wrapped squash recipe if you require further proof…)
This easy sheet pan recipe falls into that category.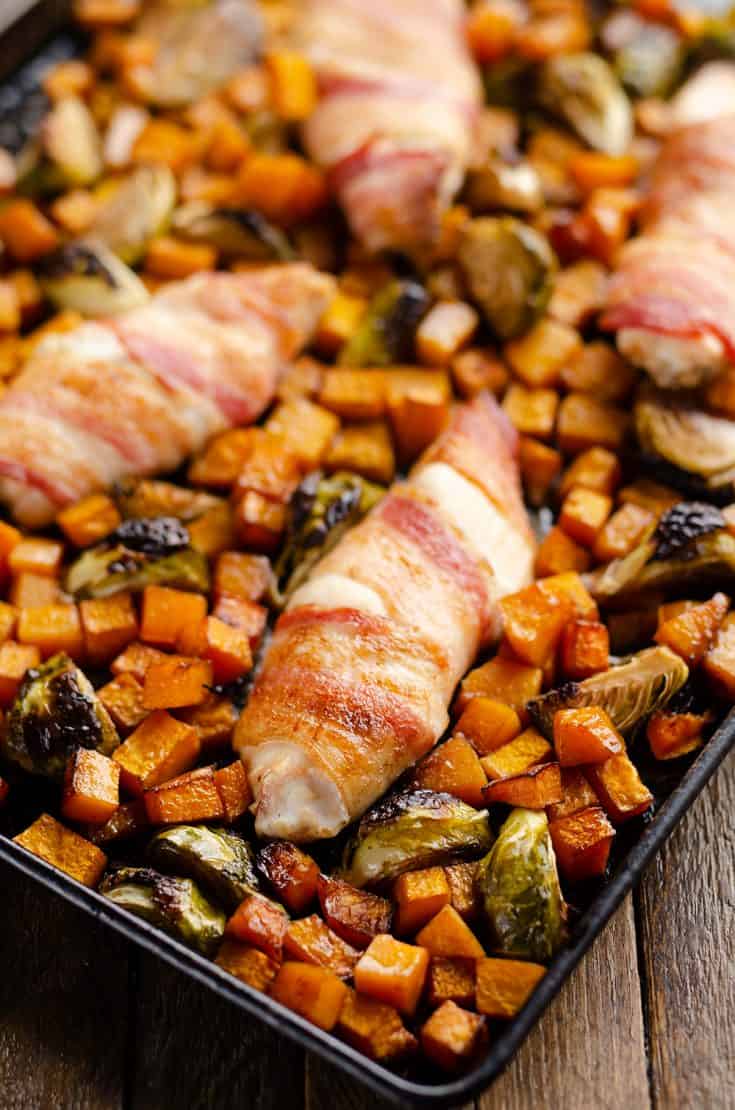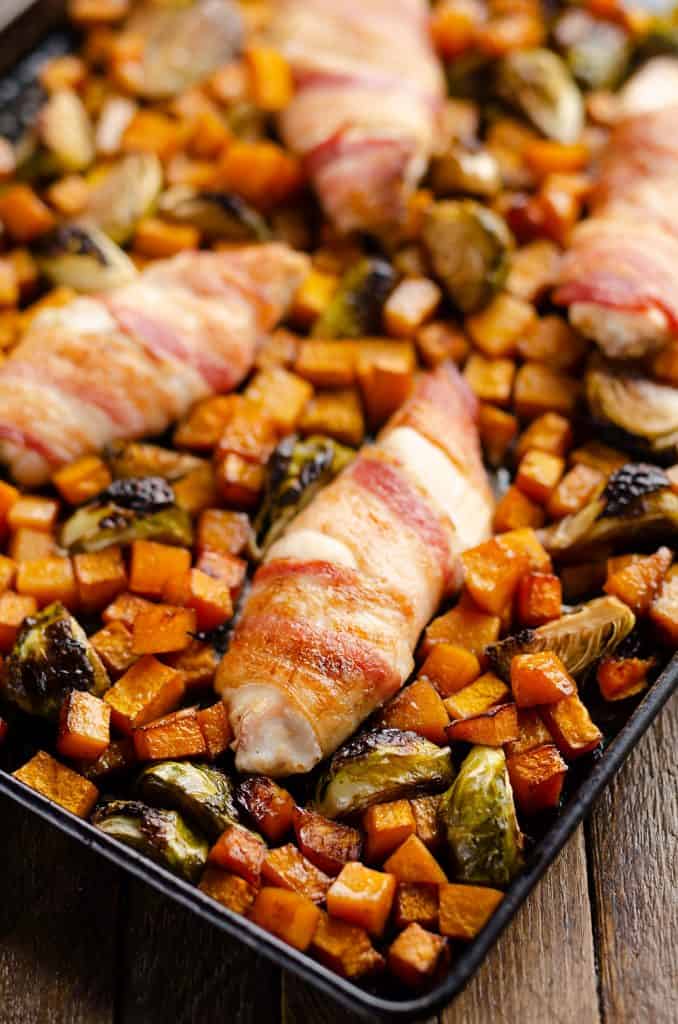 Bacon wrapped chicken tenders to start
For the bacon wrapped chicken tender, you want to wrap a piece of bacon around your chicken, just enough to circle them. In truth, you don't need too much bacon. It serves to add a ton of flavor, but you don't need too much. When it comes to flavor, bacon goes a long way.
The bacon keeps the chicken moist, but you want the fat to render out. Even though bacon is in the recipe, the end result is still pretty light in calories and packed full of nutrition. High in protein, rich in minerals and vitamins, plus it also has plenty of fiber from the squash, it just tastes rich.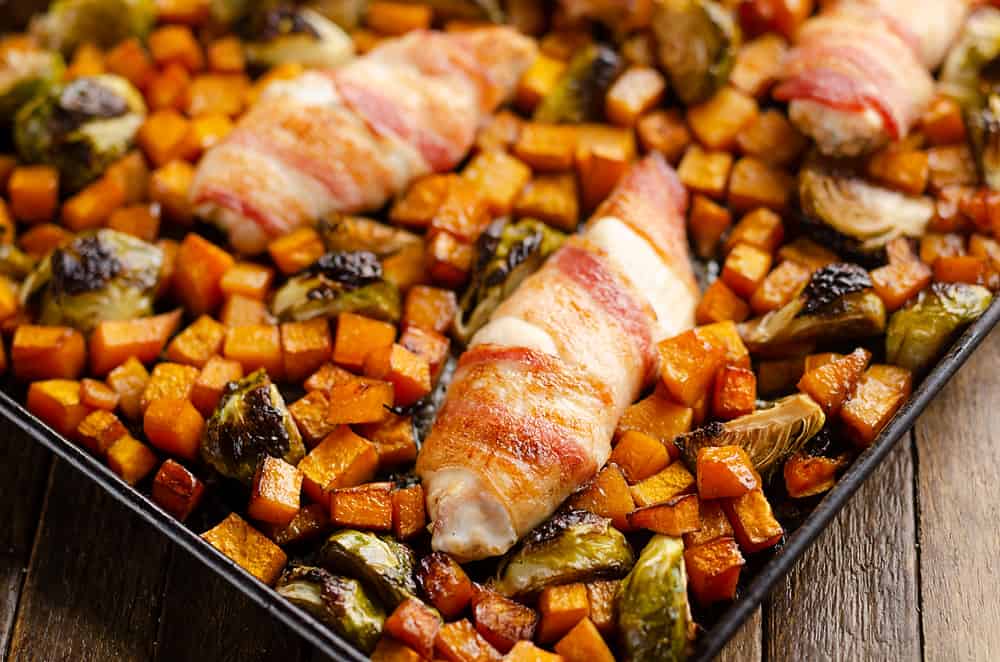 What is a butternut squash?
The butternut squash is that squash that looks like it sort of has an hourglass figure. Skinny in the middle and wider and round at the ends. It has an orange flesh similar to pumpkins.
Butternut squash also go by "butternut pumpkin" and "gramma" squash down under in Australia as well as in New Zealand.
Butternut squash are great for cooking because they cook quickly. In fact, they are ideal for roasting. They are not as tough to cut up as many other squash either. That doesn't mean I don't love a good shortcut and often buy the precut squash at the grocery store though!
In terms of nutrition, the butternut squash packs a lot of vitamin A and C, is full of magnesium and potassium, and has tons of fiber.
Butternut squash go really well with chicken and bacon, and the balsamic helps marry all those flavors together.
What other kind of squash works if I can't find butternut?
Squash earned a place in history by being part of the first Thanksgiving dinner. Just like that meal, the menu sometimes gets determined by what you have available. If you can't find butternut squash, then there are plenty of other squash that will work just as well.
You can use pumpkin. It is quite a bit harder to cut than a butternut, but the flesh is similar in terms of color and taste as well as nutrition. Also, acorn squash works great. This one has sort of an acorn shape. It is sometimes called a "des moines" squash. Like the butternut, it roasts well and is easier to cut.
The acorn squash feels like a "winter" squash but is actually a summer squash.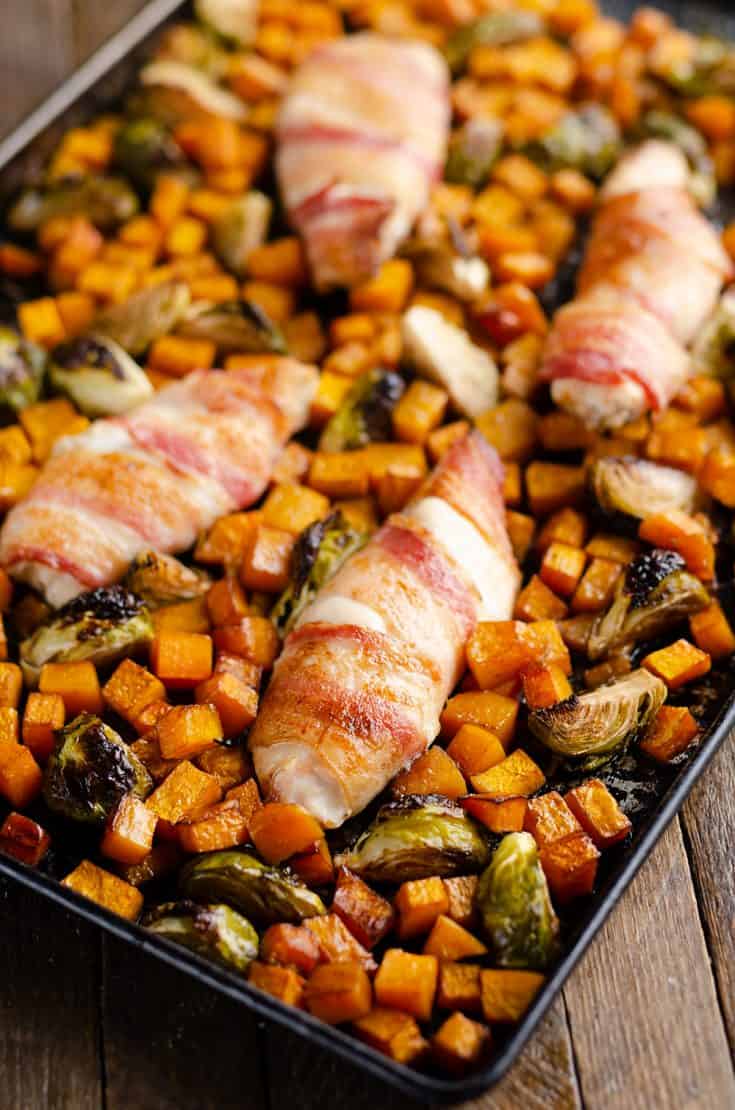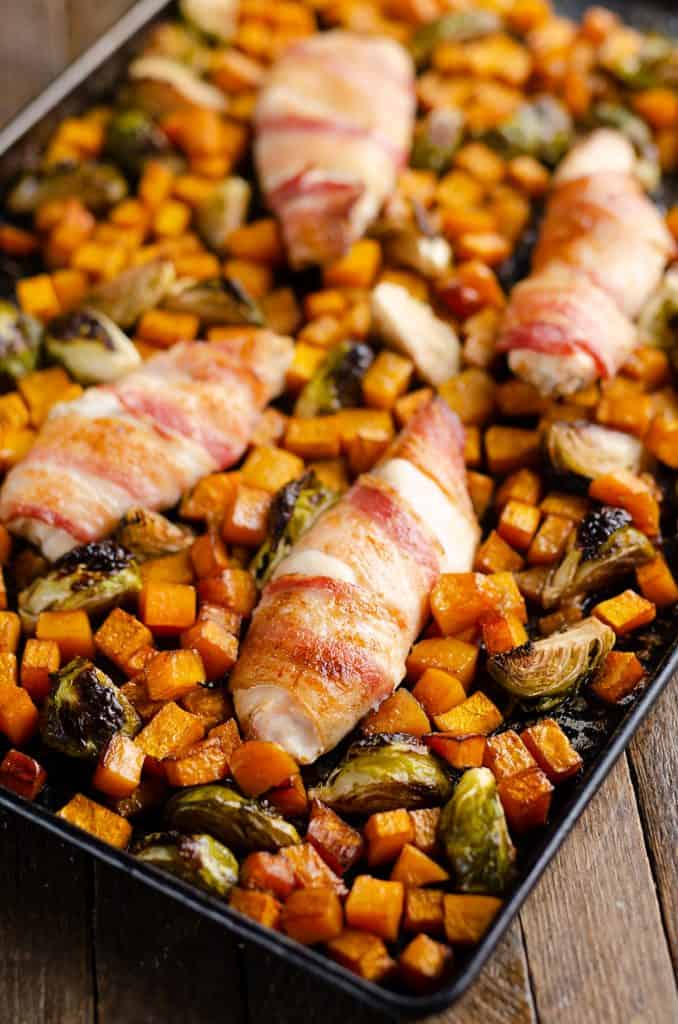 What is the difference between winter and summer squash?
Squash are fruit. I know a lot of people think of them as vegetables, but tomatoes get the same misunderstanding so it isn't like they are the only ones.
Summer squash come early in the summer and have softer flesh. Think zucchinis and yellow squash. Whereas, winter squash harvest in late summer and fall and have much tougher skin.
Pumpkins, butternut squash and all those weird looking squash that show up in October are winter squash.
Can I use any kind of vinegar?
Balsamic vinegar comes from white Trebbiano grapes, including not just the grape juice, but the skins and even the stems too. Traditional and authentic balsamic vinegar ages for at least 12 years. So when you see balsamic vinegar costing more than a fine wine now you know why.
But there is also "balsamic" style vinegar which is made with a much faster fermentation process. It is not quite the wild ride of flavor that authentic Italian balsamic vinegar can be, but it still has that certain flavor that works really well with this dish.
In a pinch though, if you have to use another vinegar instead, then try to make it a red wine vinegar. If that isn't possible either, then worcestershire sauce can also work as a substitute.
What can I serve with bacon chicken balsamic squash?
A light salad goes well with this dish since it is very hearty and filling.
I would recommend these recipes from The Creative Bite: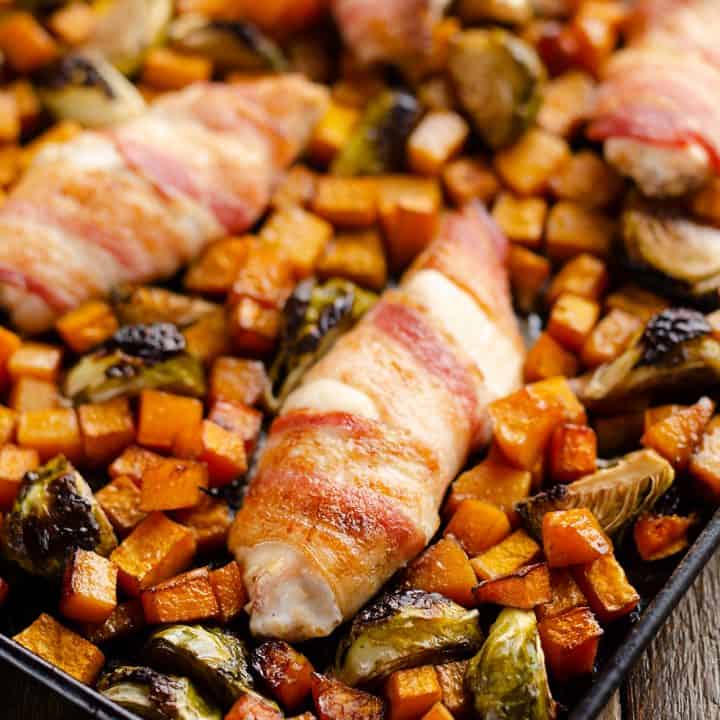 Bacon Wrapped Chicken Balsamic Squash Sheet Pan Dinner
Bacon Wrapped Chicken Balsamic Squash Sheet Pan Dinner is an easy and healthy 30 minute weeknight dinner idea bursting with amazing flavors. Chicken tenders wrapped in bacon, squash and brussels sprouts come together to make this delicious chicken sheet pan dinner.
Ingredients
1 lb. chicken breast tenders (not breaded)
4 slices of thin bacon
4 c. diced butternut squash
3 c. brussel sprouts, quartered or halved
2 Tbsp. olive oil
2 Tbsp. balsamic vinegar
1/4 tsp. garlic salt
Instructions
Preheat oven to 350°.
Add the squash and brussels sprouts to a rimmed sheet pan and toss with the olive oil, balsamic and garlic salt.
Wrap each chicken tender with 1/2 slice of bacon and nestle them between the vegetables.
Bake at 350° for 20-25 minutes until the center of the chicken reaches 165°.
Notes
Double the chicken and bacon if you want a more protein packed meal for the family.
Recommended Products
As an Amazon Associate and member of other affiliate programs, I earn from qualifying purchases.
Nutrition Information:
Yield:

4
Serving Size:

1
Amount Per Serving:
Calories:

587
Total Fat:

30g
Saturated Fat:

6g
Trans Fat:

0g
Unsaturated Fat:

22g
Cholesterol:

64mg
Sodium:

1235mg
Carbohydrates:

53g
Fiber:

11g
Sugar:

8g
Protein:

30g
Provided nutrition data is only an estimate. If you are tracking these nutrients for medical purposes, please consult an outside, trusted source.