This shop has been compensated by Collective Bias and its advertiser. All opinions are mine alone. #SnackPackMixIns #CollectiveBias
Witch's Brew Pudding Cups are spooky witch's cauldrons made with delicious chocolate Snack Packs topped with crushed Oreos, bubble sprinkles and cotton candy for a spooktacular Halloween treats that kids and adults will all love!

Witch's Brew Pudding Cups
I am so excited to share this fun snack idea with you today that is perfect for Halloween! It is hard to believe the holiday is right around the corner, but it is that time of year to start getting prepared for the trick-or-treaters and goblins that will be here before we know it.
To get started, swing by your local Walmart, your go-to shop for all things Halloween, and grab your supplies. You will need some Chocolate Super Snack Pack Pudding Cups, a bag of OREOS, Cotton Candy, bubble sprinkles and festive paper straws. Don't forget to grab a coupon off a nearby tear pad for "Buy 14.3oz OREOs get $1 off Super Snack Pack Pudding".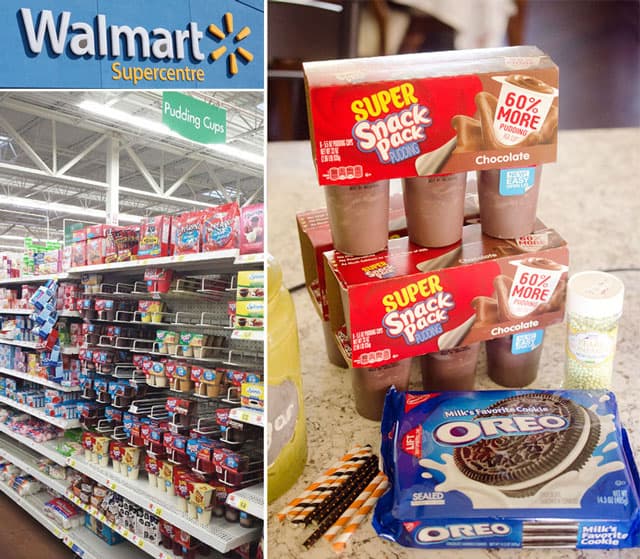 This fun Halloween delight combines two of my favorite childhood treats, Snack Pack Pudding Cups and Cotton Candy! My aunt bought me this cotton candy machine for a present as a young child and my mother would allow us to make cotton candy with it a couple times a year. It was always a special occasion when she allowed us to take it out and enjoy a little bit of cotton candy.
It has been stored away in my basement for the last 10 years, but I thought it was the right time to break out the old Party Time cotton candy machine and whip up some sweet spun sugar. My nephews were at the house and they were excited to see the process of making cotton candy. My oldest nephew Christian thought it was great and ate the cotton candy faster than I could make it. My youngest nephew Kaden was a little apprehensive about the whole thing. He wanted to wait it out and try it with the Snack Pack Pudding Cups.

In just 4 easy steps, you will have a tray full of these fun Halloween treats that are sure to impress your guests, young or old.
Remove the lids from the Snack Packs and top each one with 2 Tbsp. of crushed Oreos.
Top the OREOS with a small piece of your homemade or store-bought cotton candy.
Add some bubble sprinkles around the edges.
Finish them them off by sticking a half of a festive paper straw in the side of each one.
Now they are ready to serve, so enjoy immediately!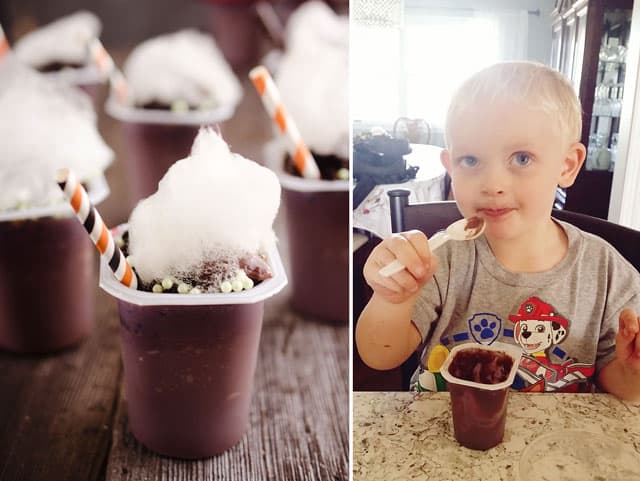 With all of my little chocolate witch's cauldrons assembled, I had quite the spooky Halloween spread going on. My nephews each snatched one up and devoured them in no time. They said they were creepy and delicious. That was just what I was going for, so all in all, these Witch's Brew Pudding Cups were a big hit!
There are so many ways you can transform your Snack Pack Pudding Cups into creative holiday treats. Check out all these amazing mix-ins for more fun Halloween inspiration. Be sure and share what you create with your pudding cups by tagging me on Instagram with the hashtag #TheCreativeBite.