This easy Traeger Smoked Pork Loin Roast made on your wood pellet grill, is a juicy and tender piece of meat with only 3 simple ingredients!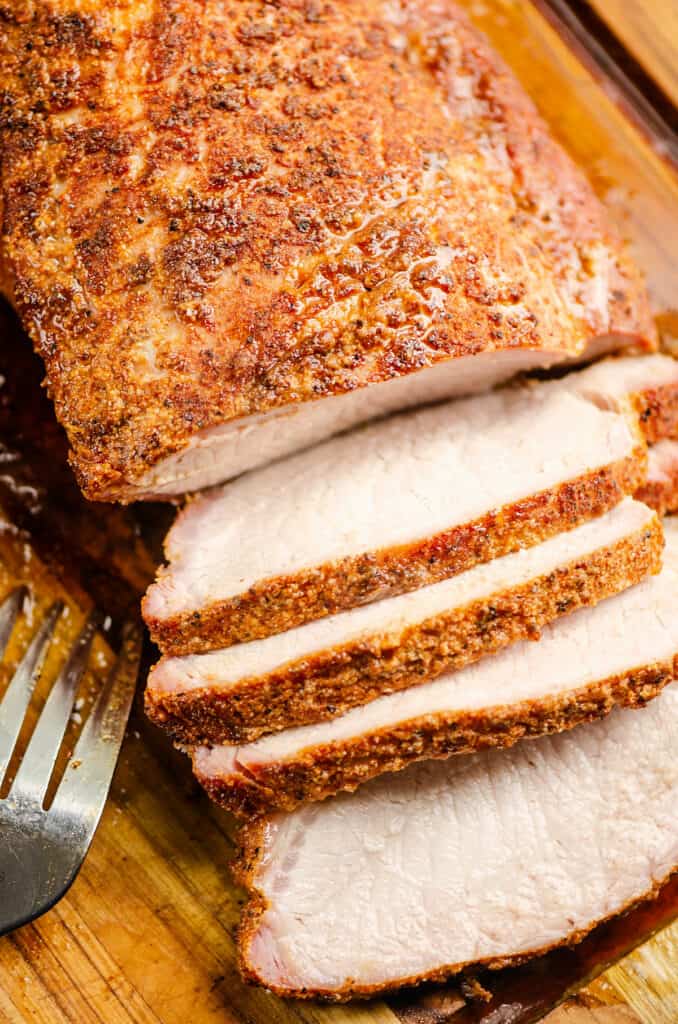 Pork Loin on Pellet Grill
If you are looking to cook a great meal for a large crowd on your pellet grill, this Traeger Smoked Pork Loin Roast is a must try! It is made with three simple ingredients and is so tender and juicy. Add your flavors of choice with your favorite rub. Whether you like sweet or spicy, you can make it your own.
The pellet grill is a fantastic way to smoke meat for just about anyone. It takes all the guess work out of keeping your grill at a steady temperature. Just set it and forget it! Some may say it's cheating or slacking, but I call it working smarter, not harder.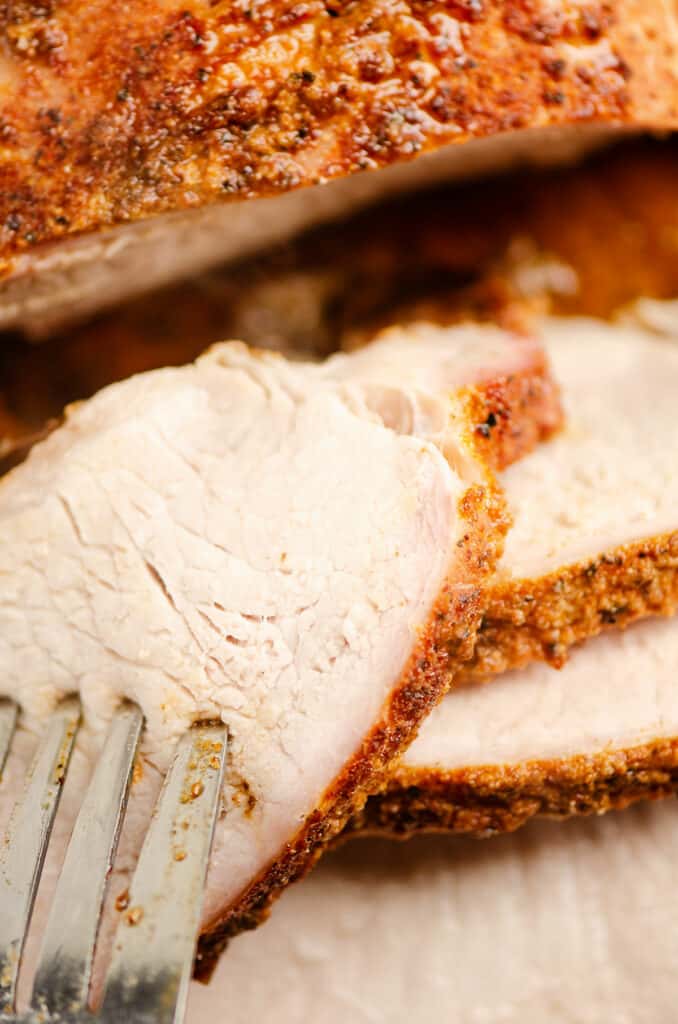 Pork Loin Vs. Pork Tenderloin
This Traeger pellet grill recipe is for a pork loin roast, not to be confused with a pork tenderloins. Pork tenderloins are a thin small cut of meat that comes from a different part of the pig. They are often found pre-marinated in the meat section and are usually best cooked over high heat. This Pressure Cooker Pork Tenderloin recipe is a fantastic example way to use tenderloins.
Pork loin come boneless or with bone in and are a thick long cut of meat and are great for slower cooking on a grill. For this pellet grill pork tenderloin, we use a boneless cut of meat and smoke it on low for an hour before turning up the temperature to cook it through in a reasonable time frame.
Should you cook pork loin low and slow?
Cut of pork like shoulders or other roasts are best cooked low and slow, but pork loins don't really need a long slow cook because they are a more tender cut with less connective tissue. The initial hour of slow cooking on the pellet smoker is required because those lower temperatures produce the best smoke to infuse flavor into the meat.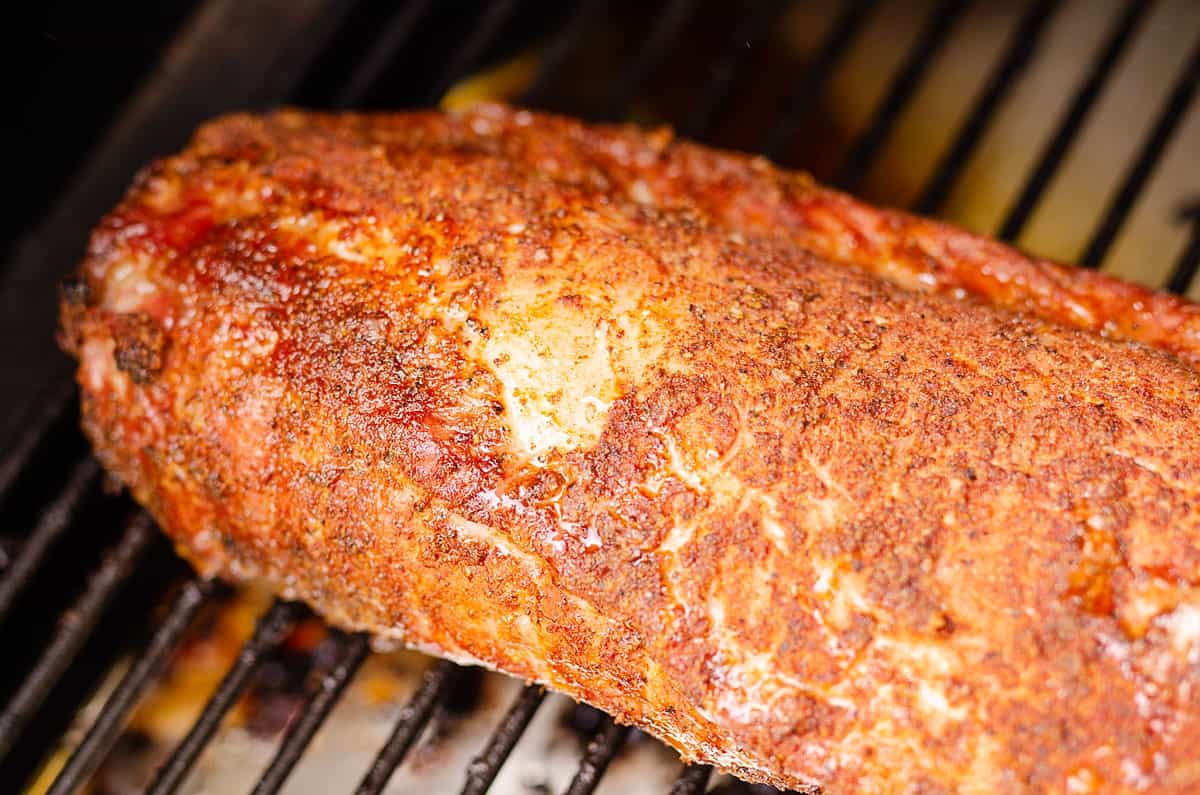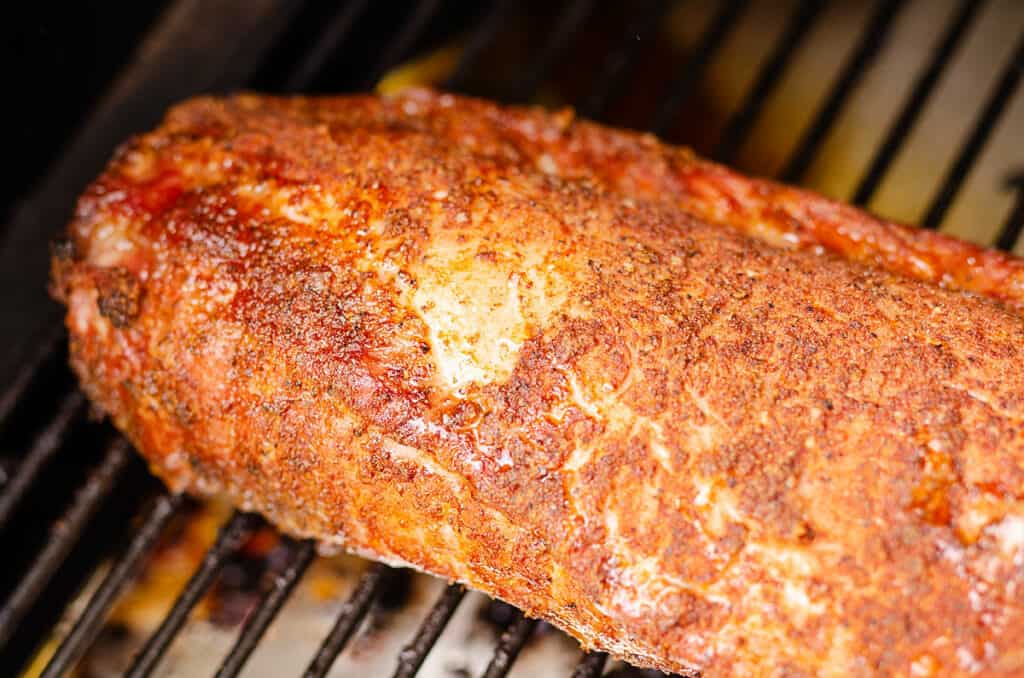 Can I use pork loin instead of tenderloin?
The short answer is no. Tenderloins cook much faster than pork loins with their small size and wouldn't make a good substitute in this smoked pork loin roast recipe. The times and temperatures won't be accurate.
If you realized you have a tenderloin and not a loin, check out these great pork tenderloin recipes!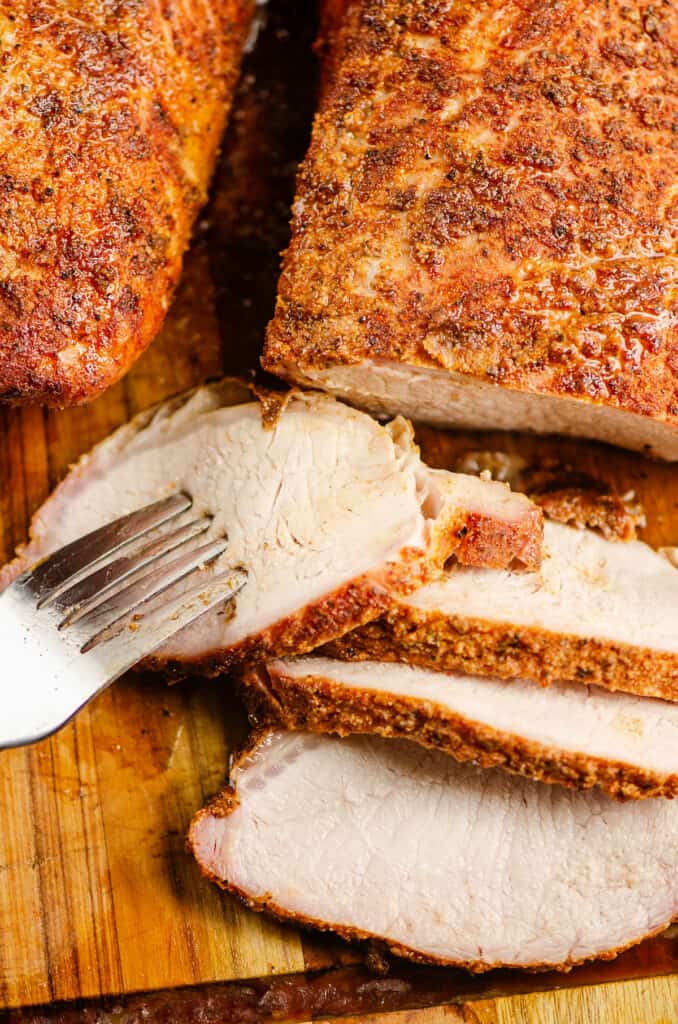 How to cook pork loin on Traeger grill
Depending on how you purchase your pork loin roast, you may need to remove skin and fat. Cut back the fat on the pork loin so it is about 1/4 inch thick. Most of the time when I get a pork loin from the grocery store, it is ready to go. Don't cut off all the fat, or your pork will be more likely to dry out.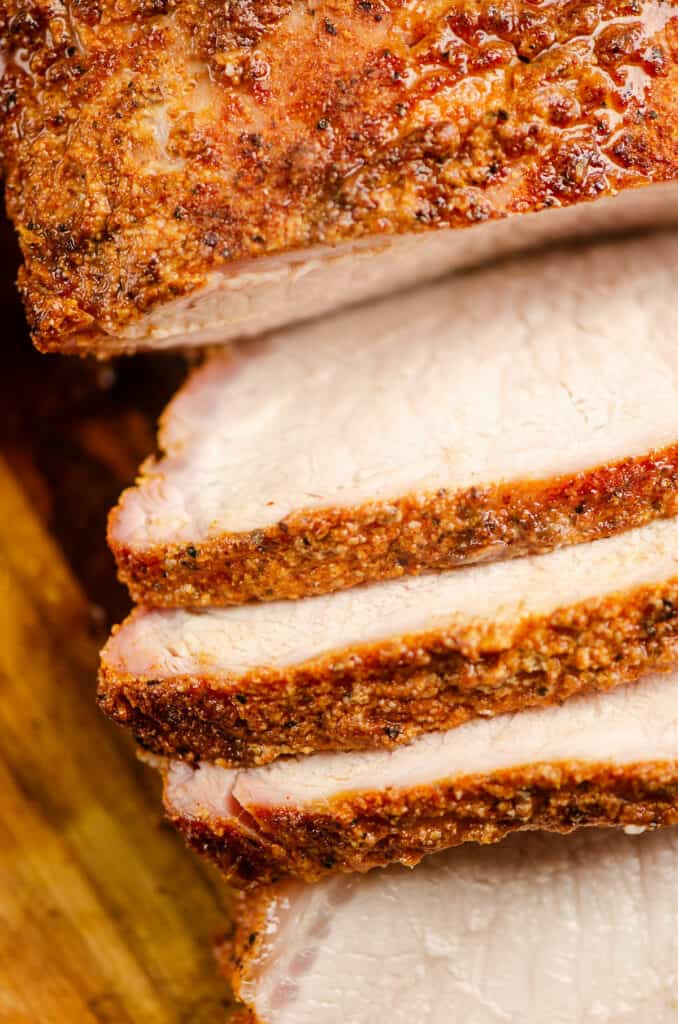 Should I cook the pork loin fat side up or down
There are two schools of thought when it comes to cooking meat fat side up or down. A large group of people believe that you should cook the meat at side up so the fat can melt off and baste the meat as it cooks.
Other believe that you should cook the meat with fat side down to protect the meat from the direct heat.
Honestly, either way will result in a great piece of meat, but I opt for fat side down on my Traeger grill. The heat source is coming from the bottom and I like the fat directly on the grill grates to protect it from drying out.
How to season pork loin
Place your pork loin on a sheet pan and rub generously with mustard. I like to use a stone ground mustard, but any mustard will work.
Grab your favorite rub from the spice cabinet and coat the mustard rubbed pork generously with it. I love this Everything Rub my friend sells. It is the perfect balance of sweet and spicy. I brought some of this leftover pork loin to my neighbor and she asked me to order her a couple bottles of the rub because she loved it so much too!
You can always make your homemade rub, but I'm all about quick and easy so I'll just buy a bottle and support a family owned business. (And a pretty amazing family at that!)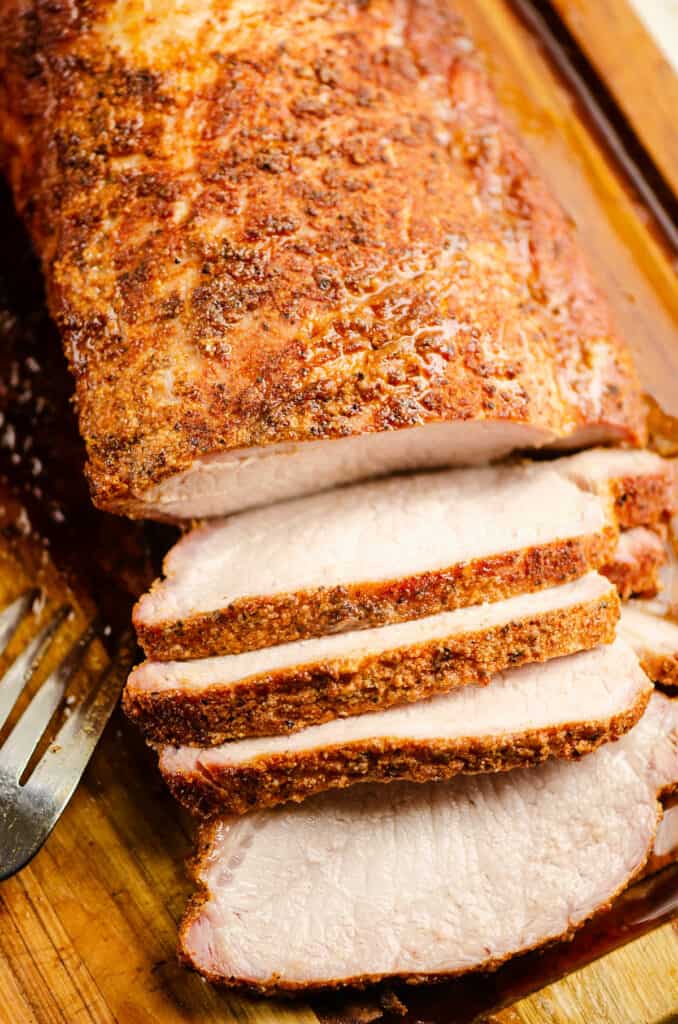 How long to cook pork on pellet grill
While you are seasoning your pork loin to smoke, preheat your Traeger pellet grill to 215°F. Place the pork loin on the grill and cook for one hour.
After an hour raise the temperature to 375°F and cook until the meat reaches an internal temperature of 140-145°F. This will take anywhere from 1.5 to 2.5 hours depending on the size of your pork loin. Just be sure to check the temperature at 1.5 hours so you don't over cook it.
If you are pressed for time, you can raise the temperature to 400°F and you'll still end up with a great piece of meat that is juicy and flavorful.
Checking the temperature of meat
My go-to tool for checking food temperatures is the Thermapen. Unfortunately they don't sell on Amazon, but they really are a great investment for grilling and roasting meats. They are top of the line and give an instant readout that is accurate and so convenient.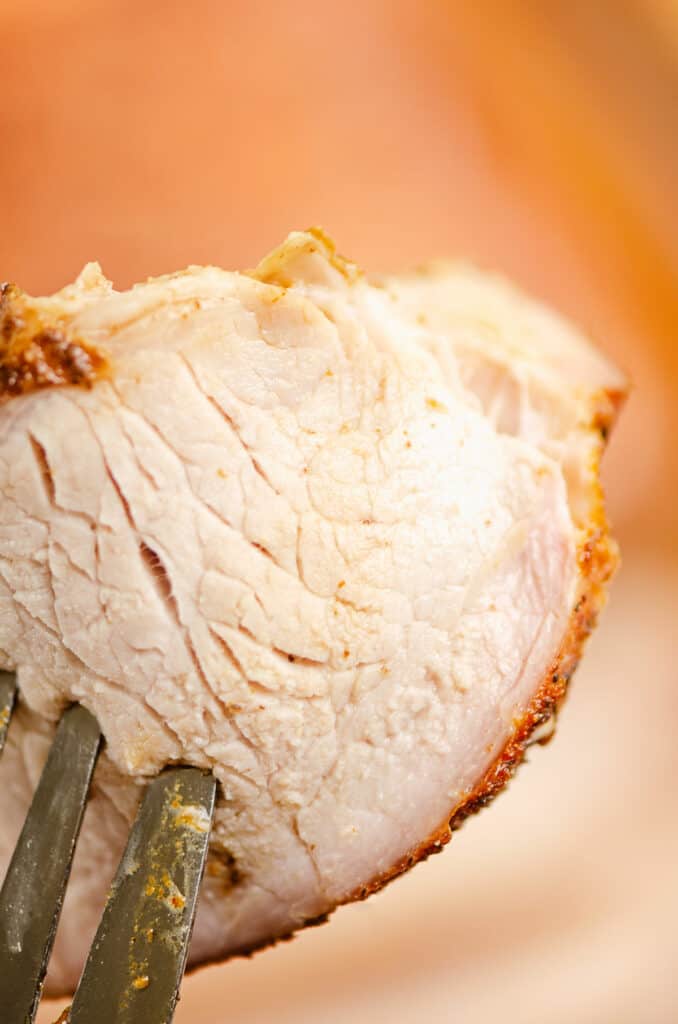 Do I need to let meat rest
YES! Allowing meat to rest helps the juices stay in the meat. If you slice into any piece of meat directly from the grill, you are going to see the juice flowing right out of the meat. This will leave you with a dryer piece of meat.
I'm the furthest thing from a patient person, but resting meat is one place I refuse to skip ahead and be impatient. I implore you to let the pork loin rest for at least 15 minutes before slicing into it. 20-25 minutes is more ideal.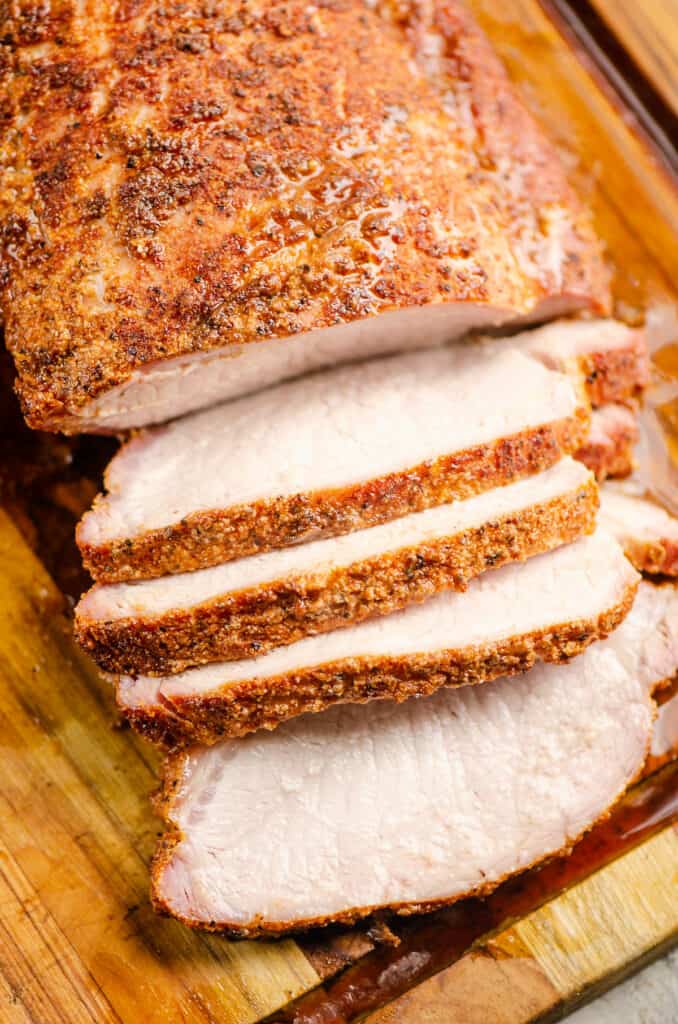 How to serve smoked pork loin
Just about any time I eat pork loin at a cookout, I usually slather a generous amount of BBQ sauce on it. I kid you not, this meat is so juicy and flavorful, that it honestly didn't need any sauce. The rub has lots of sweet and spicy flavors and the meat is tender and amazing all on it's own.
When I served this smoked pork loin at a family picnic, everyone reached for the BBQ sauce but quickly commented on how it didn't need it!
When slicing up pork loin, I always like to cut it into thinner 1/2 inch thick slices. This not only makes for a more tender bite, but also allows guests to takes as much or as little as they would like.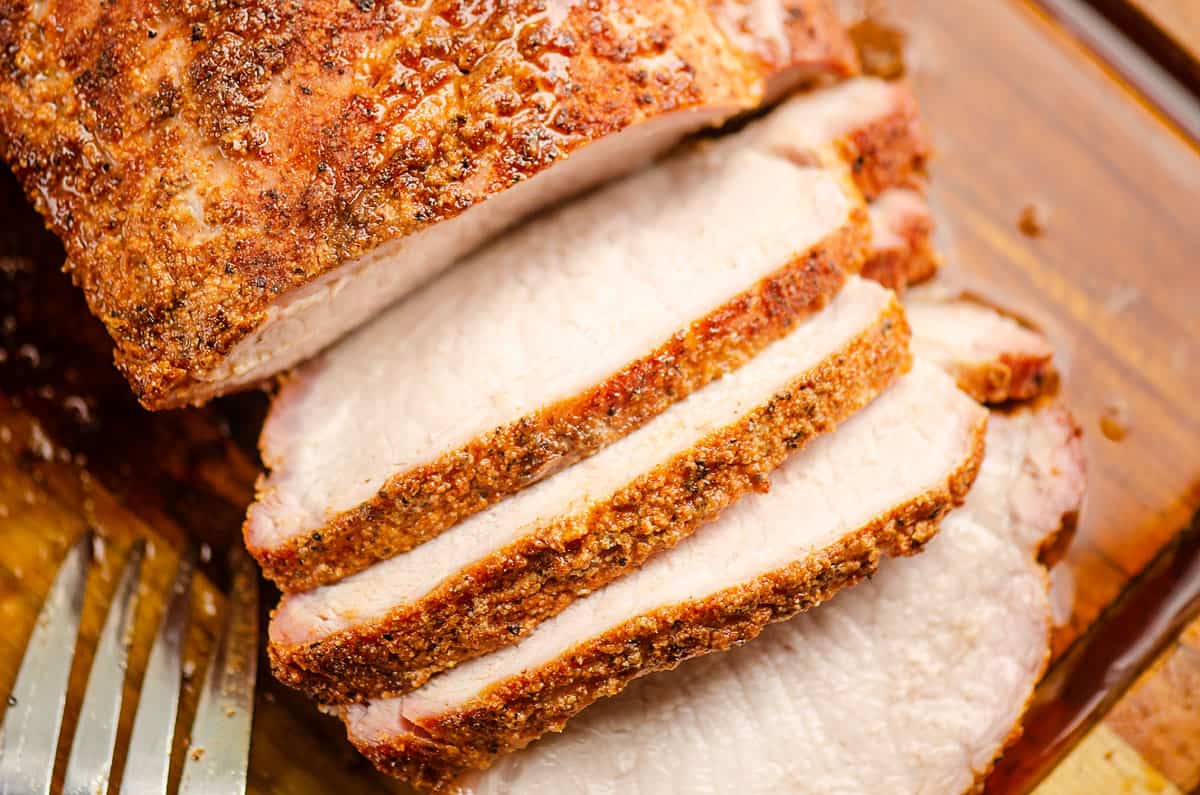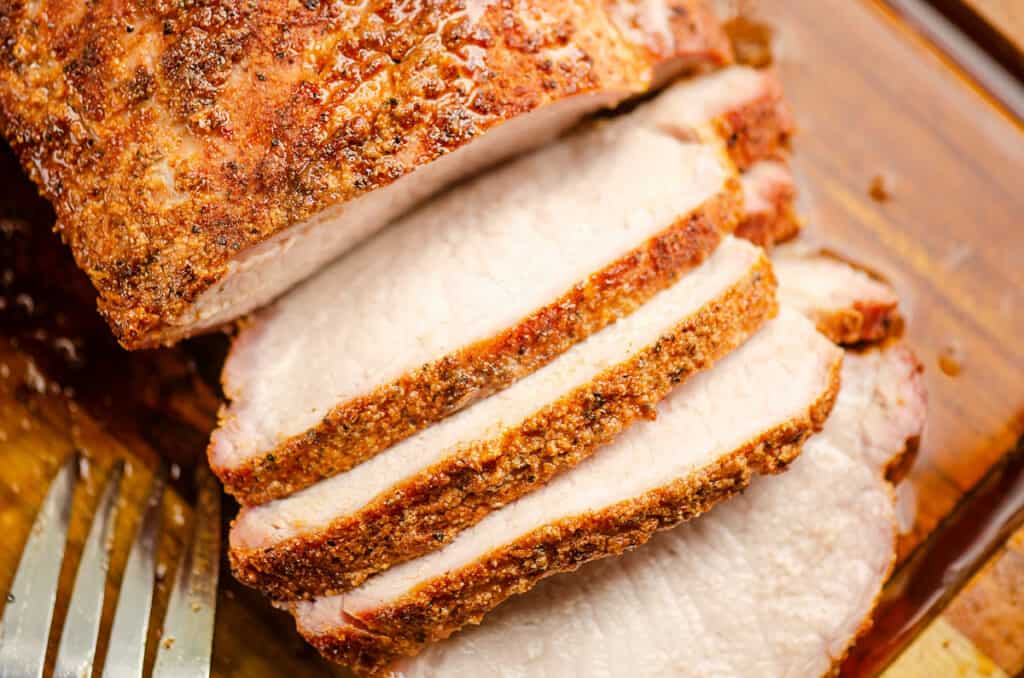 What to serve with Traeger pork loin roast
If you are looking to make a great spread at your next cookout or picnic, here are a few great sides to serve with your smoked pork loin.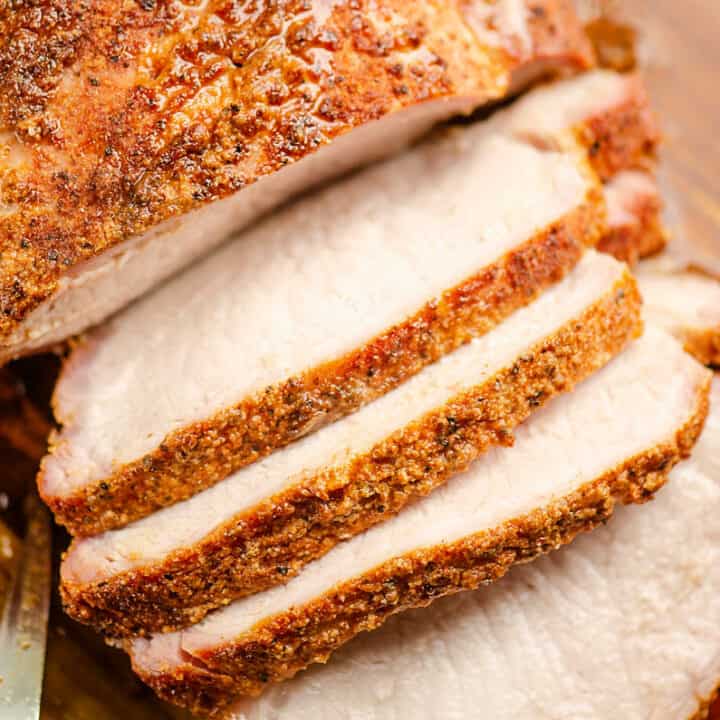 Traeger Smoked Pork Loin Roast
Total Time:
3 hours
10 minutes
This easy Traeger Smoked Pork Loin Roast made on your wood pellet grill, is a juicy and tender piece of meat with only 3 simple ingredients!
Ingredients
5-7 pound pork loin roast
Mustard
Instructions
Preheat pellet grill to 215°F.
Place your pork loin on a sheet pan and rub generously with mustard until it is well coated.
Coat the mustard rubbed pork generously with your favorite rub.
Place the seasoned pork loin on the preheated pellet grill. Cook for one hour.
Raise the temperature to 375°F and cook until it reaches an internal temperature of 145°F. (This will take between 1.5 and 2.5 hours depending on the size of the pork loin)
Remove the pork loin from the pellet grill and allow t rest for 20 minutes before slicing.
Recommended Products
As an Amazon Associate and member of other affiliate programs, I earn from qualifying purchases.
Nutrition Information:
Yield:

18
Serving Size:

6 ounces
Amount Per Serving:
Calories:

307
Total Fat:

14g
Saturated Fat:

5g
Trans Fat:

0g
Unsaturated Fat:

7g
Cholesterol:

127mg
Sodium:

111mg
Carbohydrates:

0g
Fiber:

0g
Sugar:

0g
Protein:

42g
Provided nutrition data is only an estimate. If you are tracking these nutrients for medical purposes, please consult an outside, trusted source.