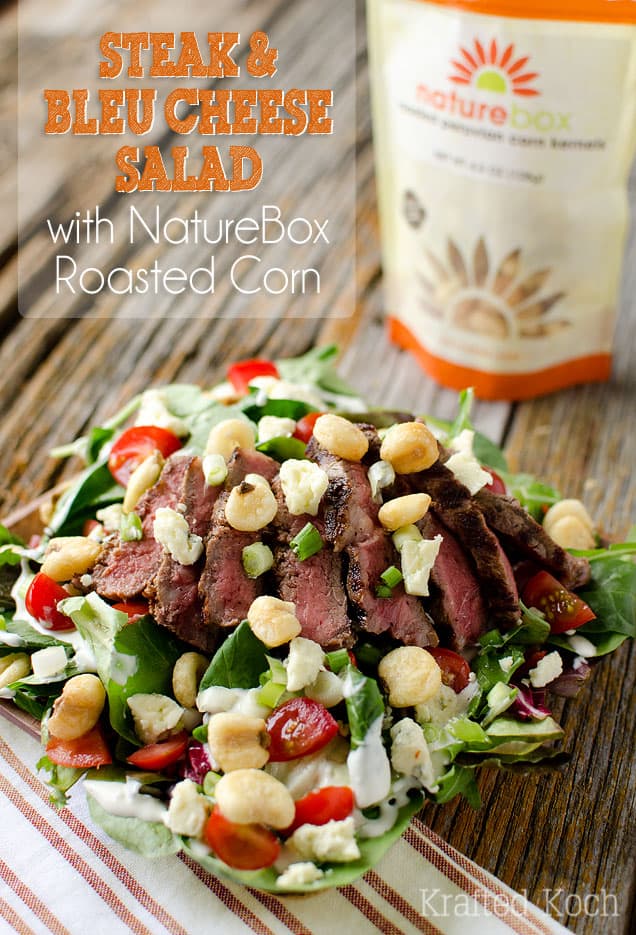 I love a good subscription box and one with healthy snacks that I can personally select sounds like a dream come true. The thing is, it isn't a dream, it is very very real! NatureBox does just that, it ships healthy and quality snack options right to your door once a month at an affordable price. It is such a great way to have health conscious snacks at your side so you can avoid the sweets and empty calories when you are looking for a snack to fill you up.
When you join NatureBox, you'll receive five different full-size snacks every month. You can choose the snacks you want yourself or be surprised with their carefully curated selections. For my first box, I picked out some things that caught my eye including, Peruvian Roasted Corn Kernels, Poppy Seed Sticks, Sourdough Cheddar Pretzels, South Pacific Plantains and Sriracha Roasted Cashews. Don't they all sound amazing?! Well, they are!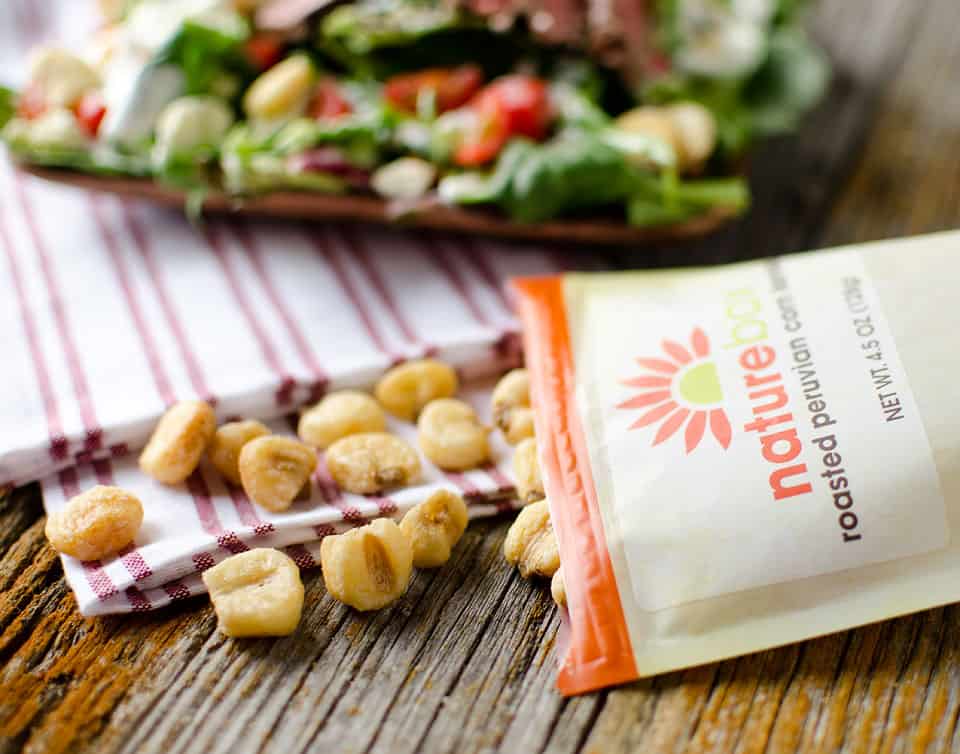 The only problem I had with NatureBox was that it was just too darn difficult to choose only five snacks from all of the amazing options. I wanted them all! I better just let them surprise me with my next box, which is the easy choice knowing all of the snacks contain wholesome ingredients with no artificial sweeteners, flavors or colors, zero grams trans fats, and no high fructose corn syrup. At as low as $15.95 a month for 5 full size packs of snacks with free shipping, you really can't go wrong. Look at this amazing variety, they would make such an easy and delicious spread at your next party!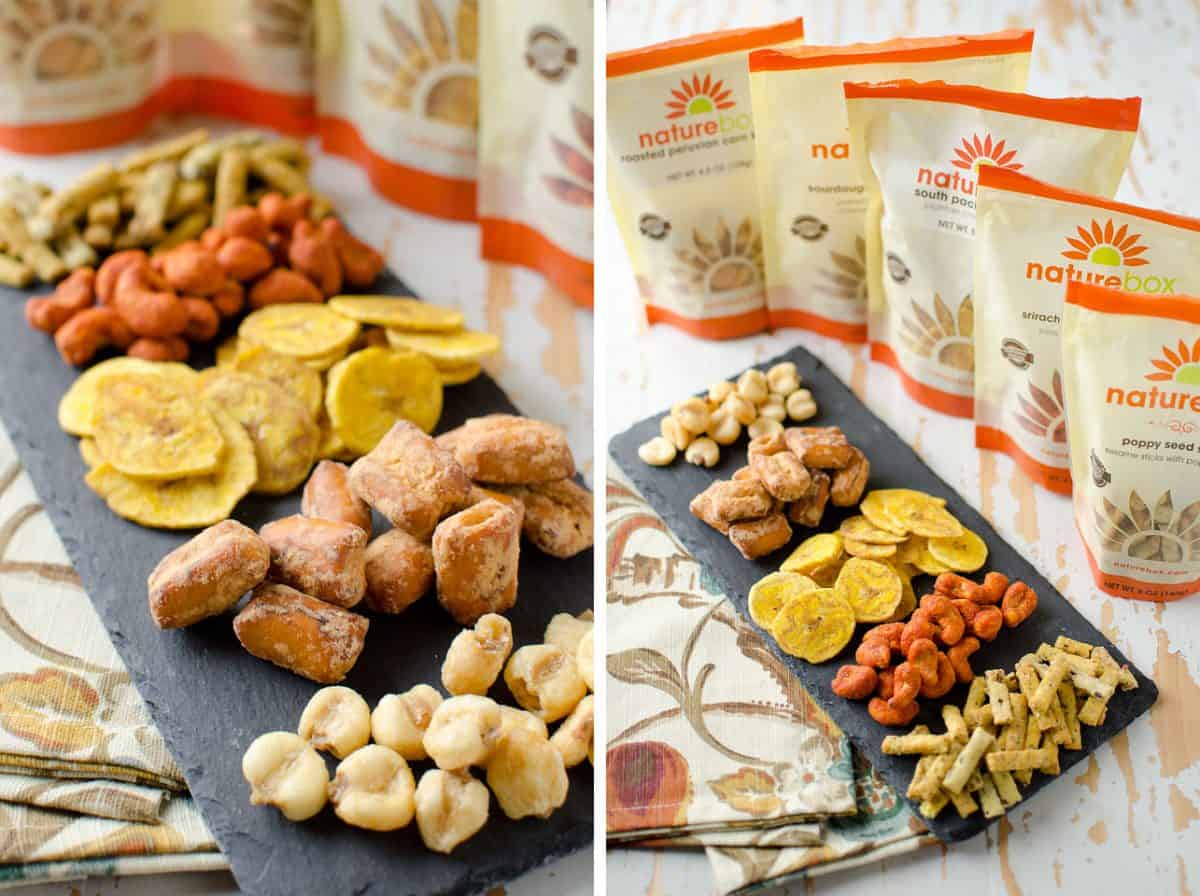 With holiday season upon us, it is all too easy to grab some of your kid's candy, some cookies or caramels, or a candy bar from the convenient store with all of the hustle and bustle of the season. With all of the delicious and quality options from NatureBox to choose from, you won't be as tempted by these things. Stash a snack in your desk drawer, one in your car and one in your bag and leave a couple at home, so whenever the snacking bug hits you, you have a healthy option at your side.
Wouldn't this make a great gift idea for that person in your life who enjoys eating healthy? When I mentioned to my sister how excited I was to be getting my first NatureBox, she sighed with disappointed. When I asked why, she told me she had planned on getting me this as a Christmas gift! Woops, sorry for ruining this gift idea for you sis, but I hope someone else can use this as a great idea for their friends and family.
Guess what, not only can you gift it to a friend, but you can try it yourself for FREE!
Click here to start your free trial with NatureBox!*
*Free trial is available for new and US subscribers only. Not valid on gift subscriptions and may not be combined with any other offers"
Not only is NatureBox perfect for healthy snack options, but they can also make a unique addition to any meal. When I got my box in the mail, I instantly ripped open every single package. I admit that I have the patience of a five year old, so I just couldn't wait to try everything I had ordered. My favorite snack was the Sriracha Roasted Cashews with an expected amount of heat, but nothing overwhelming, paired with a slight sweetness for the perfect balance of flavor. The Sourdough Cheddar pretzels were another favorite with a classic salty cheddar flavor and a nice surprise from a subtle beer flavored finish.
I wasn't the only one excited to get into these snacks, my adorable nephew was sneaking into them any chance he got!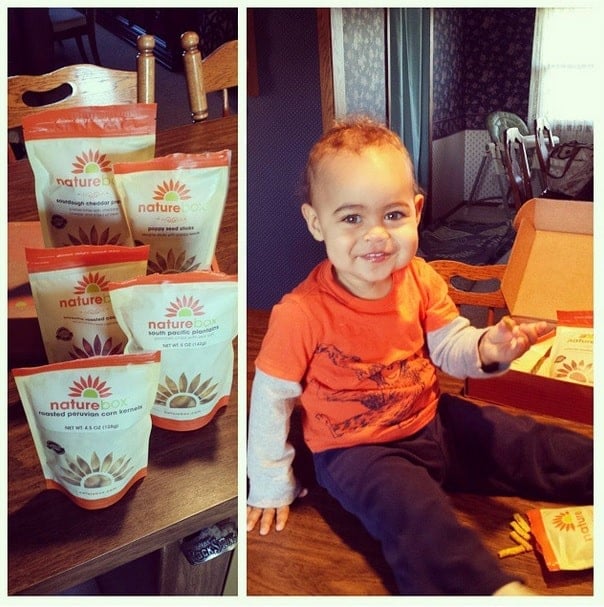 When I tried the Peruvian Roasted Corn Kernals, I immediately knew they would be the perfect addition to a salad for a great alternative to croutons for the essential crunch. This weekend, I whipped up this Steak & Bleu Cheese Salad topped with Peruvian Roasted Corn Kernels. The tangy bleu cheese dressing tops a pile of mixed greens, medium-rare steak, tomatoes, green onions and crunchy roasted corn for a a fantastically flavorful salad that is not only filling and delicious, but lightened up for a healthy meal.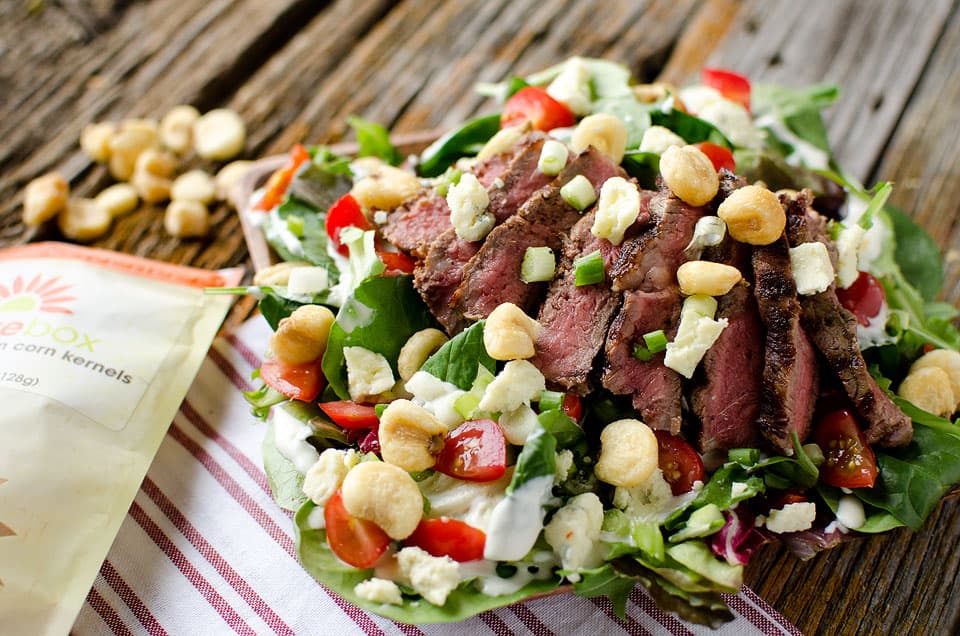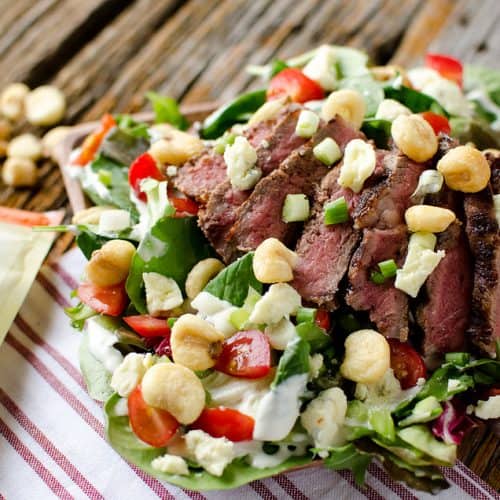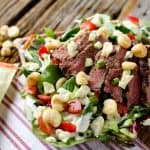 Print Recipe
Steak & Bleu Cheese Salad with NatureBox Roasted Corn
Steak & Bleu Cheese Salad is topped with Peruvian Roasted Corn Kernels from NatureBox and it is a fantastically flavorful salad that is not only filling and delicious, but lightened up for a healthy meal.
Ingredients
6

c.

mixed greens

1/2

c.

Light Greek Yogurt Bleu Cheese Dressing

1/2

c.

tomatoes

chopped

1/4

c.

green onions

chopped

1/4

c.

bleu cheese crumbles

1/2

c.

Peruvian Roasted Corn Kernels from NatureBox

8

oz.

sirloin or New York strip steak

salt and pepper
Instructions
Season both sides of your steak with salt and pepper. Cook in a non-stick skillet on high for 3 minutes on each side, for a medium-rare steak. Remove the steak from the heat and let rest for 5 minutes.

Meanwhile, toss the mixed greens, tomatoes and green onions with the bleu cheese dressing.

Slice the steak thinly against the grain and lay across the dressed greens. Top with bleu cheese crumbles and Peruvian Roasted Corn Kernals with NatureBox.
21 Day Fix Approved Recipe – 1/3 Blue, 2 Green, 1/2 Orange, 2/3 Red, 3/4 Yellow
I was selected for this opportunity as a member of Clever Girls Collective and the content and opinions expressed here are all my own.