Pork Carnitas Street Tacos are an easy and healthy 15 minute dinner recipe that are sure to please a crowd with caramelized meat, pico de gallo and guacamole!
Pork Carnitas Street Tacos
Last week I shared a recipe for Pressure Cooker Pork Carnitas. It is an easy way to meld all of the amazing flavors into tender pork. After you take the time to make the meat, the possibilities are endless when it comes to serving it up for dinner. These Pork Carnitas Street Tacos are one of the easiest ways to enjoy the delicious meat! If you are looking for a simpler option, you can buy the pre-seasoned Pork Carnitas at the store and simply cook them up. This is an easy task to do ahead of time to meal prep for a quick and delicious dinner on the table in less than 15 minutes.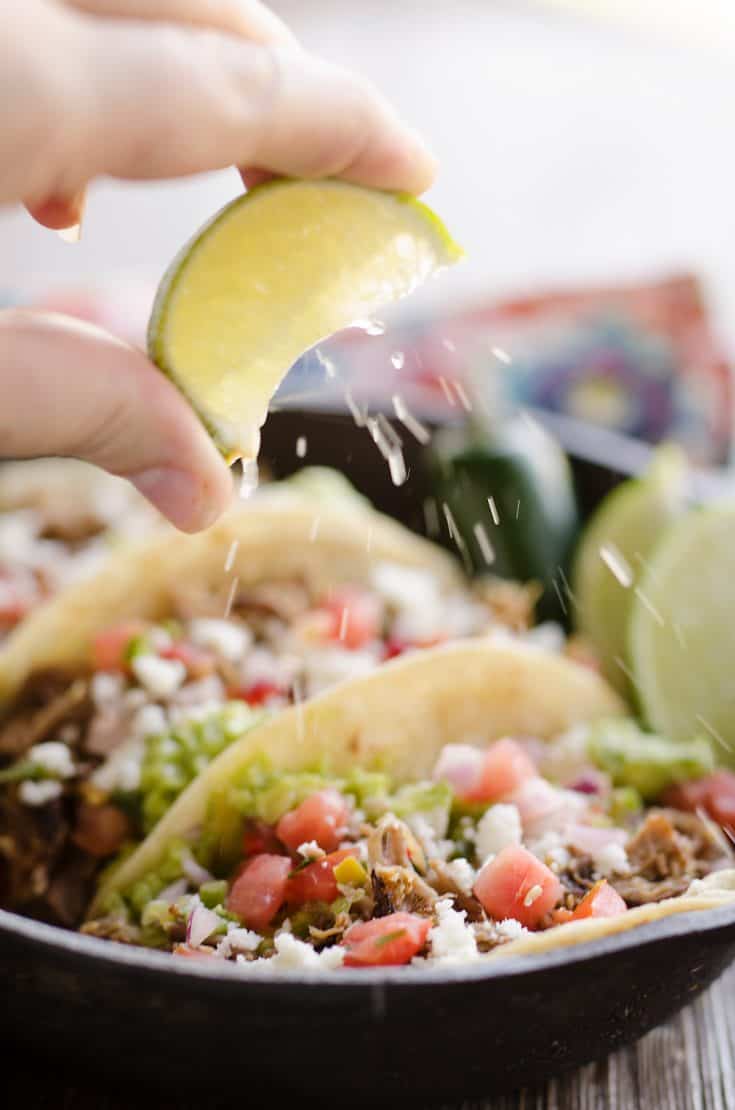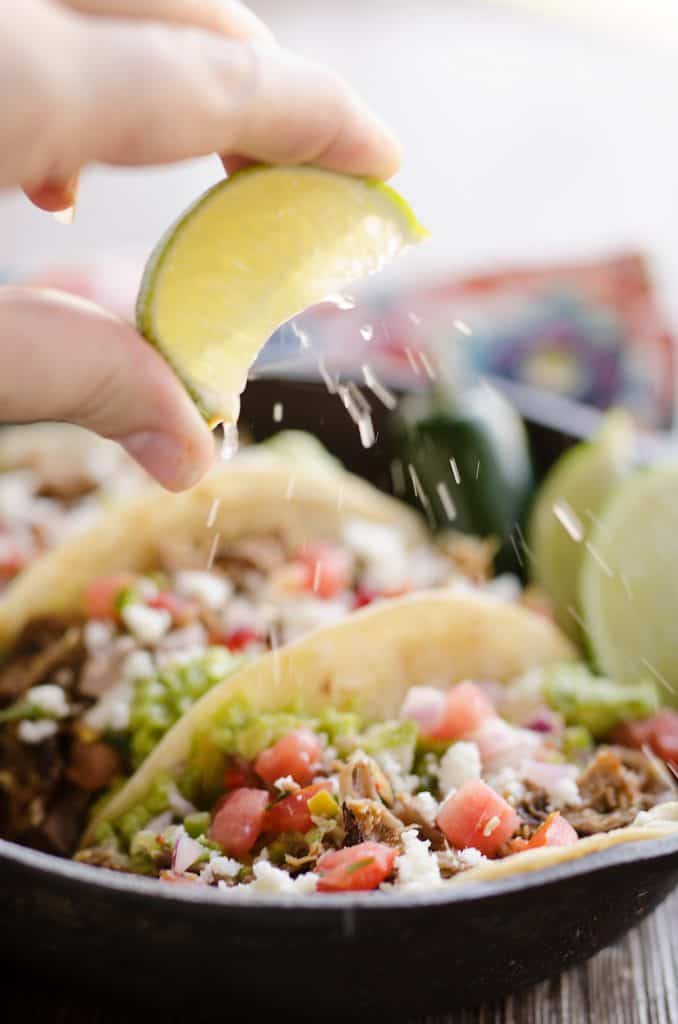 Regardless of whether you make up your own Pork Carnitas or buy them at the store, one step you certainly don't want to skip is searing the meat off before serving. The meat itself is flavorful, but there is nothing like the flavor and texture that getting that caramelized sear on it. It adds so much to a simple recipe like these Pork Carnitas Street Tacos.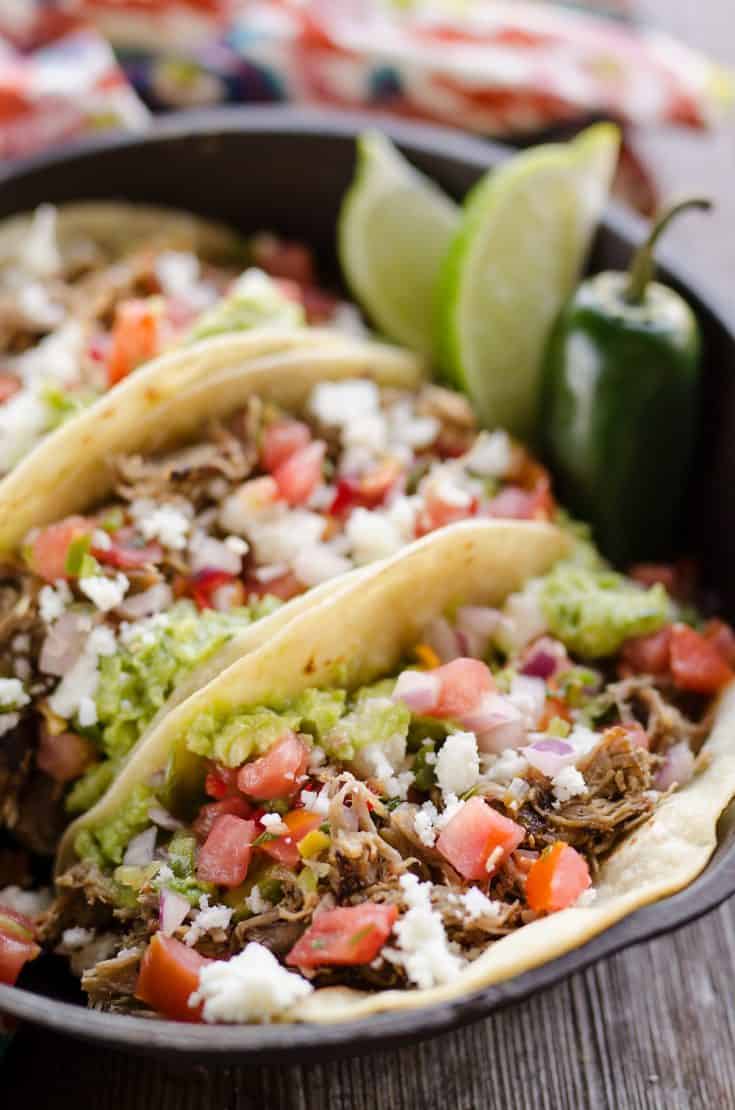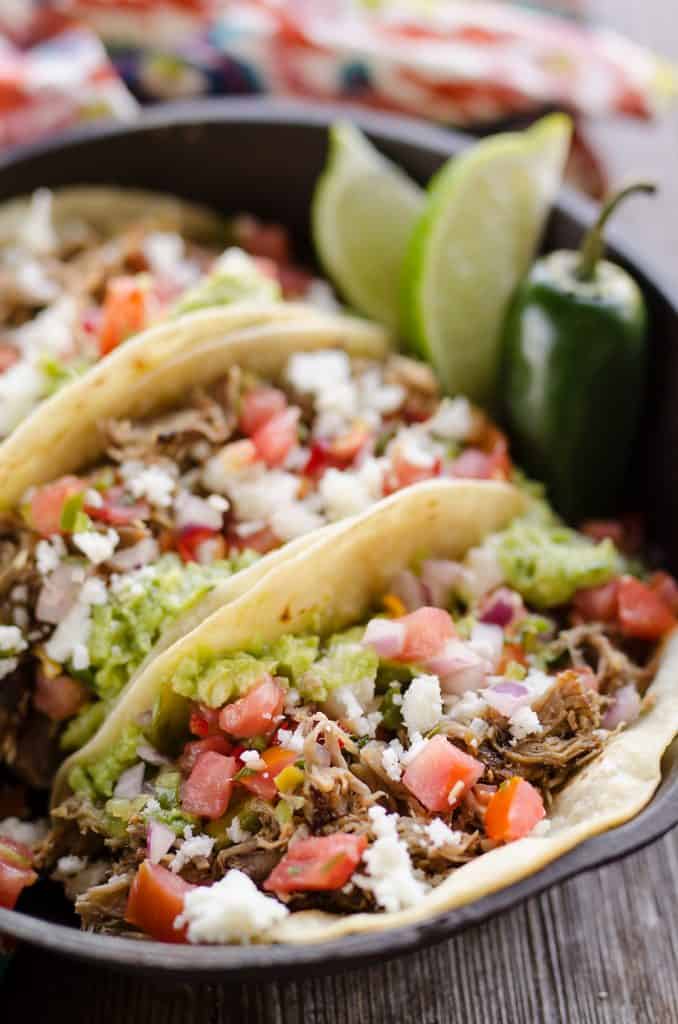 Another crucial step to great street tacos that I think is a must, is grilling the corn tortillas. Regular corn tortillas are fragile and will fall apart under the weight and moisture from the pork juices. That is why you will often see people doubling up on the tortillas. I am not a fan of this personally. I don't like all the extra tortilla and it's just not as healthy with all those extra carbs.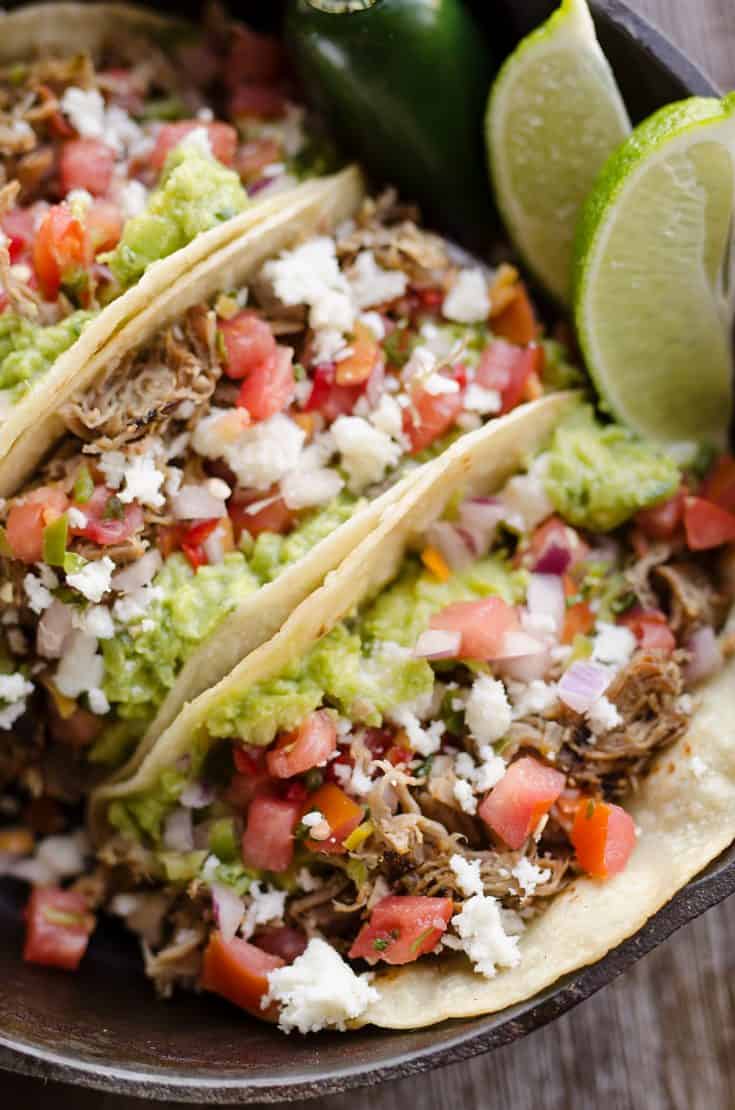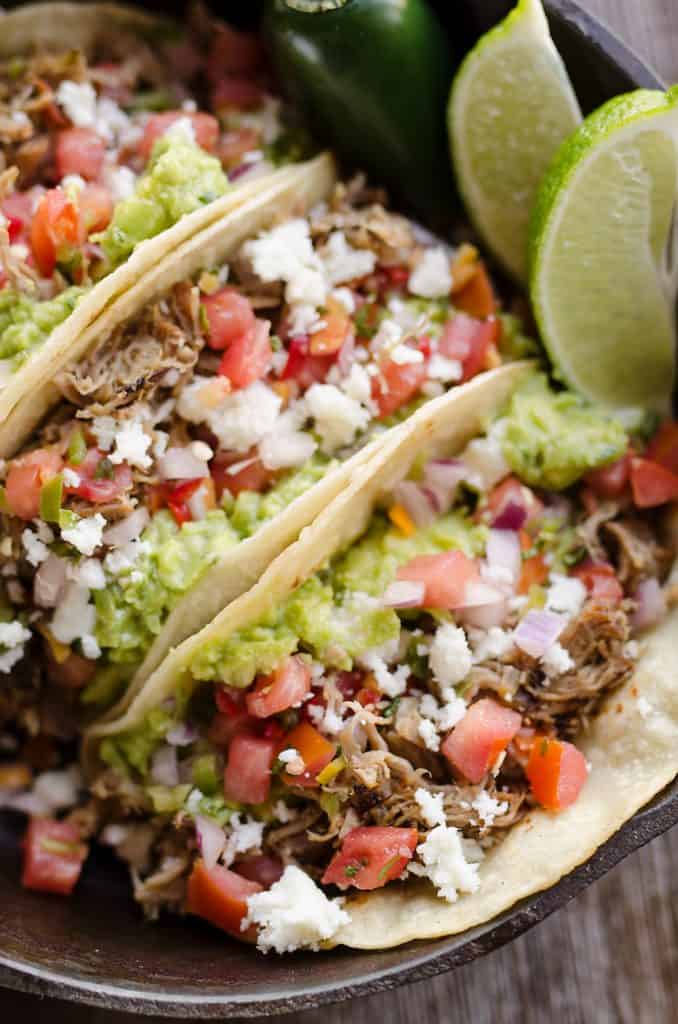 Not only are you saving on carbs and tortillas by grilling off your tortillas, it adds a wonderfully chewy texture to tortillas that is much different than a raw corn tortilla. If you haven't try it, please do! It's as simple as spraying them with some oil or non-stick spray and cooking them in a hot skillet for 30-60 seconds on each side. You can do this while your meat is searing and stack them on a plate topped with some tinfoil to keep them warm. I promise you won't be disappointed that you made the extra effort!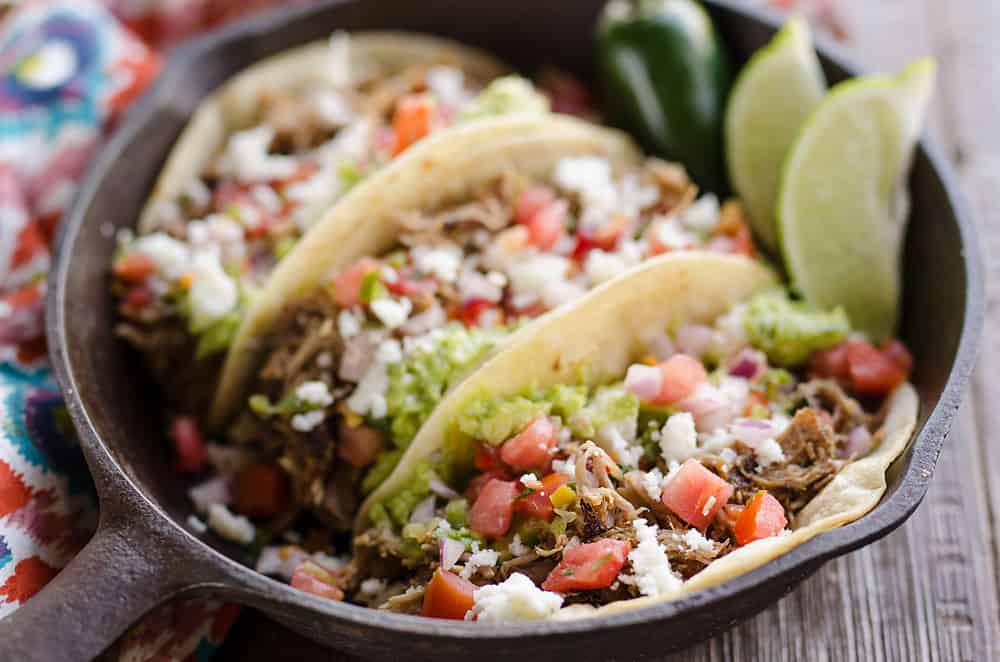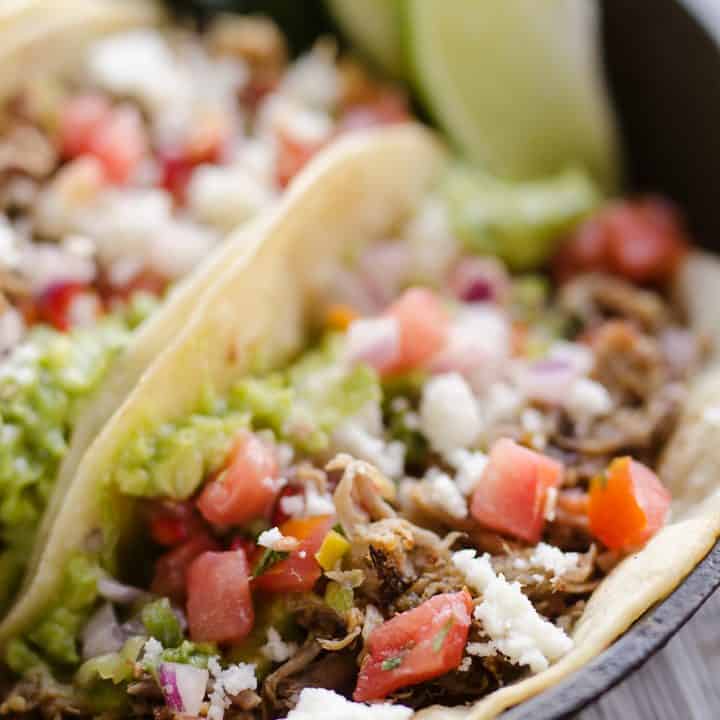 Pork Carnitas Street Tacos
Pork Carnitas Street Tacos are an easy 15 minute dinner recipe that are sure to please a crowd with caramelized meat, pico de gallo and guacamole!
Ingredients
2 c. cooked pork carnitas
2 tsp. olive oil
1/3 c. reserved carnitas juices
8 white corn tortillas
1 c. guacamole
1 c. pico de gallo
1/2 c. queso fresco
lime wedges
choice of salsa
Instructions
In a hot skillet over medium-high heat, add the olive oil and shredded pork. Allow to sear for 2 minutes and then add the resered carnitas juices to the pan. Saute for 3-5 minutes or until the juices are evaporated and the bottom of the pork is browned.
Meanwhile, spray all of the corn tortillas with a light mist of oil or non-stick cooking spray. In a separate large skillet over high heat, cook the tortillas for 1 minute on each side, or until lightly browned. Set aside on a covered plate to keep warm.
When the tortillas and meat are done cooking, top each tortilla with 1/4 cup Carnitas, 2 Tablespoons guacamole, 2 Tablespoons pico de gallo and 1 Tablespoon queso fresco.
Serve the tacos with lime wedges and salsa on the side. (I love salsa verde!)
Nutrition Information:
Yield:

4
Serving Size:

1 grams
Amount Per Serving:
Unsaturated Fat:

0g
More great taco recipes!