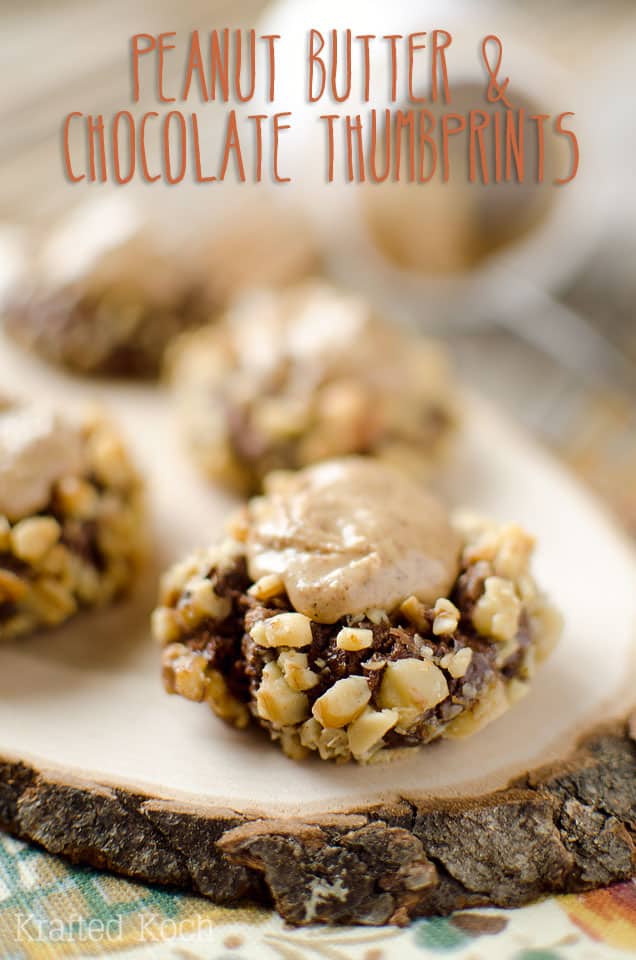 Peanut Butter & Chocolate Thumbprint Cookies are rich chocolate cookies rolled in walnuts and filled with sweet peanut butter frosting for the perfect bite of the best combination on earth, peanut butter and chocolate!
If you aren't sure what to get your Valentine this year, these cookies would be the perfect treat. I believe there is no better way to show our affection than by taking the time to make or do something special for our loved ones. Whether it is a homemade card or their favorite cookie, the fact that you took the time to make something special gets extra points in my book.
When I was in college my boyfriend, now husband, took the time to set up a fantastic surprise that I will never forget. I was working late nights in a restaurant and wasn't going to be able to make the trip back home to visit him that weekend due to my work schedule. When I got home from my shift on Valentine's night, he was waiting in my apartment with roses in hand along with a candle lit spaghetti dinner he made himself! Not only did he make the 3.5 hour drive to Minneapolis to see me and arrange it with my roommate so he could get in the apartment, but he went out of his way to do something extra special by cooking dinner.
If you knew my husband, you would know this is NOT the norm for him. He is a rough and tumble farmer with very little romance running through his veins. That is what made the surprise all the better. It has been 10 years and I am still waiting for him to try and top it! 😉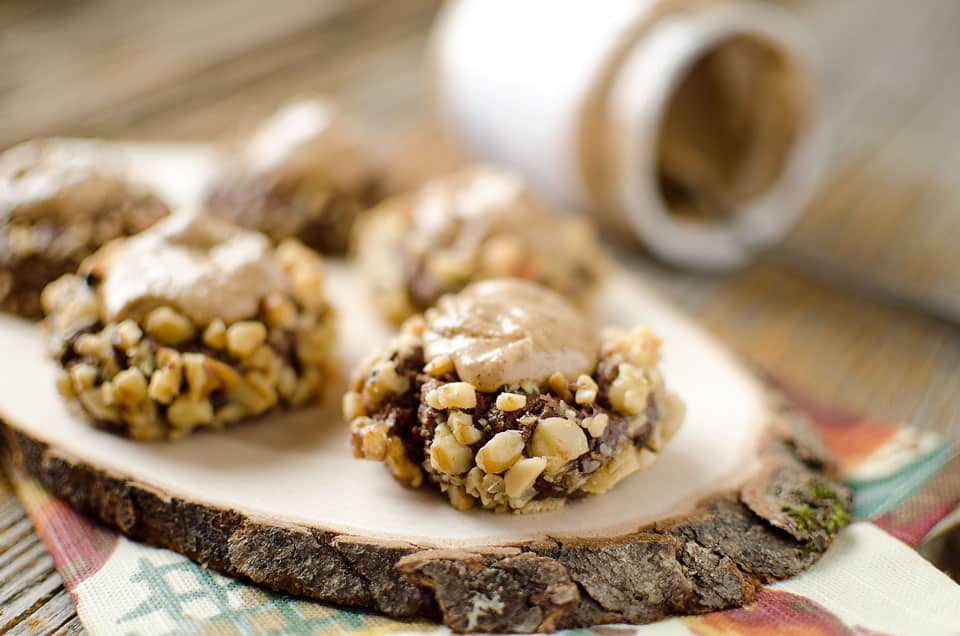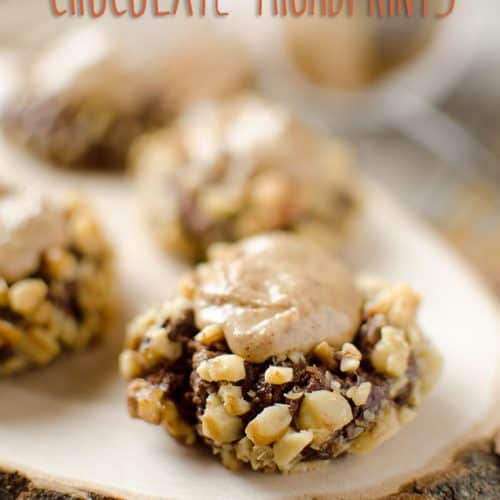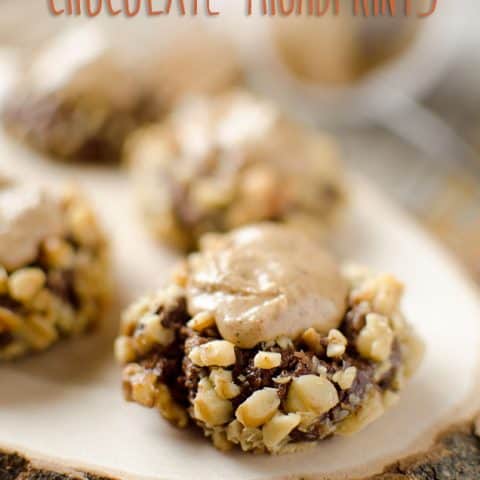 Peanut Butter & Chocolate Thumbprint Cookies
Ingredients
1/2 c. shortening, part butter or margarine
1/4 c. brown sugar
2/3 c. flour
1/4 c. cocoa powder
1/4 tsp. salt
1 egg separated
1/2 tsp. vanilla
3/4 c. walnuts, finely chopped
Frosting
2/3 c. peanut butter
3 Tbsp. milk
1/2 c. powdered sugar
Instructions
Preheat your oven to 350°. In a medium bowl, mix shortening, butter, sugar, egg yolk, and vanilla until smooth. Blend flour, cocoa and salt into the mixture. Roll into one inch balls, dip balls into slightly beaten egg white, then roll into chopped walnuts.
Arrange on a lined cookie sheet and indent the middle of each cookie gently with your thumb. Bake at 350° for 10 to 12 minutes and immediately indent the cookies in the same spots as you remove them from the oven. Allow to cool completely.
Meanwhile, mix the peanut butter with the whipping cream and powdered sugar.
Top each thumbprint with icing and store in an airtight container.
Freeze any extras the same day for the freshest cookies.
Nutrition Information:
Yield:

1
Serving Size:

1 grams
Amount Per Serving:
Unsaturated Fat:

0g
More sweet treats for your valentine!