Light Cheesy Chicken, Sausage & Rice Casserole is a creamy chicken and rice skillet filled with vegetables and sharp white cheddar for a healthy and filling one-pot dinner in only 30 minutes!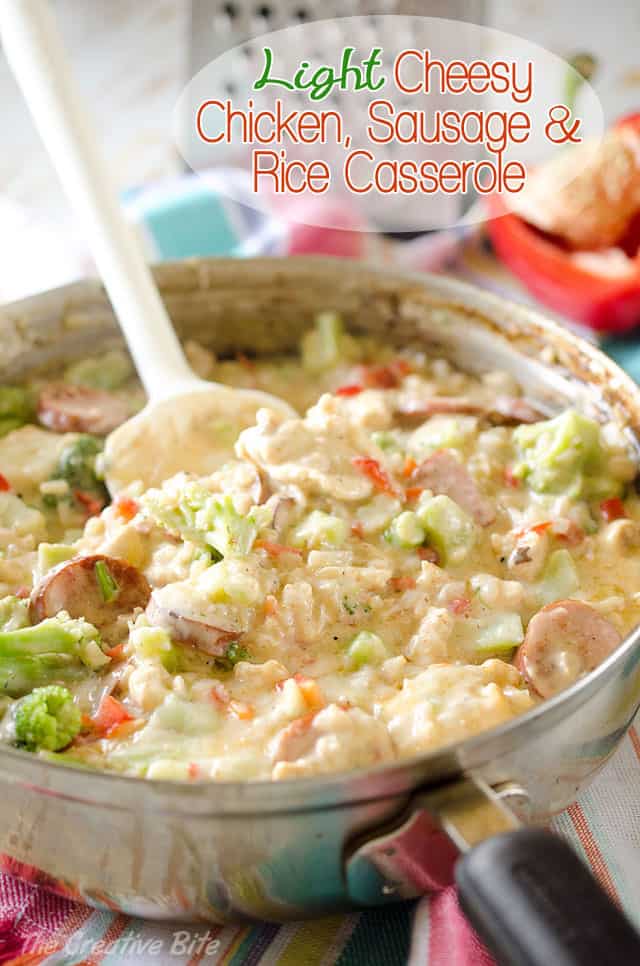 This Light Cheesy Chicken, Sausage & Rice Casserole is one of those easy dishes that came together with what I had on hand at the time. It was a busy spring evening and I wanted to quickly get something on the table that both my husband and I could enjoy. A little chicken, onions and red pepper along with some lite smoked sausage, brown rice and a homemade sauce with extra sharp white cheddar all came together to make this rice casserole a home run!

Speaking of home runs, it is summer softball season around here. It is amazing how not playing for 10 months can feel like eternity! It might also have to do with the fact that I haven't been hitting the gym on the regular lately. But after the first couple games of the season, I was SORE!

Both of our pitchers from last season decided they couldn't play full-time this season, so that left us scrambling to figure out who was going to pitch. I didn't have the best season at first base last year, so I figured I would give it a try. I wasn't as horrible as I expected I would be, but needless to say, I still need a lot of practice.
Thank goodness that one of the pitchers has been coming to all of the games, because I am the biggest head case when it comes to sports. When I decide I am not doing good at something it starts to go down hill fast. On the bright side, if I make up my mind I am good at something, I tend to do really well. Now if only I could always decide that…

More easy casseroles!