Light Apple & Pancetta Stuffing is full of wholesome goodness, including golden raisins, apples, green onions and leeks with a bit of Pancetta for rich flavor in this sweet and savory side dish perfect for the holidays!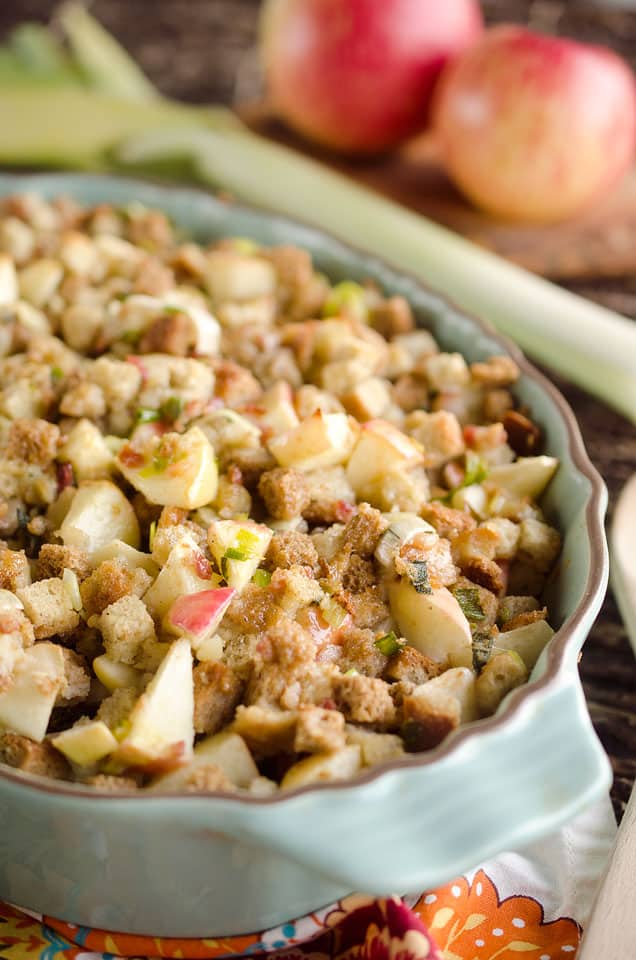 Light Apple & Pancetta Stuffing
Thanksgiving is less than two weeks away! Can you believe it?! I can't. This fall is flying by so fast with the warm weather that it is just too hard to wrap my mind around the idea of hosting Thanksgiving in a couple of weeks. I have my entire menu planned out along with the shopping list. Times like this are when you realize just how expensive groceries are!
At the end of the day it is totally worth it though. My husband doesn't get to see his family all that much seeing they live in the neighboring state, so he is excited every holiday to have a chance to catch up with them all and enjoy good food. This Light Apple & Pancetta Stuffing is a definite must-have on my Thanksgiving menu this year!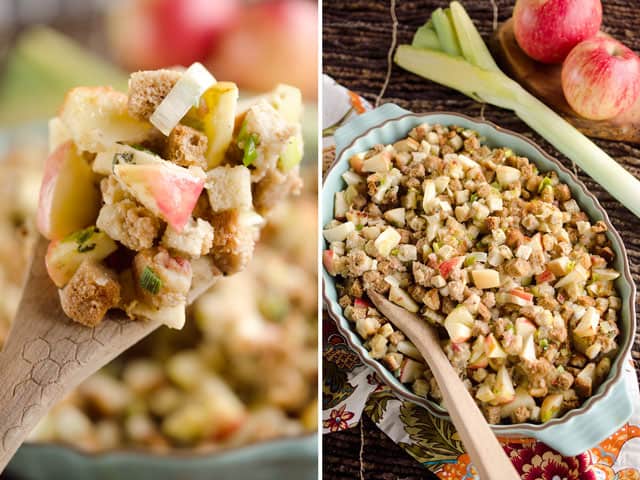 I just got back from an exciting weekend in Minneapolis where I spent some time learning about food photography from one of the best bloggers out there, Lindsay from Pinch of Yum. Their Food Photography Workshop was full of amazing women from around the country who were all their to better their food photography. It was so much fun connecting with other bloggers and seeing where they are in their blog and photography journey.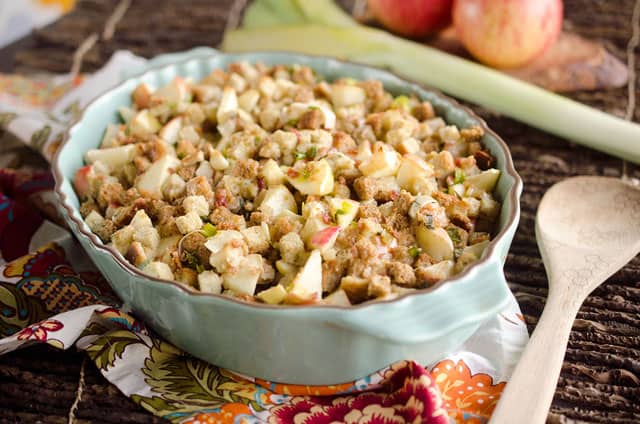 For myself, I feel completely comfortable using my camera in manual, as I do that on a regular basis for my portrait photography business. My goal with attending the workshop was to walk away with a better grasp of styling food to achieve my desired end product. The first day of the workshop was spent on the basics of shooting and lighting, which was remedial for myself as I expected it to be, but it was still fun getting to know the other ladies and practicing.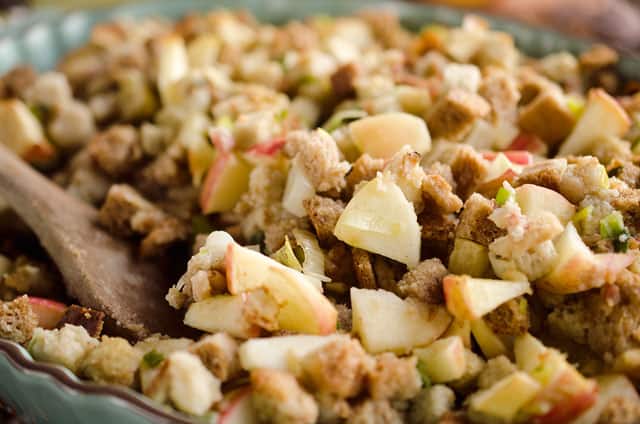 On the second day of the workshop we started focusing on food styling which I was really excited about. Lindsay had us do an exercise on our personal style for food photography and I found that immensely helpful. I was really able to nail a few things down that I wasn't currently achieving, but would like to along with ideas on how to get there.
We also got to play around with styling food including our salads, sandwiches, cupcakes, pancakes, etc. All of the food we enjoyed at the workshop was fantastic for photographing, not to mention delicious when we got to enjoy it afterwards! I have honestly never photographed pancakes before, so this was a fun first-time experience for me. I love how they turned out!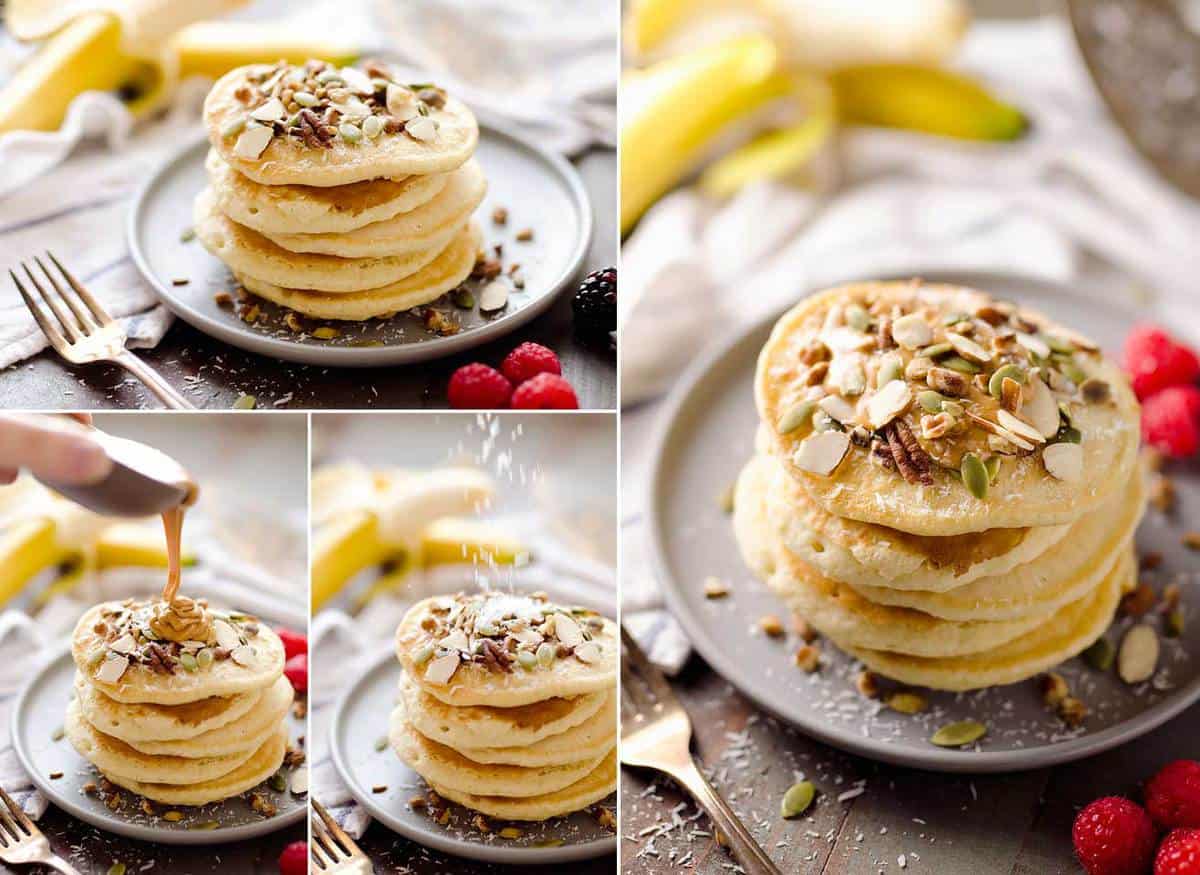 One of the best aspects of this workshop was the ability to play around with artificial light. Now that it is pitch black outside by 5:30pm in Minnesota, it is nearly impossible to make and photograph something for dinner with natural light. It is time to whip out my artifical lights to get the job done!
In the past I have struggled with overexposed and washed out photos when playing with my lights. After some practice though, I felt pretty good about the end result I was able to achieve. My artificially lit image is on the right, which used just one Lowel EGO Tabletop Light
, compared to the naturally lit photos on the left.
All in all, it was a great weekend spent meeting new people and learning new things! Lindsay was so open and helpful about everything from teaching food photography, to taking some time to sit down with each of us individually to help us with challenges we were facing with our own blogs. She is really the sweetest lady and I definitely recommend this workshop to anyone struggling with food photography!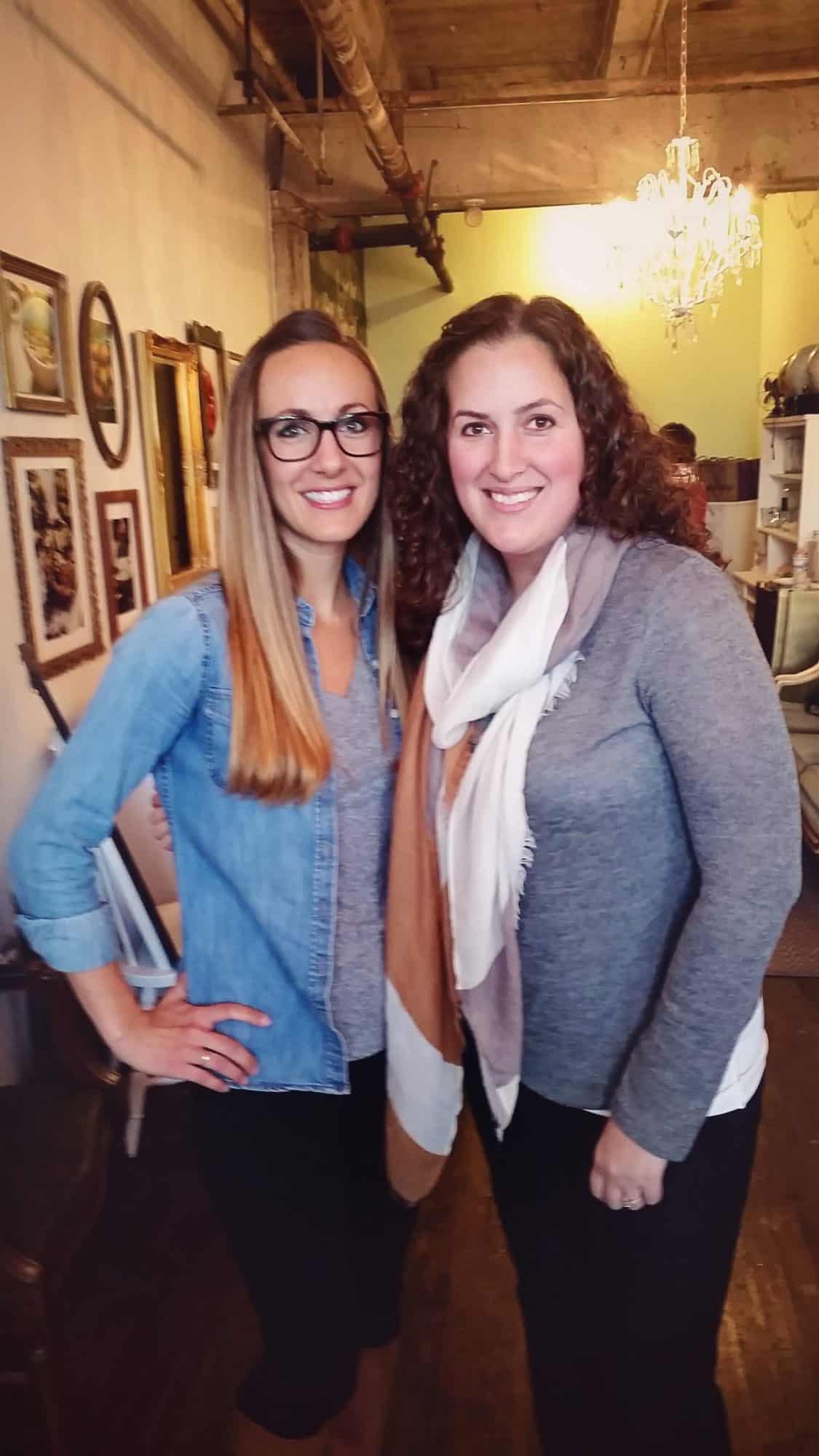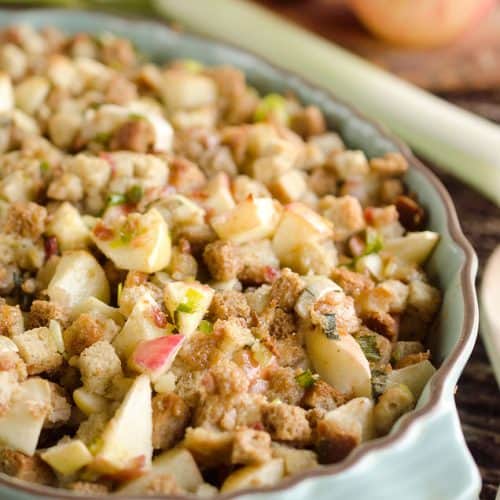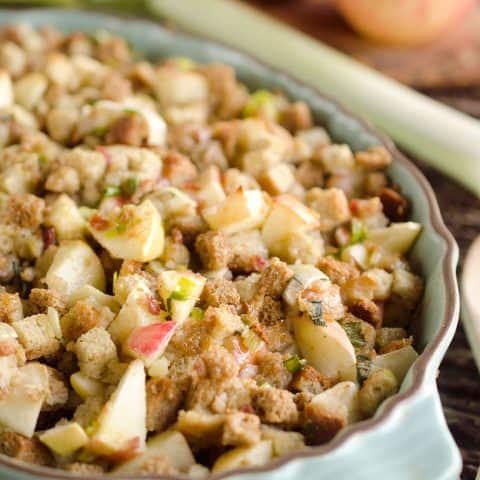 Light Apple & Pancetta Stuffing
Light Apple & Pancetta Stuffing is full of wholesome goodness, including golden raisins, apples, green onions and leeks with a bit of Pancetta for rich flavor in this sweet and savory side dish perfect for the holidays!
Ingredients
4 oz. Pancetta
1/2 c. leeks, chopped
2 eggs, whisked
2.5 c. chicken broth
2 Tbsp. melted butter
1 tsp salt
1/2 c. green onions, chopped
2 large apples, chopped
1 Tbsp. fresh sage, or 1 tsp dried
2 tsp. garlic, minced
12 oz. sage and onion stuffing mix
Instructions
Preheat your oven to 375°.
In a non-stick saute pan, add the pancetta and leeks. Saute for 5-6 minutes, or until the pancetta is browned and the leeks are translucent.
In a large bowl, whisk the eggs with chicken broth, butter and salt. Add the leeks and pancetta (don't forget to include the pancetta fat as well) along with the remaining ingredients and toss until well coated.
Transfer the mixture to a 9x13 sprayed pan and cover with foil. Bake at 375° for 30 minutes. Remove the foil and bake an additional 15 minutes.
Nutrition Information:
Yield:

8
Serving Size:

1 grams
Amount Per Serving:
Unsaturated Fat:

0g
More recipes perfect for the holidays!