Kitchen Pantry Organization + Free Printable Labels are the perfect way to bring some cleanliness and order to your home! These easy to print labels can be used with baskets, containers, shelves or anything else to help organize your food.
Free Printable Labels
We recently remodeled our kitchen and when I was planning my pantry, I intentionally wanted the shelves to be shallow. I knew from my previous kitchens that deep cupboards full of food quickly become chaos and you never know what food you have and where it is.
I figured with a shallow pantry, that this would eliminate this issue to some extent. It did for a little white, but eventually my pantry became a catchall where I was just shoving cans, boxes and bags. It was a hot mess! It was time for some Kitchen Pantry Organization and I used these Free Printable Labels to make everything neat and tidy.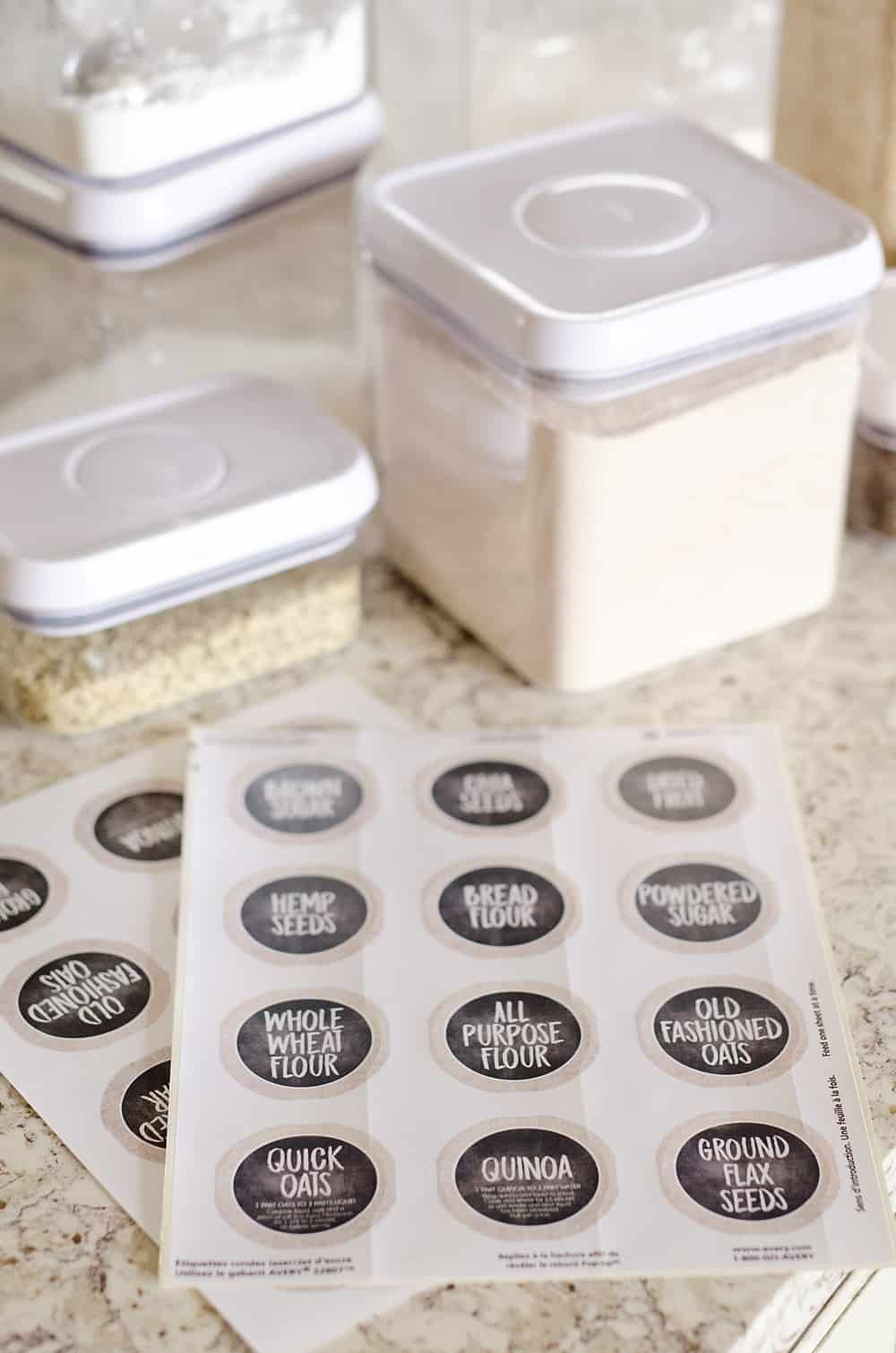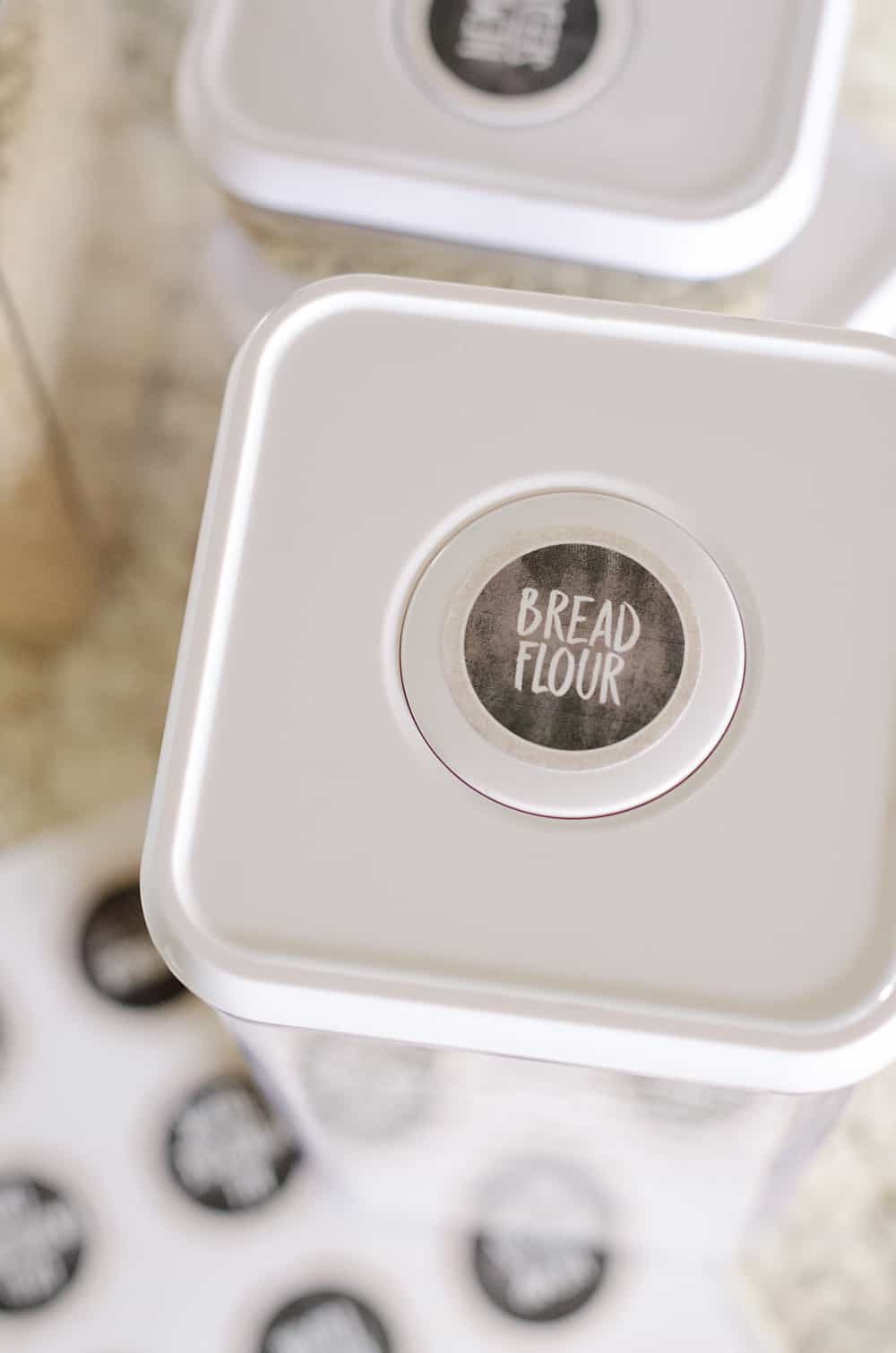 OXO Pop Containers
To get started, I began scouring Amazon for the best storage containers. Based on reviews, sizes and functionality, I decided on OXO POP Containers. These containers are stackable and space-efficient.
POP Containers are designed for modular use, so you can organize in any number of height combinations to fit your pantry. The push-button mechanism creates an airtight seal with just one touch and has corners that are shaped for pouring.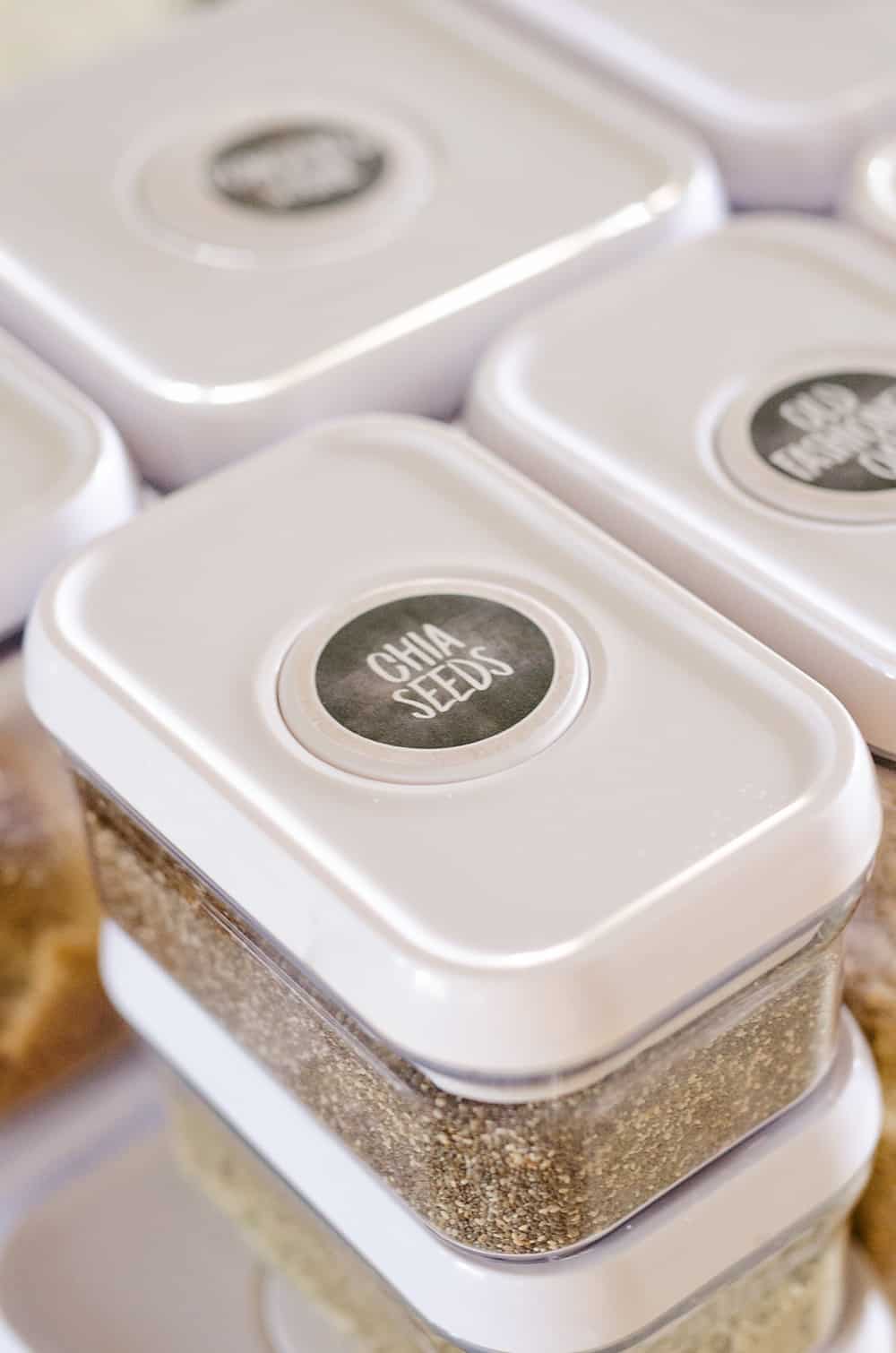 Kitchen Organization Labels
I measured my cabinet and it turned out they would be the perfect size to fit two full rows of POP containers on each shelf. They weren't the cheapest option available to choose from, but I wanted to make an investment in storage containers that would hold up long term.
They definitely fit the bill in that department. I have already dropped a couple of them on different occasions and they took it like a champ only leaving a scuff.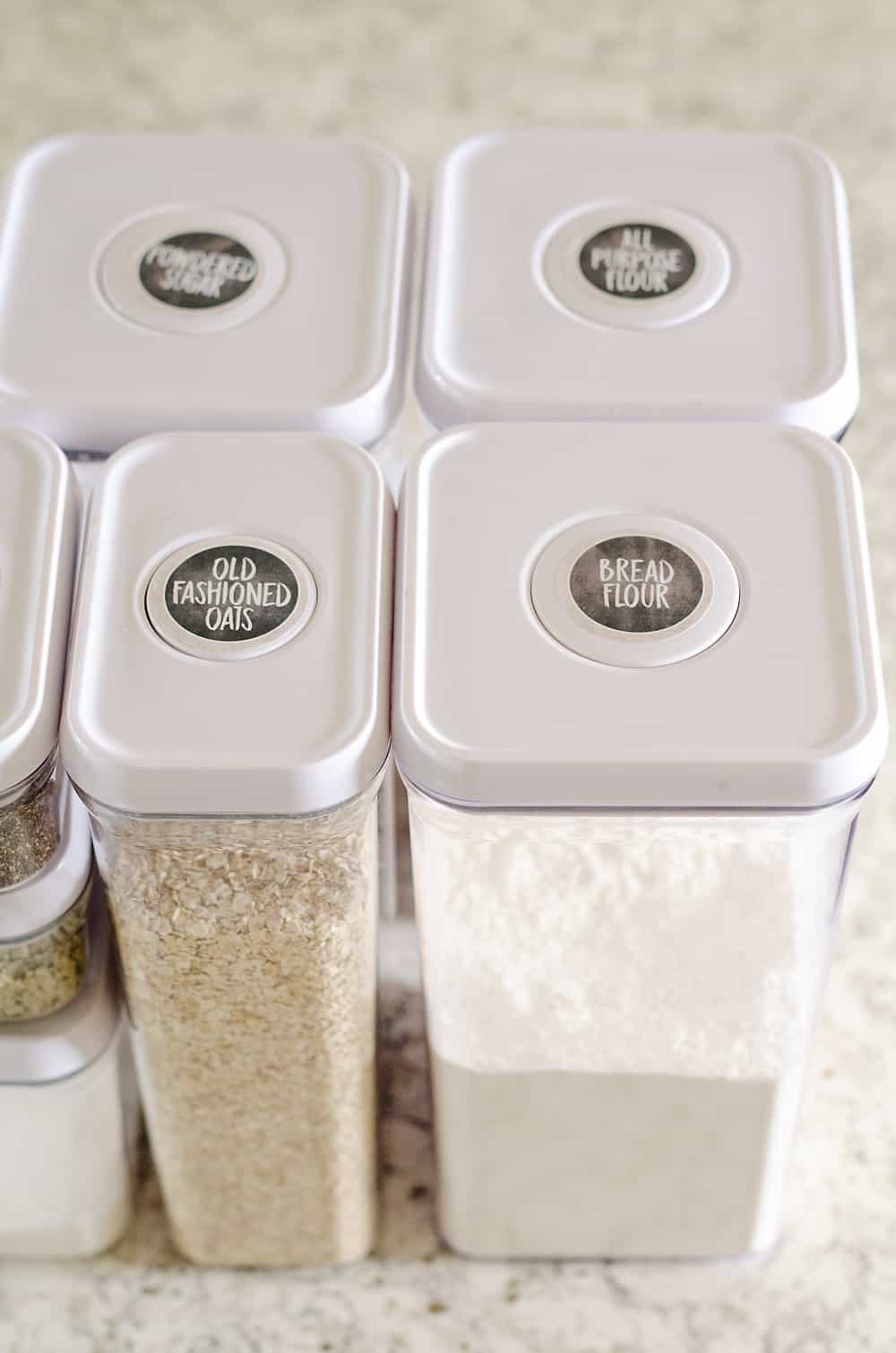 How to organize kitchen pantry with free labels
When planning out my Kitchen Pantry Organization, I started by removing EVERYTHING from the pantry. I tossed the things that were outdated, started a pile of donations for the Food Shelf for things I had too many of and left the remaining items on my kitchen counter. I cleaned off all of the shelves with the remnants of sugar, rice, flour, etc.
I carefully evaluated each item to determined whether or not it would be better stored in an OXO POP Container. Things like flour and sugar were no-brainers. Those bags would always leak and leave a mess on whatever shelf I stored them.
Other items like chia seeds and hemp seeds that I buy from our local food coop were also much better suited in small 1/2 quart containers. Instead of having them in thin little baggies from the coop, they were now securely stored in air-tight containers that stacked beautifully. By precisely planning out what containers I would need for what items, I was able to order just enough containers online.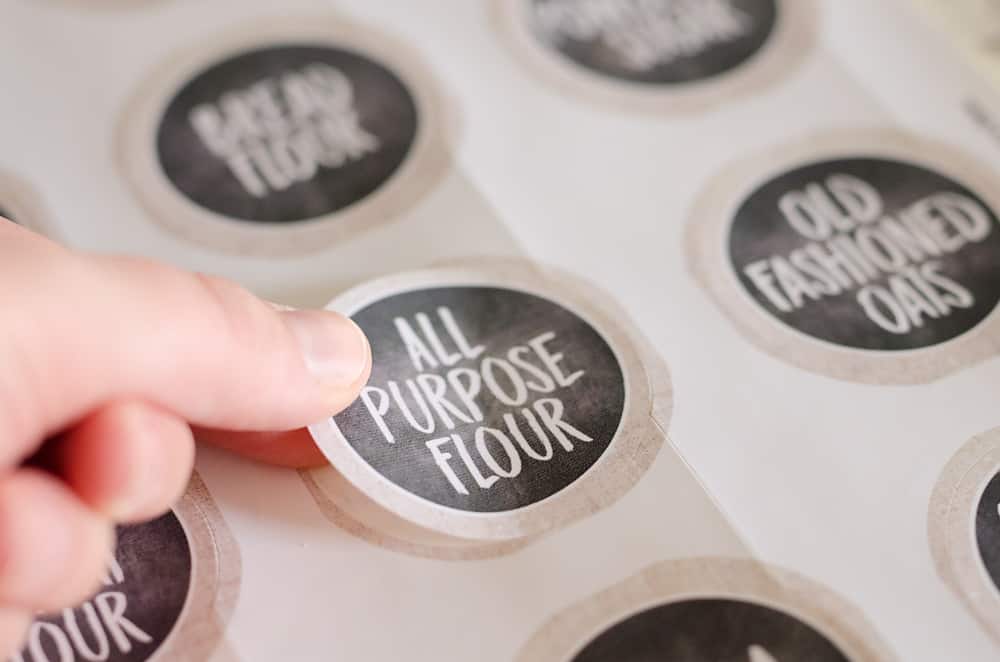 Printable Labels for Pantry Items
The 10-Piece POP Container Set is a great value to start with if you are working on a Kitchen Pantry Organization. From there you can add on more individual pieces that serve your needs. I found that not everything needs to be put in a container and sometimes it's actually less practical.
For myself, I decided to leave pastas and specialty rice in the containers that I purchased them in. They already come in sturdy boxes that stack well so there really wasn't a need to find something else. I found that these Pullout Organizers were better suited for these items along with smaller jars and canned items.
Once I had my plan in place, I ordered all of my containers and set to work designing labels to organize everything. I have multiple different flours, sugars, etc in my pantry that I wanted to clearly label so I wouldn't be questioning what anything was.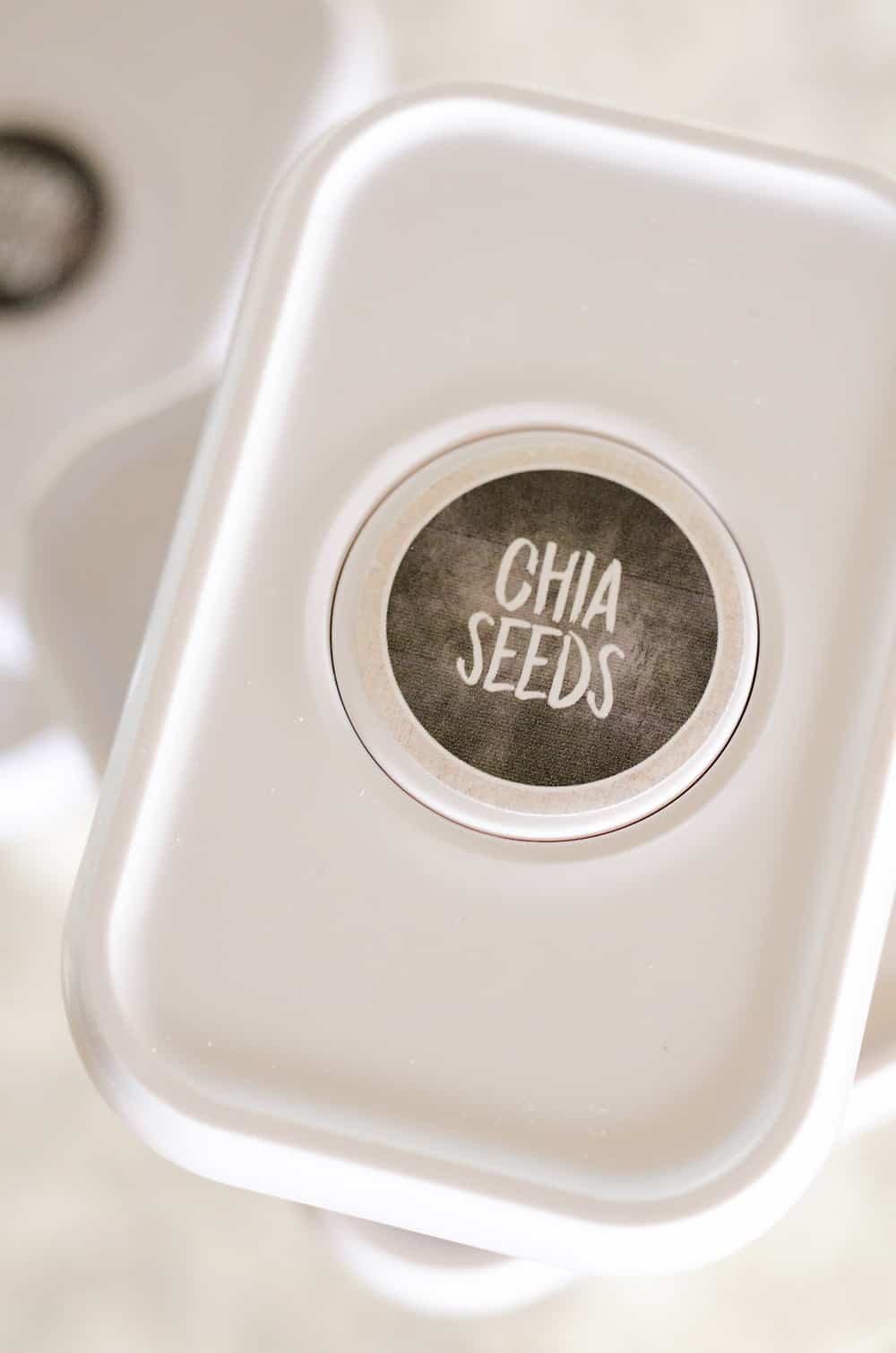 These Avery 22807 Round 2″ Labels are the perfect size to fit on top of all of the POP containers. I designed an individual label for each food item I could think of and then I dropped all of the labels I needed into a template using the free Avery Design Website.
Each label was designed individually so you could drop them into any form for your Kitchen Pantry Organization and print only what you need. Not everyone has bread flour, chia seeds, etc. so it would be a waste of labels to include them in a template.
With these individual labels, you can completely customize what you print. Whether you want to make squares on card stock to hang from baskets or a completely different size label, these Free Printable Labels will work with just about anything. To download all of the individual Free Printable Labels, CLICK HERE.
I also included a blank label that you can further customize to include anything you need for your Kitchen Pantry Organization, or any other project in your house. If you are wanting to utilize the same font, you can download a demo or purchase the Midnight Chalker Font for the same look.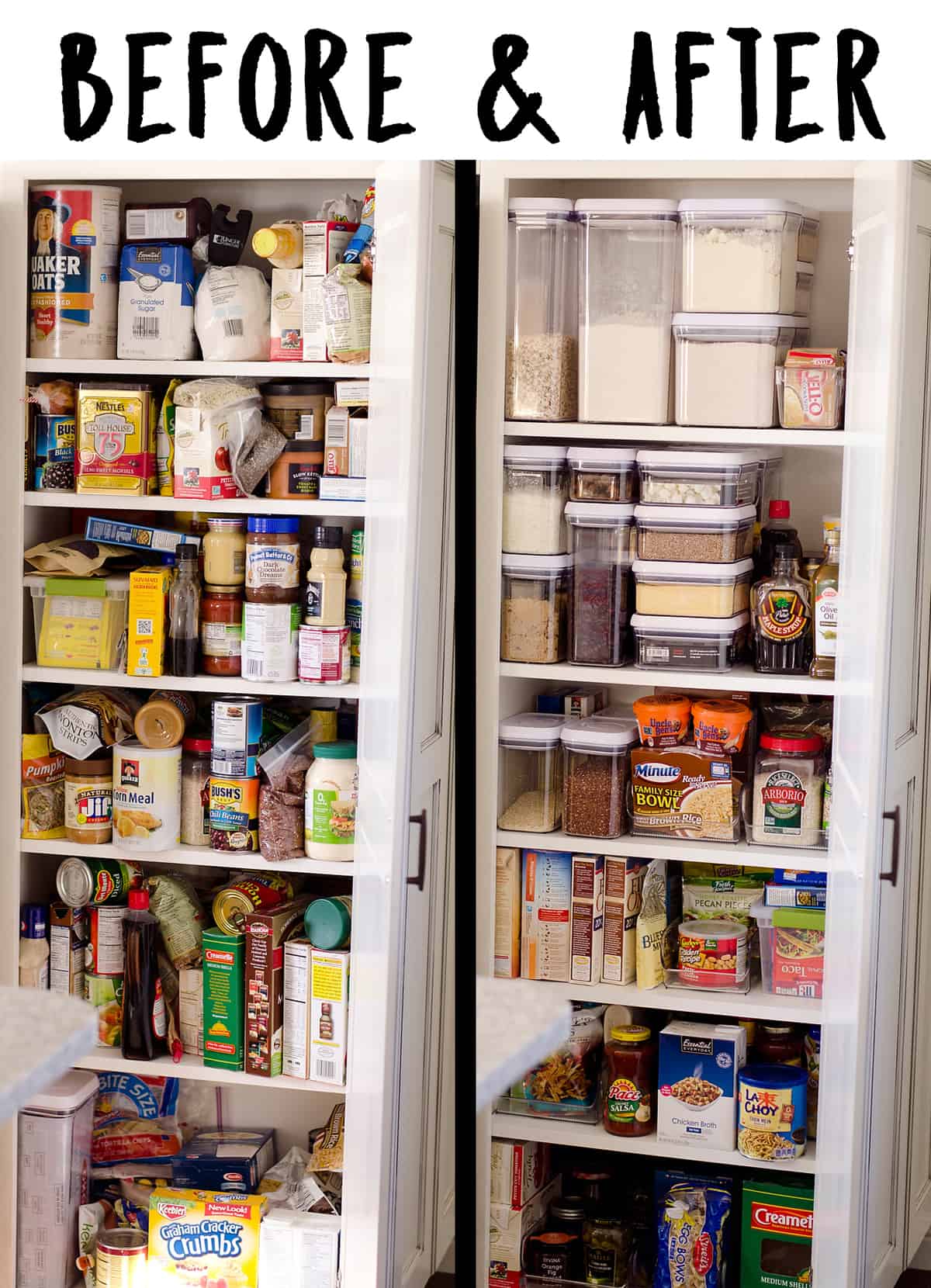 Check out this Before & After of my Kitchen Pantry Organization for inspiration to clean and organize your kitchen cabinets!