A delicious mix of healthy entrees, snacks and sides make up this Healthy Weekly Meal Plan #52 for an easy week of nutritious meals your family will love!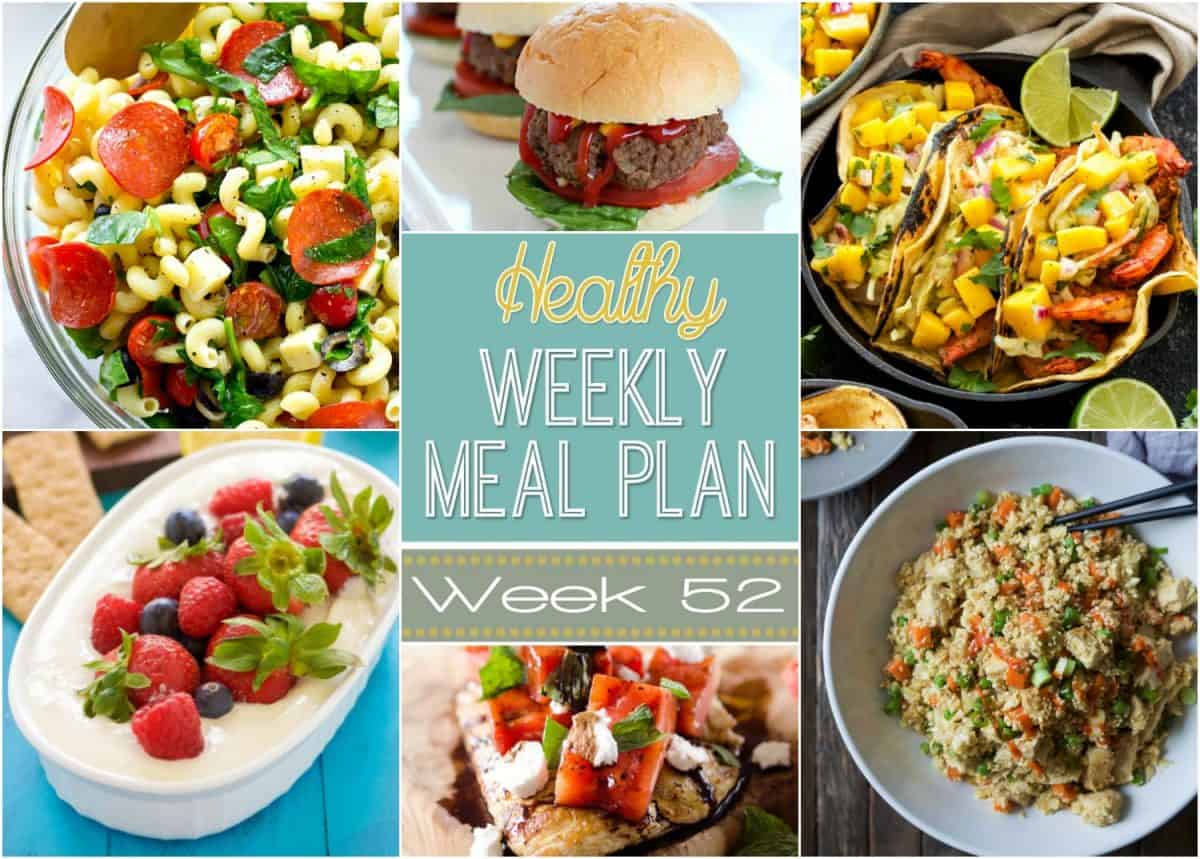 I kind of can't believe that it has been a full YEAR since we started collaborating on this Healthy Weekly Meal Plan! Here we are 52 meal plans later, serving up a variety of entrees loaded with fresh goodness as well as lightened up treats and snacks.
As much as we have loved creating these meal plans for all of you, it is quite evident that you all love them equally as much. Readers are quick to click on their newsletter every Saturday morning that is delivering next week's fix. If you don't want to ever miss out on another meal plan or recipe at The Creative Bite, be sure to subscribe to my newsletter HERE so you never miss a meal plan!
Be sure to stop back every Saturday for your weekly fix of daily entrees as well as a breakfast, lunch, snack and dessert! Just click on the photo or link to see the recipe. If you are looking for a great tool to organize your weekly meal plans, check out this meal planner
!
~ HEALTHY WEEKLY MEAL PLAN ~

Perfect for a post-weekend detox, this colorful berry-loaded power salad will jump start your healthy goals for the week and you will love every power-packed bite!

These Grilled Shrimp Tacos with Avocado Slaw and Mango Salsa are perfect for an easy weeknight dinner or make a big batch of them and throw a taco party on the weekend! The fresh tropical flavors are sure to make everyone happy!

Grilled Watermelon & Balsamic Chicken starts with a tender chicken breast topped with grilled watermelon, soft goat cheese and fresh mint and is finished with a drizzle of balsamic reduction for a fresh summer meal that is healthy and delicious!

MAIN DISH
Strawberry Avocado Chicken Salad filled with fresh Berries, Feta, creamy Avocado, and Grilled Chicken. This light salad is topped with a healthy balsamic vinaigrette. The perfect healthy salad option for the summer!
SIDE DISH
Easy Basil Pesto Hummus and Roasted Tomato Crostini! You only need 4 ingredients to make this addicting little bite!


Easy 15 Minute Cauliflower Chicken Fried Rice that's way better than takeout and tons healthier for you, clocking in at a whopping 205 calories a serving! You're kids will never know its cauliflower not rice!

LUNCH
Ribboned Squash & Zucchini Salad is a fresh and healthy vegetarian salad with veggies, toasted pine nuts, creamy goat cheese and balsamic glaze. Pair it with grilled shrimp or chicken for an amazing and flavorful lunch you won't forget!
DINNER
Juicy, flavorful Blue Cheese Beef Sliders for the win! Not only are these delicious, but they're super easy too!

DESSERT
Lemon Berry Cheesecake Dip is the best of both words – dessert and a dip! Luscious, creamy cheesecake dip with a hint of lemon is topped with juicy berries coated in a touch of maple syrup! An irresistible combination!

BREAKFAST
White Chocolate Greek Yogurt Banana Muffins are by far THE best banana muffins I have ever made! These muffins are packed with protein from greek yogurt, naturally sweetened with ripe bananas and filled with mini white chocolate chips!
DINNER
Everything you love about pizza…in the form of a healthy Italian pasta salad! This super-easy salad is so simple to throw together, it will be a cookout requirement all summer!
DESSERT
Homemade Chocolate Avocado Ice Cream that is so super easy to make, velvety and incredible! You won't even taste the avocado but will love the chocolate creaminess!
Find the Healthy Weekly Meal Plan Archives HERE!
With Salt & Wit | Recipe Runner | Whole & Heavenly Oven | The Creative Bite | Joyful Healthy Eats | Yummy Healthy Easy