A delicious mix of healthy entrees, snacks and sides make up this Healthy Weekly Meal Plan #44 for an easy week of nutritious meals your family will love!

I am so excited for this week's meal plan. Look at all those gorgeous dishes up there! From Bacon wrapped chicken and sun-dried tomato meatballs to a lightened up no-bake vanilla cheesecake parfait. YUM, YUM, YUM! We have been slacking on getting our grill out for the season but my husband needs to get on that ASAP. That grilled corn on the cob is calling my name and just screams fresh summer goodness. I love when I have a week of healthy and delicious meals that I am looking forward to make. It makes the fast food so much less appealing.
I will be spending the weekend helping my brother with an estate sale and then heading to a camp site to meet my parents for a relaxing couple days of boating and camping. I am about to get some sun on this pale white skin. I hope you all enjoy your Memorial Day weekend as much as I plan to!
Be sure to stop back every Saturday for your weekly fix of daily entrees as well as a breakfast, lunch, snack and dessert! Just click on the photo or link to see the recipe. If you are looking for a great tool to organize your weekly meal plans, check out this meal planner
!
Be sure to subscribe to my newsletter HERE so you never miss a meal plan!
~ HEALTHY WEEKLY MEAL PLAN ~

Kicked-up sweet potato noodles stir-fry style with lots of veggies! A super-easy dinner ready in 20 minutes with only 7 ingredients.
The perfect healthy twist on the original fish tacos! These Southwestern Grilled Salmon Tacos are bursting with flavor and topped with fresh pineapple salsa and a Chipotle Lime Crema! Addicting!

Bacon wrapped chicken rolled in brown sugar and baked! I have no words for how delicious and flavorful these little bites of seasoned chicken are! Tender, scrumptious and oh so easy to make!
SIDE DISH
Mexican Corn just got blown out of the water! This Easy Grilled Corn on the Cob is topped with a Creamy Roasted Jalapeno Sauce you'll swoon over! This grilled corn is the new star of the summer!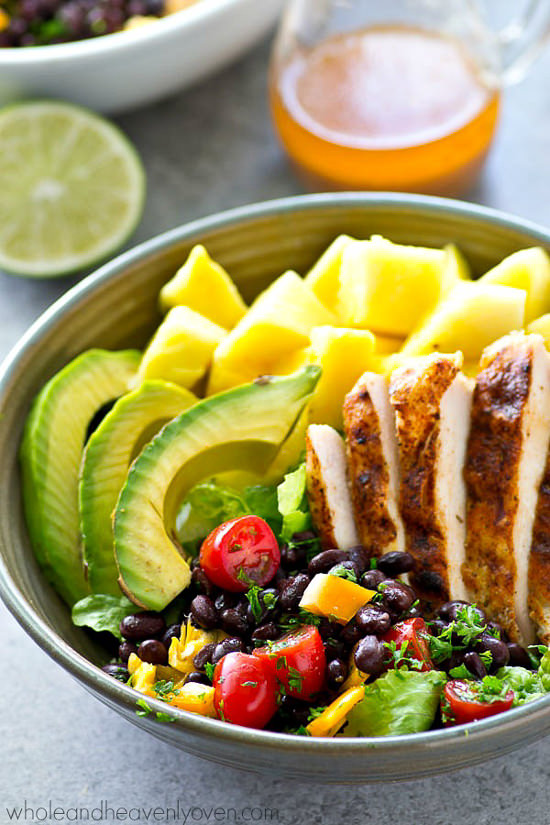 These Tropical Grilled Chicken Mexican Salad Bowls are filled with kickin' grilled chicken, sweet pineapple, and lots of Mexican goodness collide! A zippy chipotle vinaigrette drizzled on top makes all the flavors sing!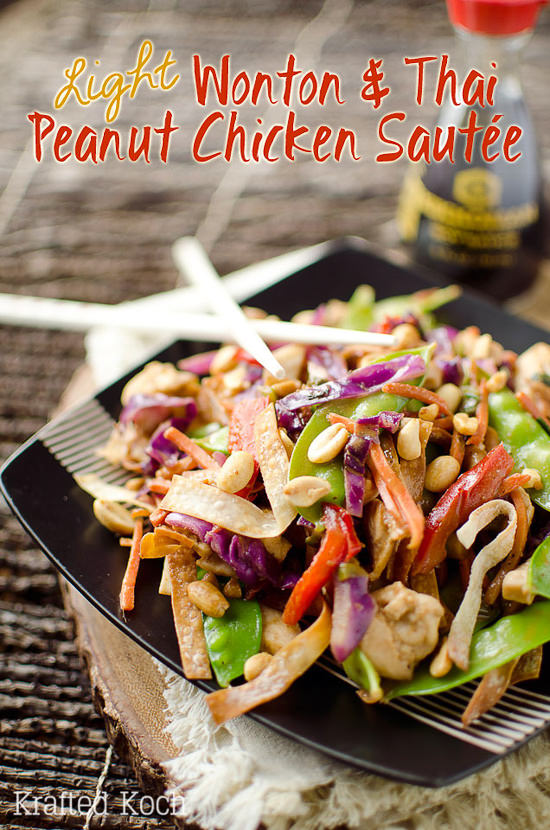 Light Wonton & Thai Peanut Chicken Sauté is a healthy and delicious dinner recipe loaded with vegetables, chicken and a spicy Thai peanut and coconut milk sauce.
BREAKFAST
Blueberry Lemon Cheesecake Overnight Oats make breakfast simple! Cheesecake flavored overnight oats bursting with lemon and blueberries, all come together in a protein packed, make ahead breakfast!
LUNCH
Incredibly delicious Grilled Turkey and Cheese sandwiches with a southwestern flair and homemade chipotle mayo. This is a turkey sandwich unlike any other you've tasted…
DINNER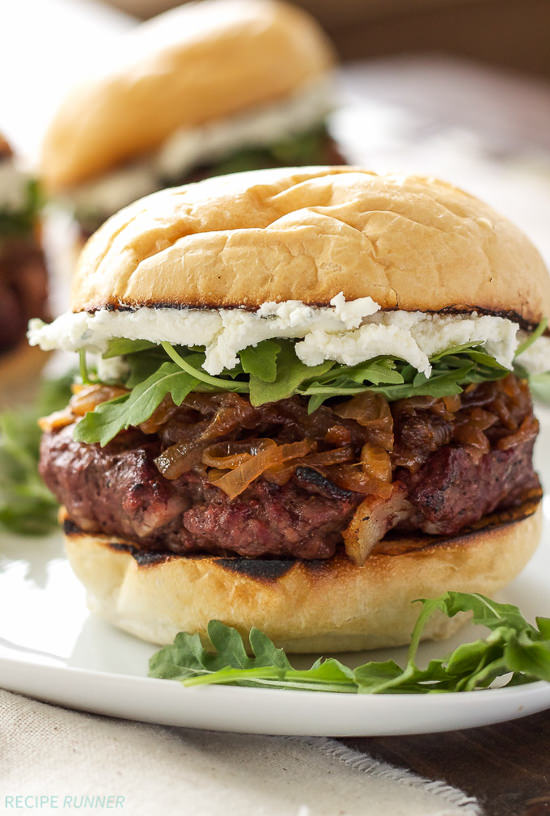 Light up that grill for these Bacon Burgers with Bourbon Caramelized Onions and Goat Cheese! Doesn't get much better than that for a weekend dinner!
SNACK
Spicy Kale Chips are beautifully crispy and loaded with bold chipotle flavor for a healthy 5 ingredient vegan snack! They are perfect for the munchies or paired with your favorite sandwich on the side!
DINNER
Skinny Sun Dried Tomato Meatballs with Spaghetti Squash are a light and flavorful way to cure your craving for spaghetti and meatballs! Lean ground turkey is mixed with sun dried tomatoes and spinach. Perfect to make ahead, freeze then bake before serving!
DESSERT
Layers of strawberries, blueberries, and delicious lightened-up no bake vanilla cheesecake, are the perfect combination in these patriotic parfaits!
Find the Healthy Weekly Meal Plan Archives HERE!