A delicious mix of healthy entrees, snacks and sides make up this Healthy Weekly Meal Plan #37 for an easy week of nutritious meals your family will love!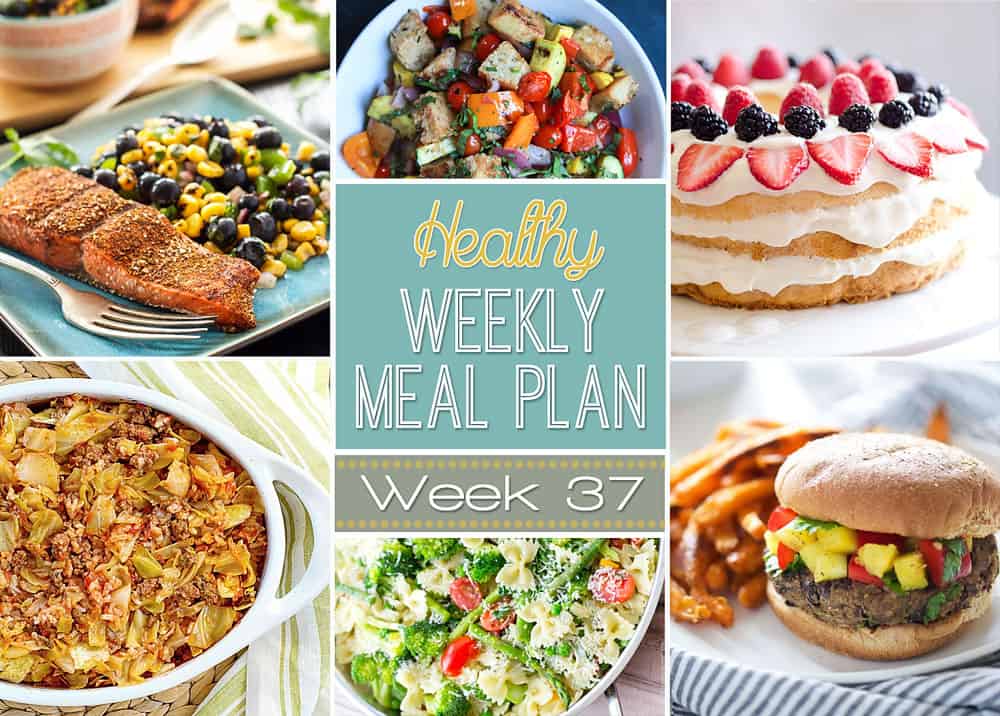 Now that it is officially spring, I have noticed a significant improvement in the quality of produce as well as a price reduction. This is a serious win in my books! I have been buying strawberries like crazy lately because it has been 6 long winter months of longing for sweet berries. They are so red and juicy, I just can't get enough of them!
Another favorite of mine lately is fresh pineapple. I was about to buy a pint container of pre-sliced and cored pineapple until I realized I could buy a whole one that contained almost twice as much fruit for LESS money. Let's be real, I am lazy about many things and am happy to pay for the convenience for pre-packed produce like cubed butternut squash, but not pineapple. Pineapple, although it can seem overwhelming to newbies, is so quick and simple to slice up. When I first started buying whole pineapples I bought one of these pineapple slicers in hopes of making my life simpler, but I quickly realized it was a total waste of money. It wasted far too much good pineapple as well as being an overall pain to use. Just use your sharp knives friends!
This week's menu is full of fresh meals including strawberries and pineapples so I know I will enjoy it! Be sure to stop back every Saturday for your weekly fix of daily entrees as well as a breakfast, lunch, snack and dessert! Just click on the photo or link to see the recipe. If you are looking for a great tool to organize your weekly meal plans, check out this meal planner
!
Be sure to subscribe to my newsletter HERE so you never miss a meal plan!
~ HEALTHY WEEKLY MEAL PLAN ~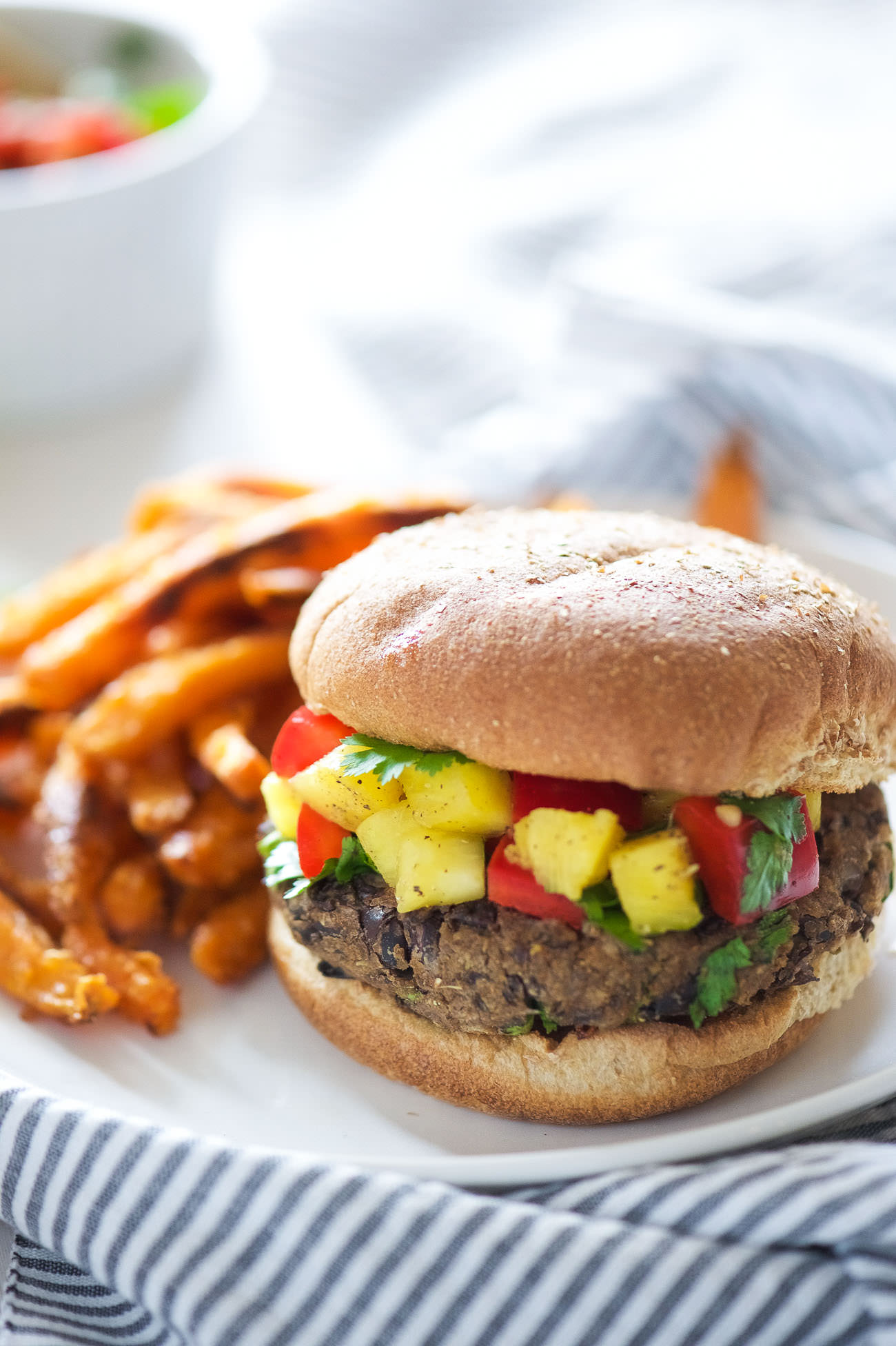 Take a bite out of these homemade 20 Minute Black Bean Burgers that come together with pantry items and topped with a sweet, pineapple salsa for a delicious meal you won't forget!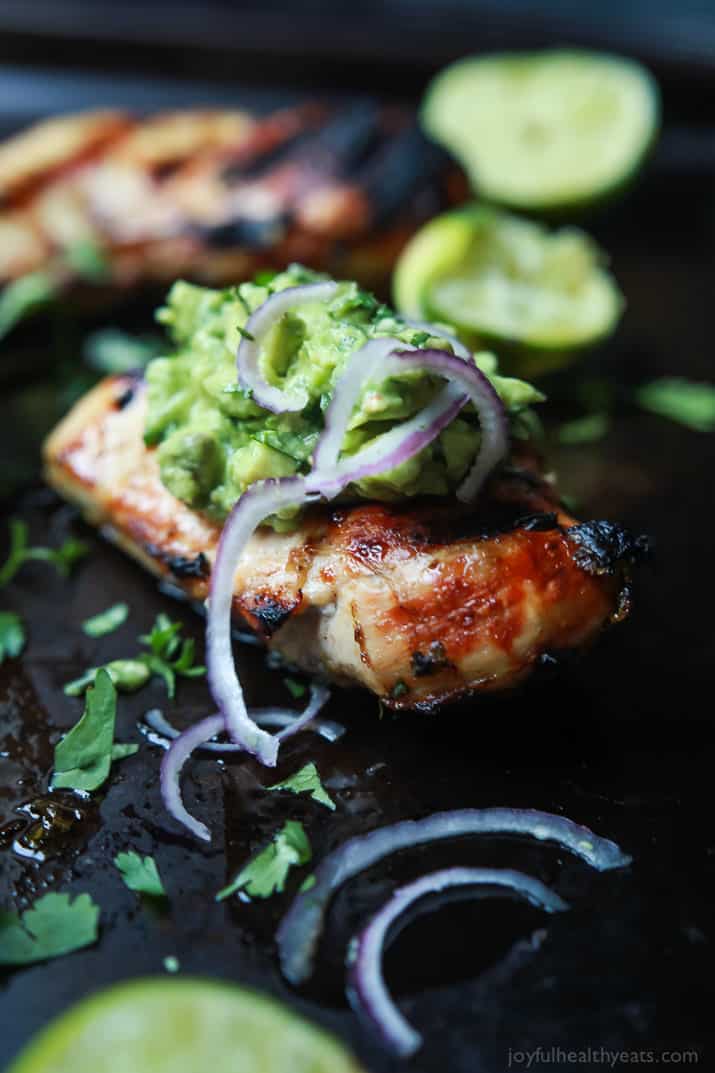 Grilled Cilantro Lime Chicken with Avocado Salsa is a healthy, easy, 30 minute meal packed with fresh zesty flavors. Leftovers would be perfect to pack for lunch the next day…that is if there is any left!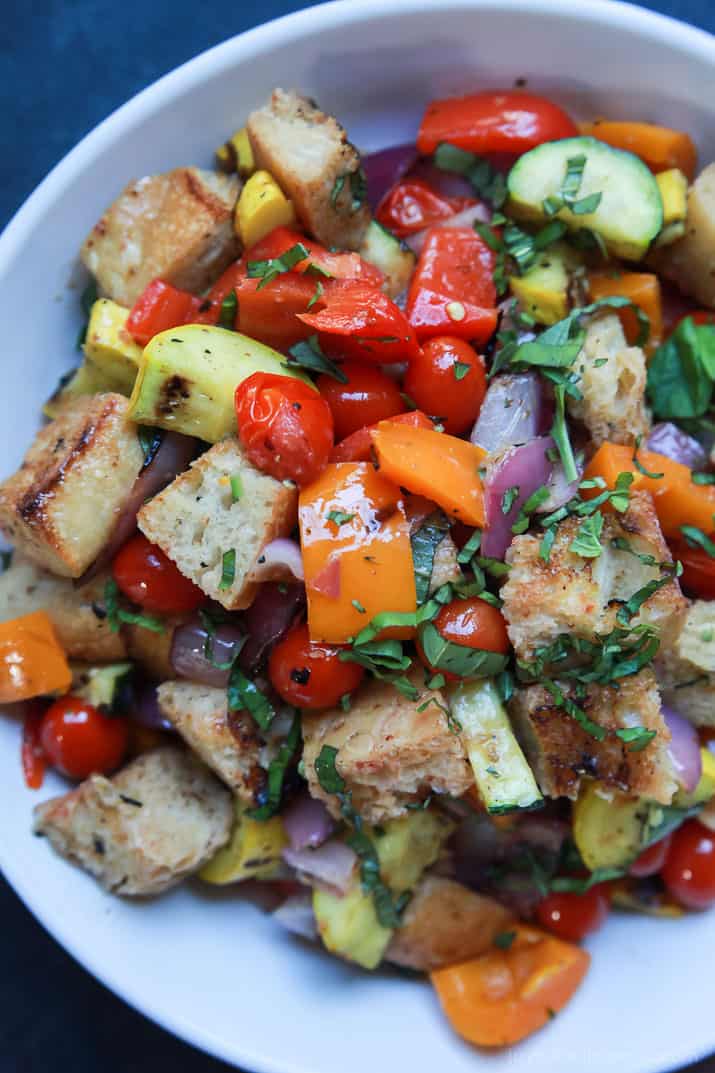 An incredible Grilled Vegetable Panzanella Salad filled with crunchy ciabatta bread, charred vegetables, fresh basil, and sweet balsamic vinaigrette! This salad, is light, refreshing, and totally swoon worthy!

MAIN DISH
Skinny Chicken Parmesan Recipe is a lightened up comfort food. This dish is super easy to make and made healthier by baking instead of frying and only requires a few simple ingredients with hardly any prep time.
SIDE DISH
Keep this Italian dinner simple and healthy with this Goat Cheese & Mushroom Quinoa Risotto. It is a shortcut version of the classic risotto with creamy goat cheese, bacon and quinoa. It come together in under 30 minutes and requires minimal hands on time; making this the perfect healthy, side dish!

Southwest Grilled Salmon with Blueberry Corn Salsa is a fresh and healthy dinner you won't forget! Grilled fillets of Sockeye salmon seasoned with a southwest rub and served with fresh blueberry and corn salsa are the perfect pairing of flavors.

BREAKFAST
Skip all the time and work involved in pancakes and try these super-easy Blueberry Pancake Muffins! Drizzled with a warm, citrus-y maple syrup, you'll be in pancake heaven!
DINNER
Chicken, Bacon, Ranch Lettuce Cups are full of chicken salad flavored with crisp bacon and a healthy homemade ranch dressing! Serve it in lettuce cups for a light and fun presentation!
DESSERT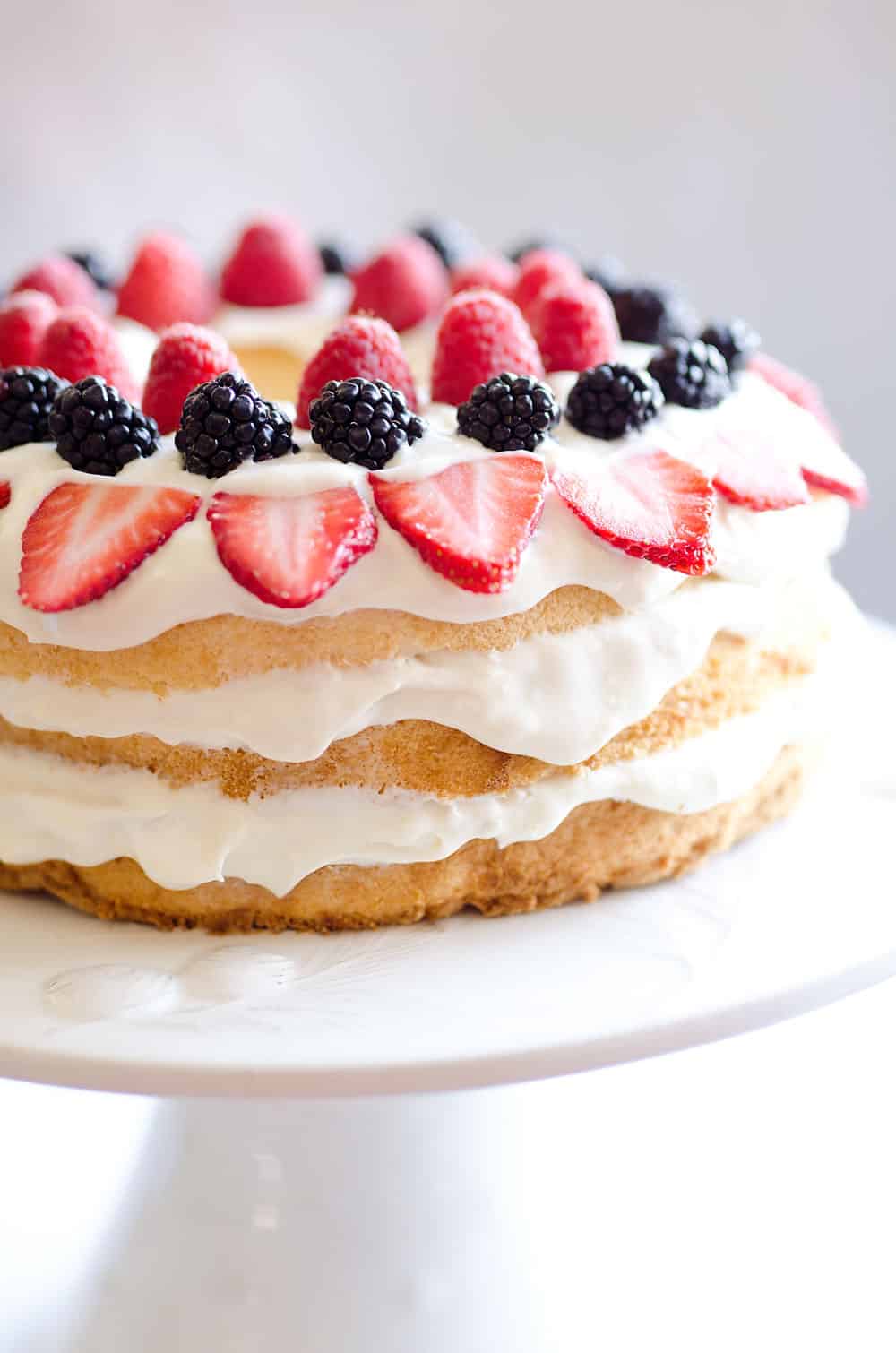 Light Berry Angel Food Cake is an easy and delicious 15 minute dessert with only 5 ingredients. Angel food cake is layered with a luscious white chocolate and coconut Cool Whip layer and topped with fresh berries for a guilt-free low fat treat!

SNACK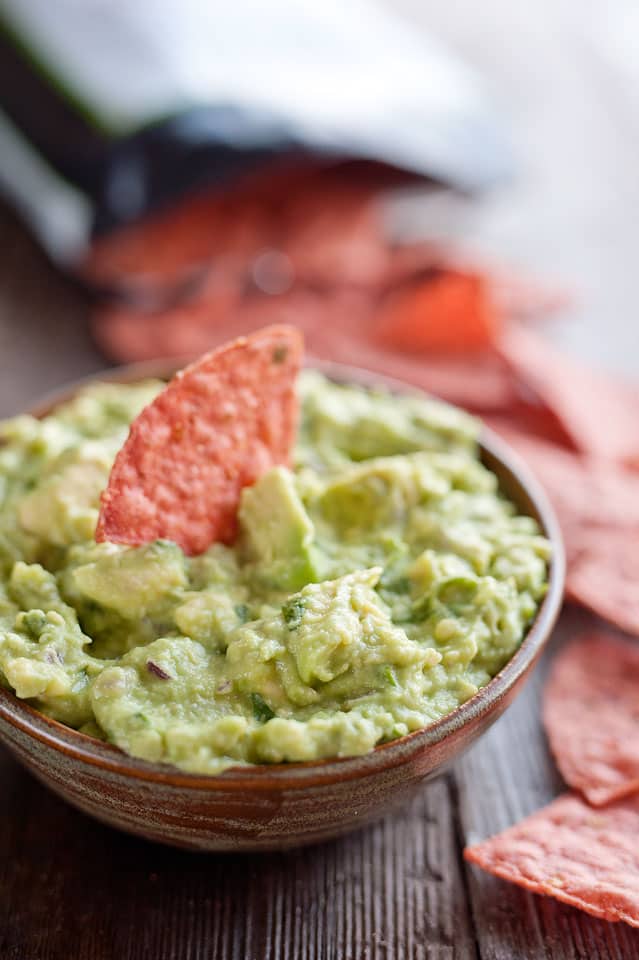 Sit back and relax on Sunday with this Easy Guacamole Recipe. It comes together in just minutes and is the perfect dip with salty chips or raw veggies!
LUNCH
Loaded with a rainbow of springtime vegetables and lots of Parmesan, this garden-fresh Spritime Pasta Primavera is a delicious and healthy meal on it's own, or the perfect accompaniment to some grilled chicken or shrimp.
DINNER
Cabbage Roll Casserole is much easier than making traditional cabbage rolls! This yummy casserole is slowly baked and full of ground beef, rice and cabbage in a light tomato sauce. Hearty, simple to make and delicious!
Find the Healthy Weekly Meal Plan Archives HERE!
With Salt & Wit | Recipe Runner | Whole & Heavenly Oven | The Creative Bite | Joyful Healthy Eats | Yummy Healthy Easy