Sharing how to make the perfect Halloween Charcuterie Board for your holiday party. This fun and spooky twist on a classically elegant cheese board is an impressive appetizer with meat, crackers, fruit, spreads and so much more!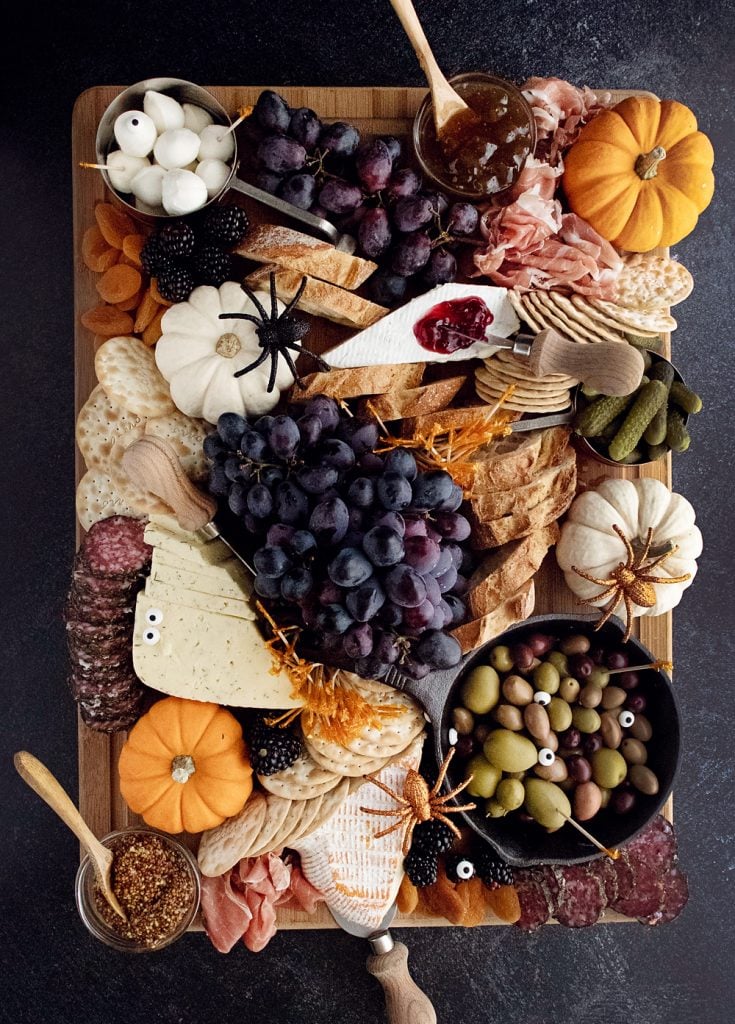 Meat & Cheese Board
When I am hosting a party, I definitely focus on the food. One way to impress guests is with an elegant Charcuterie board. If you aren't serving a full meal, this platter of meat and cheese is really all you need for your guests to graze on.
I love a good tray of beautifully arranged food to put out for guests that I don't have to worry about keeping warm or serving on a million little plates. This Fruit and Chocolate Hummus tray is another favorite of mine, especially when I want to offer something healthier.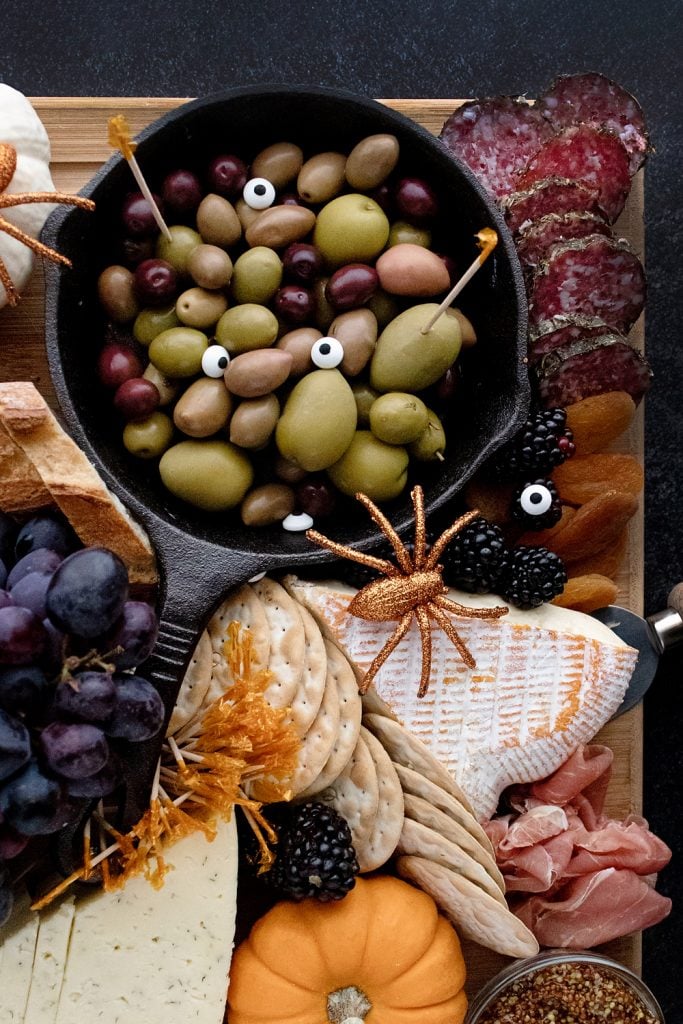 What is Charcuterie?
If you aren't familiar with the term Charcuterie, it is essentially a fancy way to describe a meat and cheese board. I'm not talking about the sliced marble jack and salami your Mom put out at the holidays when you were a kid.
Charcuterie describes a full spread of meat, cheese, fruits, dips, crackers, bread, nuts and so much more. It is essentially a small meal for an appetizer where your guests can take what they like.
This Halloween Charcuterie Board is a fun and spooky twist on the classic appetizer.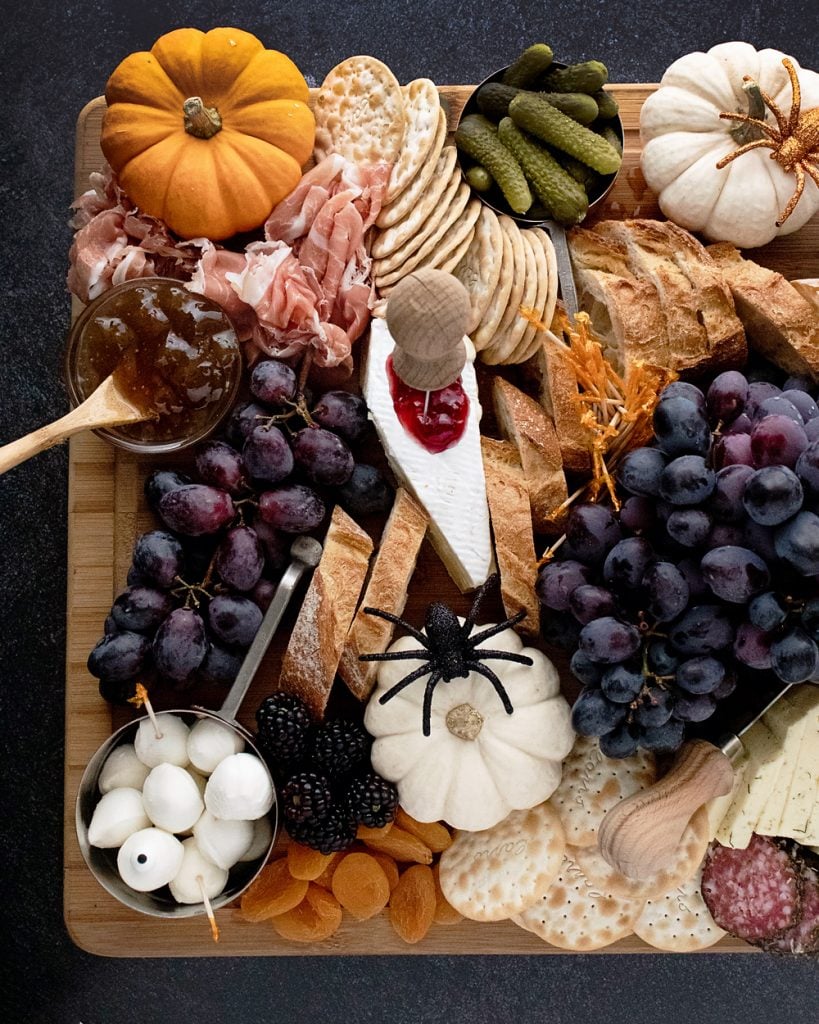 What makes this Charcuterie perfect for Halloween?
It's the small touches and little details that transform this classic charcuterie board into the perfect Halloween themed cheese board.
After you swing by the grocery store to grab your cheese, meat, fruit, crackers and other food items, stop by your local craft store. Grab some cute spiders, a few small white and orange pumpkins and candy eyeballs to bring it all together.
When adding non-food items like spiders and pumpkins, be sure to wash them before placing them on the board with all the food. They are typically sold as a decoration and are not food-grade, so it is important to wipe them down good first.
You could really go the extra mile and use an extra large board and weave some fake spider webs around a couple of the corners of the board.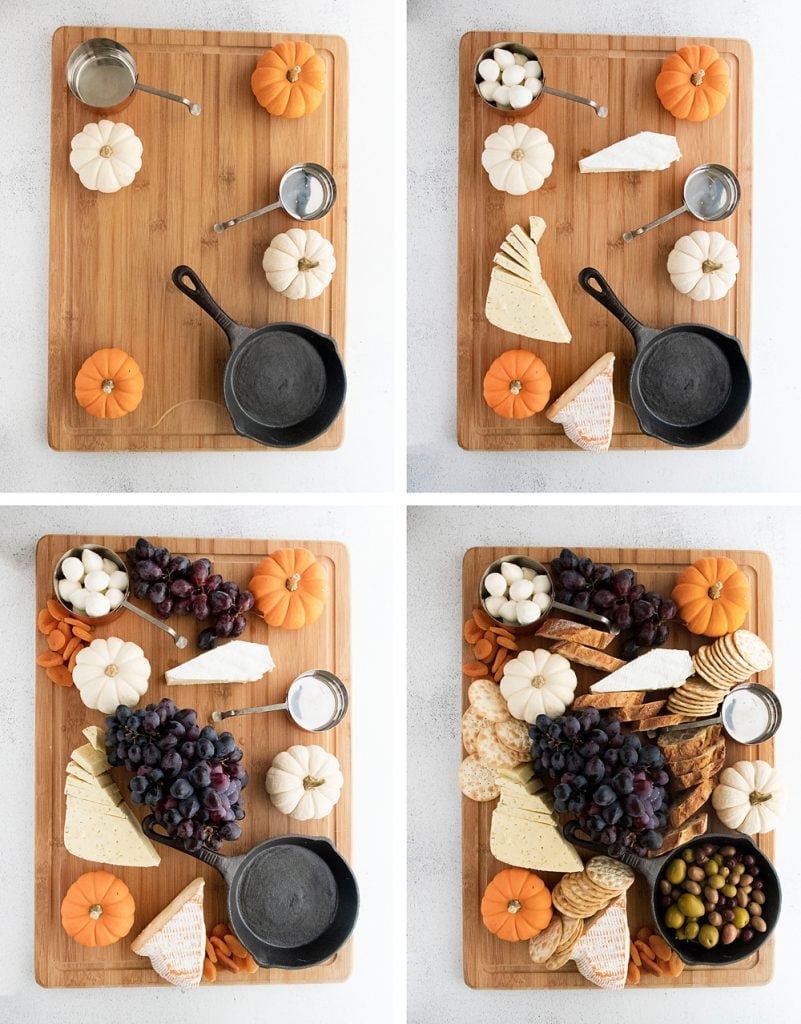 How to Make a Halloween Charcuterie Board?
To get started you need to find a large cutting board or serving platter. The bigger the better if you want to make and impressive charcuterie board.
Arrange a few small bowls and pumpkins around your cheeseboard. How many you need will vary depending on the size of your board, but they should fill up about 1/4 of your board.
You will want to use your largest fruit to center the board. This will most likely be a bunch of grapes. Add 2-3 smaller piles of fruit around the board as well. Cherries, apples, berries and dried fruits such as apricots or raisins are great options.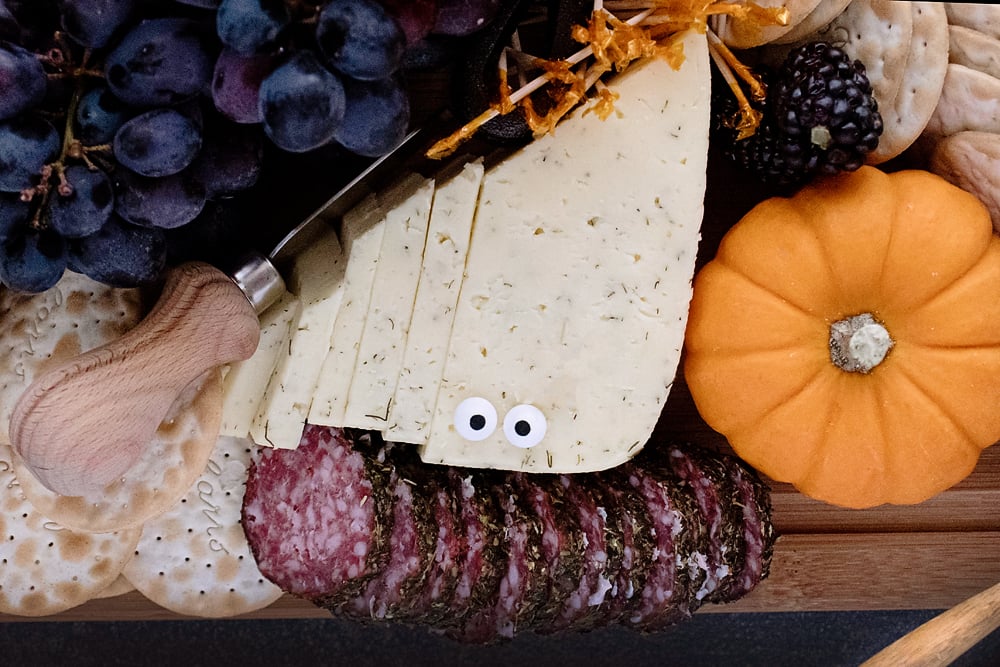 Which cheese should I include on my Charcuterie?
The cheese is the first food you will want to add to the board, as it is substantial and one of the stars of the show. Scatter them throughout the board, filling any large holes around the bowls and pumpkins.
It's nice to choose a variety of cheeses with different textures and flavors. I like to include at least one of each of the following,
Hard Cheese – I usually add at least two of these universally popular cheeses.

Cheddar
Manchego
Gouda
Asiago
Gruyere
Colby

Semi-Soft – One of these will add a nice variety to the cheese board.
Soft Cheese – This isn't a must on every Charcuterie spread, but it is an essential component on our Halloween cheese board. This is how we will present a cheese knife and coffin.
Something Stinky – While these cheeses are not going to be as widely popular among your guests, they do elevate the presentation. For those guests like myself who do appreciate a strong cheese like these it would feel like something was missing if one wasn't present.

Roquefort
Gorgonzola
Camembert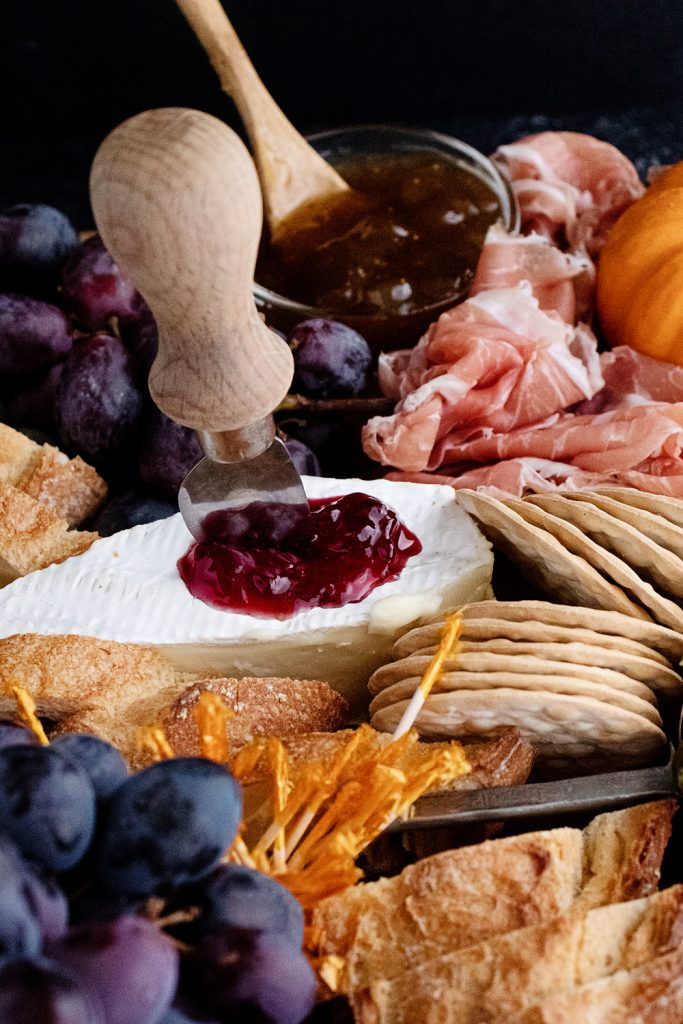 Spooky Brie Coffin
One of my favorite parts of this Halloween cheese board is the subtle but impactful detail of transforming Brie cheese into a spooky coffin.
Buy a 1/4 wedge of Brie instead of a small circle if possible. Slice a small section of each back corner off to create a coffin shape. If you only have access to a round piece, you can cut that into a coffin shape as well and then place the scraps on another section of the board.
Top the Brie coffin with a dollop of red jam. Raspberry or cranberry are both good options. Stab your cheese knife through the jam for the full effect!
How do I add bread and crackers to my Charcuterie board?
Next, add your crackers and bread. I love an easy French baguette from the store or if I have more time, I will make a homemade loaf of sourdough.
It's also nice to include a variety of crackers. Whole wheat crackers and water crackers are typically my go-to. Try to form a curved line with your crackers and bread slices. This will help create a flow that will carry your eyes around the board.
Now add your cured meats to fill in any large gaps. For thinly sliced meats like prosciutto, I like to bunch them up so they look nicer and are easier for guests to grab.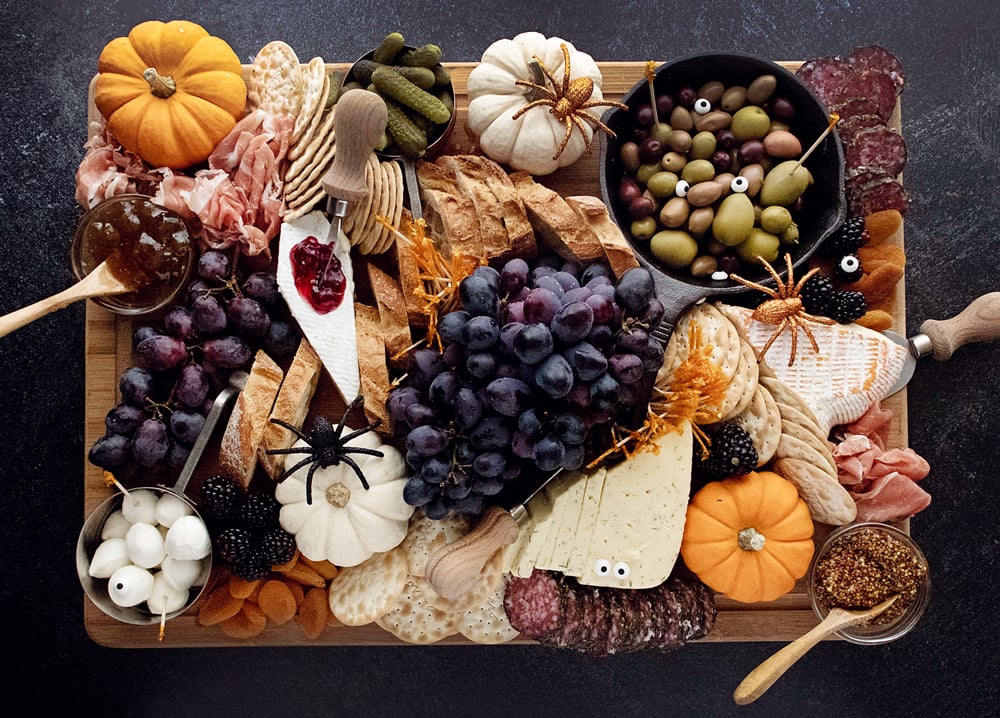 What spreads should I add to my cheese board?
After we have the meat, cheese, fruit and crackers on the board, it is time to add a few extra touches that really transform it into something special.
A cheese board is nothing without a good spread or two. These are some of my favorites,
How do I make the best Charcuterie board?
The two key factors to making the best Charcuterie board are abundance and variety. If your board is looking lackluster, it probably needs more food.
It is nice to fill the small gaps with a few special extras. I like to include some of the following for a nice variety,
A variety of olives
Cornichons or refrigerated pickles
Nuts

Pistachios
Candied walnuts
Almonds

Pickled peppers
Candied ginger
Vegetables

Bell pepper strips
Marinated mushrooms
Roasted cherry tomatoes
Cucumbers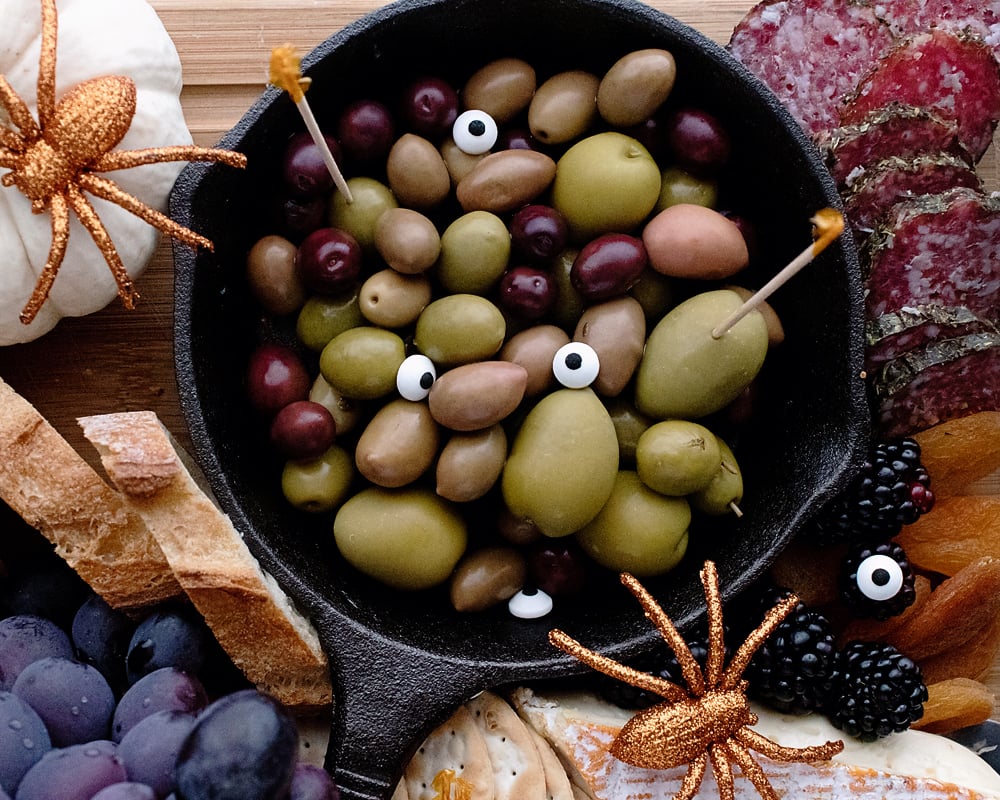 How to serve Halloween Cheese Board
Don't forget to add your holiday flair for Halloween. Adding candy eyes and fake spiders can help take the cheese board from cute to creepy in the best possible way!
Be sure to include toothpicks with the board for guests to pick up pieces of cheese or meat with. It's also important to have a small spoon or spreading knife in any spreads. Add a stack of beautiful napkins next to the tray and that is all you need!
This Halloween cheese board is really all you need to impress and satisfy your guests. But if you want to go over the top and add more themed food, these Mummy Cookies, Halloween Taco Dip and Spider Cheese Ball are all great additions to your appetizer spread.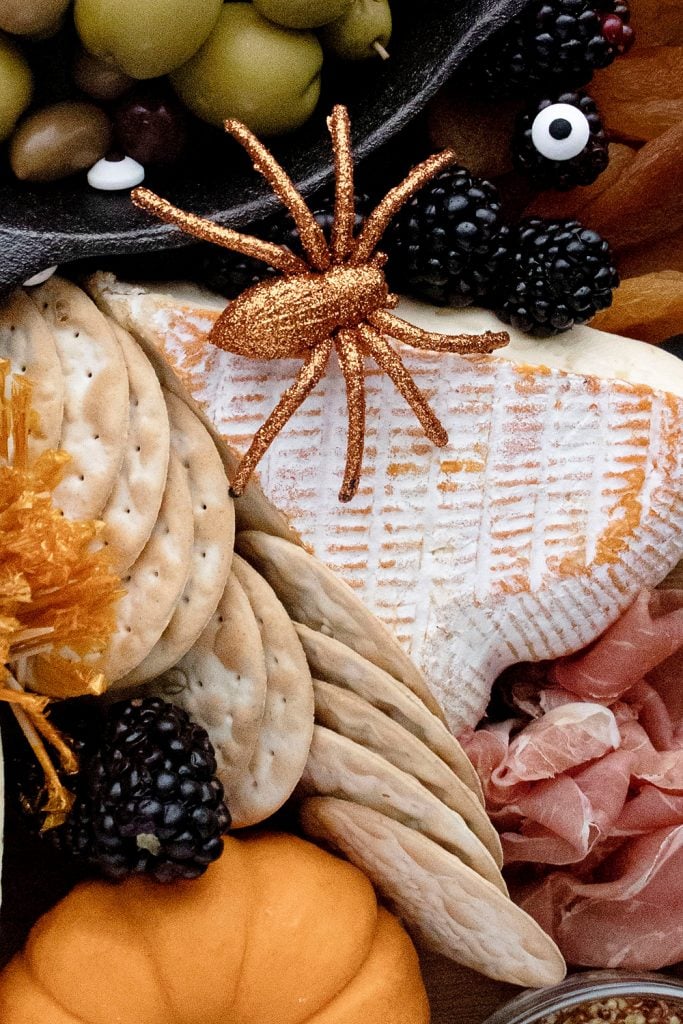 How much food do I need for my Charcuterie board?
How much you make depends on what else, if anything, you are serving. If this is going to be the main food for your event I would plan on the following amounts,
1/3 pound cheese per guest
1/4 pound cured meat per guest
1 loaf of crusty bread for every 10 guests
1 box of crackers for every 10 guests
A variety of fruits and spreads
This should leave you with an abundance of food. As a host the worst thing I can do is run out of food, so I try to avoid that at all costs. Almost all of this food will store well refrigerated and can be re-purposed later if you end up having lots of leftovers.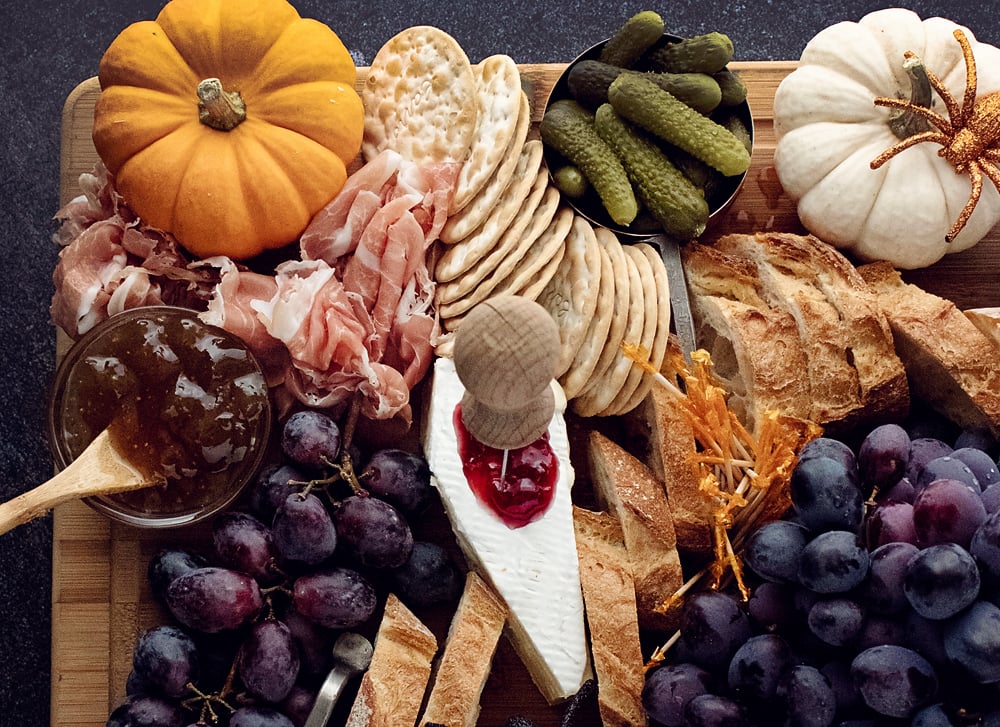 The perfect Halloween cocktail to compliment your cheese board!
What is an adult Halloween party without a fun themed cocktail?! These are some fun options to serve your guests along with the Halloween Charcuterie board.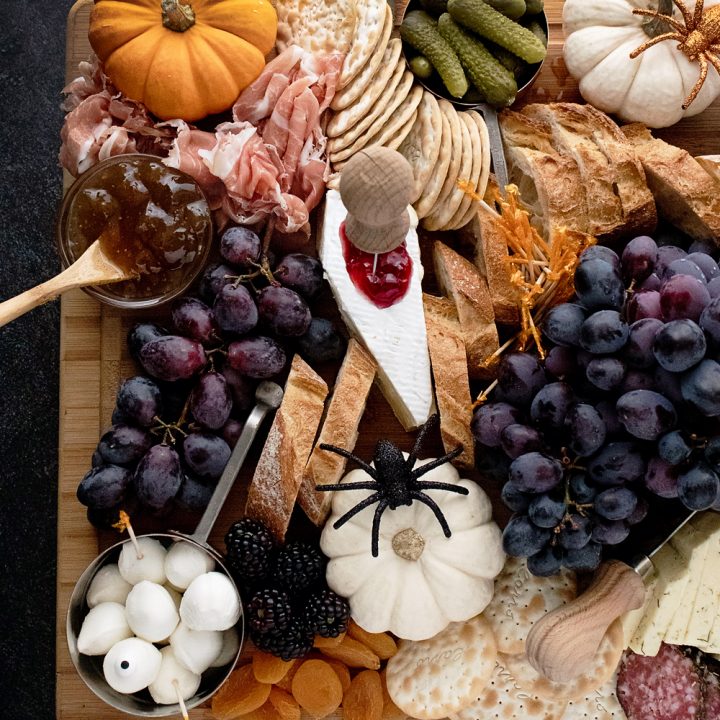 Halloween Charcuterie Board
Sharing how to make the perfect Halloween Charcuterie Board for your holiday party. This fun and spooky twist on a classically elegant cheese board is an impressive appetizer with meat, crackers, fruit, spreads and so much more!
Ingredients
4 mini pumpkins
1/4 wheel Brie
1 pound hard cheese
1 pound semi-soft cheese
2 pounds of cured meat (prosciutto, salami, etc.)
1/2 pound olives
1 pound grapes
1 pound other fruit
1 box of crackers
1 crusty loaf of bread
Toothpicks
Instructions
Arrange your pumpkins, bowls and jars of spreads spaced out on your serving board.
Add the grapes to the center of the board and space out the other fruit in small sections throughout the board.
Slice a small section of each back corner off to create a coffin shape. Slice the hard cheeses and add all of the cheese in the gaps around the board. Top the Brie with a dollop of red jam. Stab your cheese knife through the jam.
Arrange the crackers and breads throughout the board, doing your best to create curved lines with them. Try to make an S or C shape with them.
Add the cured meats remaining ingredients around the board in open spaces. Be sure to keep the ingredients grouped together. If you spread out every ingredient, it will just look disorganized.
Finish the Charcuterie board with finishing Halloween touches such as spider and candy eyeballs.
Store covered and refrigerated until you are ready to serve. Serve with toothpicks and napkins.