Sharing our Gender Neutral Twin Bunny Nursery Reveal, a beautiful baby room full of soft colors, perfect for our boy & girl twins!
Gender Neutral Twin Bunny Nursery Reveal
This week I officially hit the 34 week mark in my pregnancy. That is significant because if I go into labor after this point, I won't have to automatically be sent to the St. Cloud hospital which is 2 hours away. At my appointment this week, baby boy was measuring 5lb 9oz and baby girl was measuring 4lb 11oz. I am hoping they can stay put for another couple weeks and grow a bit more. I have been so fortunate with this pregnancy and have been feeling great for the most part, especially given I am carrying over 10lb of baby at this point! 35 weeks is the average gestation for twins, which we are quickly approaching, so these babies could arrive any time now. Thankfully we have our nursery all ready to go!
I have had a LONG time to plan out my ideal baby nursery room over the years thanks to infertility. I actually bought these Littlest Collection Bunny Fabrics a couple of years ago after the first time I found out I was pregnant. They sat in the corner of my craft room collecting dust, waiting for the opportunity to finally be put to good use. After our third attempt at IVF, we were finally blessed with a healthy pregnancy. Never in my wildest dreams did I think I would be using them to prepare a nursery for TWINS when I initially bought the fabrics. Ironically enough, the fabrics featured two little bunnies together, which were perfect for this Gender Neutral Twin Bunny Nursery, for our boy girl twins we are expecting any week now!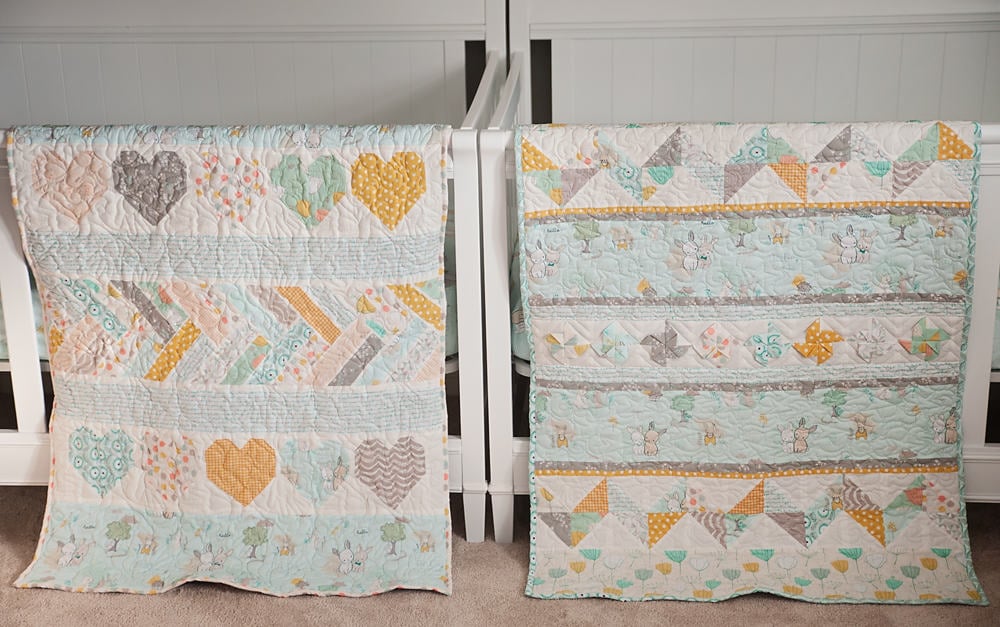 I wanted to make each baby their own unique baby quilts with different patterns, but featuring the same fabrics so they coordinated. I pulled in more of the pink fabrics for the girl's quilt to soften it and added a fun 3D pinwheel element to the boy's quilt. In addition to quilts, I also made a few sets of crib sheets with the fabrics, using this easy crib sheet pattern.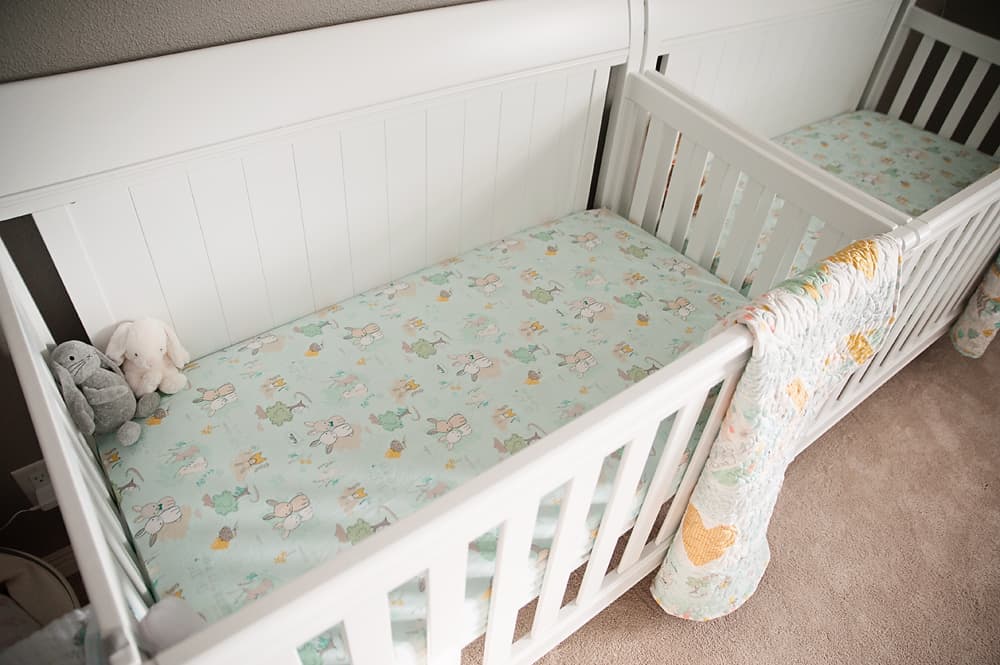 One of my favorite parts of the nursery are the crocheted bunny mobiles. My sister made these with Balloon Bunny Mobiles she ordered from Sweet Bauer Knits. She made the clouds herself from felt and painted some embroidery loops to pull them together into these beautiful mobiles perfect for the twins!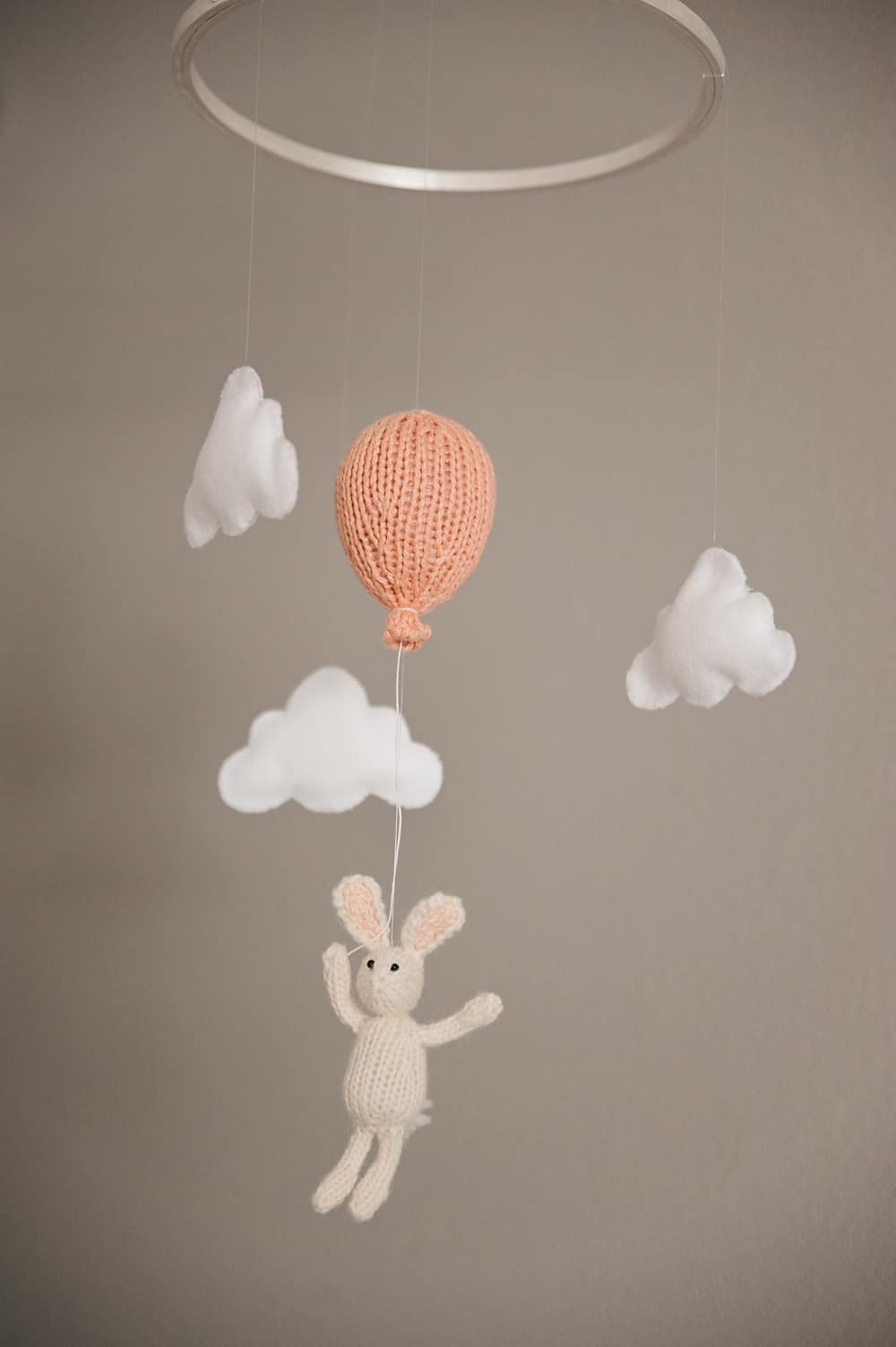 I knew I didn't want a traditional changing table for the nursery and instead wanted a dresser that could be re-purposed when the children got older to match the New Haven 4-in-1 Convertible Cribs. I ordered a Vaughan Bassett Youth Dresser and small LaZboy Anderson recliner from our local furniture store, Unger Furniture, that worked perfectly in the room.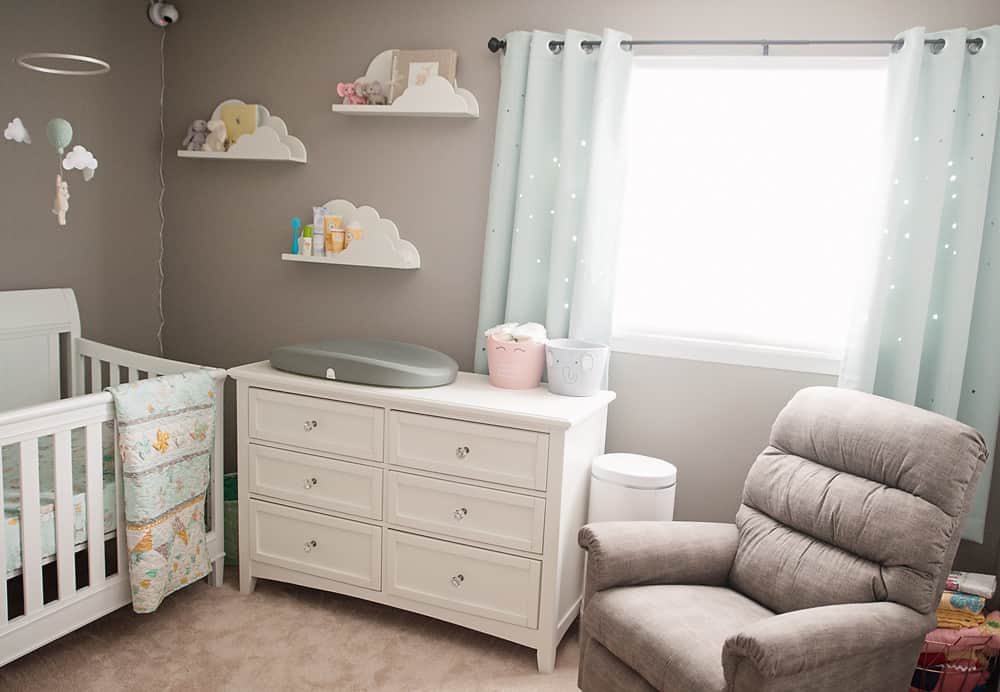 A few more of my favorite features in our Gender Neutral Twin Bunny Nursery include,
Hatch Baby Grow Smart Changing Pad & Scale – This is a soft foam changing pad that doesn't require a cover that needs to be washed. It can easily be cleaned off with a baby wipe if there are any accidents or leaks. Additionally, it has an integrated scale that connects to your smartphone via Bluetooth with a handy app to track your baby's weight and feedings.
Pillowfort™ Cloud Decorative Wall Shelves – These were a bit of a hassle to hang on the walls, but I love how they turned out. Thanks Dad! 😉
Star Cut Out Blackout Curtains – These curtains look great in the light or the dark. They have mini laser cut stars that allow the light to shine through for a beautiful effect. They still block out plenty of light to make them blackout though.
Cloud Island™ Felt Storage Bins – I added this elephant and pink owl storage bins to the top of the dresser to hold diapers and all of the essentials like the Fridababy grooming kit.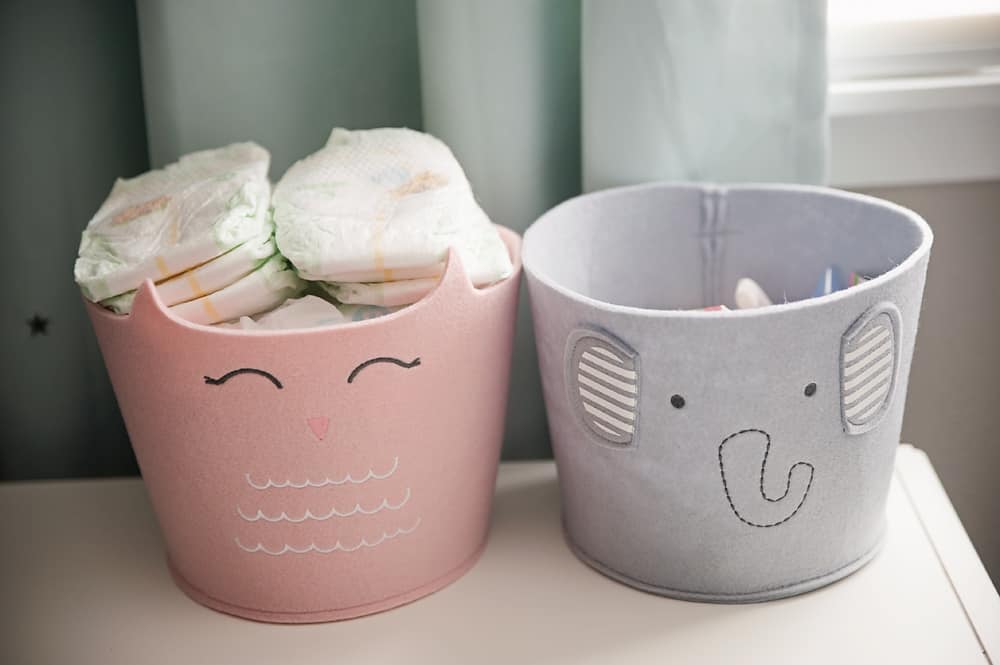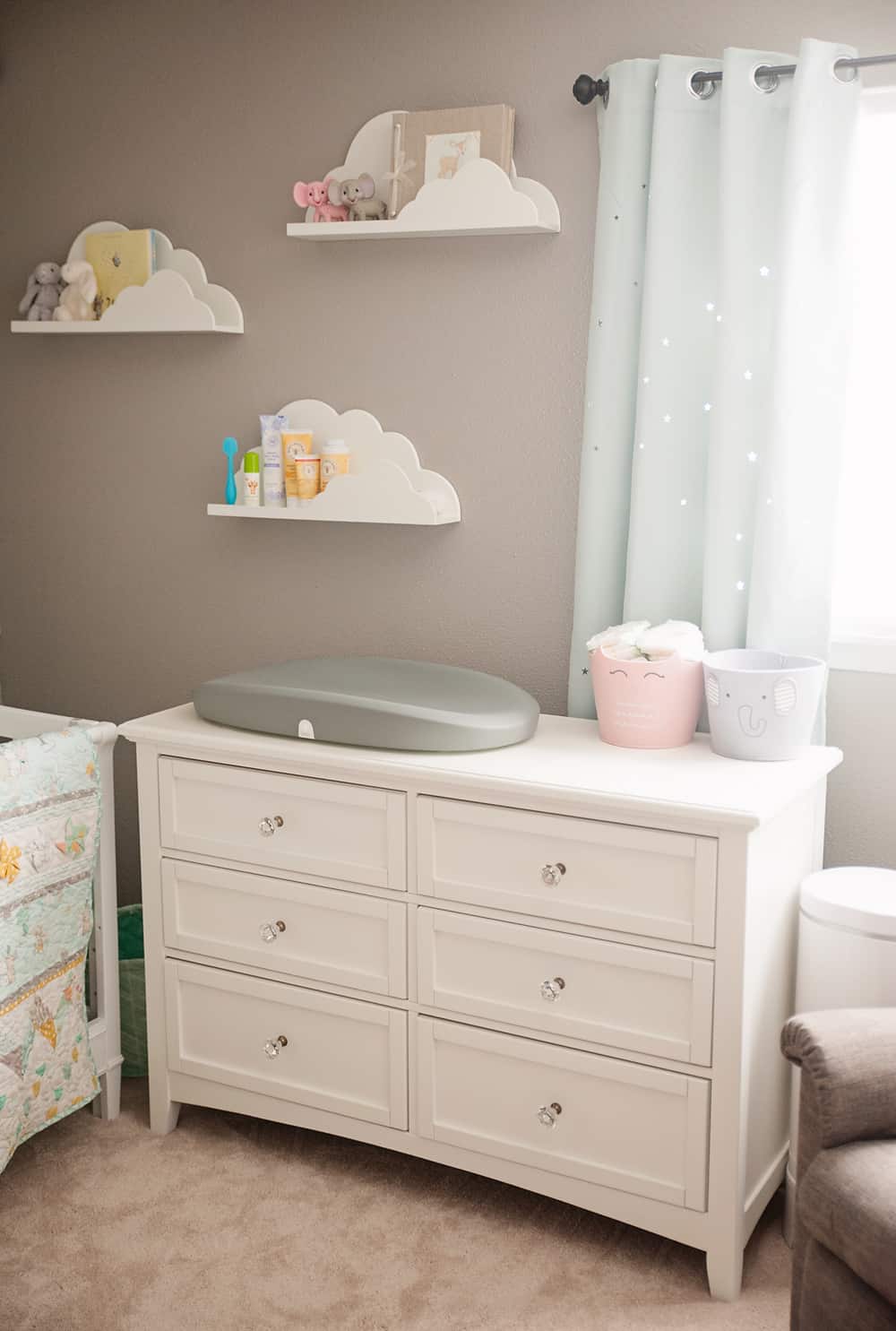 The cloud shelves are a great combination of practical storage for diaper cream and wipes along with a pretty accent that can hold a few special books and toys. I keep their memory books on the top shelf to display because they are so pretty. The books are so unique and well made and one of my favorite things I received at my shower!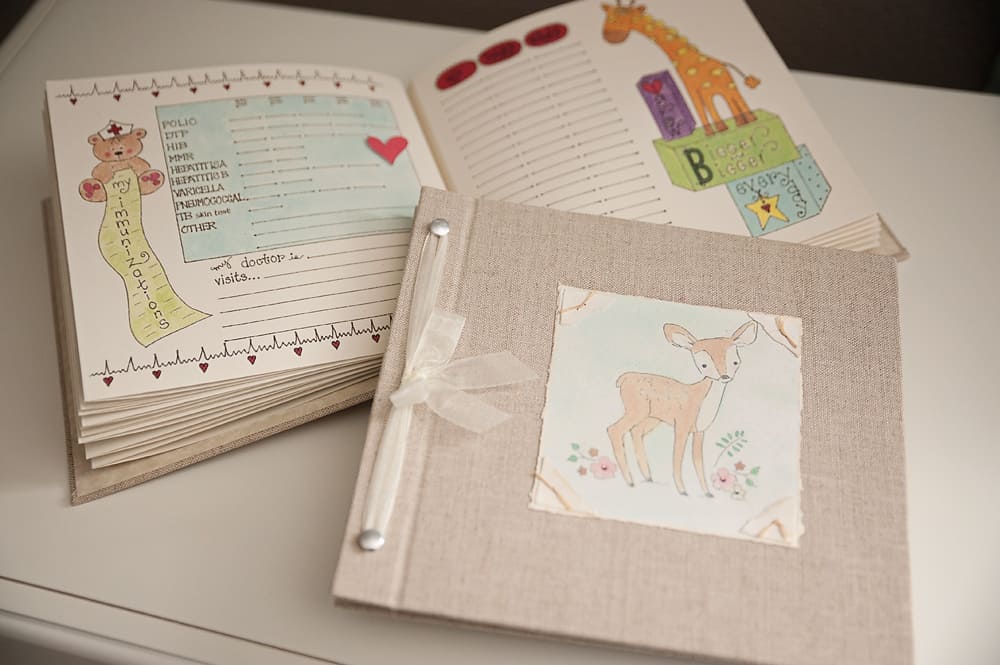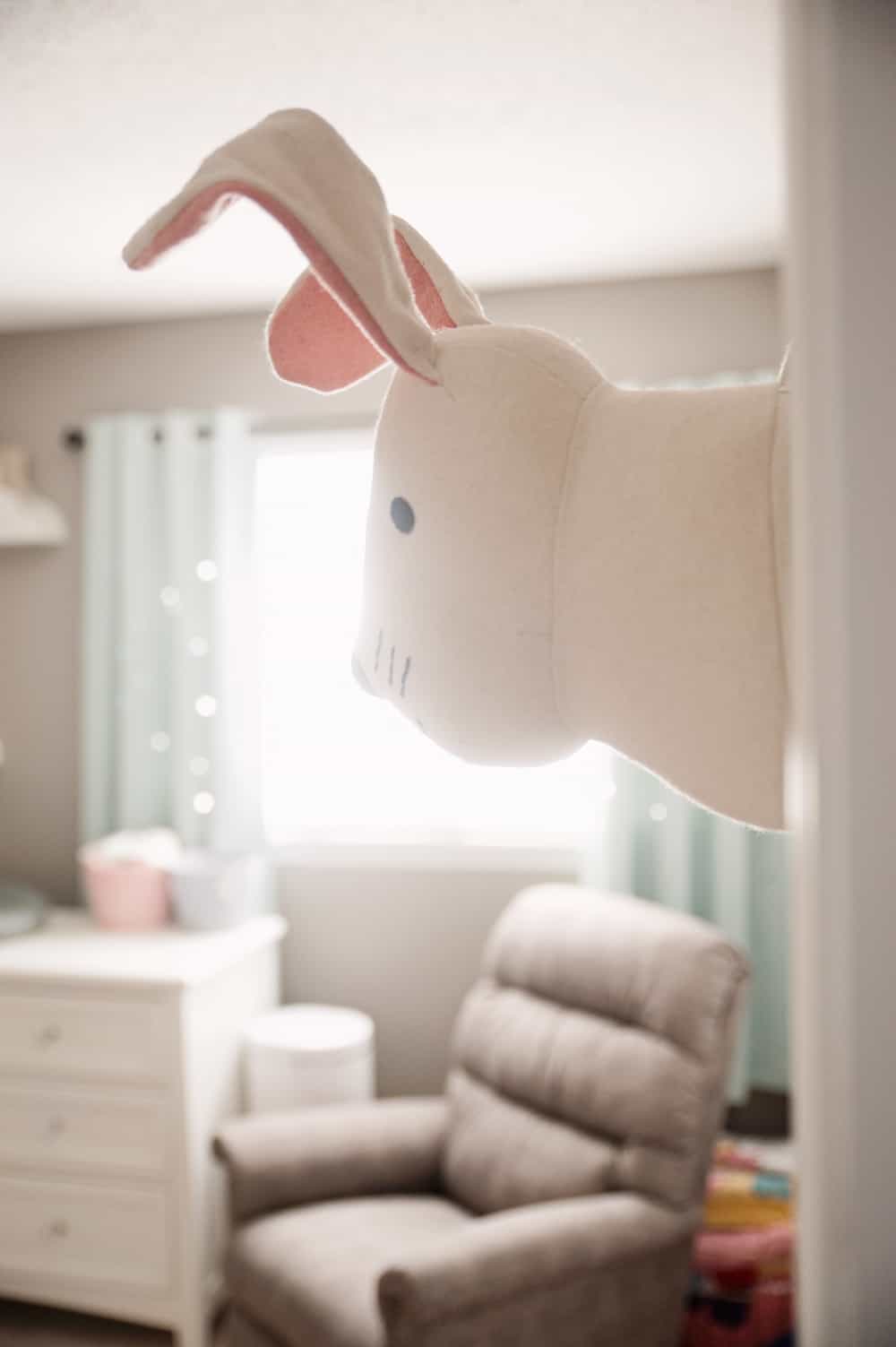 What is a Twin Bunny Nursery without a big mounted plush bunny head on the wall?! My mom absolutely hates this and says it creeps her out. 🙂 I like that it adds a fun whimsical element to the room.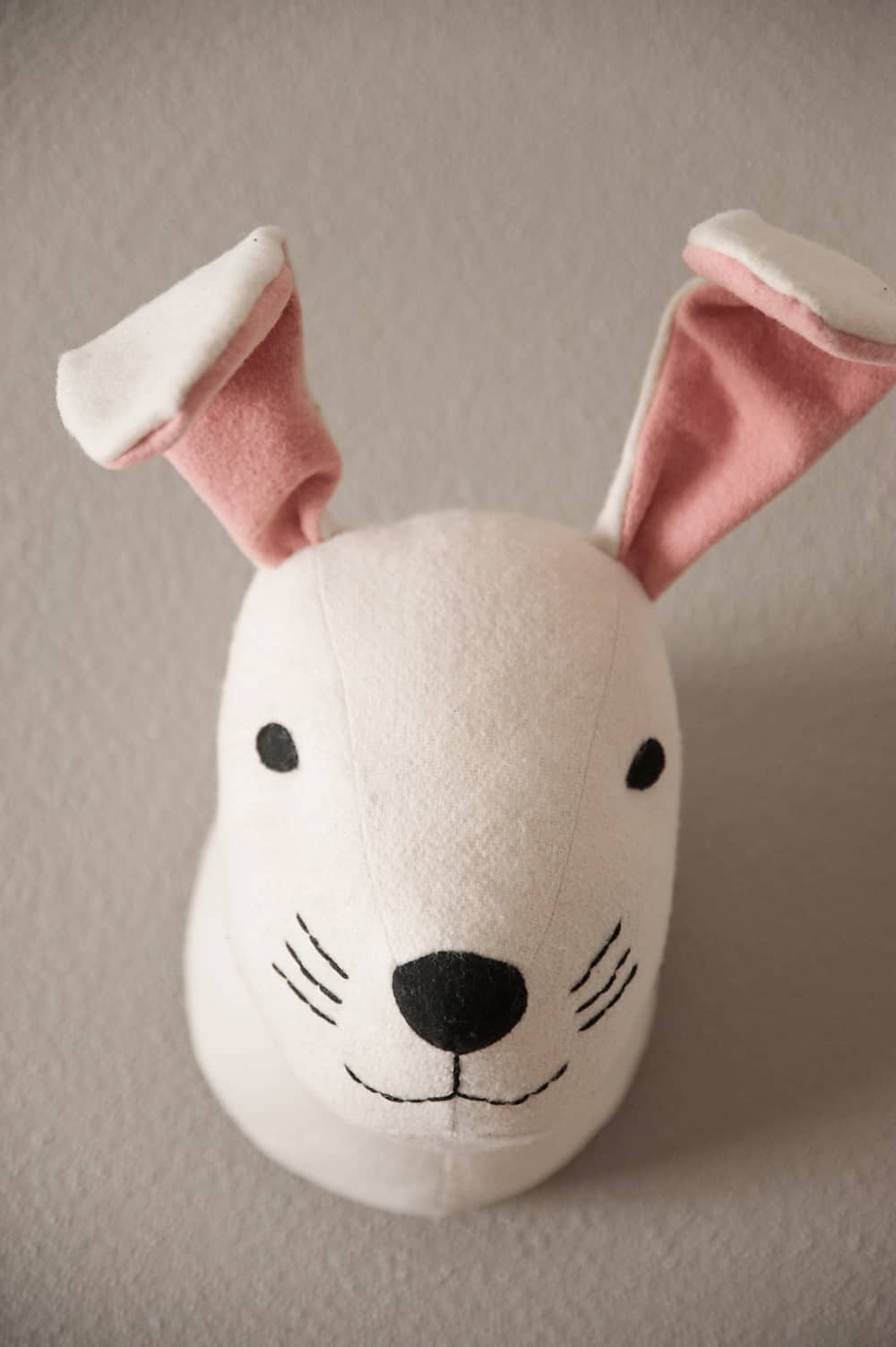 On the other side of the room, I added a love seat and small bookshelf. I want to breastfeed the twins and from everything I have read, if you want to attempt tandem feeding, you need more space than just a recliner. I took this old 1970's gold love seat from my parents back storage room and put a stretch slipcover on it to modernize it. I tacked it down using lots of upholstery pins so it stays in place really well.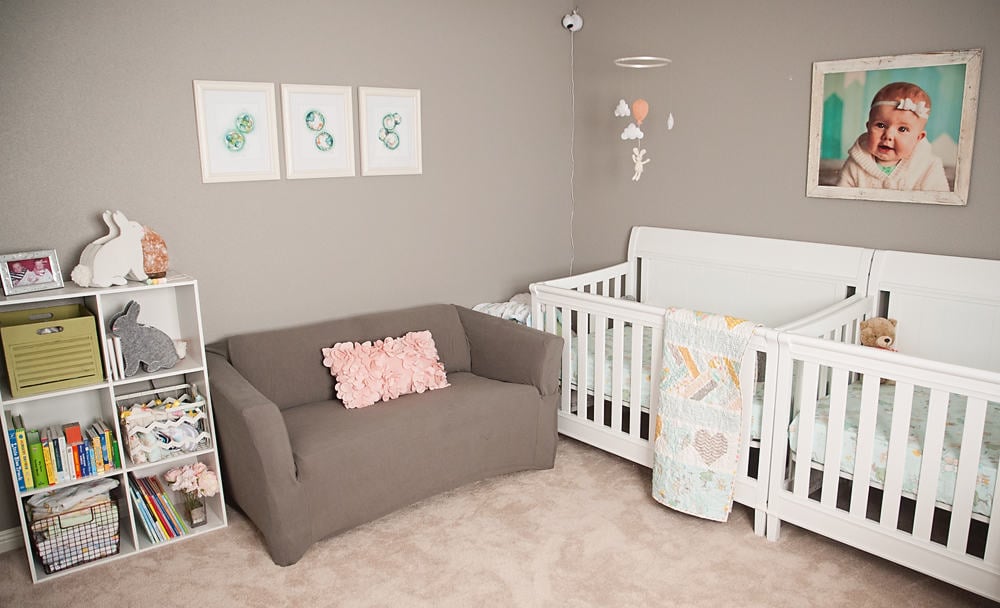 The extra large picture frame with the little girl is a frame I had in my photography studio with a picture of a client. For now it is just a placeholder and is waiting for a beautiful picture from the talented Michelle Nelson Photography, who we have booked to take newborn pictures.
Another feature I love in our Gender Neutral Twin Bunny Nursery is this Embryo Watercolor Print Set from Lyon Road Art. They pay homage to our IVF Journey and are a beautiful piece of art that coordinates with the room colors.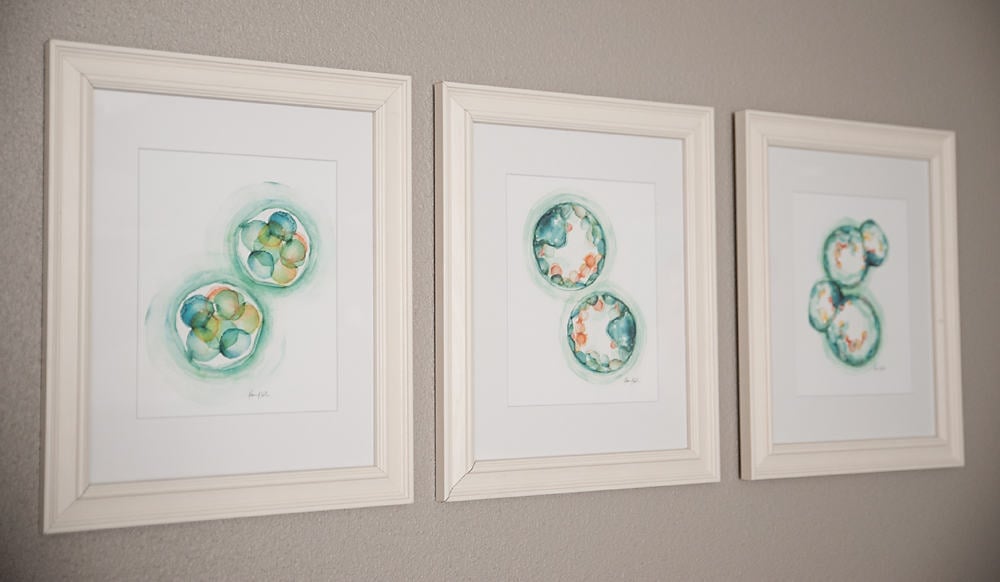 I ordered two of these white storage carts when they were on sale from Target in preparation for the babies. The first one I am using in the nursery for a breastfeeding cart. It stores my pump with parts, small blankets, nursing pads, creams, etc. and can be easily wheeled next to the love seat or the recliner. I like that it will provide some flexibility with where I find more comfort pumping.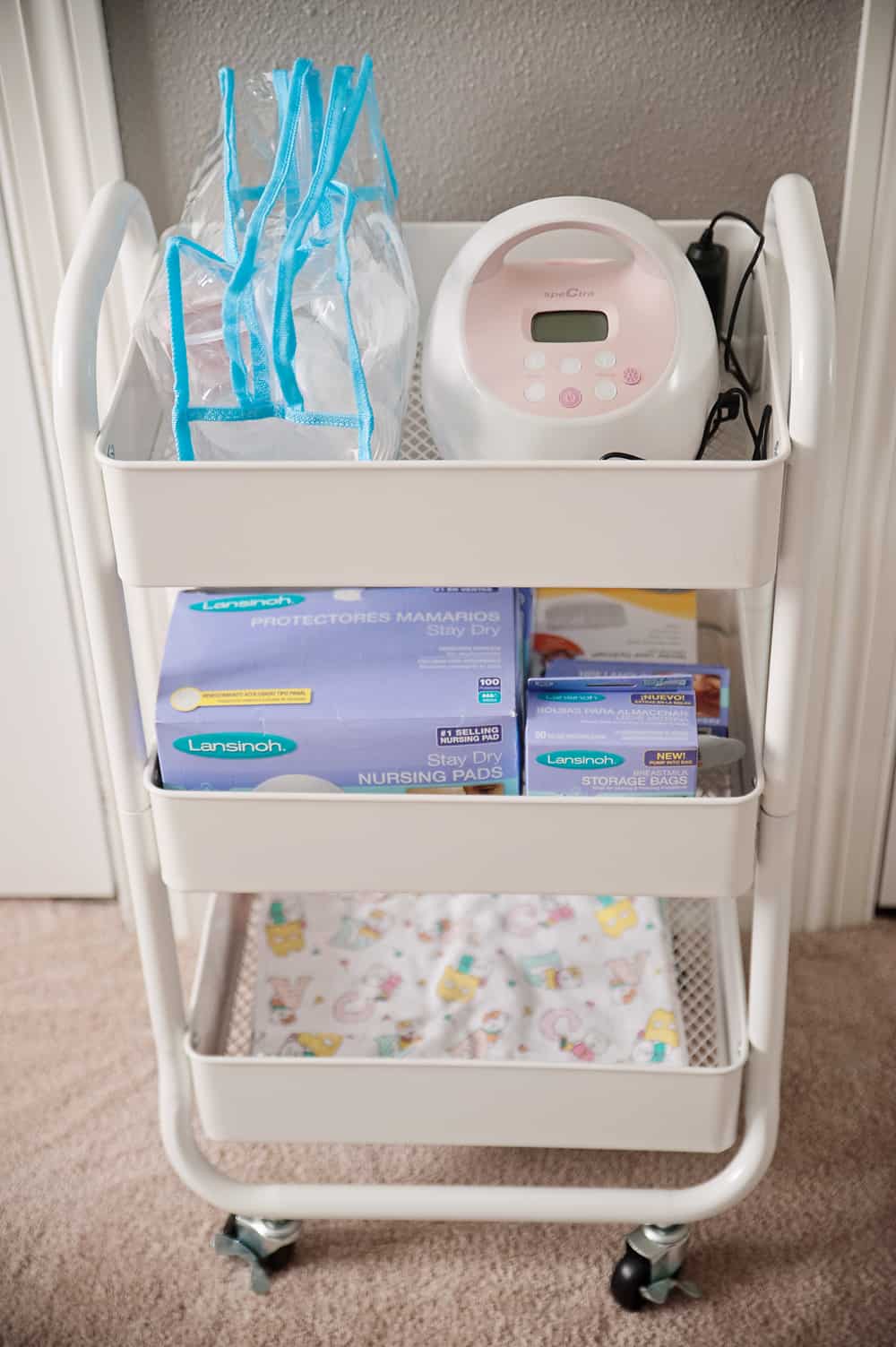 The second cart will be kept in the living room with diaper changing essentials. Our house is pretty big and it is a bit of a jog from the living room on one end of the house to the nursery on the opposite end. This way when we want to make quick work of a diaper change in the living room we will have everything we need nearby.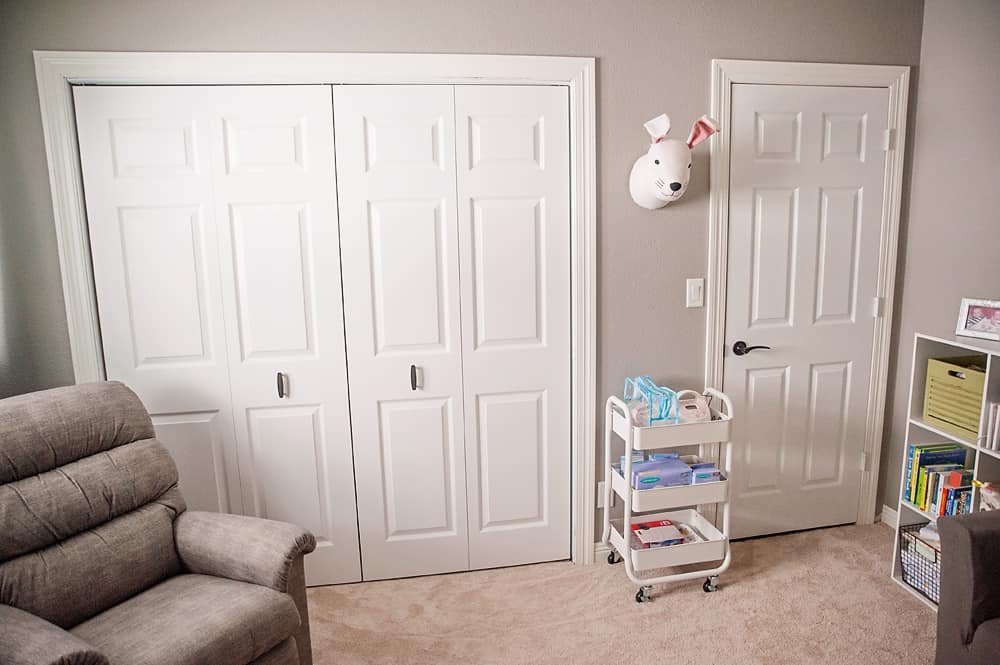 We got so many amazing things at our baby shower from so many generous guests. It has all been packed away in the nursery closet. From cases of diapers to toys that are for later stages, it is all stored away neatly. As you can see, we got LOTS of pink clothes for baby girl!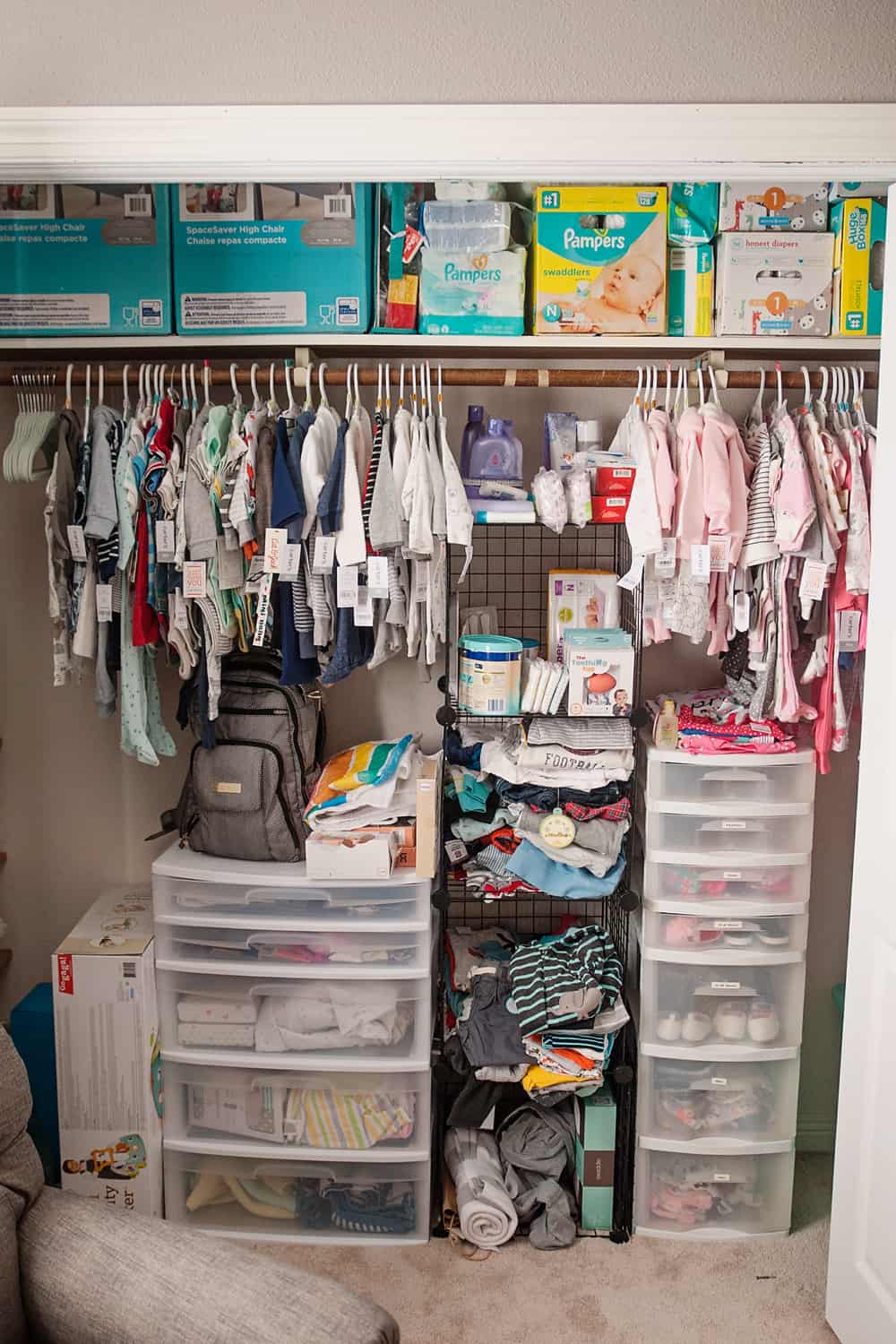 I washed up all of the preemie and newborn clothing for the twins but I am waiting on the larger sizes. I also have four large totes of clothing hiding to the right in the closet that I got from my sister from her daughter. I am completely set for girls clothing for the next year and after the shower I have just about everything I will need for the boy up until 6 months.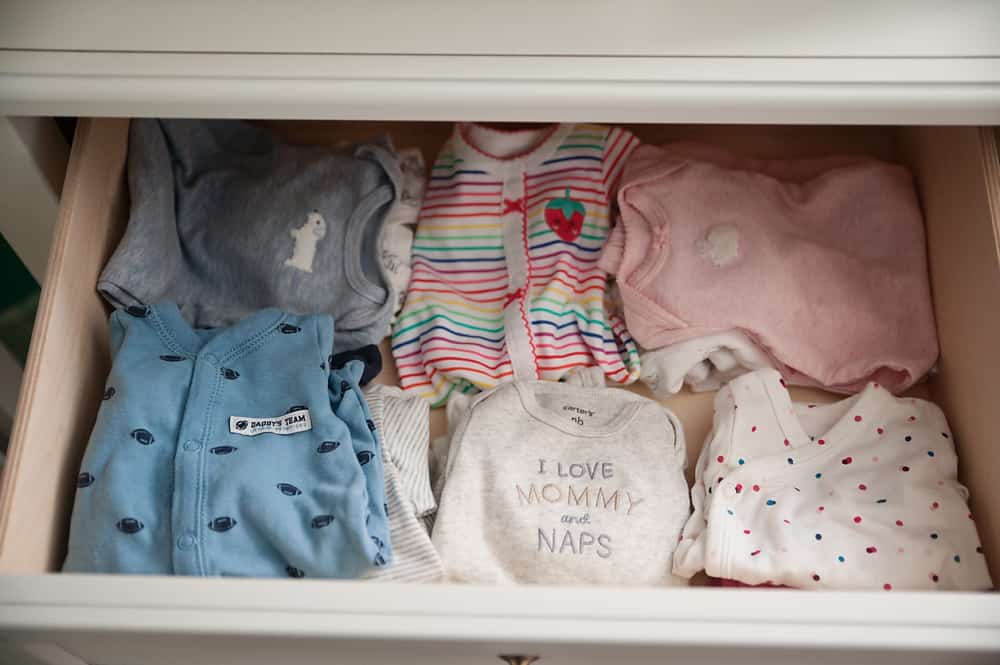 I waited so long to plan out this nursery that once I finally had the opportunity to design it, I went all out. I mapped out the room to make sure everything would fit and even mocked up this design in Photoshop before I purchased everything. I wanted to make sure everything worked together in the room. It is a bit of a tight fit, but with two full size cribs, that is to be expected.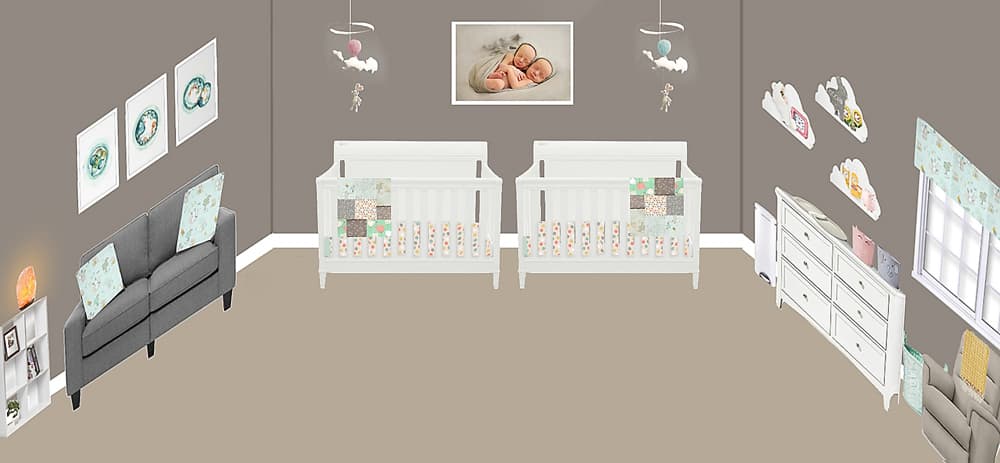 In the end, it turned out just as great as I had initially imagined it. We can't wait to introduce our babies to their Twin Bunny Nursery designed just for them!