This is a sponsored post written by me on behalf of SOLO® Brand Products for IZEA. All opinions are 100% mine.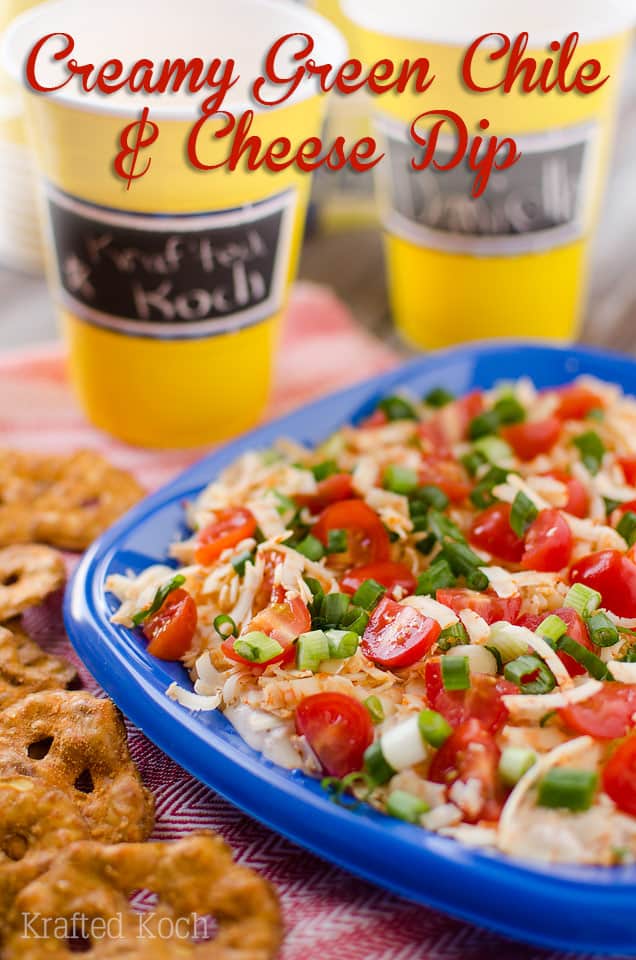 Creamy Green Chile & Cheese Dip is a quick and delicious appetizer that you can throw together in less than 10 minutes! It is a twist on classic taco dip, with green chiles, Mexican spices and shredded chipotle cheddar. If you are looking for an easy snack to bring to your next get-together, this is perfect.
I love making appetizers, but sometimes they can be time-consuming if you are assembling each individual one. That is why dips are often my go-to food when bringing something to share at a party. I can whip them up in no time, throw it on a sturdy SOLO plate, grab a bag of chips or crackers to go with it, and I am on my way!
SOLO products have you covered for all of your party needs at a moments notice, so you can be up for anything. With Clear Cups, Ultra Cups and the new 'It's My Solo' Cups where you can simply peel the label, make your mark by scratching your name, you can let the fun begin. I think these new cups are so cool. No more wondering who has what cup when they all look the same. Be creative and mark yours up so you can easily find your SOLO cup in a crowd!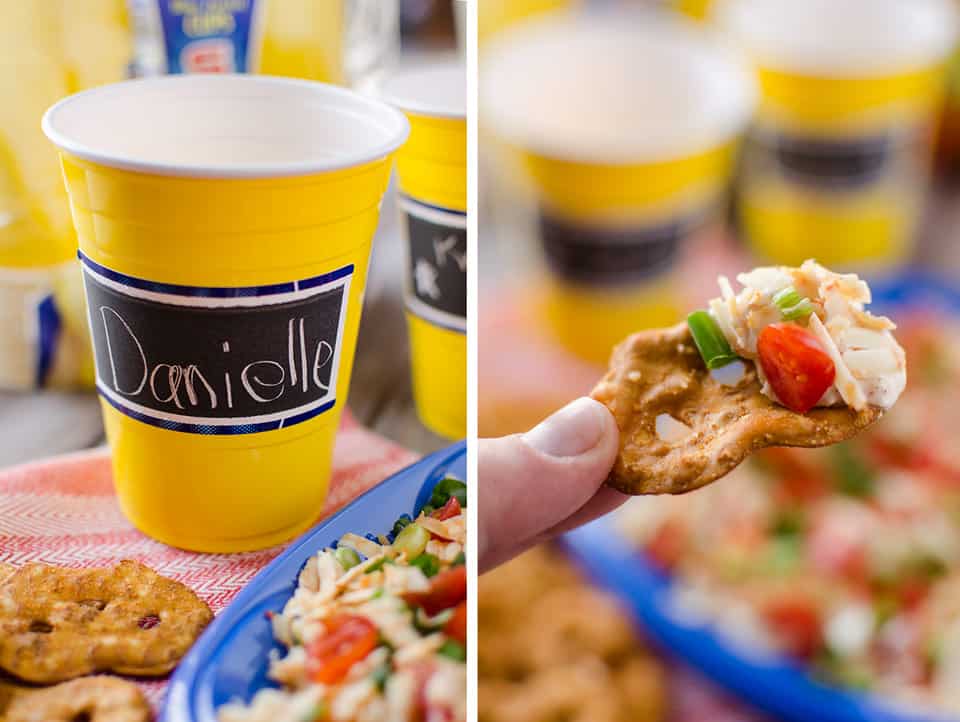 SOLO is more than just cups, they offer Paper, Heavy Duty and Premium Strength products. Their products are my favorite, because they are so sturdy they can handle anything you throw at them. Whether I am loading one up with a dip or a plateful of holiday dinner, I know they aren't going to fold under the weight of my favorite foods.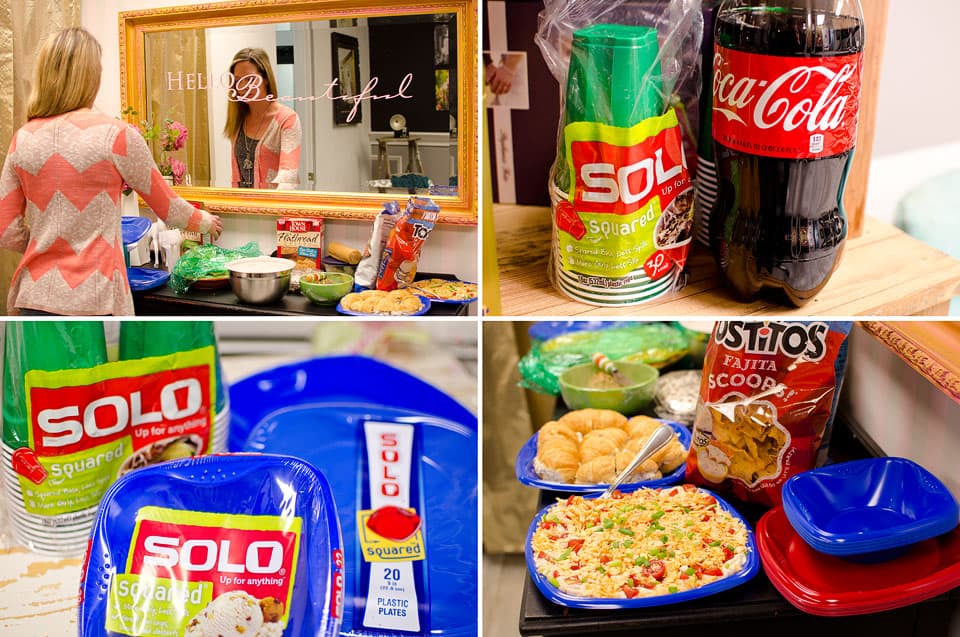 There is a great group of local photographers in my area and we meet up every month or so to catch up, talk shop and just enjoy each others company. In November, we decided to get together for a paint party. They are very popular in our area right now and I was excited to participate in my first one. About ten of us met up, brought some good food and drinks and tried our hand at painting.
While I posses a few different creative talents, painting is certainly not one of them. I was super worried that mine would look like a five year made it. As I began painting, I was well on my way to a kindergarten masterpiece. Then I noticed how great my painting neighbor Erin's looked, so I decided to copy her technique and it started to come together.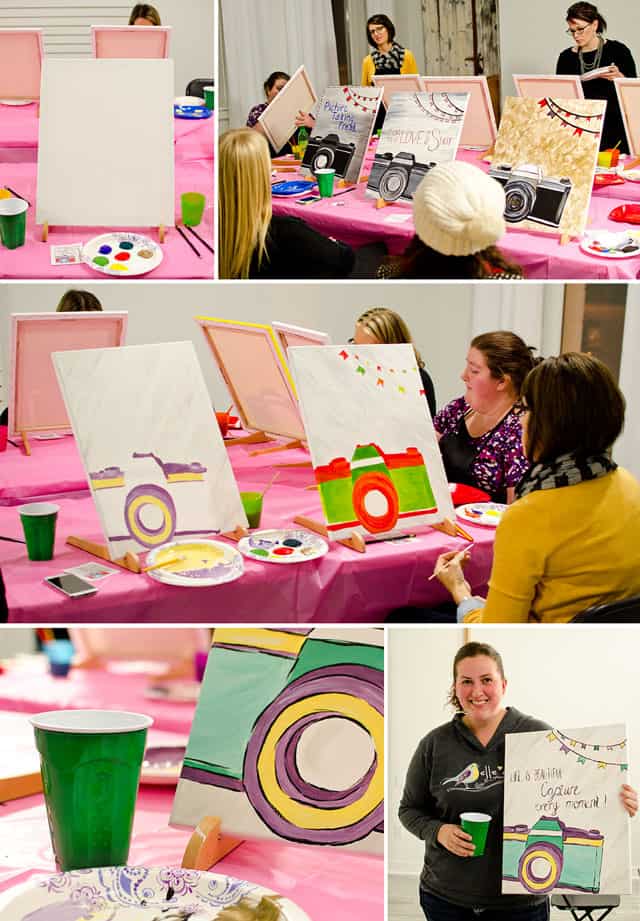 It was such a fun way to spend a Friday night with creative ladies, great conversation and delicious food and drink. The food was all served up on SOLO plates and cups for convenience, so we could enjoy our beverage and snack while painting and chatting away. The best part of all was at the end of the night…which got pretty late because we have so much to talk about, when cleanup was a breeze thanks to SOLO products!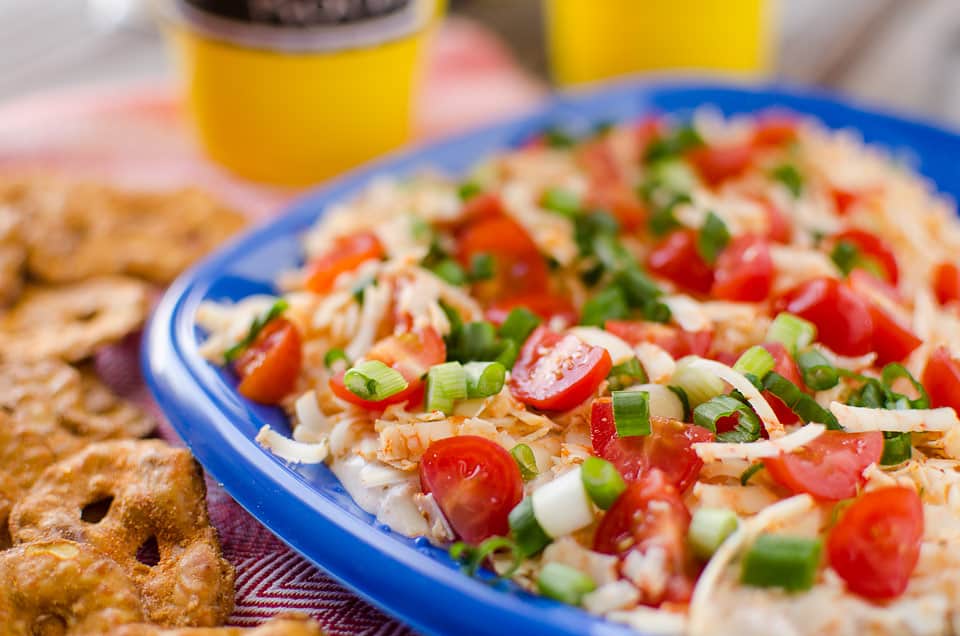 Now you can be #UpForAnything thanks to SOLO and this Creamy Green Chile & Cheese Dip!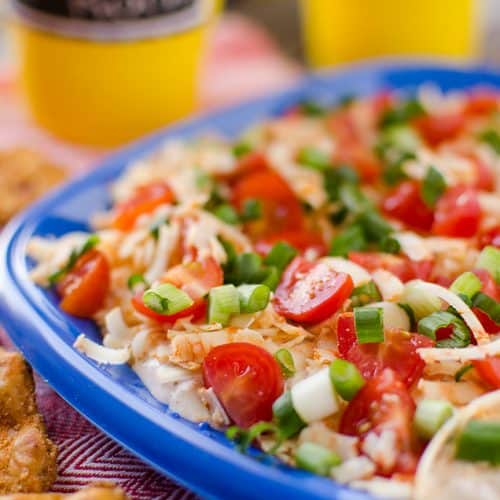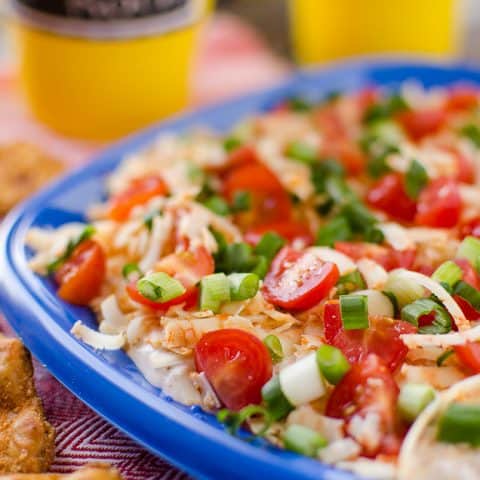 Creamy Green Chile & Cheese Dip
A creamy green chile and Mexican spiced dip topped with chipotle cheddar, tomatoes and green onions for an easy and delicious appetizer everyone will love.
Ingredients
8 oz. cream cheese, whipped
1 c. sour cream
4 oz. chopped green chiles, drained
1 Tbsp. cumin
1 Tbsp. paprika
2 tsp. chili powder
1 tsp. garlic powder
1/4 tsp. salt
1 c. chipotle cheddar, shredded
1.5 c. tomatoes, chopped
3/4 c. green onions, chopped
Instructions
In a large bowl, mix the cream cheese, sour cream, green chiles and spices until well combined. Spread on a SOLO plate and top with shredded cheese, tomatoes and green onions. Serve with crackers or chips.
Nutrition Information:
Yield:

8
Serving Size:

1 grams
Amount Per Serving:
Unsaturated Fat:

0g