Cilantro Crab & Sweet Corn Mini Peppers are little bites of summer goodness with crab, sweet corn and tomatoes tossed in a refreshing Cilantro Lemon Vinaigrette for a light and healthy appetizer or snack.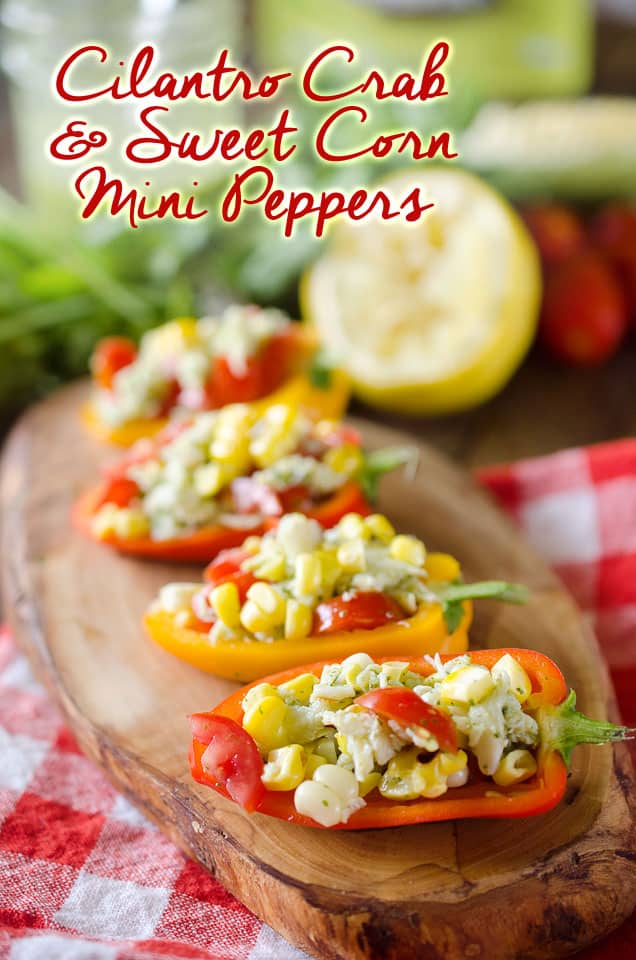 Cilantro Crab & Sweet Corn Mini Peppers
I know when I host a party or bring an appetizer to a gathering, it seems like everything is cheesy, fatty and just plain not healthy. Don't get me wrong, I love the taste of those as much as the next guy, but there are times when you are just wanting to stick to a healthy diet. If there is a healthy option on the table it is usually just vegetables with dip or fruit. I was looking to make something a bit more exciting with some fresh flavors. These little stuffed peppers are not only beautiful, they are a light and healthy finger food you can feel good about!

On top of their visual appeal and wholesome ingredients, these little guys are surprisingly easy to make. Just whip up a batch of this homemade Cilantro Lemon Vinaigrette in your blender in a matter of a few minutes and toss it with some crab, grilled sweet corn and tomatoes. If you are looking for a healthy appetizer or snack that screams summer, these little stuffed peppers are just the thing!
More healthy appetizers and snacks!