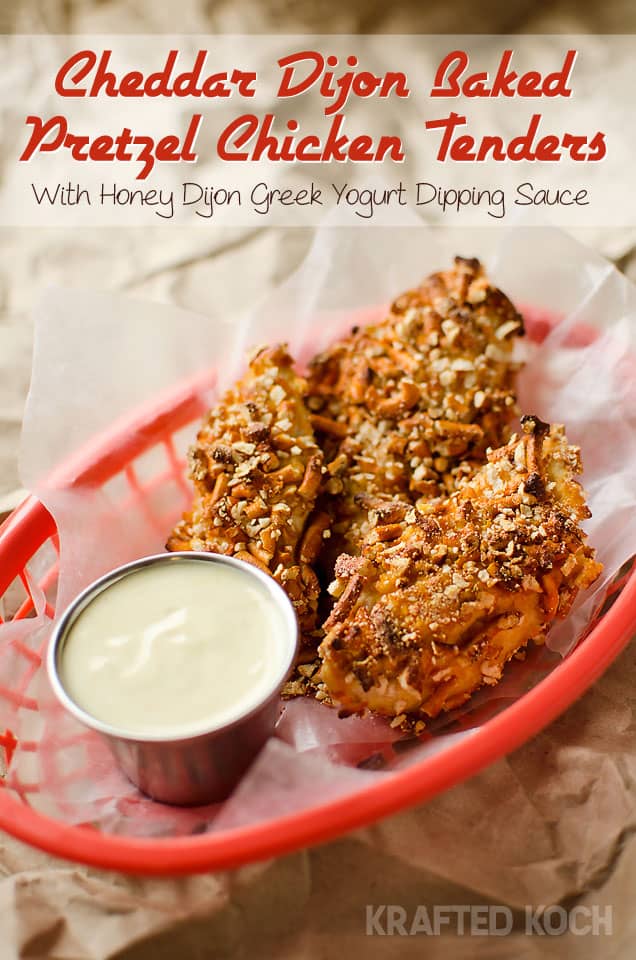 I love making these cheddar dijon baked pretzel chicken tenders for a quick and healthy weeknight dinner. You can pair them with a salad or side of potatoes and veggies for an easy dinner the whole family will love.
So, I finally got around to planting my pots of herbs and flowers this weekend. On Sunday, I drove over to Anderson Acres, a family owned operation only 3 minutes from my house, and perused their aisles. I never have any intentions of buying many flowers, but they always seem to have new, beautiful varieties that I just have to add to my cart!
I am the farthest thing from a green thumb, which is one thing I unfortunately did not get from my Grandmother. I do try and plant a few pots though, as they are fairly easy to maintain. I really hate weeding gardens, but with pots, they manage to stay pretty weed-free.
After getting some sweet basil, thyme, parsley, as well as some flowers (and a new pot and some soil because I found too many flowers!), I was on my way. The price tag stung a little, almost $60 for this little bunch of gardening essentials, but it is totally worth it to have fresh herbs to cook with and colorful flowers to come home to. My chives and rosemary (I think that is what it is!) are coming back from last year, so at least I didn't have to buy those. There is also another plant coming up in my one planter, which I am about 90% sure is a weed, but I figured I would let it play out a little bit longer to make sure it isn't a flower coming back from last year. 🙂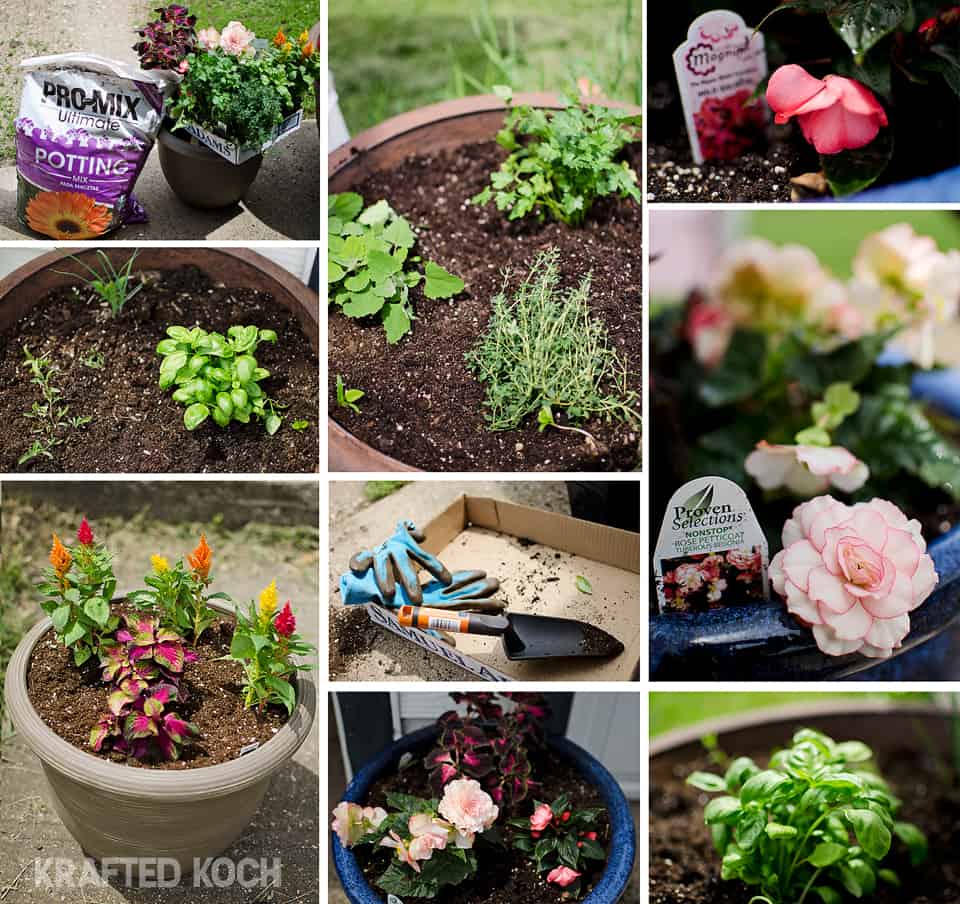 When we purchase my parent's home this fall, they are going to continue planting and maintain the gardens they have there instead of digging new ones at their new home. This is seriously the best of both worlds for me, I don't have to garden, but I will have full access to tomatoes, lettuce, onions, etc.! WIN WIN!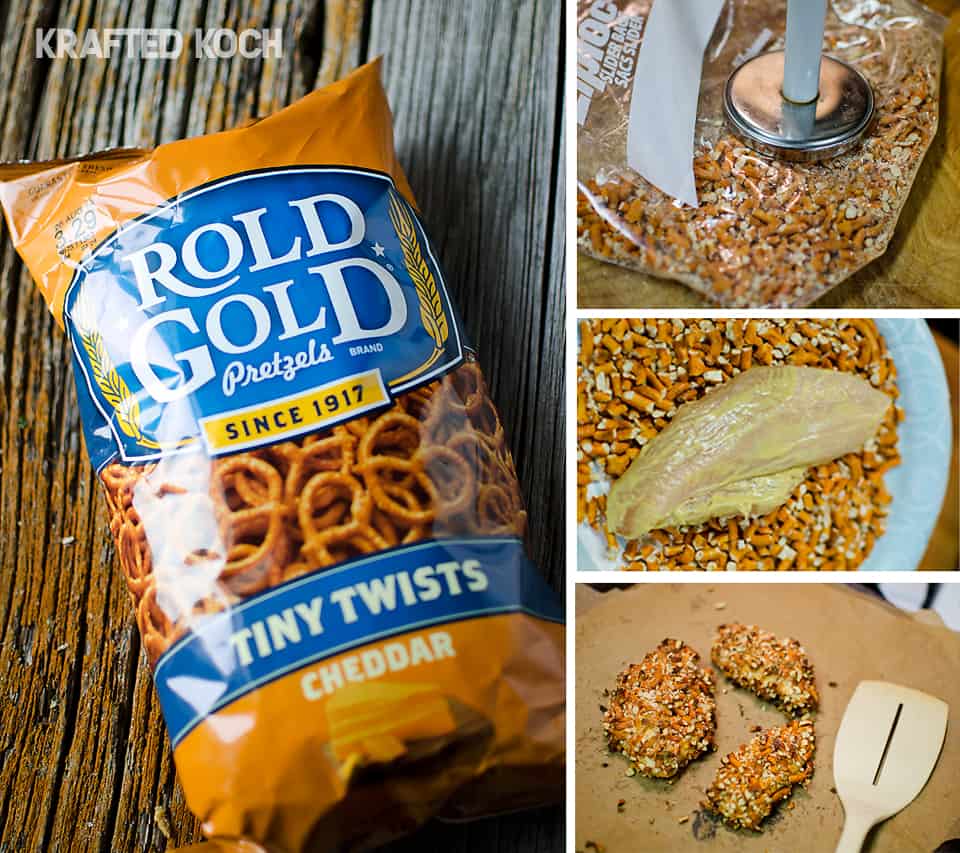 What are some of your must-haves in the garden each year?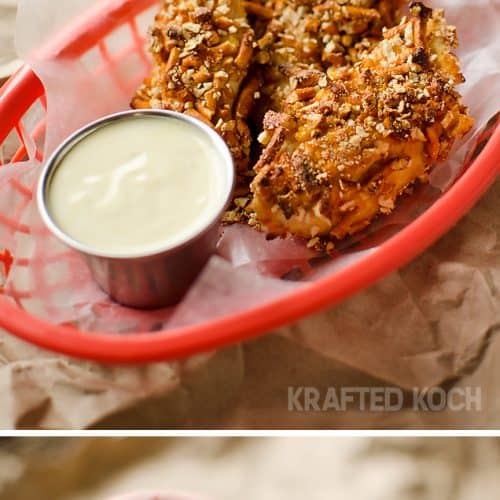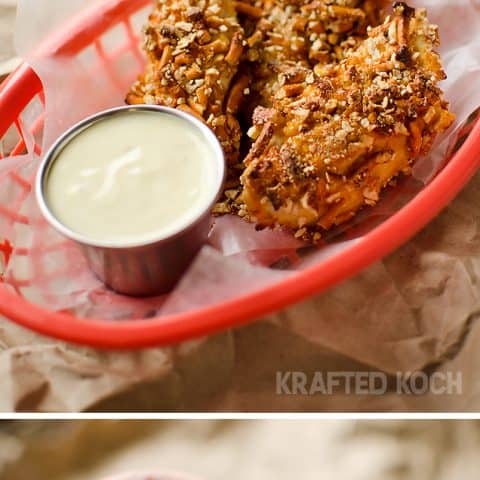 Cheddar Dijon Baked Pretzel Chicken Tenders
Ingredients
Cheddar Dijon Baked Pretzel Chicken Tenders
-
1 lb. Chicken breasts
5 c. Cheddar pretzels
1/4 c. Dijon
-
Honey Dijon Greek Yogurt Dipping Sauce
-
2 Tbsp. Dijon
2 Tbsp. Honey
1/2 c. Non-fat Greek Yogurt
Salt and pepper to taste
Instructions
Cut each chicken breast into 3 or 4 tenders lengthwise. Place all of the chicken in a large bag with dijon and coat evenly.
In a separate bag, add 4 cups of cheddar pretzels and break up into small pieces. Use a rolling pin or meat tenderizer to smash the pretzels easier. Pour the pretzels onto a plate.
Remove the chicken from the bag and with your hand, wipe off any excess Dijon. Toss each tender in the pretzels to coat evenly. Place the tenders on a sprayed cookie sheet and bake for 15-18 minutes at 400 degrees.
Meanwhile, combine the Dijon, honey, yogurt and salt & pepper.
Served chicken warm with Honey Dijon Greek Yogurt Dipping Sauce.
Recommended Products
As an Amazon Associate and member of other affiliate programs, I earn from qualifying purchases.