Candy Bar Apple Dip is the perfect dessert recipe to use up all of that leftover Halloween candy!

Candy Bar Apple Dip
If you love Snickers Salad, this Candy Bar Apple Dip is going to be right up your alley. Not only do you get the yummy pairing of sweetened cream cheese, apples and Snickers, you add in more of your favorite candy bars! With each bite you get a little bit different flavor, whether you get a piece of Reese's Peanut Butter Cups or a Milky Way, the sweet combo of the cream cheese dip and the crisp apples is a real winner.

Do you pass out candy for Halloween? I have always wanted to but have never lived somewhere where I had the opportunity. Most of my life I have lived in the middle of the country with no one around or I lived in apartment in the city. Either way, there were no cute little kids dressed up in costumes knocking on my door for candy.
Just because I wasn't able to pass out candy, doesn't mean I didn't do my fair share of Trick or Treating as a child. We would all pile into my mom's mini van bundled in snowsuits because it was usually below freezing at the end of October in Minnesota. That cold temperatures would stop our pursuit of candy though. We would get dropped off at the end of each block and make our way up and down the street collecting the sugary treats.

After a couple of hours scouring the whole town for candy we made our way home to organize our hauls. Whether I was swapping my favorites with my siblings, or just counting the massive amount of candy in my pile, it was a fun time.
When I was really little, while my favorite grandma was still alive, we would really get too much candy. Each Halloween we would go to her house and she would have a plump full 2 gallon bucket of candy for EACH of her grandchildren. This lady was amazing. She went over the top with anything and everything related to her family.

I don't remember actually eating all of that candy, but the sheer joy we had opening the containers and seeing all of the sugar made our hearts skip a beat. My mother, who worked in dental office, rationed the candy. In retrospect, I am pretty sure she made a lot of it disappear because we never were allowed to eat much candy.
So instead of making your kids candy disappear, turn it into this awesome Candy Bar Apple Dip, so the kids can at a very least consume some fruit with it! 😉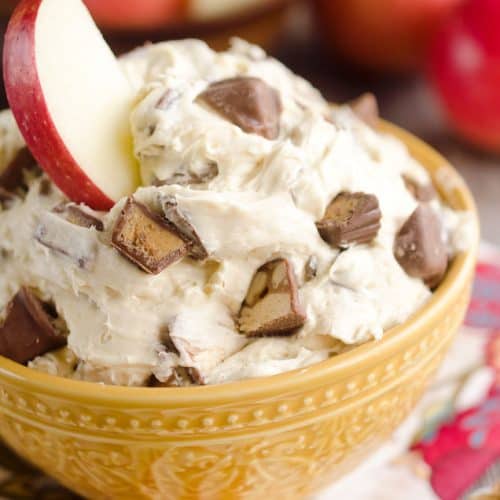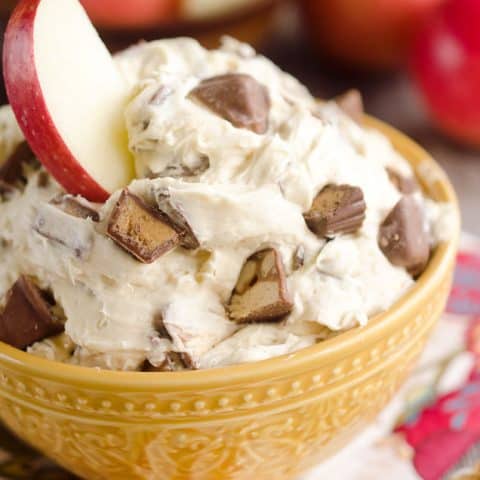 Candy Bar Apple Dip
Candy Bar Apple Dip is the perfect dessert recipe to use up all of that leftover Halloween candy!
Ingredients
1 c. milk
1/4 c. vanilla instant pudding mix
8 oz. cream cheese
2 Tbsp. brown sugar
1/2 tsp. cinnamon
3/4 c. Reeses Peanut Butter Cups, chopped
3/4 c. Snickers, chopped
3/4 c. Milky Way, chopped
apples for dipping
Instructions
In a medium bowl, beat the vanilla pudding and milk for 3 minutes or until thickened. Add the cream cheese, brown sugar and cinnamon and beat for an additional 2-3 minutes until smooth.
Fold in the candy bars and serve with sliced apples for dipping.
Store leftovers refrigerated.
Nutrition Information:
Yield:

8
Serving Size:

1 grams
Amount Per Serving:
Unsaturated Fat:

0g
More fun desserts!