These Oven Baked Chicken Legs are tender, juicy and seasoned to perfection with a homemade spice blend, Dijon and Worcestershire for a amazing dinner recipe the whole family will love!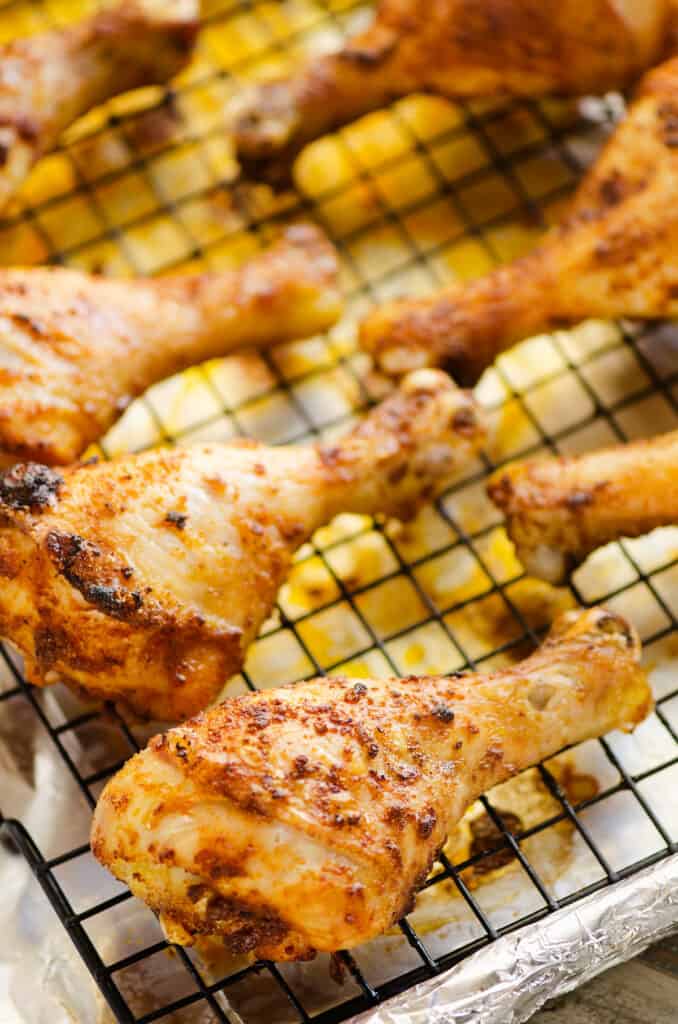 I have always loved chicken recipes of all kind and my kids are partial to bone in chicken themselves. These Baked Chicken Legs are a favorite and my family devours them every time they are served for dinner.
When I buy a big pack of chicken drumsticks I always think it seems like way too much for our family, but somehow we always use them up. If not at dinner, they reheat wonderfully for a quick meal the next day!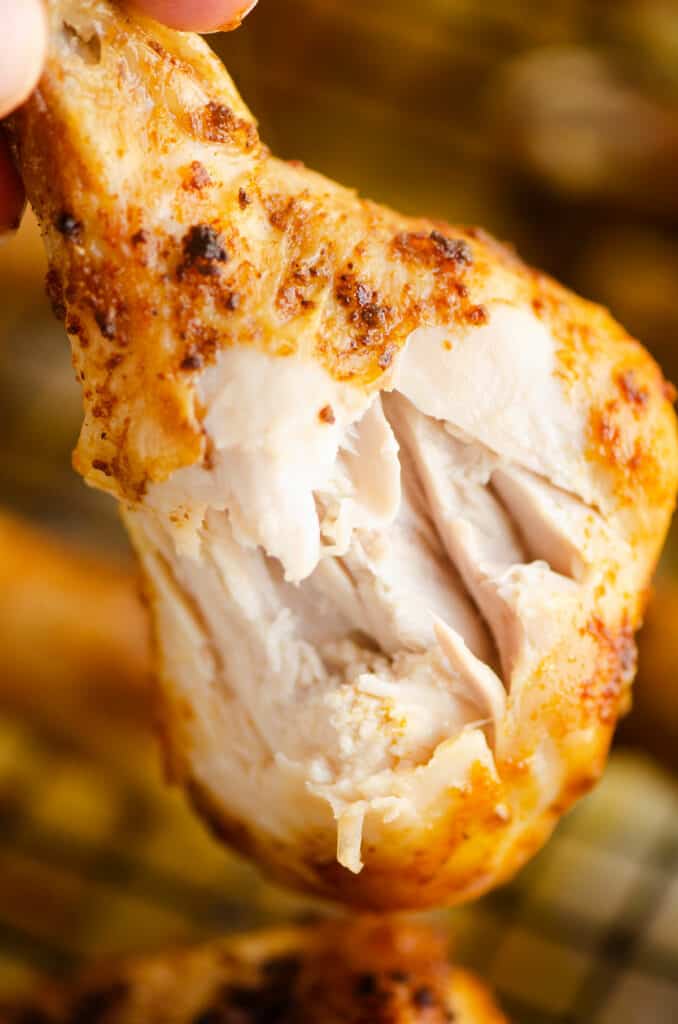 Affordable Family Friendly Dinner
My favorite part of this recipe is that chicken drumsticks are one of the most affordable cuts of chicken you can buy! We all know it's nice to find a low cost dinner with the way grocery prices are these days. Pair them with some roasted carrots, red skin potato salad or Air Fryer roasted potatoes for a hearty meal that doesn't break the bank.
Chicken legs are such a down to earth dinner that you can spice up with just about any flavor. We keep these simple and flavorful so the kids will enjoy them, but if you are looking for something more adventurous, these Korean Grilled Chicken Legs are spectacular!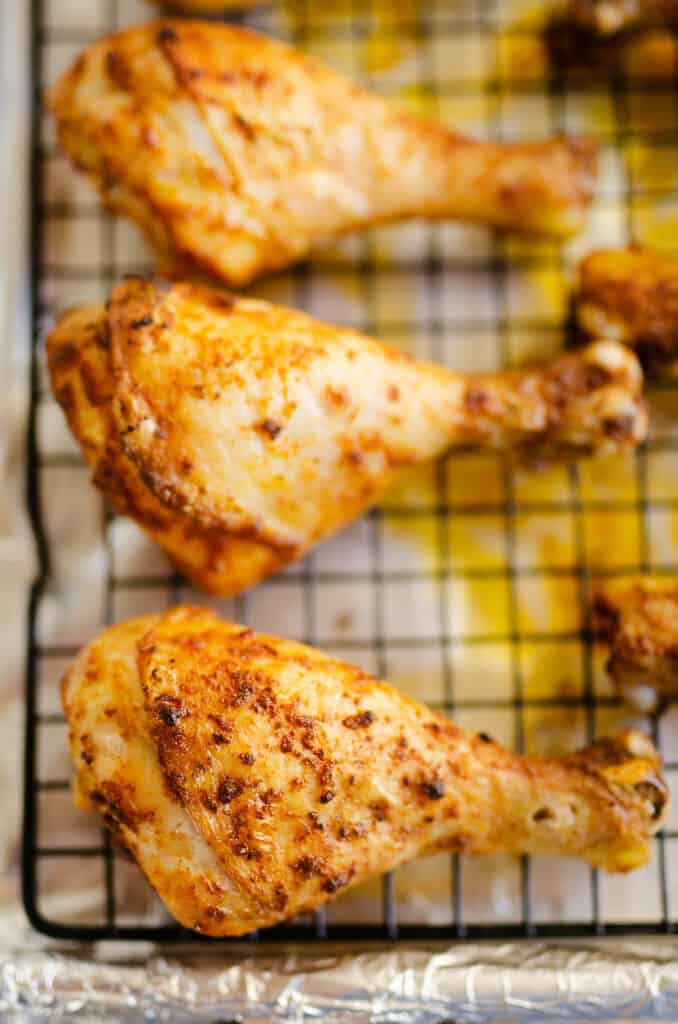 How to make the Crispiest Chicken Legs?
Baking chicken legs in the oven is one of the easiest ways to cook it. Just follow a few simple tips to get a crispy and delicious piece of juicy dark meat every time.
Pat the Chicken Dry
This may seem obvious to some, but it doesn't go without saying. Use paper towels to pat the chicken skin as dry as possible to remove as much moisture as you can.
Baked Chicken Legs on Wire Rack
The best thing you can do to get a crispy skin on your chicken, is cook the chicken on a wire cooling rack so the hot air can circulate around all the skin and crisp it up beautifully.
If you don't using a wire rack, you will have to turn the chicken during the cooking process and the chicken will sit and cook in it's own juices half the time and the skin won't crisp up as nice.
Use Baking Soda to Crisp Chicken Skin
There is a whole bunch of science that explains why the chemicals in baking soda help crisp up skin. I'm not going to bore you with it here, but just trust me on the one. A little bit goes a long ways, but it helps jump start the browning process.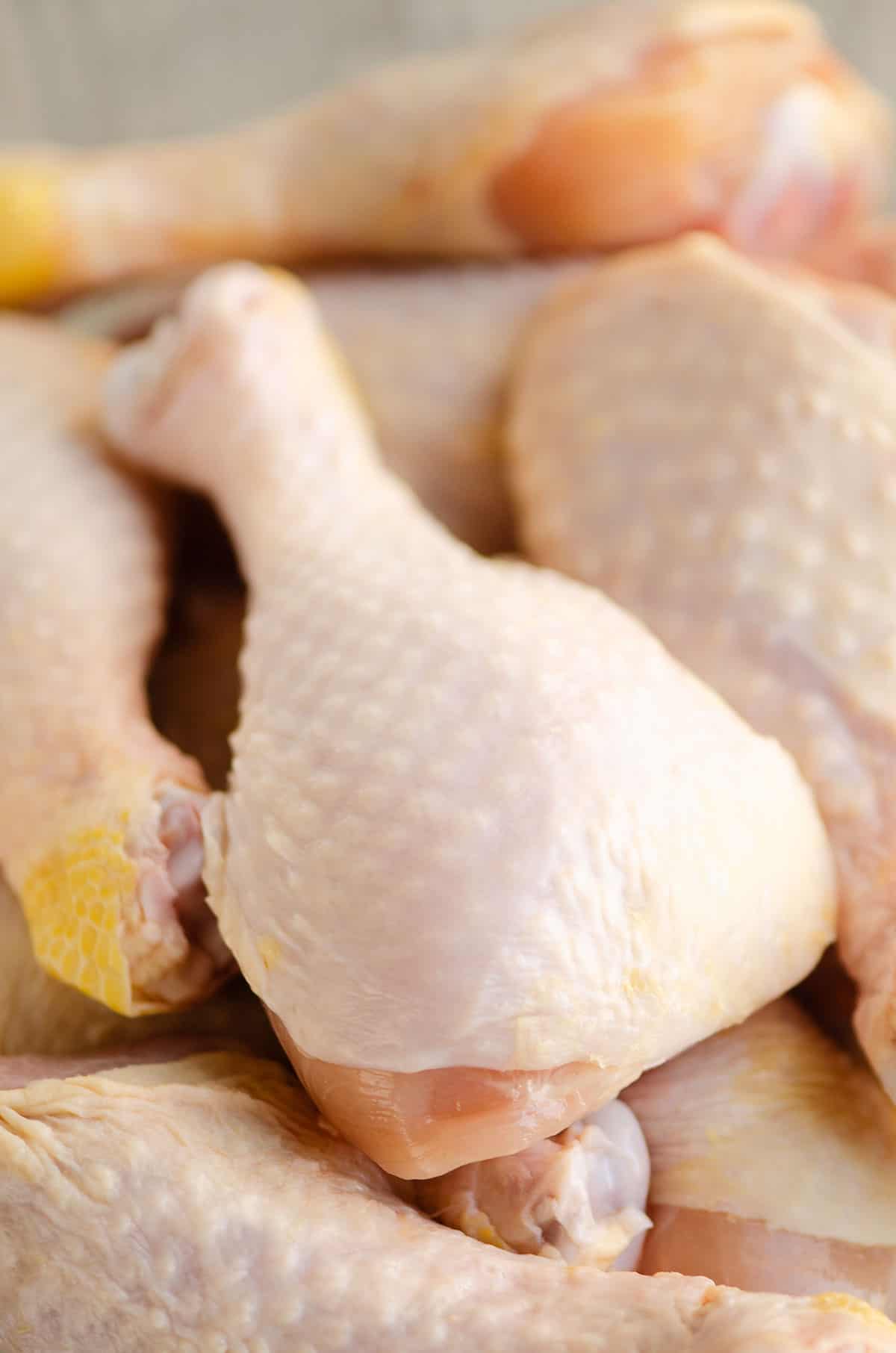 How to Season Chicken Legs
For this easy chicken leg recipe, we are going to mix up a quick marinade of simple spices. You can season them right before you bake the chicken, or let them sit in the marinade for up to 12 hours overnight.
Marinade Recipe
Whisk the following ingredients together for incredible flavor.
Garlic powder
Onion powder
Seasoning salt
Paprika
Baking soda
Black pepper
Olive oil
Worcestershire sauce
Dijon mustard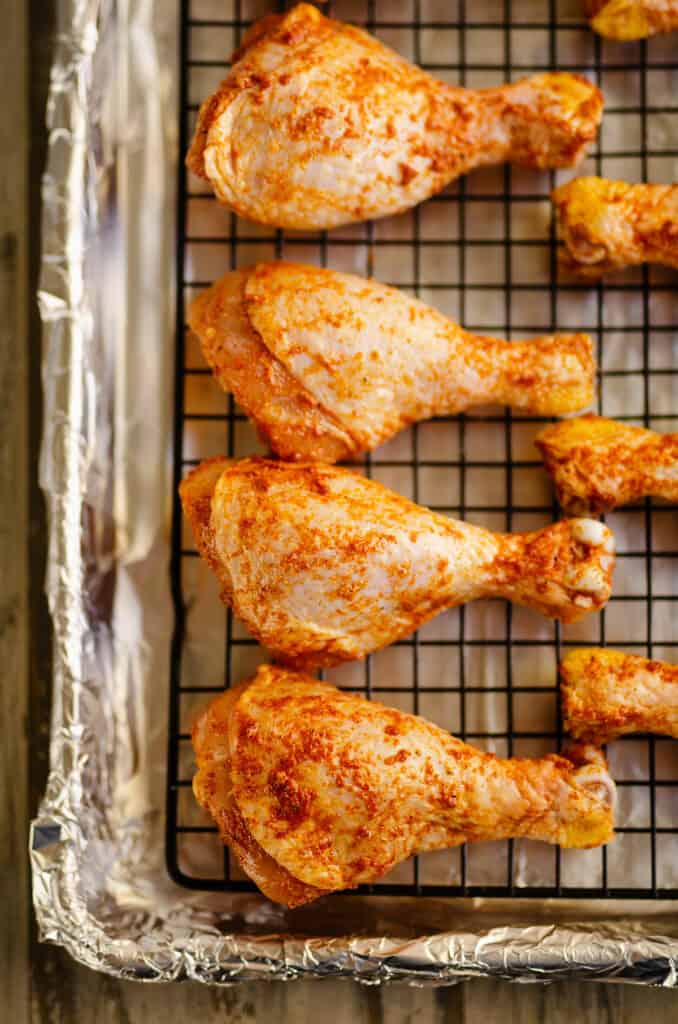 Chicken Drumsticks in Oven
While it may be easier to just knock out the chicken legs at a high temperature, you risk drying out the meat. For this juicy chicken leg recipe, we start by baking them on a lower temperature at 250F which helps render out some of the fat which dries out the skin to help it crisp up. After 25 minutes, we crank it up to 500F to finish it off for perfectly crispy chicken legs.
Pro Tip!
Line your baking sheet with tinfoil and make cleanup a breeze! As the fat in the chicken skin slowly renders out, it will bake onto the sheet and be a tough cleanup.
If you take the extra minute to line your sheet with tinfoil or even parchment paper, you can just throw away the liner and give the pan a quick wash with soap and water. No need to soak that bad boy over night!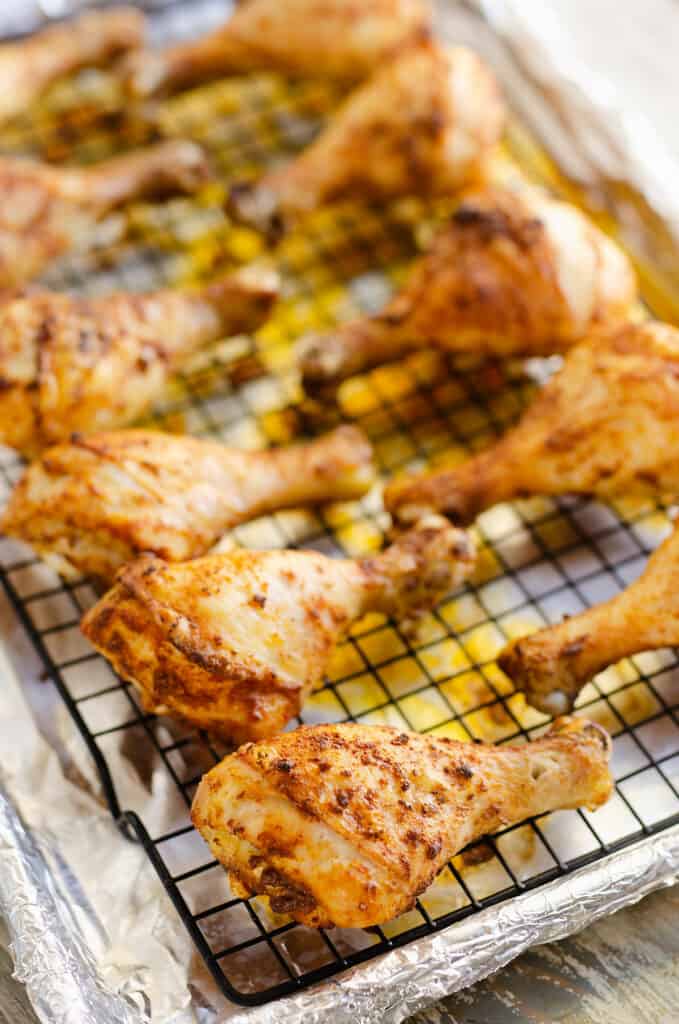 When is the chicken done cooking?
The best bet for knowing when any meat is done, is checking the center of the meat with an Instant Read Thermometer. It gives you an instant temperature reading, which for chicken you want to be at 165F. The lowest temperature you can pull chicken from the oven is at 160F. It will raise another 5 degrees as it rests.
If you don't have a thermometer, you will have to use the old school test that our grandmothers did, which is cut into one and see if there is any pink. When cooking bone in chicken, you will often end up with some red spots, but those are perfectly fine to eat.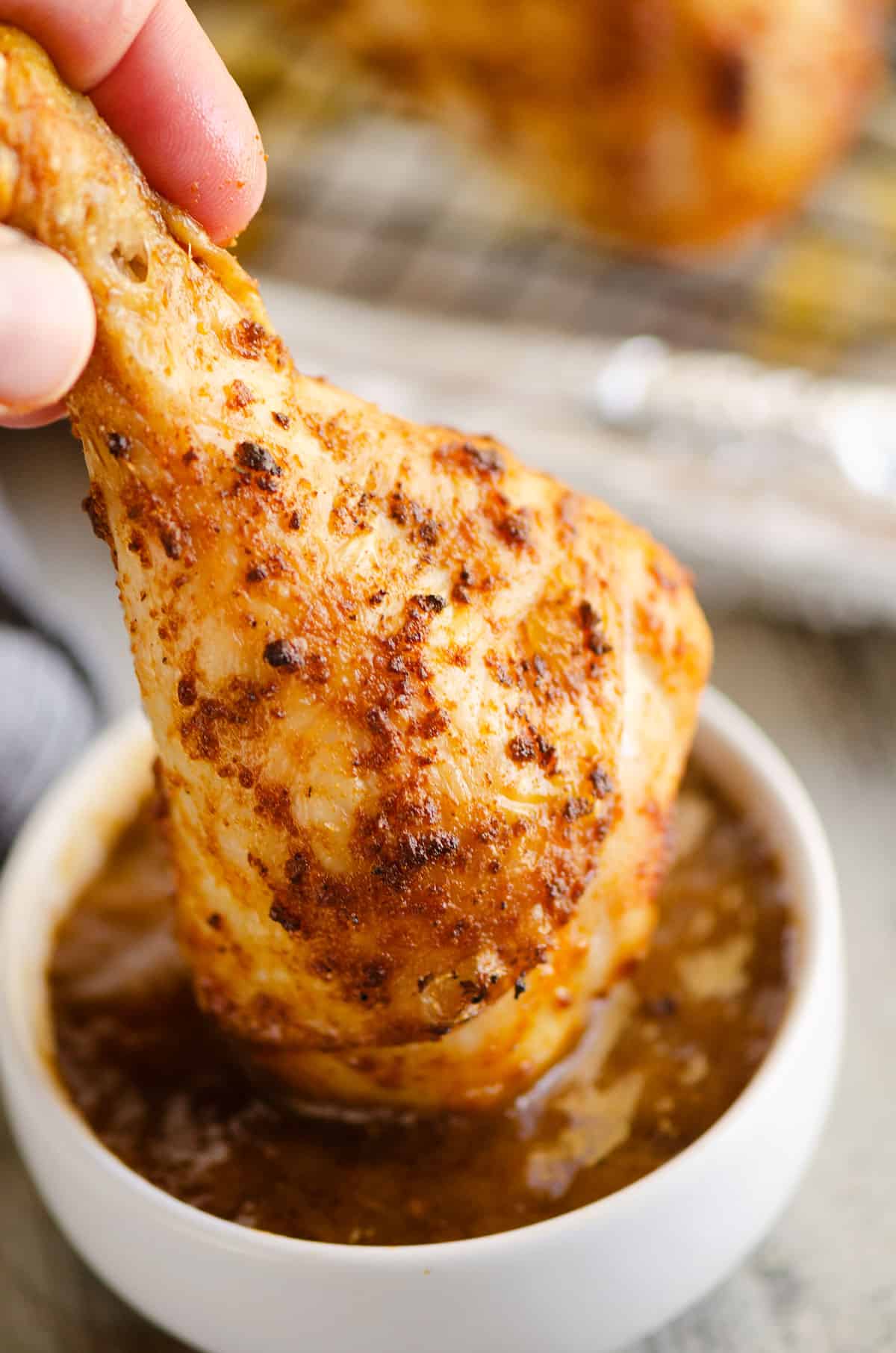 What to serve with chicken legs
This chicken has a wonderfully flavorful marinade on it it. The best part of it is that it will go with so many different flavors and side dishes. Here are just a few of my favorites that pair wonderfully with chicken drumsticks.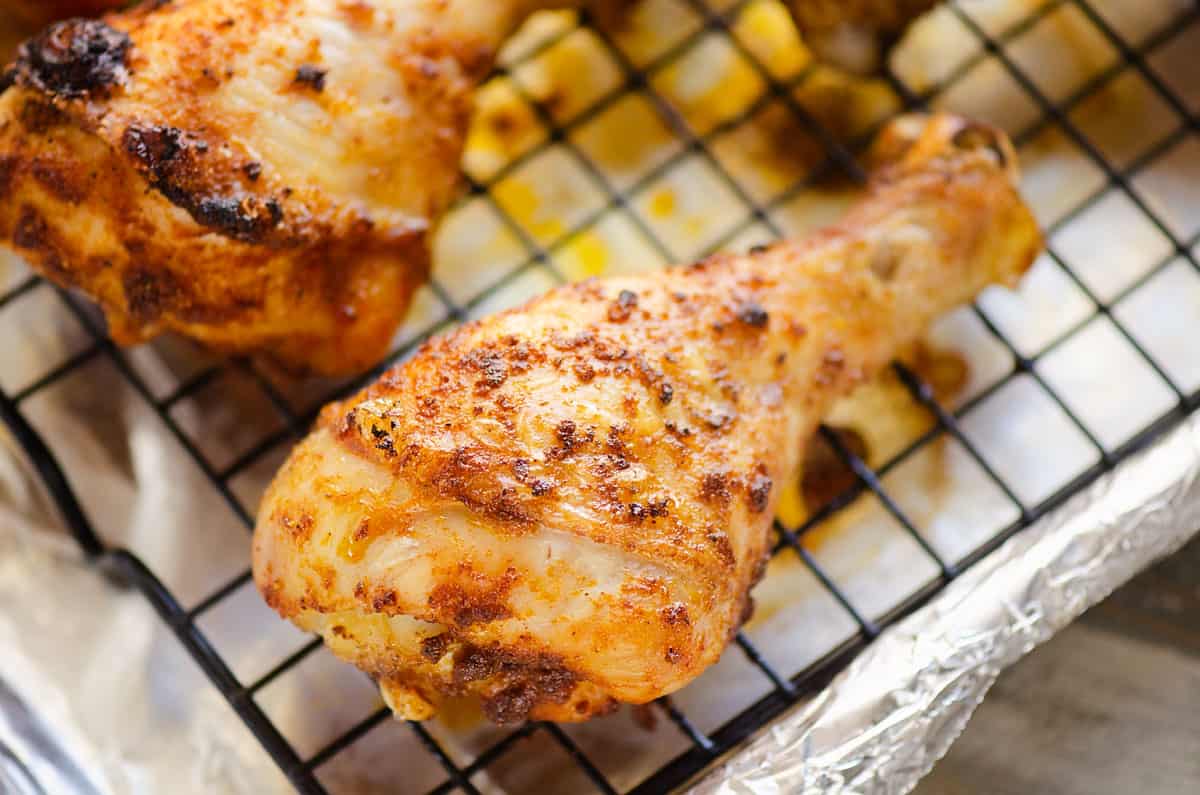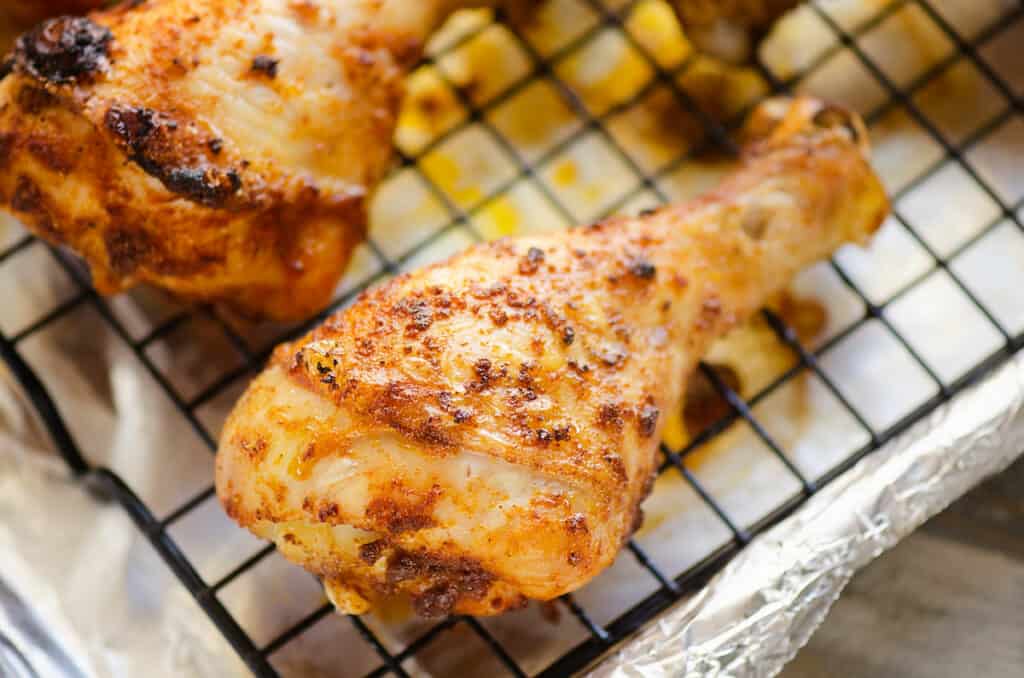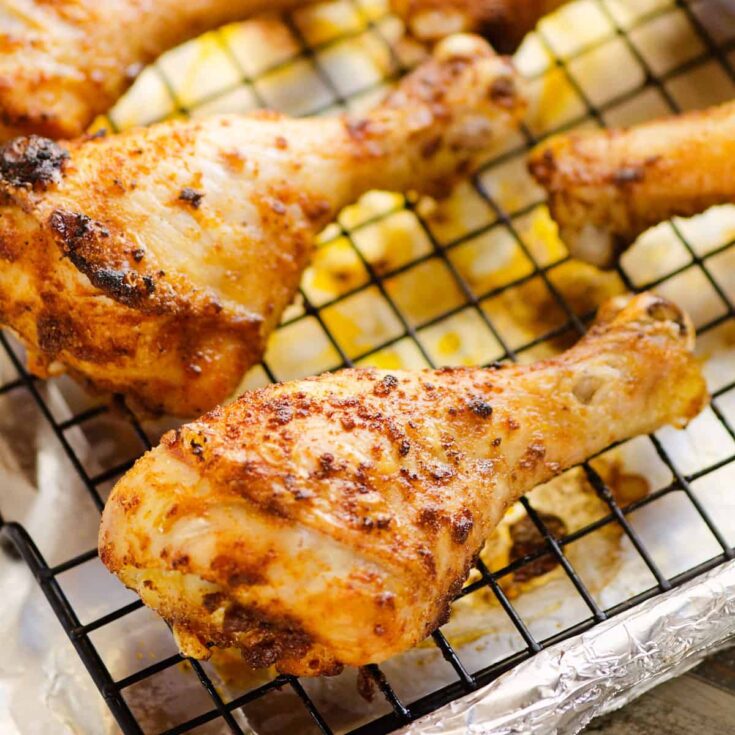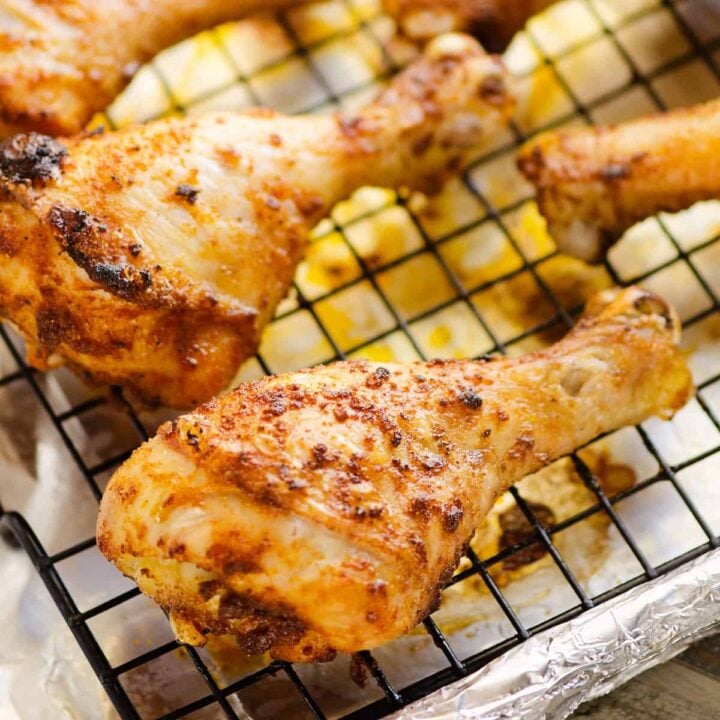 Baked Chicken Legs
These Oven Baked Chicken Legs are tender, juicy and seasoned to perfection with a homemade spice blend, Dijon and Worcestershire for a amazing dinner recipe the whole family will love!
Ingredients
3-4 pounds chicken drumsticks (10-12 legs)
Marinade
2 Tablespoons olive oil
2 Tablespoons Worcestershire sauce
2 teaspoons Dijon mustard
1 teaspoon garlic powder
1 teaspoon onion powder
2 teaspoons seasoning salt
2 teaspoons paprika
1/2 teaspoon baking soda
1/2 teaspoon black pepper
Instructions
Preheat oven to 250F.
Line a baking sheet with tinfoil and top with a wire rack.
Using paper towels, pat the skin of the chicken dry. Pull the skin of the chicken over the meaty part of the leg.
In a small bowl, whisk together all the marinade ingredients.
Add the chicken to a large bowl or plastic bag. Pour the marinade over the chicken and mix until all the chicken is well coated. Your hands are the best tool for this job.
Place the chicken on the wire rack and bake at 250F for 25 minutes. Increase the temperature to 500F and cook for an additional 15-20 minutes, or until the chicken reaches an internal temperature of 165F.
Serve with your favorite sauce!
Notes
There may be some small red spots after the chicken is cooked through to a safe temperature. They are perfectly safe to eat, but if you don't like them, just pick around them!
Recommended Products
As an Amazon Associate and member of other affiliate programs, I earn from qualifying purchases.
Nutrition Information:
Yield:

12
Serving Size:

1 leg
Amount Per Serving:
Calories:

304
Total Fat:

16g
Saturated Fat:

4g
Trans Fat:

0g
Unsaturated Fat:

10g
Cholesterol:

192mg
Sodium:

505mg
Carbohydrates:

1g
Fiber:

0g
Sugar:

0g
Protein:

37g
Provided nutrition data is only an estimate. If you are tracking these nutrients for medical purposes, please consult an outside, trusted source.