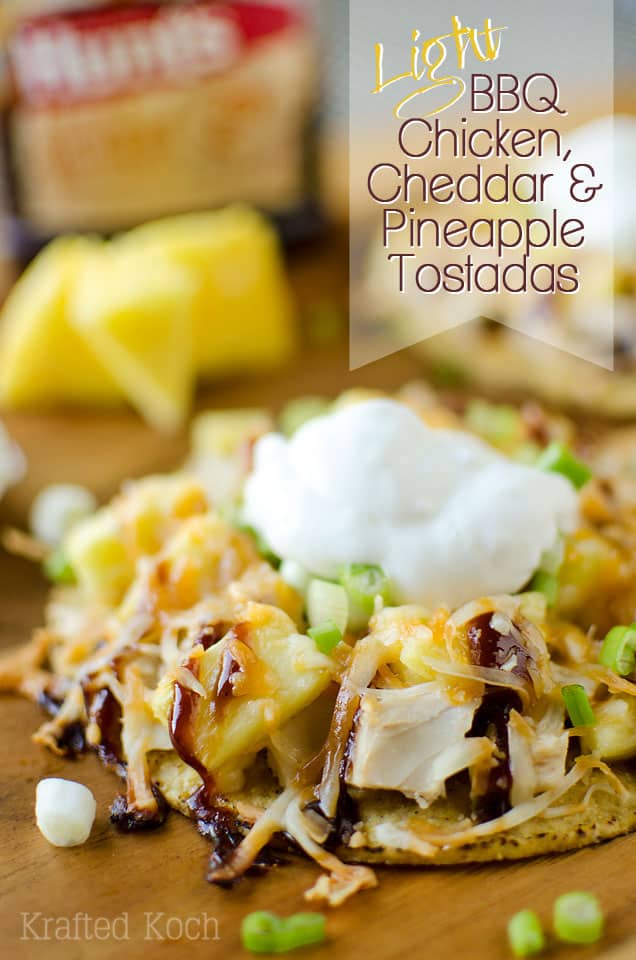 Light BBQ Chicken, Cheddar and Pineapple Tostadas are full of flavor and light on calories. Crunchy tostadas are topped with tender chicken, juicy pineapple, zesty BBQ sauce and melted cheddar for a filling and flavorful meal. I love a hearty meal such as these tostadas that are wholesome comfort food, but not nutritionally bankrupt. I particularly love the bits of cheese and BBQ sauce that bake on the edges and become caramelized.
After the last few weeks of indulging in fondue at The Melting Pot, cake and wine at the wedding and all of the other quick and unhealthy meals, it's time for more easy and healthy meals like these tostadas. Along with some healthy meals, it is time to get back to the gym for some racquetball after work with my co-worker and volleyball in the evenings with the ladies. I wish my entire workout routine could consist of just playing sports.
I hate sitting at the gym on an ellliptical or treadmill grinding away hoping to get your calorie burn in sooner than later. When I play racquetball for an hour, time flies by and at the end I have burned close to 1,000 calories. It doesn't get any better than that! Too bad I can't find more people to play with. I don't think it is a very popular sport with my generation thought, which is a shame because it is a great sport you can enjoy all your life. Have you ever played racquetball or an unusual sport that you can't find people to play with?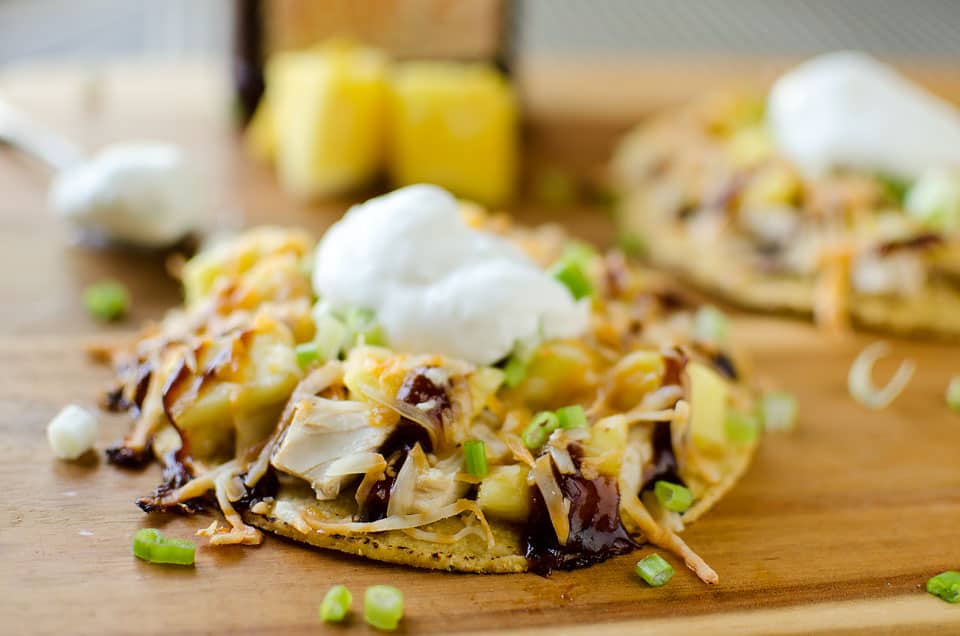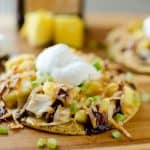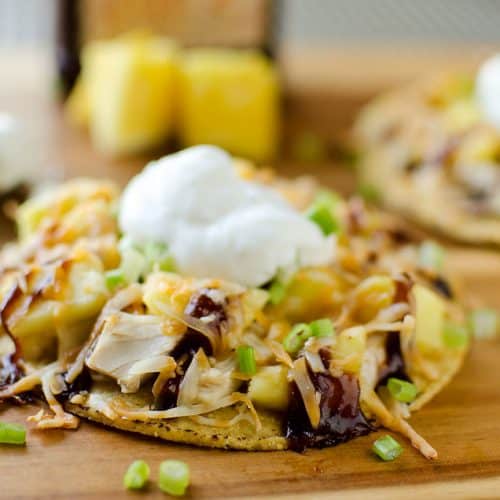 Print Recipe
Light BBQ Chicken, Cheddar and Pineapple Tostadas
Crunchy tostadas topped with tender chicken, juicy pineapple, zesty BBQ sauce and melted cheddar for a filling meal that is light on calories.
Ingredients
4 to

stadas

1 1/3

c.

rotisserie chicken

cubed or shredded

1 1/3

c.

pineapple cubed

1/2

c.

BBQ sauce

1

c.

reduced fat monteray jack

1/2

c.

green onions chopped

1/2

c.

non-fat plain Greek yogurt or sour cream
Instructions
Preheat your oven to 350°. Place your tostadas on a lined cookie sheet and layer each one with 1/3c. chicken, 1/3 c. pineapple, 2 Tbsp. BBQ sauce and 1/4 c. cheese. Bake for 8-10 minutes until the cheese is melted and the chicken is warmed through. Remove from the oven and garnish with green onions and yogurt. Serve immediately.
Nutrition Facts
Serving Size 1 tostada
Servings Per Container 4
---
Amount Per Serving
Calories 299
Calories from Fat 135
% Daily Value*
Total Carbohydrate 24g
8%
---
*Percent Daily Values are based on a 2,000 calorie diet. Your daily values may be higher or lower depending on your calorie needs.
21 Day Fix Approved Recipe (with clean BBQ sauce) – 2/3 Red, 1/3 Purple, 3/4 Blue, 1/3 Yellow, 1/4 Orange
More light recipes!