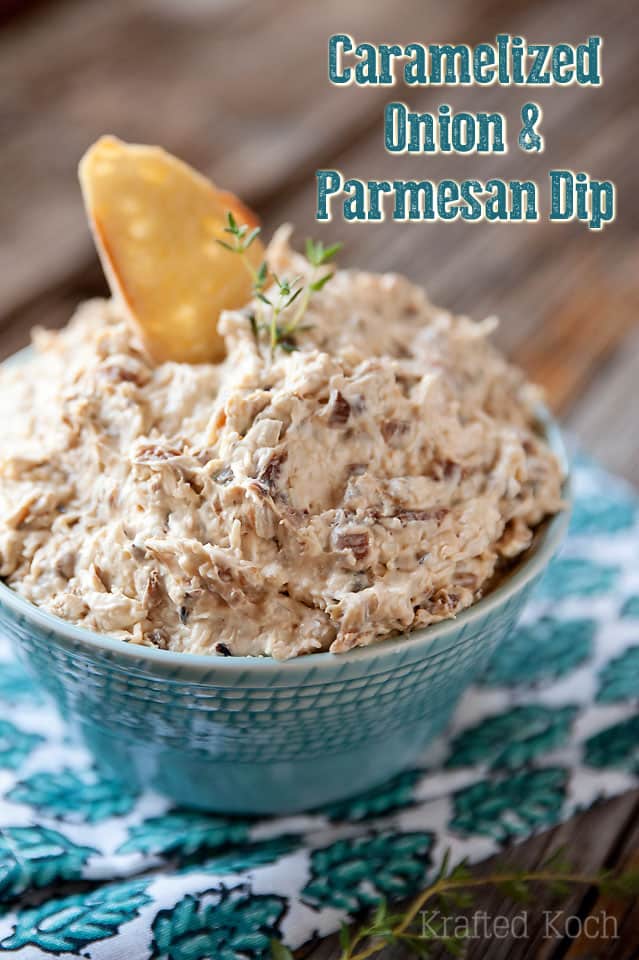 Caramelized Onion & Parmesan Dip might just be my all time favorite appetizer. It is a creamy and rich dip that pairs well with everything from veggies to crackers and crusty french bread and is great as a spread on sandwiches and wraps. It is probably for the best, that it is a bit time-consuming because of the caramelized onions, or I would be making it ALL OF THE TIME!
Anything with caramelized onions is a winner in my book and this dip is no exception. It might not be the most attractive dish at the table, but with red wine vinegar, fresh thyme and a generous amount of Parmesan cheese to balance out the sweet onions, sour cream and cream cheese, it will probably be the favorite dish at the table!
I have made this numerous times for family gatherings, and even my meat and potato boys gobble this right up.  If you are preparing this for a party, feel free to make a double batch, because your guests will be asking for more! In my opinion, every party should have a nice spread of appetizers, and this one is great because it will satisfy all types of appetites.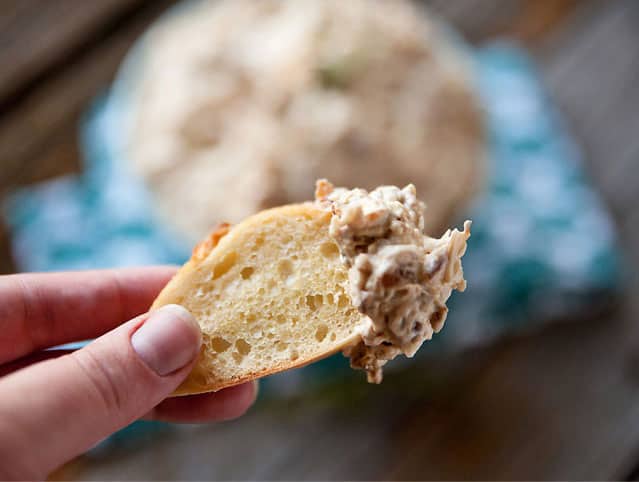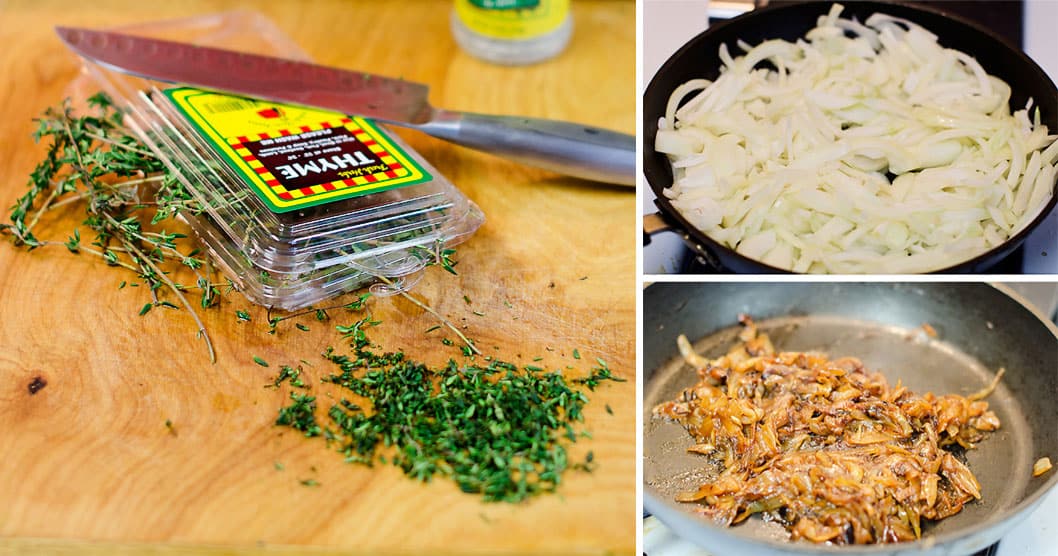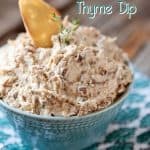 Print Recipe
Caramelized Onion & Thyme Dip
Creamy Parmesan dip with loads of sweet caramelized onions, Parmesan cheese, fresh thyme and a kick from a little red wine vinegar.
Ingredients
1

Tbsp.

olive oil

6

c.

yellow Vidalia onions thinly sliced

8

oz.

whipped cream cheese

1

c.

sour cream

1

c.

shredded or grated Parmesan

1

Tbsp.

red wine vinegar

1

Tbsp.

fresh thyme leaves chopped

don't include the bitter stems!

salt and pepper to taste
Instructions
Over high head in a large non-stick saute pan, heat olive oil and add thinly sliced onions to cook for 15 minutes or until golden. Reduce the heat to low and cover with a lid. Cook for an additional 35-45 minutes or until completely limp and caramelized, stirring every 5-10 minutes so they don't stick. There should be no crunch left in any of the onions and they will be nice and sweet.

Spread the cooked onions thin over a cutting board and let cool. Dice into small pieces.

Meanwhile, combine the cream cheese, sour cream, Parmesan, red wine vinegar and thyme. Add the cooled onions to the mix and season with salt and pepper. Stir well so everything is fully mixed and store refrigerated.

Serve chilled with crackers, crostinis or fresh vegetables for a great snack!
Adapted from Ladie's Home Journal
 More great appetizers