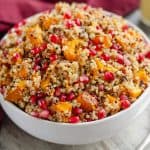 Print Recipe
Pomegranate Squash Quinoa Salad
Pomegranate Squash Quinoa Salad is a light and flavorful whole grain recipe perfect as a side dish served along grilled meat or as a healthy vegetarian lunch.
Preheat oven to 400°.

Add the cubed squash to a cookie sheet and toss with olive oil, salt and pepper. Bake squash at 400° for 20-30 minutes, depending on how caramelized you like your squash.

Toss the squash along with the cooked quinoa, pomegranate seeds and Apple Cider Vinaigrette into a medium bowl. Stir until everything is well coated. Serve warm or chilled.