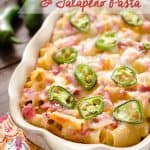 Print Recipe
Three Cheese Bacon & Jalapeño Pasta
Three Cheese Bacon & Jalapeño Pasta is a rich pasta bake with a creamy cheese sauce infused with spicy jalapeño and garlic, topped with bacon for a delicious dinner idea the whole family will love.
Preheat your oven to 350°.

In a saucepan over medium heat, melt the butter and whisk in the flour until it creates a light brown paste. Immediately start adding the heavy cream slowly, whisking it after each small addition.

Cut half of the jalapeño into thin circular slices and set aside. Finely dice the remaining jalapeño and add to the cream along with the garlic and salt. Cook over medium-high heat for 5-7 minutes or until the mixture has thickened. Add 1/2 c. of the 3 pepper cheese and all of the Parmesan to the pot and cook just until melted.

To the cheese sauce add the cooked pasta and stir to coat all of the pasta. Pour into a greased 9"x9" pan and top with the remaining cheese, slices of jalapeño and chopped bacon.

Bake at 350° for 35 minutes or until the bacon is fully cooked.