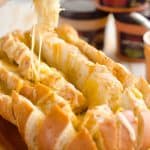 Print Recipe
Southwest Cheesy Pull-Apart Bread
Southwest Cheesy Pull-Apart Bread is the perfect compliment to Campbell's new Slow Kettle Style Soups. Drizzled with chilli butter sauce and stuffed with shredded Mexican cheese, this cheesy bread is the ultimate dunker paired for my favorite Sante Fe-Style Chicken Enchilada Soup.
Preheat your oven to 400°.

Cut the loaf of bread length-wise and width-wise, being sure not to cut all the way to the bottom and place it on a lined baking sheet.

Combine the melted butter with spices and drizzle over the bread, making sure to allow it in all the cuts.

Stuff the cuts of the bread with cheese and bake for 15-20 minutes at 400°. Serve immediately.