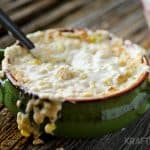 Print Recipe
Corn & Green Chili Con Queso Dip
This hot dip is sure to be a crowd-pleaser with crunchy sweet corn, flavorful green chilis and melted cheddar and queso fresco!
Preheat your oven to 350° and spray an oven-safe quart dish with non-stick spray.

Combine all of your ingredients and place in dish.

Bake for 45 minutes and serve immediately with crackers or chips.

*Alternatively, you can heat this in a quart Crock Pot for 1.5-2 hours on high and serve on the warming setting.