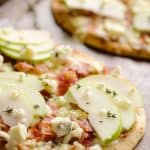 Print Recipe
Bacon, Bleu Cheese & Apple Flatbread
Bacon, Bleu Cheese & Apple Flatbread is an easy 15 minute meal with an amazing and unique flavor combination. This simple 5 ingredient dinner idea is sure to impress!
Preheat yoru oven to 400°.

Spread 1/4 cup cream cheese on each naan bread and top with bleu cheese and bacon.

Bake at 400° for 8 minutes. Top the warm naan with fresh apples and thyme. Serve immediately.