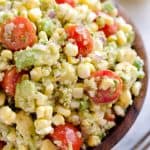 Print Recipe
Cilantro Quinoa Corn Salad
Cilantro Quinoa Corn Salad is a light and refreshing salad perfect for an easy packed lunch or a side salad for a cookout. This salad is a healthy combination of quinoa, corn, avocado and a light Cilantro Lemon dressing with a kick of spice from fresh jalapeños for a dish you will love!
In a small saucepan, add quinoa and water and cook on high. Once it comes to a boil, reduce the heat to low and cover. Let simmer for 10-13 minutes. Quinoa is done cooking when you see the tiny spirals curling around the grains. Remove from the heat and let cool.

Cut the sweet corn from the cobs and add to a bowl along with the cooled quinoa, jalapeño, tomatoes, red onion and vinaigrette. Mix until well combined.

Fold in the chopped avocado and store refrigerated or serve immediately.