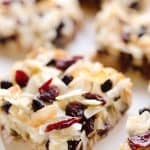 Print Recipe
Berry Coconut Magic Bars
Berry Coconut Magic Bars are amazingly easy to whip together and have the great flavors of chocolate and dried berries for a fun twist on a classic dessert.
Preheat your oven to 325°.

Add the butter to a 9x13 pan and bake for 5 minutes at 325°. Remove from the oven and add the oatmeal, brown sugar and salt to the pan. Mix until well combined and press back into the pan. Bake an additional 5 minutes.

Top with the sweetened condensed milk, dried berries, chocolate and coconut. Bake at 325° for 25 minutes. Remove from oven and allow to cool before serving.