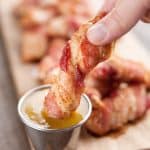 Print Recipe
Sweet & Spicy Bacon Wrapped Turkey Tenders
Sweet & Spicy Bacon Wrapped Turkey Tenders are a delicious appetizer paired with a homemade honey mustard for the ultimate game day finger food! This easy four ingredient meal also makes a great dinner idea with a side of rice and veggies.
Preheat your oven to 400°.

Cut the turkey tenderloins into 1" think strips (roughly 5 pieces per large tenderloin). Wrap each piece of turkey in a half slice of bacon.

Mix the brown sugar and chili powder in a large plastic bag until well combined.

Toss 5-6 bacon wrapped turkey pieces in the brown sugar mixture at a time until they are well coated. Arrange the tenders on a sprayed baking sheet.

Bake at 400° for 15-18 minutes, or until the turkey is no longer pink in the center. Serve immediately.

*For a Honey Dijon dipping sauce combine 1 part Dijon mustard to 1 part honey.