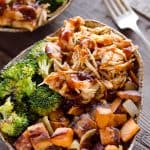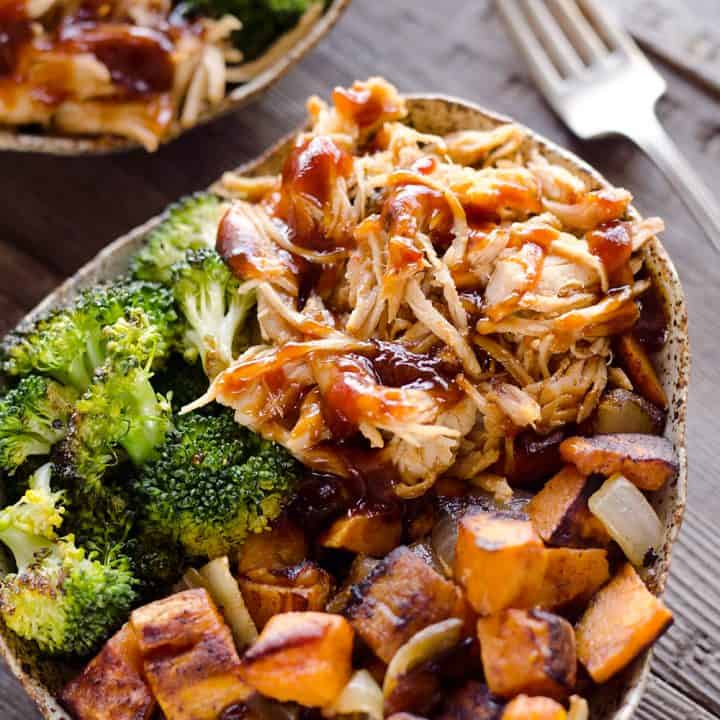 Print Recipe
BBQ Chicken & Roasted Sweet Potato Bowls
BBQ Chicken & Roasted Sweet Potato Bowls are a hearty and healthy dinner idea bursting with bold flavors and nutritious vegetables. This easy sheet pan recipe is perfect for meal prepping lunches for work or a quick weeknight meal.
Preheat the oven to 400°.

Peel and chop the sweet potatoes into 1/2" chunks. Chop onion into 1 inch pieces and add to a lined sheet pan along with the sweet potatoes. Toss the sweet potatoes and onions with 1 Tbsp. olive oil, 1/4 tsp. salt, garlic powder and chipotle powder and toss until well combined. Bake at 400° for 20 minutes.

Toss the sweet potatoes and push to one side of the pan. Add the broccoli and toss with 1 Tbsp. olive oil and 1/4 tsp. salt. Add the chicken breasts and brush with 1/4 c. BBQ sauce. Bake an additional 15-20 minutes at 400° until the chicken is done.

Remove the pan from the oven and shred the chicken breasts using two forks. Toss the chicken with the remaining BBQ sauce. Add to bowls along with the roasted vegetables and serve immediately.