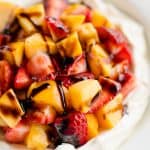 Print Recipe
Whipped Honey Goat Cheese Dip with Balsamic Fruit
Whipped Honey Goat Cheese Dip with Balsamic Fruit is a quick and easy appetizer ready in just 10 minutes that is perfect for an elegant party with only 5 ingredients.
In a food processor, blend the goat cheese, cream cheese and honey until smooth.

Spread the goat cheese mixture over a shallow bowl or plate. Top with the fresh fruit and balsamic glaze.

Serve with bread or crackers.