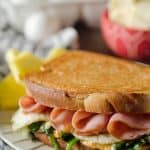 Print Recipe
Spicy Ham & Egg Sandwich
Spicy Ham & Egg Sandwich is a delicious twist on your traditional breakfast recipe. This amazing sandwich is taken to the next level with runny eggs, sharp white cheddar and a spicy mayo that will leave you begging for more!
In a small bowl, combine the mayonnaise, Dijon and spices. Spread the mixture onto one piece of bread and top with the ham and cheese.

Meanwhile, crack two eggs into a sprayed skillet over medium heat. Cook covered for about 2 minutes or until the whites are completely opaque. Place the eggs on top of the ham and cheese.

To that same skillet, add the spinach with a pinch of salt. Cook for 30-60 seconds or just until wilted. Place the spinach on top of the eggs and top with a slice of bread. Butter the outsides of the sandwich and place it in the skillet over low heat. Cook on each side until browned. Remove from the heat and enjoy immediately.