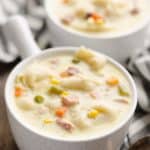 Print Recipe
Pressure Cooker Creamy Ham & Tortellini Soup
Pressure Cooker Creamy Ham & Tortellini Soup is a quick and easy 20 minute Instant Pot recipe using leftover ham, frozen vegetables and pasta.
Turn your electric pressure cooker on to saute and add the butter.

Add the onion and garlic to the melted butter and saute for 3-4 minutes, or until the onions are translucent. Stir in the garlic salt and bouillon.

Add the remaining ingredients to the pot and cook on high pressure for 0 minutes. (Yes, that is zero minutes, which will bring the pot to pressure and then stop.)

Release the pressure as soon as it beeps and comes to pressure. Stir in the cream and Parmesan. Serve topped with crackers.