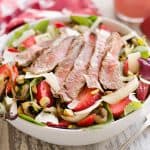 Print Recipe
Grilled Steak Strawberry Salad
Grilled Steak Strawberry Salad is a fresh and healthy summer dinner recipe ready in just 20 minutes. It is full of perfectly cooked steak, grilled onions, strawberries, sharp white cheddar and crunchy pistachios.
Season your steak with salt and pepper. Grill the steaks until they reach your preferred doneness.

Meanwhile, add the mixed greens to a large bowl and top with strawberries, white cheddar and pistachios.

When the steak is done cooking, set aside and let rest.

Brush the slices of onions with the olive oil and add to the hot grill. Cook for 2 minutes on each side, or until they have a light char and are translucent.

After the steak has rested for 5 minutes, cut it into strips against the grain. Top the salad with the steak, grilled onions and strawberry lime dressing. Enjoy!