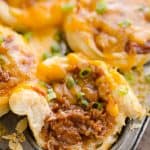 Print Recipe
Cheesy BBQ Biscuit Cups
Cheesy BBQ Biscuit Cups are an incredibly easy and convenient weeknight dinner recipe with only 3 ingredients, ready in less than 30 minutes!
Preheat your oven to 350°.

Spray a muffin tin with non-stick cooking spray. In each of 8 muffin tins, press one biscuit up the sides, leaving a generous well in the center.

Scoop 1/4 c. BBQ meat into the center of each biscuit.

Bake at 350° for 20 minutes. Remove from the oven and top with the shredded cheese. Return to the oven and bake an additional 5 minutes.

Top with the optional green onions if you prefer and serve hot!