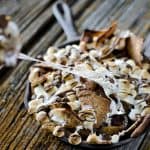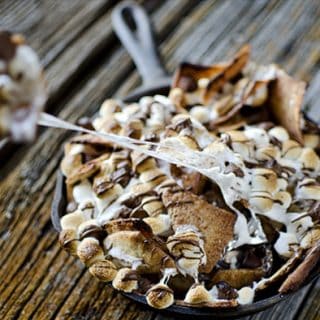 Print Recipe
S'mores Nachos
S'mores made in your oven in 10 minutes with cinnamon sugar pita chips for a fantastic treat you can enjoy year round!
Fill a 10" oven safe skillet or pan with the bag of pita chips. Top with 1 c. chocolate chips then marshmallows. Place in oven and bake at 350° for 6-8 minutes or until marshmallows are golden.

Meanwhile, place 1/4 c. chocolate chips in microwave safe bowl with the oil (I used coconut) and microwave in 15 second increments until completely melted. Be sure to stir after each increment, so to be sure not to burn the chocolate. Drizzle the melted chocolate over the nachos and enjoy your indoor 10 minute s'mores!