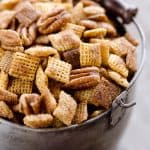 Print Recipe
Sweet & Spicy Pecan Snack Mix
Sweet & Spicy Pecan Snack Mix is a deliciously easy 10 minute treat made in your microwave with Chex coated in a spicy cinnamon brown sugar mixture and tossed with pecans. This delicious Chex Mix will disappear quickly at your next holiday gathering!
3/4

c.

butter

3/4

c.

brown sugar

4

tsp.

cinnamon

1/2

tsp.

ground ginger

1/2

tsp.

ground nutmeg

1/2

tsp.

cayenne pepper

1/2

tsp.

salt

4

c.

corn Chex

4

c.

rice Chex

2

c.

wheat Chex

2

c.

whole or halved pecans
In an extra large microwave safe bowl, microwave the butter for 1 minute. Add the brown sugar, cinnamon, ginger, nutmeg, cayenne and salt and microwave for 1 minute until smooth. Add the Chex to the bowl and toss until they are all well coated.

Microwave for 4 minutes, stirring well after each minute. Toss the mixture with the pecans and spread out over the counter top lined with wax paper. Allow to cool before storing in an airtight container.