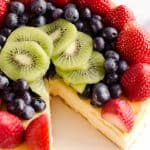 Print Recipe
Creamy New York Cheesecake with Fresh Fruit
Creamy New York Cheesecake with Fresh Fruit is a rich and decadent dessert that will impress, along with tips and tricks for baking the perfect cheesecake.
Preheat your oven to 350° and place a 9x13 pan half filled with hot tap water on bottom rack of oven.

Mix the graham crackers, sugar and margarine in a small bowl. Press into the bottom of a 9 inch or 10 inch spring-form pan. Bake for 10 minutes at 350°.

In a large bowl, beat the cream cheese, sugar, flour and vanilla at medium speed until well blended. Add the eggs, one at a time, mixing at low speed after each addition, just until combined, being sure not to over beat the mixture. Fold in the sour cream and pour the mixture over the baked crust.

Bake for 65 to 70 minutes at 350° or until the edges are puffed and golden and the center is only slightly jiggly. Run a butter knife around the rim of the pan to loosen the cake. Cool at room temperature for 1 hour before removing the rim of the pan. Refrigerate for 4 hours or overnight.

Remove from the refrigerator 30 minutes before serving and top with fresh fruit. Store leftovers refrigerated.