Vacation in San Francisco, California
This last week I spent 5 days on vacation in San Francisco, California with my German host-sister and some of her friends. The weather was beautiful, the company was fantastic, and the sights were stunning. It was such a great trip out to the west coast, where I had never formerly been.
To start, let me just say how awesome Minneapolis/St. Paul MN Airport (MSP) is. It has always been one of the cleanest and friendliest airports I have traveled through and recently the Delta gates got a serious upgrade. Check out these awesome booths and tables with personal tablets at each spot, for travelers to use with free wifi! It was a great way to kill the time during my 2 hour delayed flight.
I will say, it increasingly feels like I am being nickled and dimed by the airlines more than ever these days. I have come to terms with the $25/bag fee each way, but the fact that I had to pay $20.95 each way for wifi access on the flight and another $2 if I wanted a set of earbuds to watch the in-flight movie, not to mention anything to eat would be an extra $8-$10, just seems a bit ridiculous. A $400 flight quickly turned into a $500 flight with all the extra fees!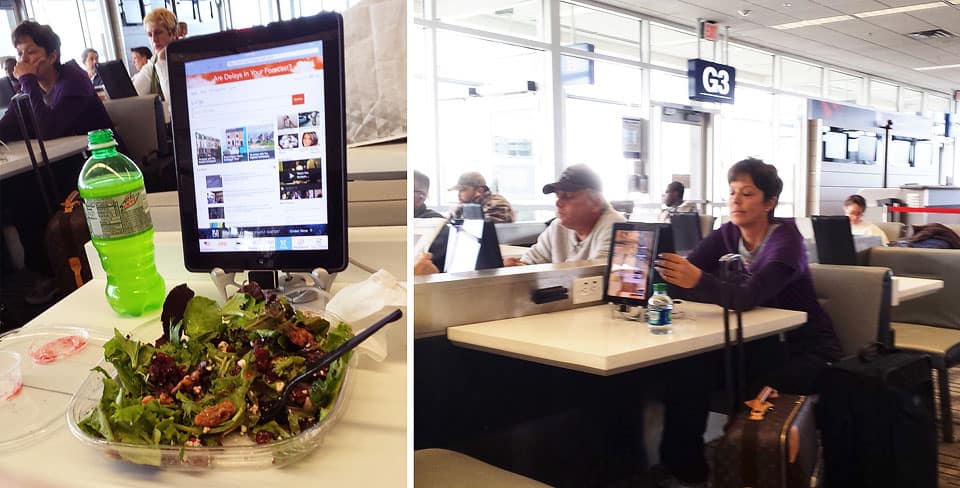 To get around the city, we relied solely on public transportation. We purchased a 3-Day Bus Pass for $23 and had unlimited public transportation access around San Francisco for our stay. This was a very affordable and mostly convenient way to get around the city. It also included access to the traditional cable cars, which was a fun experience. With the exception of a few crazies on the buses, the bus pass was a great investment for our trip!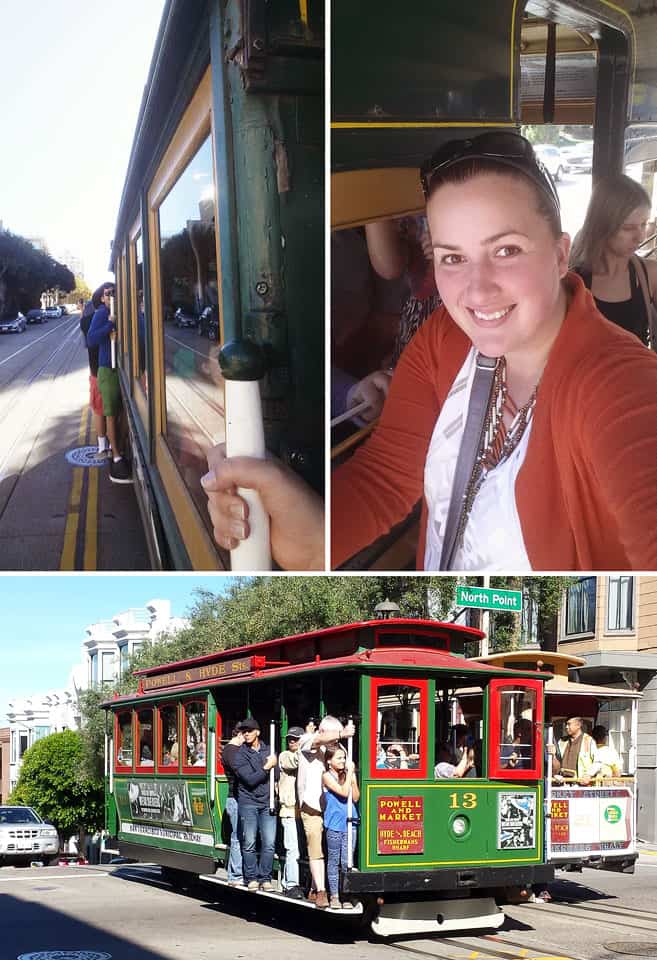 Our apartment rental on 818 Hayes Street, was fantastic. The 21 Hayes bus was right outside the door which connects to other buses that brings you in all directions of the city. I found it to be a great bargain at only $61 per person, per night. If I were ever to stay in San Francisco again with a group, I wouldn't hesitate to book this place again. This group photo of us is on the balcony of our apartment with it's amazing view!
What we ate!
Memphis Minnie's Bar-B-Que
Saturday night the Germans wanted to take in some real American BBQ, so we headed to Memphis Minnie's Bar-B-Que Joint. This place was a little hole in the wall joint, that was small and hot, but offered quick service and great food. I am not normally a huge BBQ fan, but this food was the real deal! I love trying a variety of things on any good menu, so the Assorted Appetizer Platter was perfect for me. It included Crispy Friend Onion Strings, BBQ Pork Rolls with Chipotle Chili Dressing, Fried Cheese Grit Sticks & Smokey Mountain Wings. The wings were by far my favorite, with their smokey sweet sauce and incredibly tender meat, I demolished those first. The rest was also great and I quite enjoyed all of the sauces available at each table.
Patxi's Pizza
On Sunday night, we walked down the street a few blocks to Patxi's Pizza. To start, we shared the Burrata Bruschetta, which was an amazingly simple yet delicious appetizer with creamy burrata cheese, basil-garlic-parmesan pesto and tomato confit all served with warm and buttery focaccia bread.
For my main course I enjoyed the Bianco Verde thin crust pizza. Their thin crust isn't a cracker-thin crust, which I was expecting, but instead a crust that was thin in the center and puffed up and chewy on the edges. The Bianco Verde was topped with Basil-garlic-parmesan pesto, fresh ricotta, mozzarella and Grana Padano cheese. There were honey bottles at every table, so I thought I may as well give it a try on the pizza, and it was fantastic. We also enjoyed a bottle of Chardonnay "Conservancy", Concannon, 2011, which was surprisingly good for the inexpensive $21 price tag. Overall, the service as great and the food was amazing!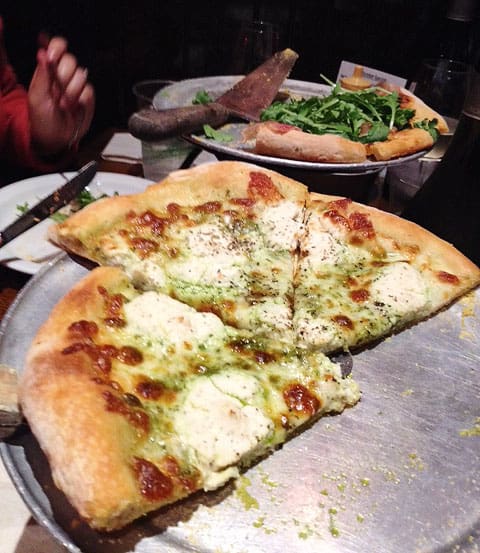 Capital Restaurant
On Monday afternoon, we took in China Town and stopped to eat at Capital Restaurant. This was by no means a tourist spot, as we were the only non-Chinese speaking guests in the small restaurant that afternoon. I enjoyed the General's chicken, always one of my favorites, along with some Vegetarian Chow Mein Noodles. The chicken was quite good, with a light and crispy batter on the chicken tossed in a sweet and spicy sauce. My friends ordered the Roasted Duck and Chicken & Vegetable Chow Mein, both of which they were very happy with.
The Cream Cheese Wontons, on the other hand, where rather disappointing as an appetizer. There was virtually no cream cheese filling and it was all just fried wonton. I also took issue with how they brought dishes out so sporadically. I am fine with restaurants serving the dishes as they come up, so they don't sit on the line and spoil, however they should come within 5 minutes of one another. After sitting and watching my friends eat their meals for about ten minutes, I had to ask if mine would be coming soon. Eventually it came, but I literally waited so long for mine that all of my friends had finished their meals by the time I got mine.
All in all, it was a good restaurant, but nothing great. The atmosphere and service left something to be desired, but at the end of the day, most of our food was very good.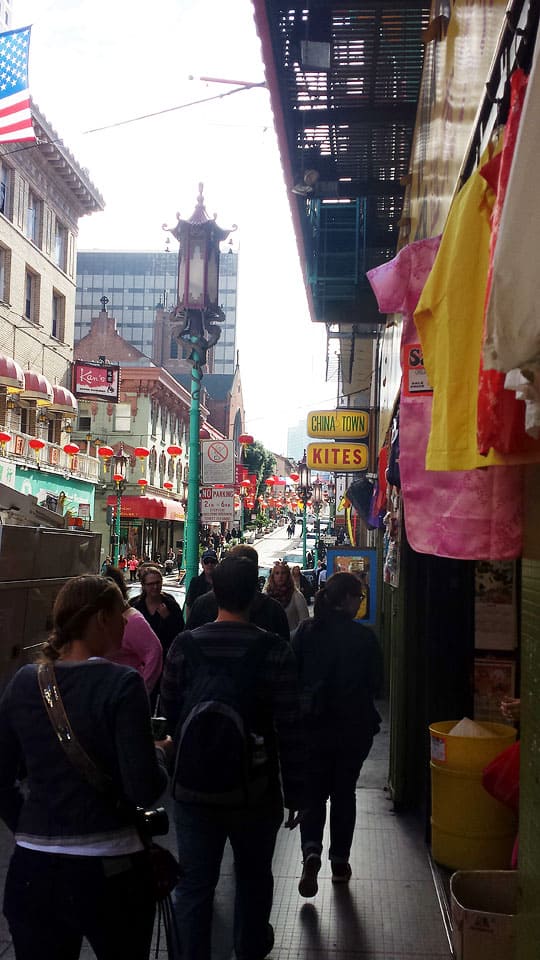 Joe's Crab Shack
On Monday night, my friends had already made plans to go to Joe's Crab Shack. I wasn't too excited about the idea, I would have much preffered one of the small little street vendors. The food lived up to my expectations…greasy, bland and just plain boring. The service was was even worse. We would wait around for 15-20 minutes when we needed something and finally had to chase her down anytime we needed to order a drink, dessert or get our bill. Needless to say, I don't have any plans to go back there!
Squat & Gobble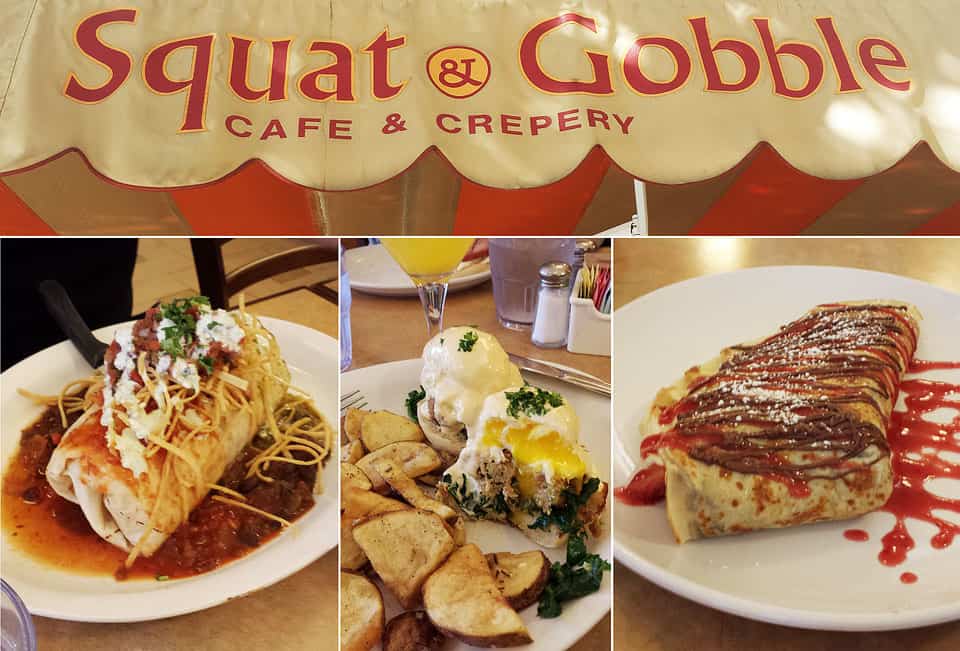 Tuesday morning, we made our way to Squat & Gobble, just a few blocks from our apartment for brunch. We walked in the joint and I was immediately overwhelmed by all of the amazing options listed out on their huge menu board. I finally decided on the Crab Cakes Florentine, which were crab cakes topped with a poached egg and sauteed spinach served on an english muffin, smothered with a special hollandaise sauce and served with rosemary garlic potatoes. The eggs were cooked perfectly. When I cut into them, they oozed the perfect yolk that paired wonderfully with the rich and slightly spicy hollandaise sauce. I was in love! I neglected the plate full of potatoes until I was half done with my eggs. I popped one in my mouth, thinking they would be something I would leave on the plate, as I'm not a huge potato person. These potatoes however, made me stop in my tracks. The flavor was bold and delicious and honestly the best breakfast potato I have ever had. I shared some with friends and everyone agreed, they were phenomenal.
My friends ordered the Breakfast Burrito and a Croissant Breakfast Sandwich, and were all very pleased with their food. After we were sitting there stuffed with all of the savory goodness, Rene decided we needed to try one of their sweet crepes. He got a Strawberry and Nutella crepes for the table to share. Despite being stuffed full, I still had to try a bite…or two. It was the perfect ending to a fantastic brunch. Sweet strawberries pouring out of a delicate crepe, all topped with Nutella and a sweet strawberry sauce. I can't recommend this place enough. It is a must-try if you are in the area.
What we saw!

We spent most of our time roaming around the city, taking in sights such as Lombard Street, the Golden Gate Bridge, China Town and then headed up to Twin Peaks for a view of the city. The view of the city was fantastic…the steps not so much! But at least I got a nice panorama photo out of it.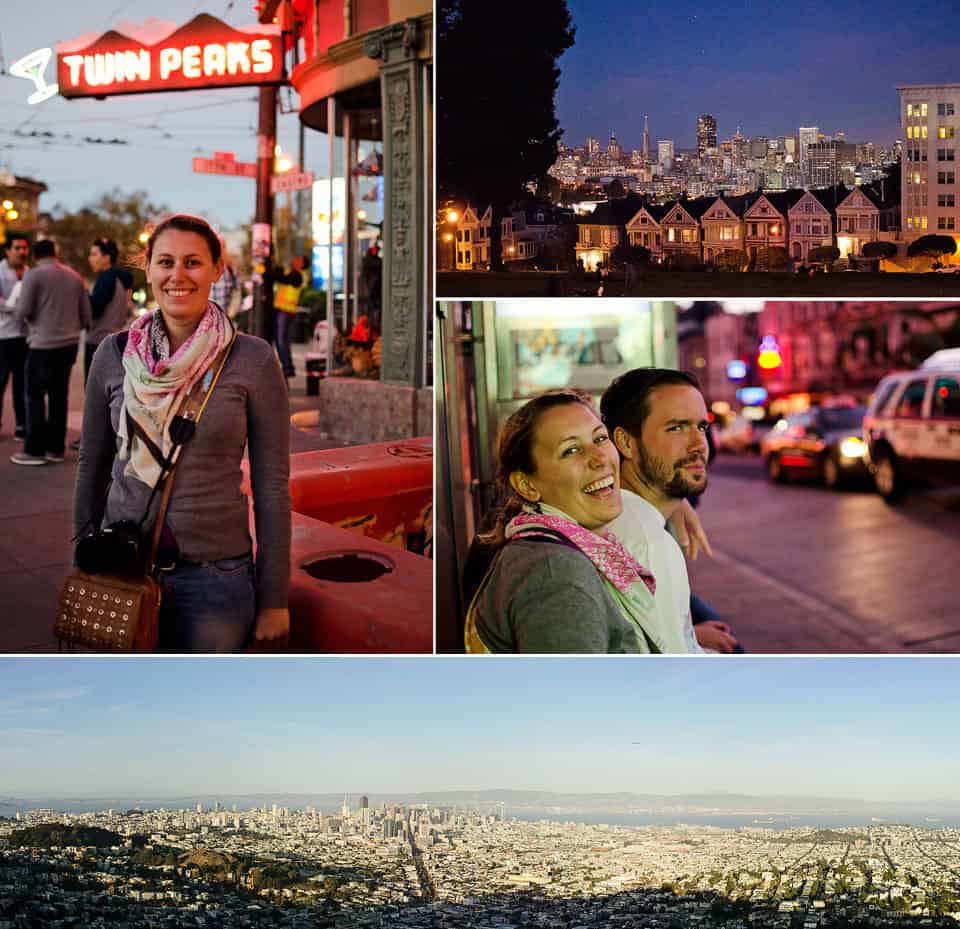 The highlight of this trip, apart from seeing my host-sister, was our day trip to Alcatraz. We boarded the boat at 8am and made our way out to the island, often referred to as "The Rock". We were allowed to roam around the island freely and could pick up the audio tour when we were ready to visit the actual prison. I have heard lots of audio tours on various vacations, but this audio tour of Alcatraz, was by far my favorite. The elderly men who narrated the tour were former prison guards and inmates of the institution. It gave such an authentic feel to the guide and the stories they told really came to life. From the attempted and successful escape plans, to the day to day life, you got a feel for what it was like to be trapped on the highest security prison of it's time, with the beautiful city of San Francisco, California just a blink away.