This post is part of a social shopper marketing insight campaign with Pollinate Media Group® and Dirt Devil, but all my opinions are my own. #pmedia #DirtDevil360Clean http://my-disclosur.es/OBsstV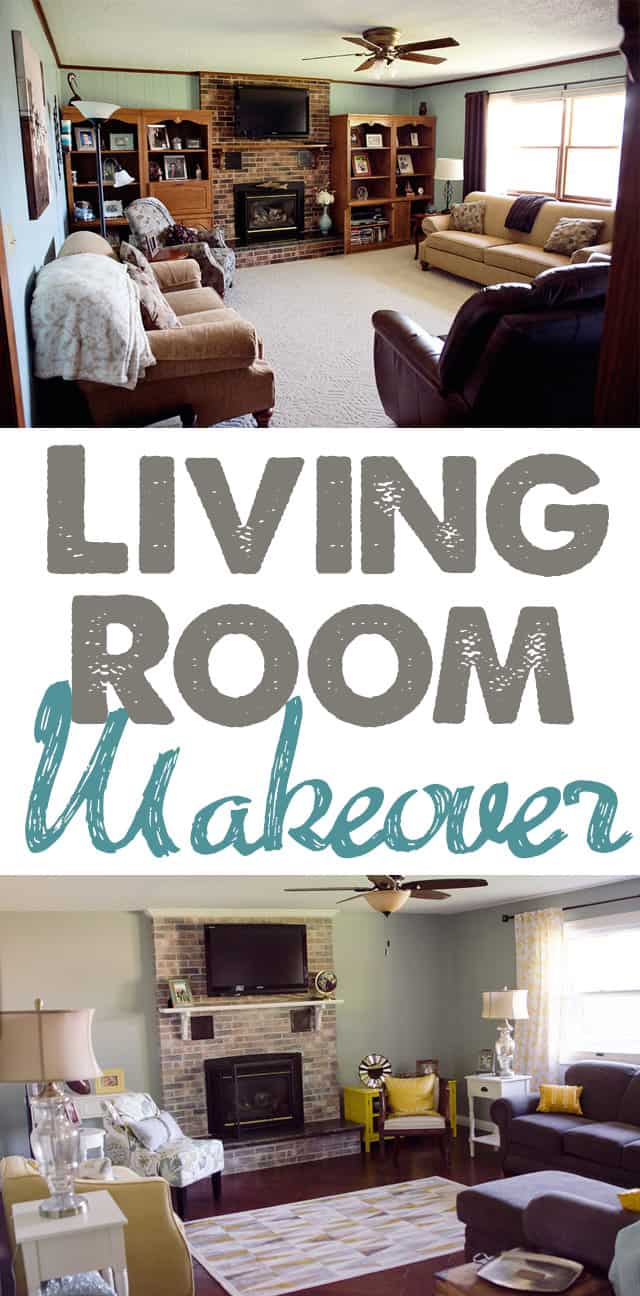 We have been moved into our house for months now, but I just put the finishing touches on most rooms in the last few weeks. I am excited to share my new living room with you guys today along with a few easy cleaning tips on how I keep it tidy for all those unexpected guests!
So to be fair, the "before" pictures aren't true before's because they include all of my parent's furniture. If you recall we purchased the house and farm site from them at the beginning of the year. This means you need to use a little bit of imagination and envision the rooms empty, because that is all we had to work with essentially .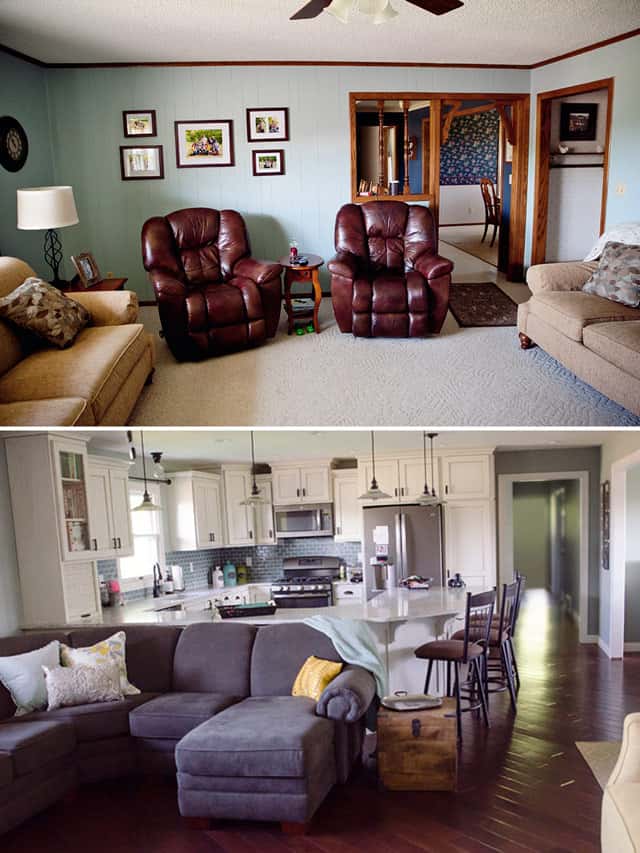 One of the most dramatic changes we made, was knocking down the wall between the kitchen and the living room. It opened up the space by allowing the large picture windows to flood light everywhere, as well as having a convenient and more modern open concept.
Other major changes included new engineered hardwoods throughout the main level, tearing out the 70's paneling and sheetrocking the walls, whitewashing the brick fireplace and obviously all new furniture for the space. I love the new space and it is the perfect place to unwind after a day's work or entertain friends and family.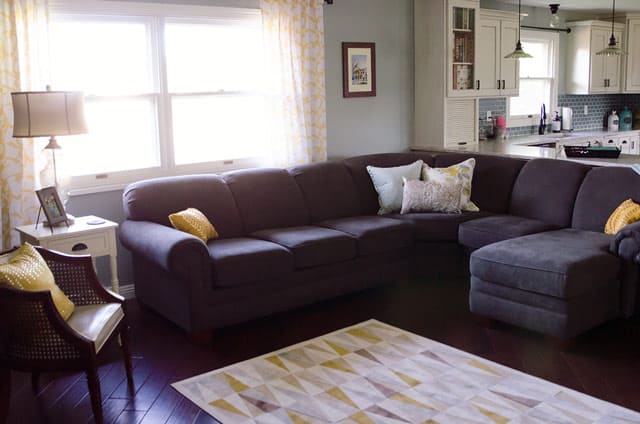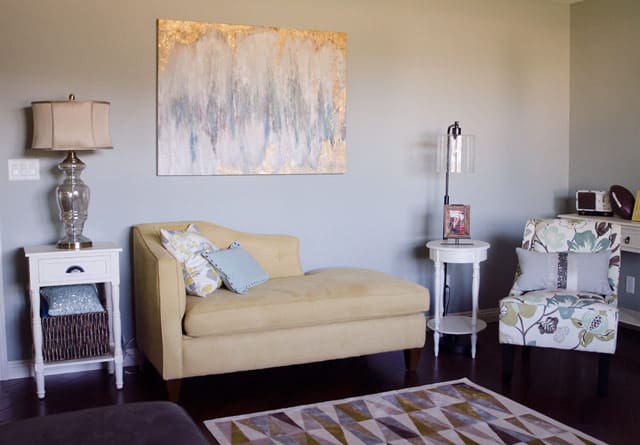 Because I love this space so much, it means I am happily inviting people over to my home. In the past, I lived in a dingy old house that I was embarrassed to show others. I literally corralled my good friend in the entry way once when she showed up unexpected because I was so embarrassed by my house! Now I am proud of my home and happy to have guests over, invited or unexpected!
Part of allowing unexpected guests in your home means keeping your house clean on a regular basis. I can't lie, I am just not a big cleaning person. This means I am always looking for the easiest, quickest and most convenient way to get my cleaning done!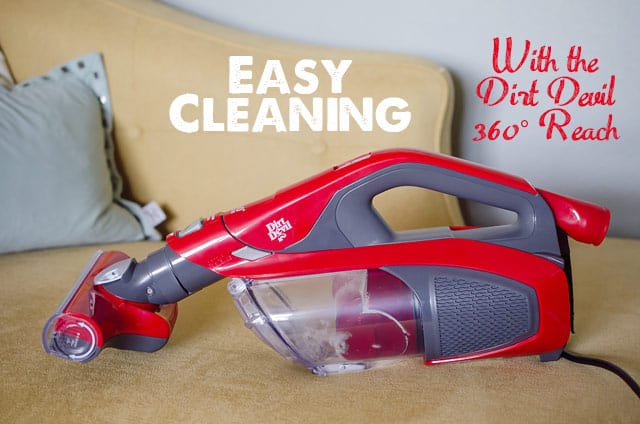 I came across this Dirt Devil® 360° Reach™ and was immediately intrigued. This bad boy has an attachment to do every cleaning job. From a fan blade cleaner, upholstery vacuum and crevice tool to a hardwood microfiber pad and standard vacuum attachment, it is a one tool wonder!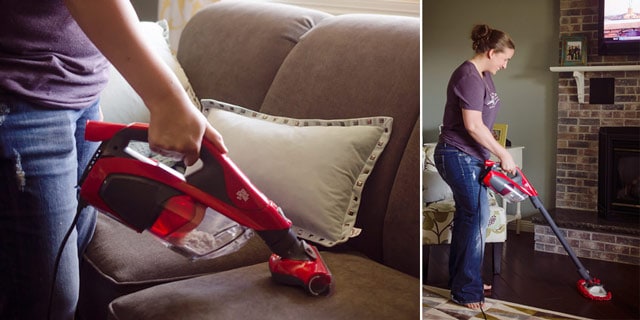 I love that I have one powerful machine that can do everything from clean my area rug and hardwoods, to my fan and even my upholstered furniture. With it's 27 foot power cord, I can plug it in and cover my entire living room. The Dirt Devil® 360° Reach makes me feel great knowing that with only 10 minutes of cleaning every few days, my house is guest-worthy clean at the drop of a hat!
Not only does this powerful 4-in-1 Stick Vac have all imaginable attachments, it comes with a great carrying case that holds all of them in one convenient location.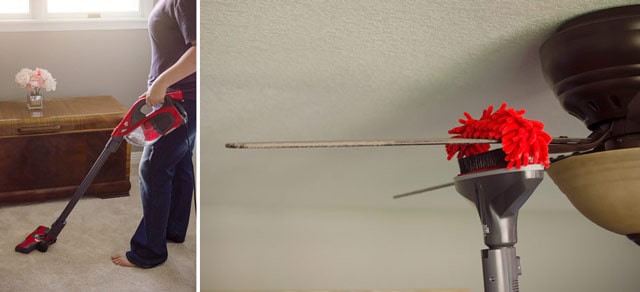 If you are as awe-struck with this Dirt Devil® 360° Reach as I am, be sure to take advantage of this special package price of $149.99, available at https://buydirtdevil.com which includes an additional attachment package valued at $75 while supplies last!