Life Lately | Lake Cabin Summer Family Vacation
Last week we rented a lake cabin for a week from a friend for a fun summer family vacation staying in Minnesota. The cabin was absolutely perfect for us. It was a big enough place to house all 15 of us in the family, only an hour from home (for most of us), it was on a nice lake AND right next to a golf course. Win, win, win!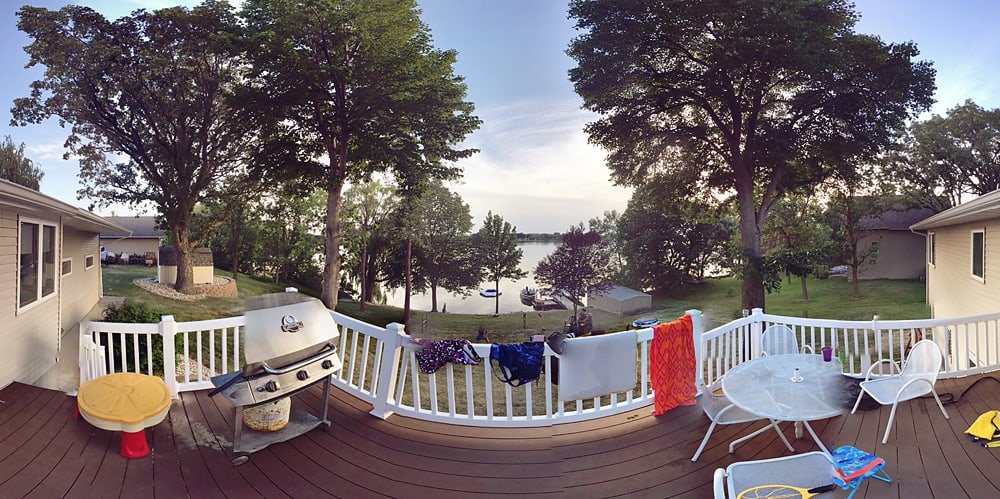 A few of us arrived at the cabin on Tuesday evening and immediately headed out to the lake to enjoy the calm waters. My nephew and I took in the sunset, being the only ones on the lake with the kayak and paddle board. It was absolutely brilliant and it kicked off the week in such a relaxing and wonderful way!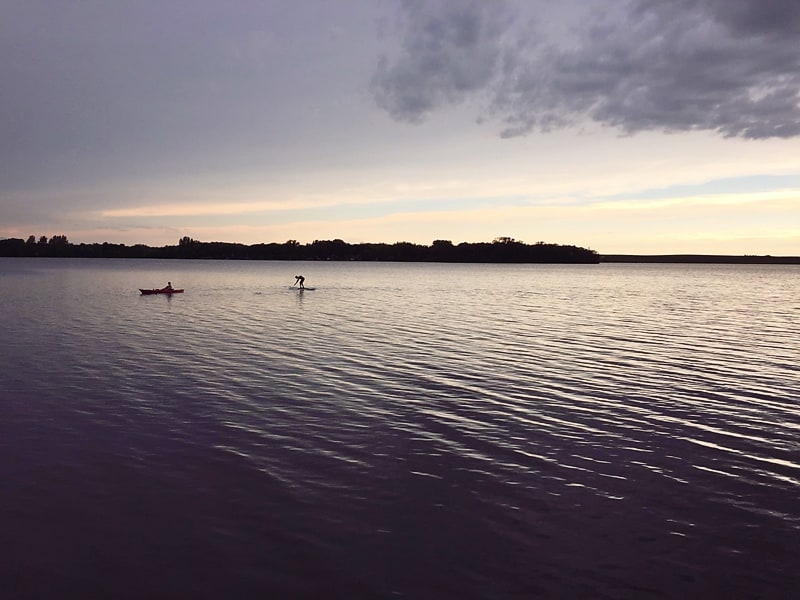 On Wednesday, my sister and her family arrived so we were starting to get into the full swing of family vaca mode. I stole her baby girl all week and got lots of extra cuddle time in! 🙂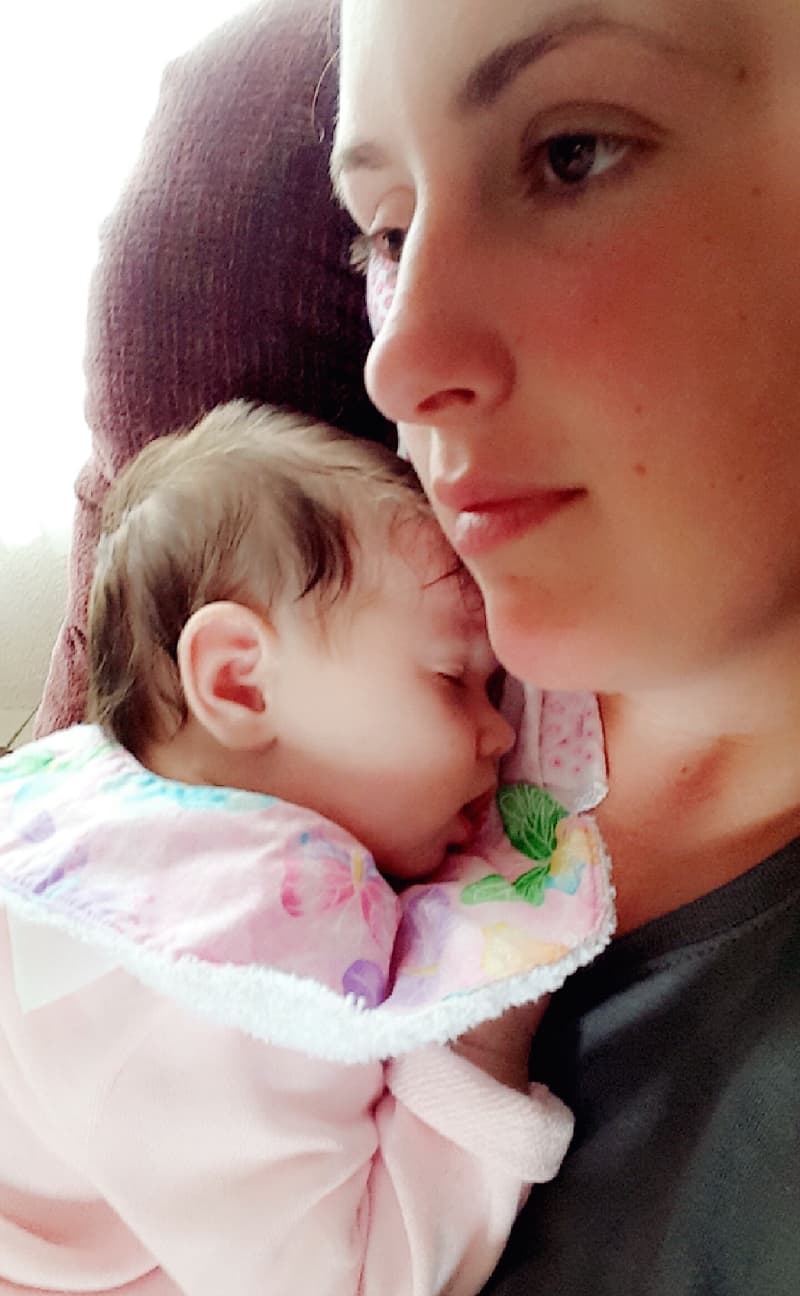 We split up the food responsibilities for the week, so each family made two meals for everyone. My brother made some Teriyaki Chicken Kabobs that were wonderful and we enjoyed a variety of other good food such as burgers, venison brats, veggie pizza and more. We even got in a few really good breakfasts in like french toast and buttermilk pancakes. What's a summer family vacation without lots of good food?!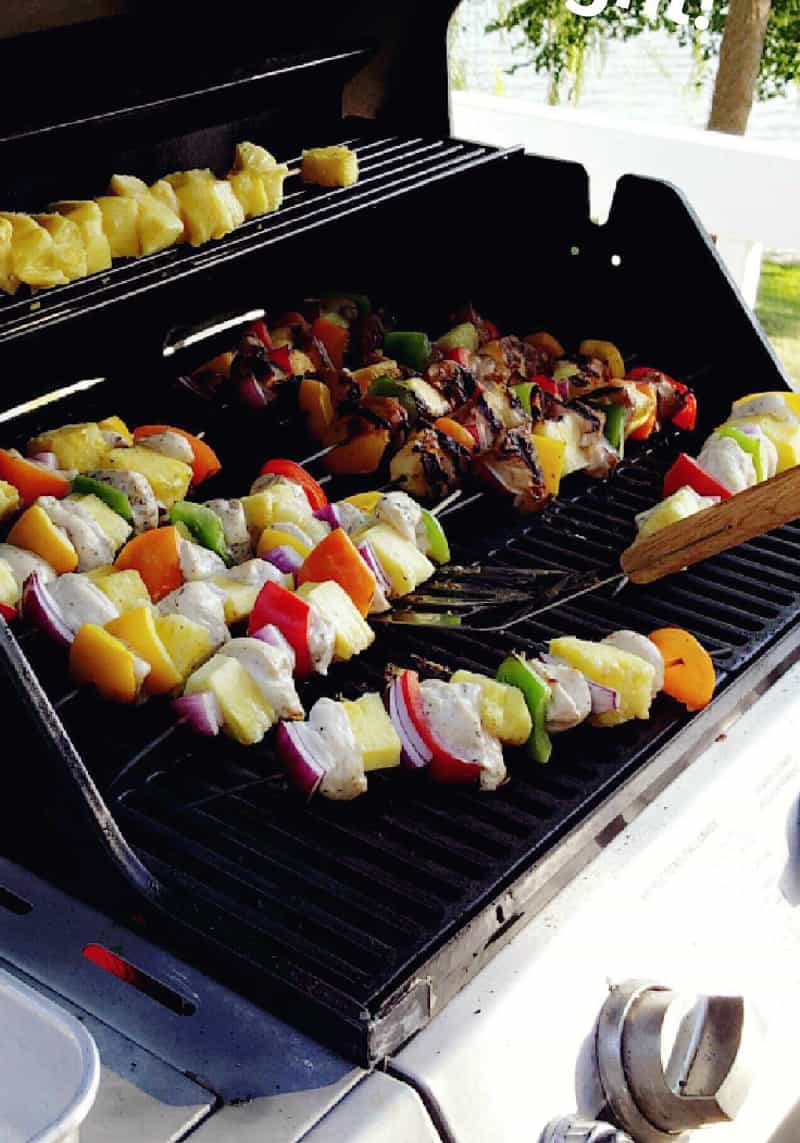 We spent the majority of our time relaxing outside with such beautiful weather for most of the week. We played cornhole, ladder ball, chased after toddlers and just sat around and relaxed in the sun. I also spent lots of quality with my goofball nephew!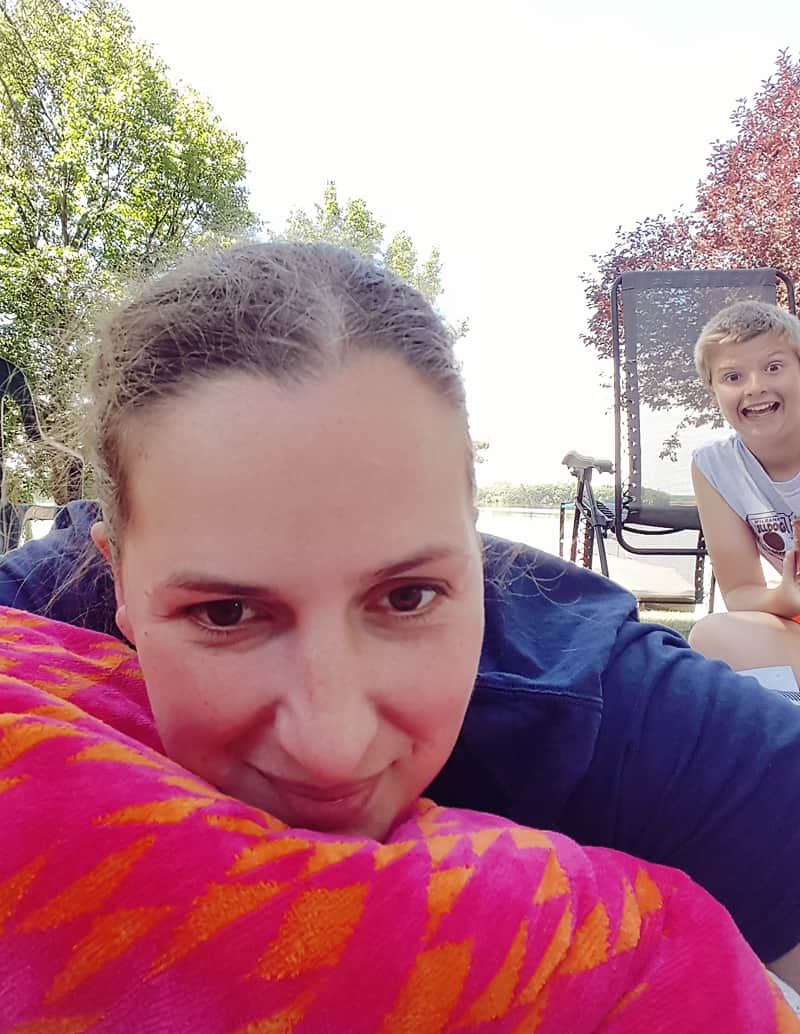 By Thursday night all of our family had arrived, so Friday morning we decided to hit up the Tipsinah Mounds Golf Course that was literally right across the road. We played 18 holes best ball and my sister and I teamed up. Needless to say we lost, but we still had fun…and only cheated a little bit! 😉
We enjoyed the course so much that my sister and I headed out that evening alone for another 9 holes. We only got started around 8:30pm, so it was getting dark fast. By 9:30pm, it became very difficult to find our balls after we hit them. Once it got very dark we really focused on hitting our balls straight so they would stay in the fairway giving ourselves a fighting chance to find them. Apparently when we needed to focus, we played much better, because all of our balls were straight and by some miracle we didn't loose any balls in the dark! This round of golf was a lot less about our scores and much more about us giggling and being idiots together. It was nice to steal some alone time with my sister!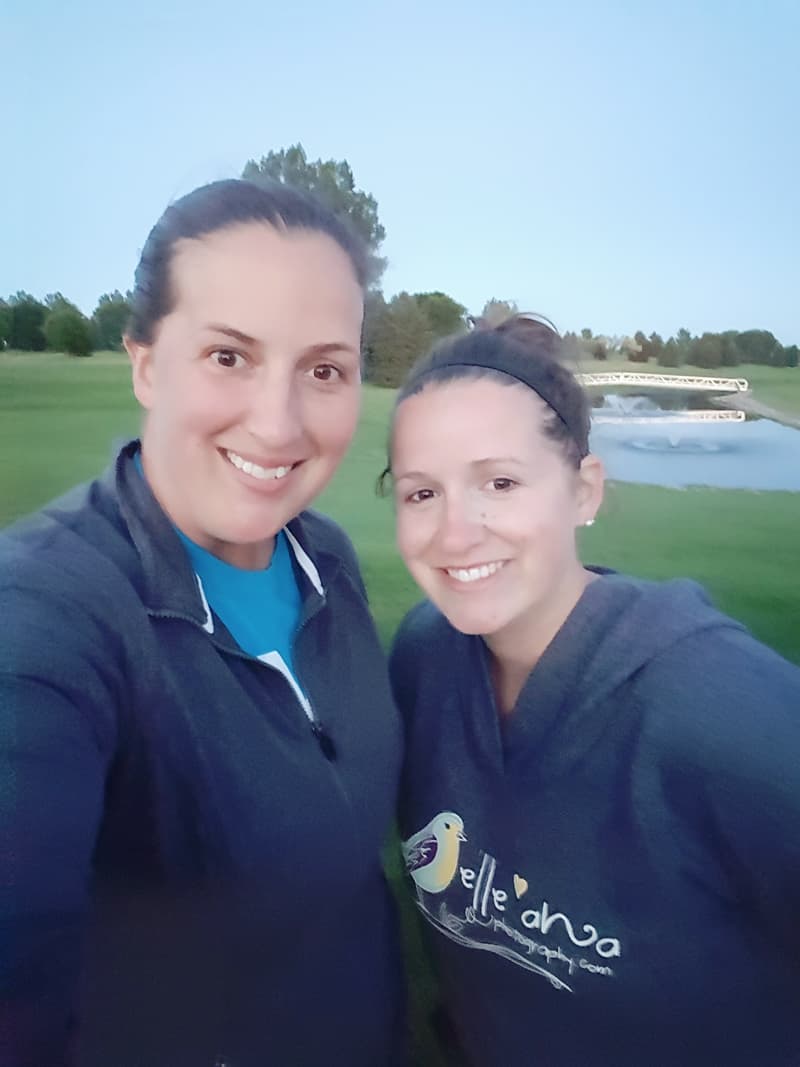 When it got late at night we spent the evenings by the campfire hanging out.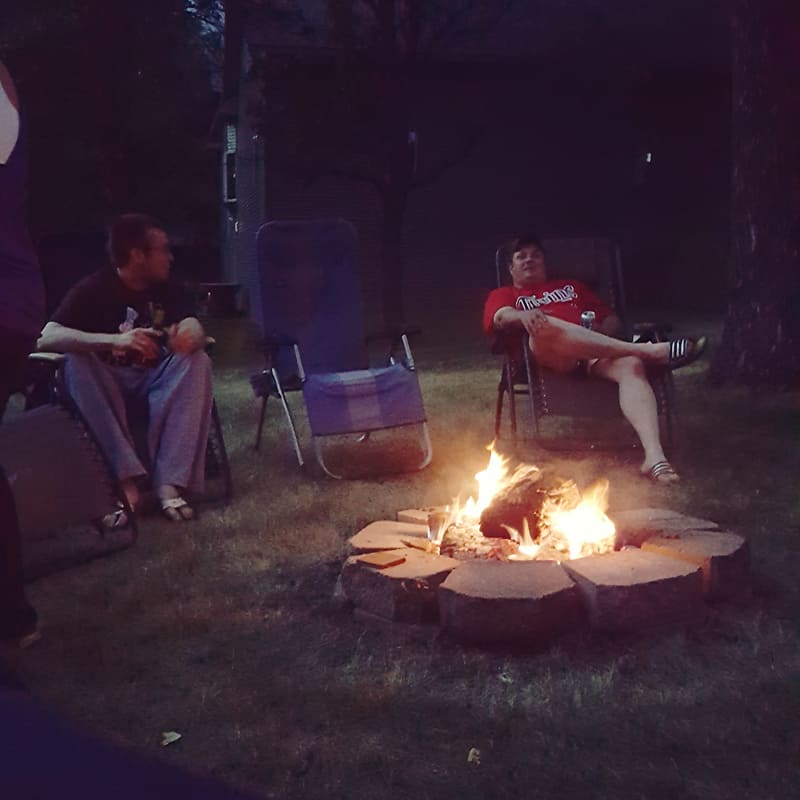 If there were too many bugs or we just wanted some AC, we headed inside for some family games. Our family can get a little competitive and rowdy at even the simplest games…but we have fun as long as we win. 😉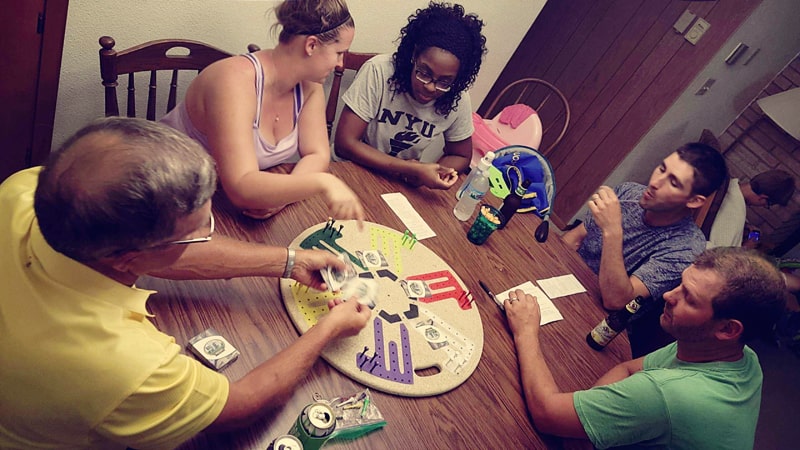 One of the best purchases I made for the trip was a new kneeboard to pull behind the boat. We have always just tubed and skied in our family, but I thought seeing we would be on a lake for a week, we should try something new. Almost everyone was able to get up on the kneeboard (myself included, which I was uncertain about!). It took us a few runs at it in the beginning to figure out the best strategy, but ultimately we realized we needed to start slow then kick it into high gear when we were all strapped in.
I enjoyed *trying* to get some air on the wakes and banged my knees and legs up big time. It hurt like a b#$%# but it was so much fun I kept going back for more every day! A major non-scale victory for me this week was being able to climb back into the boat after falling off. In the past this was actually impossible for me and would often prohibit me from going out on the lake. Needless to say I was beyond thrilled when I was able to climb the ladder back into the boat even after having sore arms from kneeboarding!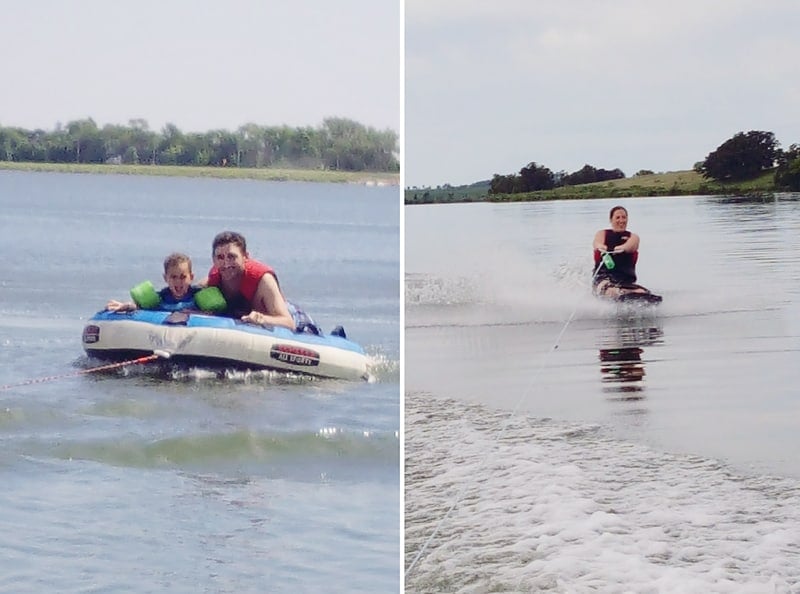 I think one of my favorite parts of the trip was seeing my nephew get up on the kneeboard for the first time and how he was grinning from ear to ear, he was so excited. We basically abandoned the tube as it wasn't near as much fun, but it was still good to have on hand for the really little kids to enjoy.
For a fun activity outside of the water, I planned a tie dye party for anyone who wanted to participate. I picked up a tie dye kit and cheap $2 white shirts at Joann Fabrics.
FYI, I got a tie dye kit that said it would make 30 "projects" but it was just enough for the 12 shirts we made. We could have gotten a couple more shirts out of the two colors left, but it wasn't close to enough for 30 shirts, in case you buy a kit for a crowd! The included instructions on different ways to dye the shirts was very helpful though.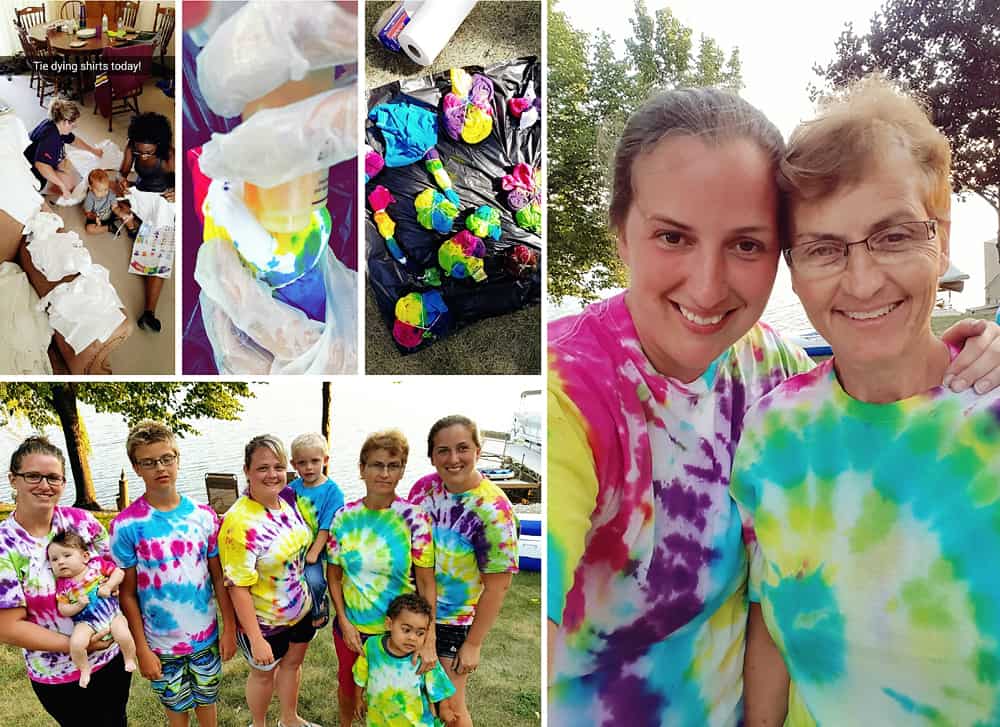 The adults wrapped up the shirts with the included rubber bands, dyed them and waited impatiently to unwrap them 6-8 hours later. As adults we somehow managed to cover our hands and some limbs in dye, so it was a good choice not to let the children near the dye!
Needless to say, my patience only lasted 4.5 hours and I was dunking the shirts in the lake revealing the cool designs and hanging them up to dry. I love how some of them turned out and it was fun to see everyone's unique designs.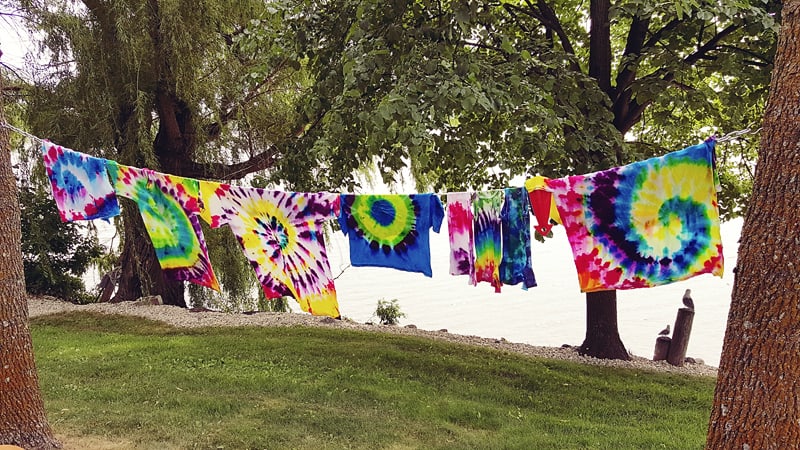 Last but not least, we had to enjoy some obligatory s'mores. I forget just how sticky and sweet they are! I much prefer these S'mores Nachos, but when you have a campfire, you just have to make at least one for yourself. The key is sitting your chocolate right next to the fire while your marshmallows cook so it is nice and melty in your perfect S'more!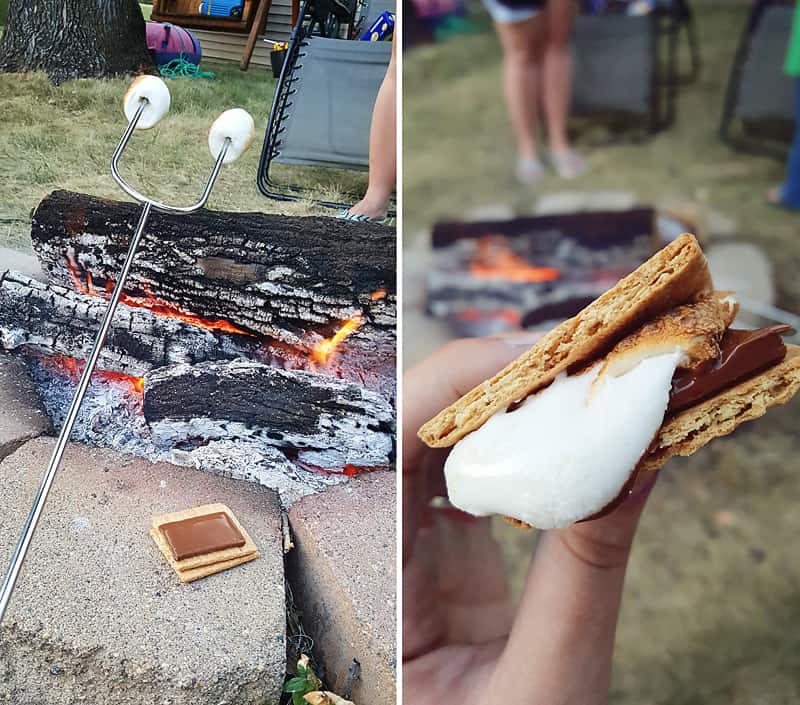 Fun was had by all with minimal family drama, so it is a summer family vacation we are looking forward to enjoying again next year!