A relaxing vacation in Eschweiler, Germany visiting my former host-family, the Zeigers!
Life Lately | Germany Vacation
My husband and I recently traveled to Germany to visit my former host-family and enjoy a getaway. We split the trip between four days in Eschweiler, Germany with family and 3 days in Paris. The timing of the vacation was a little crazy. Just a few days prior to our scheduled departure, I had an unexpected setback in our journey of Infertility, which included an abdominal laparoscopy. This meant I was in a decent amount of pain and was concerned about the 9 hour flight, but it also meant that I desperately wanted to escape life for a week and get away! In the end, it really was great timing.
We flew into Düsseldorf, Germany and were greeted by Rene, my host-sister Alex's husband. We made the 45 minute drive back to Eschweiler and promptly went over to visit the whole family. My other host-sister Alma, who is 9 months pregnant made the long drive to come visit, which was amazing. Her little boy Ben, is so full of energy and a complete hoot. It was great catching up with them!
One of the many benefits of being a grown adult, is that we now have the ability to travel and visit more often. We went years and years without seeing each other during my late teens and early twenties, but thankfully over the last 6 years, we tend to meet up every other year. At the end of the day, I consider the Zeigers family. We may not see each other often, or even communicate all that much, but when we do see each other, we pick up right where we left off!
Because I was a bit out of commission due to surgery, they scrapped most of their initial plans and just focused on food. I mean, that was perfectly fine with me!!! 😉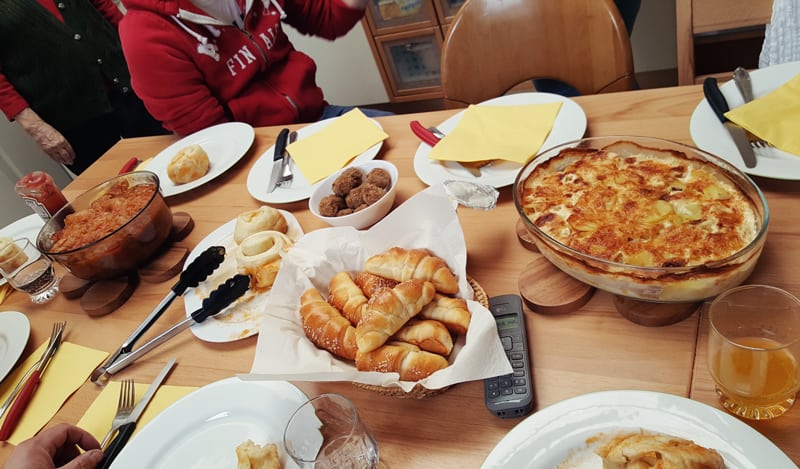 The Oma welcomed us with a feast for lunch, including Sauerkraut and Cabbage Rolls, Dumplings, homemade Dinner Rolls and French Potatoes. Oma is well known and loved for her cooking and overdoing it. 🙂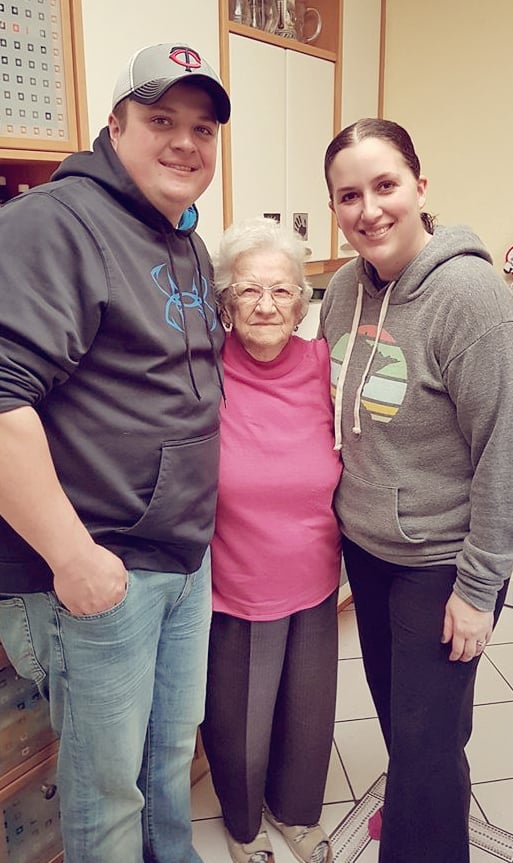 The French Potatoes, in German known as Französische Kartoffeln, were a favorite of mine during my year living with Oma as an exchange student. They quickly became a favorite of my husband's as well, and with good reason. They are full of butter, salt, hard boiled eggs, cheese and sausage. SO GOOD! I will try and get the recipe from Oma so I can share with all of you.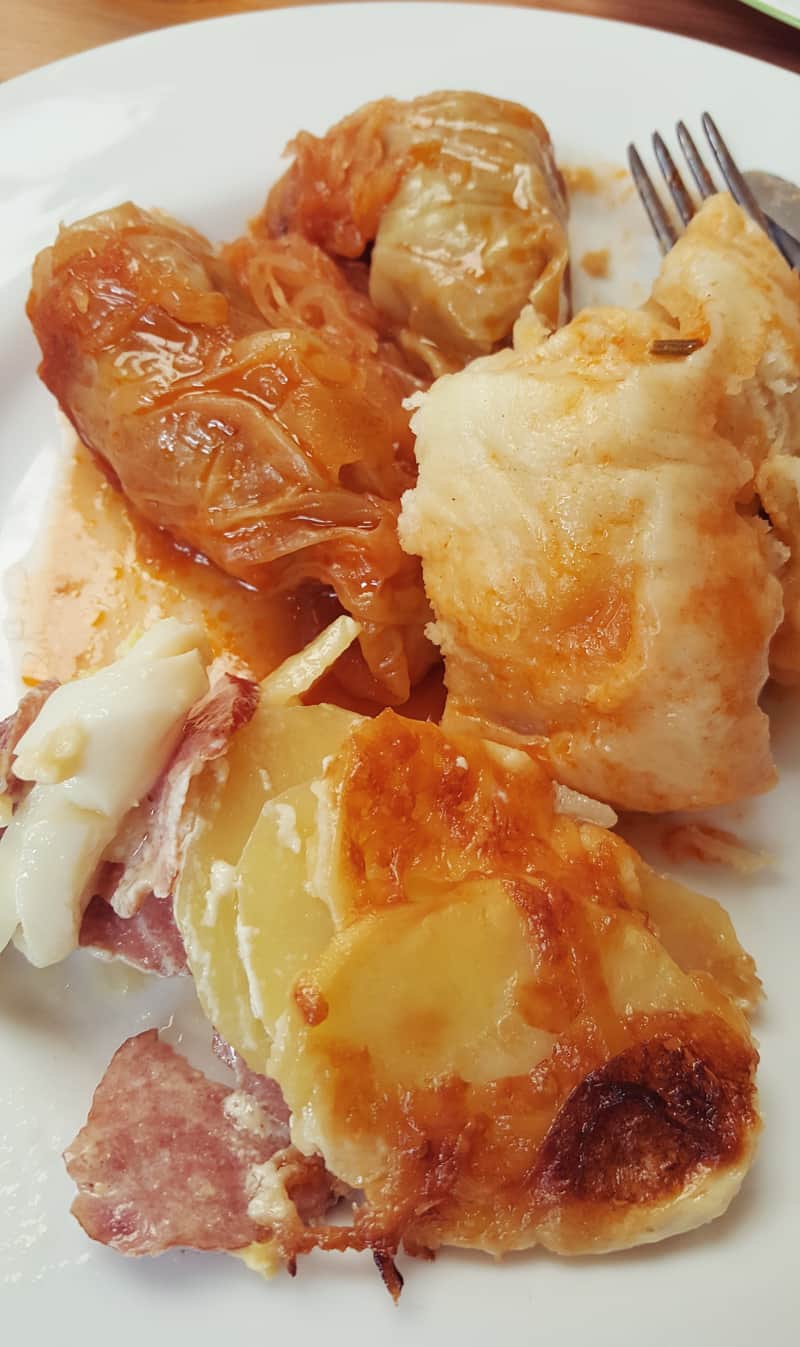 Later that evening Alex and Rene prepared a good old fashion German dinner for us, Wienerschnitzel & Fraenkischer Potato Salad. I am not a huge meat and potato person, but man oh man, that was GOOD! They made the Wienerschnitzel with veal and the potato salad was of the warm variety with a nice hint of citrus. I could go for this meal again any time!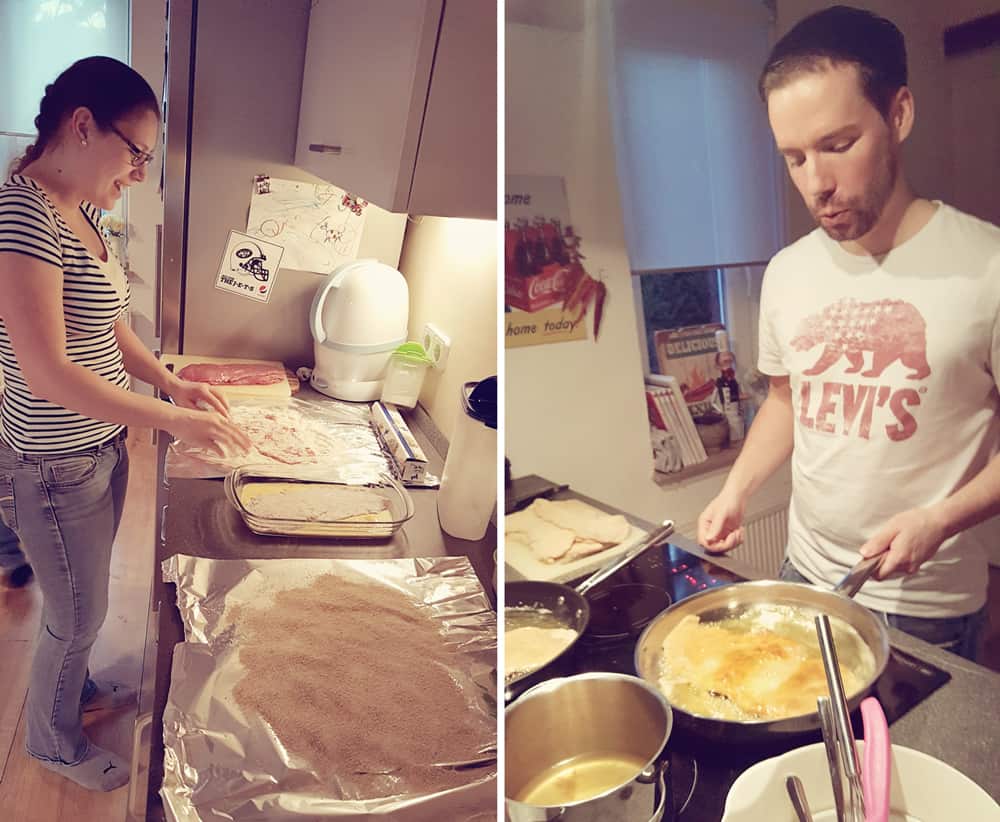 I kept busy holding the baby while they did the heavy lifting! 😉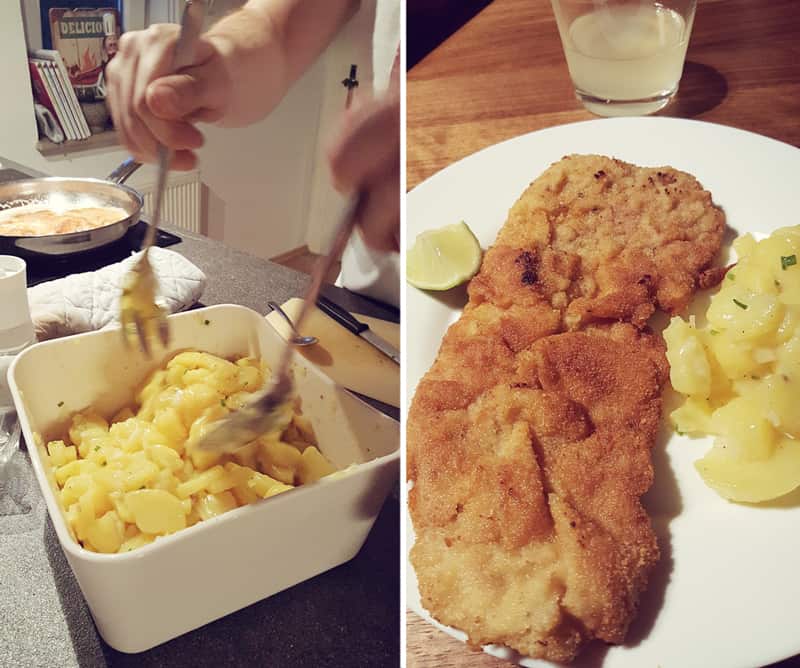 Over the weekend we enjoyed plenty more good food and quality time with family. Alex's baby girl was only 4 month and the perfect age for lots of cuddles!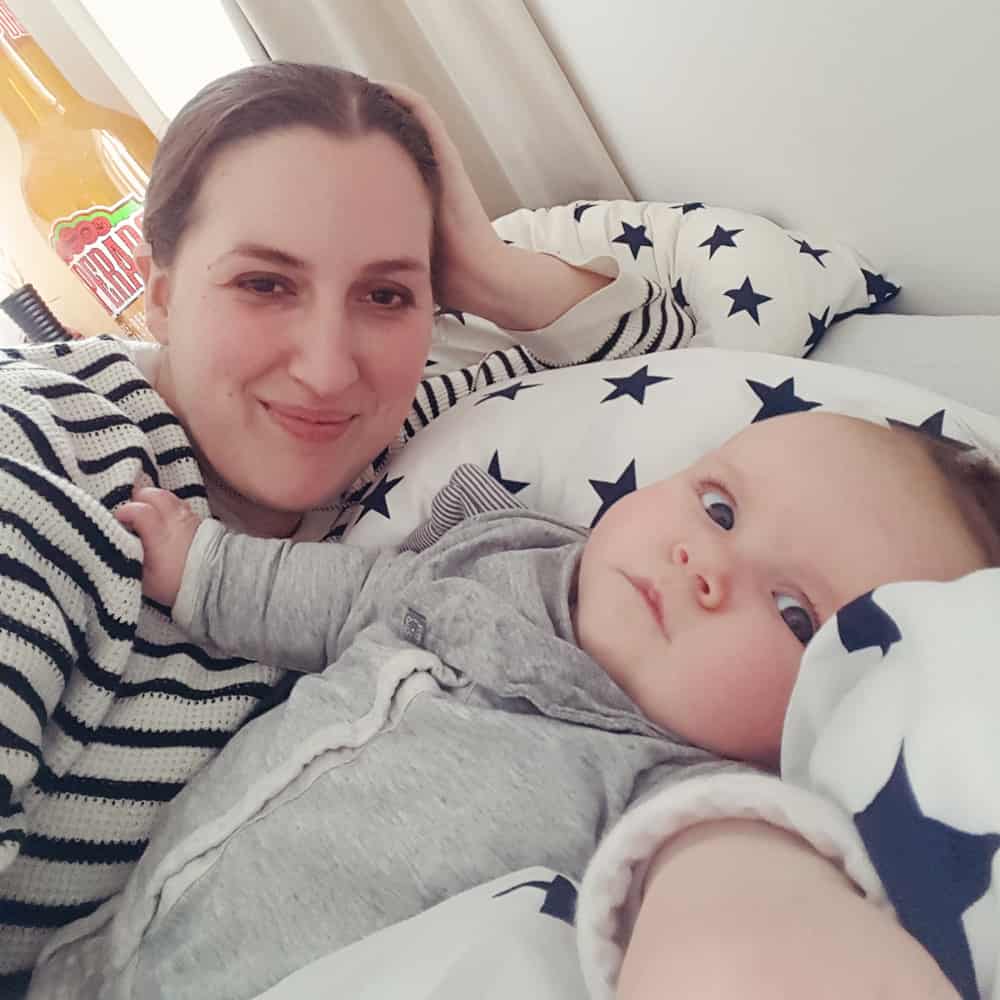 I just had to share this picture of what the German carseats looked like for all you moms. Can you imagine if these were allowed in the states!?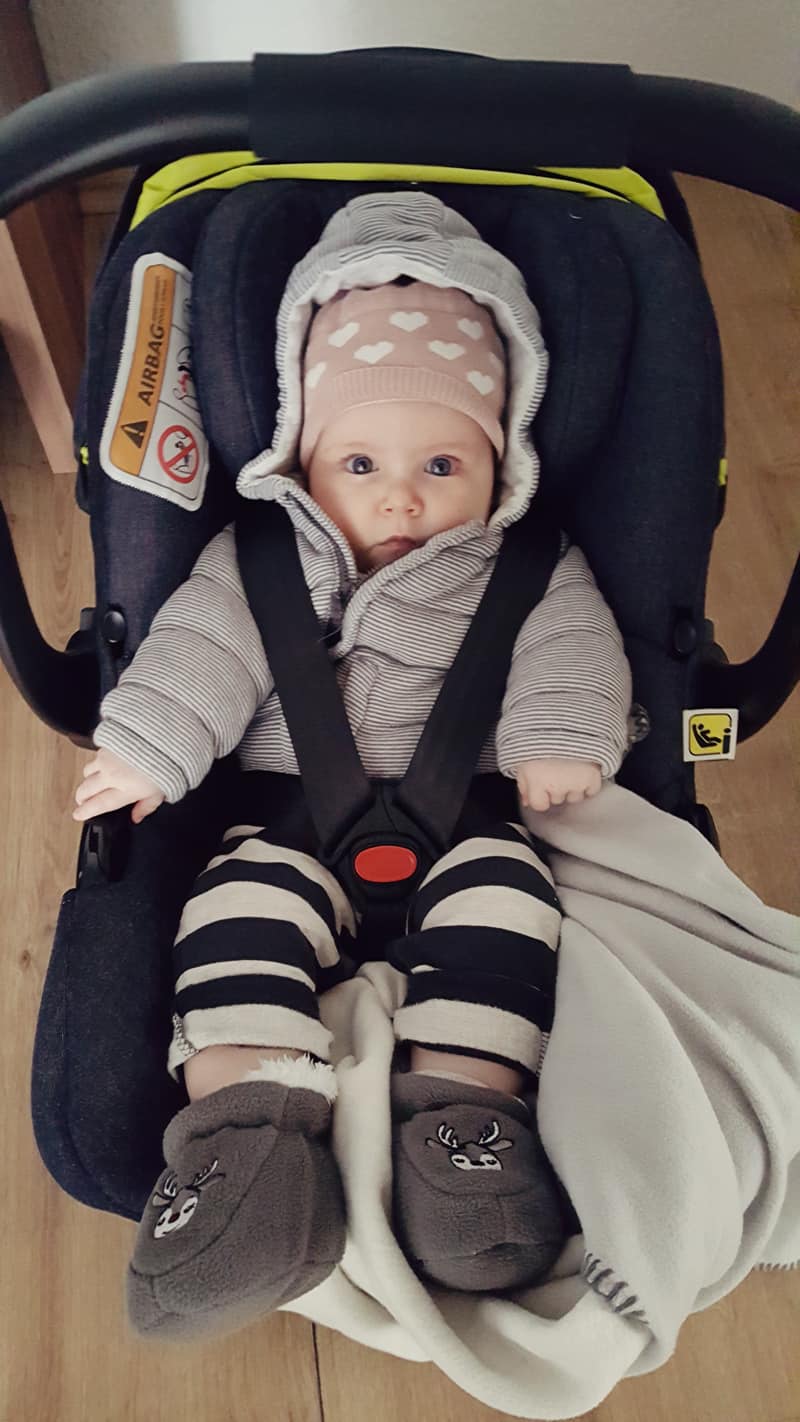 On Saturday evening, two of my friends from Gymnasium (high school) Diana & Arne, came over for dinner. It was so nice catching up with them again! Both of them speak very good English, so it was finally a chance for Matt to be involved in a conversation instead of sitting there wondering what the heck we were all talking about in German.
Perhaps I could have spoken more English to include him during the trip, but this is the only chance I get to practice my German, so I took full advantage of it! It really is sad how much of it I have lost since I was an exchange student 15 years ago. I was fluent and dreaming in German when I lived there, but those days are long gone! I can still communicate on a basic level, but any time I would need a word outside my rudimentary vocabulary, I would struggle.
On another fun note, my new favorite game, Settlers of Catan, apparently is popular abroad as well! They actually owned the game, so we played it one evening which was fun. Matt had not played it yet, so it was finally my chance to teach him.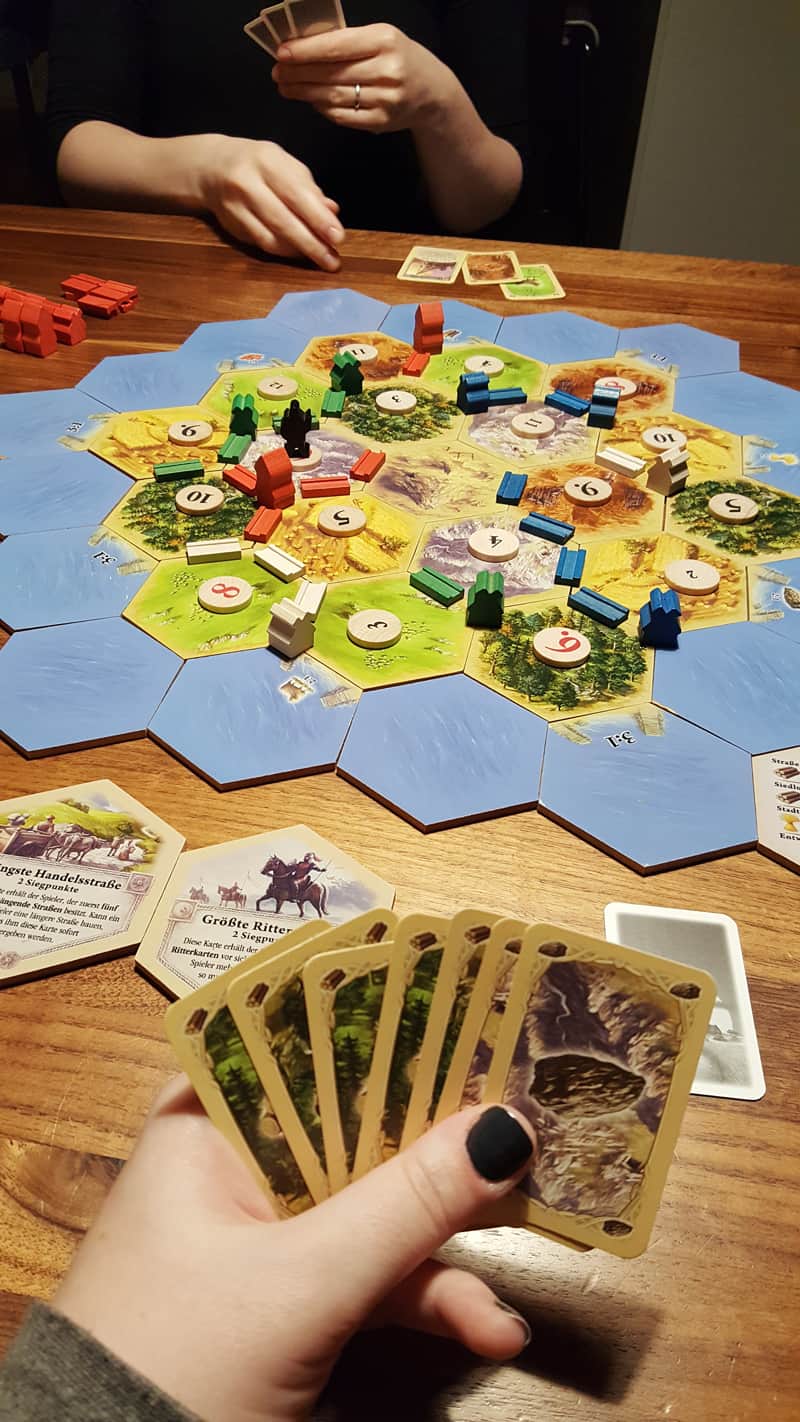 On Sunday morning, we went to brunch with Rene's family. We ate at a traditional Bavarian restaurant which was cool. I absolutely adore breakfast/brunch with the Germans. It consists of Brötchen, which is a crusty dinner roll and lots of cheese, meat, fresh veggies, spreads, jams, etc. Basically it is our lunch, but with far better ingredients! 🙂 After Matt had Brötchen the first time, he remarked to me that he finally understood why I always talked about it. He was a huge fan of their breakfasts as well. Heck, to be honest he was a huge fan of all their food!
On Monday, I was starting to feel a bit better so we decided to get out of the house and do a little sight seeing. We headed to a local castle, but unfortunately it was closed on Mondays.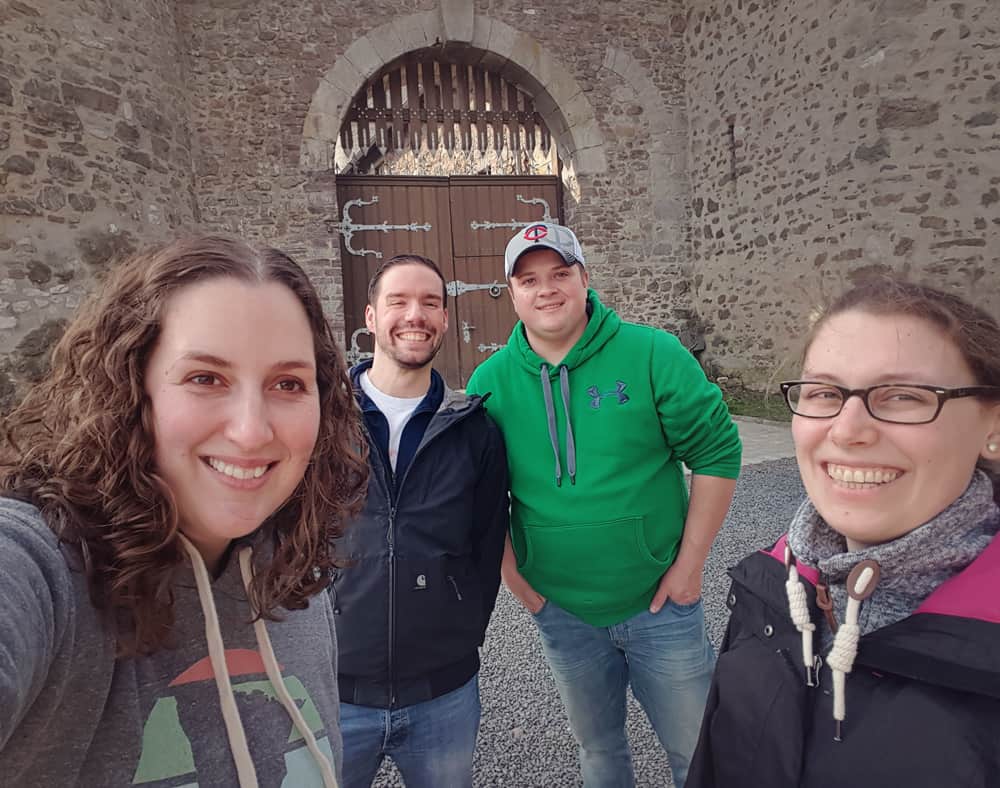 We then headed to a different castle in a neighboring town, which was actually the castle where Alex and Rene were married a couple of years ago. Sadly, this castle was ALSO closed on Mondays. Craziness! Either way, Matt got to see the outside, which is pretty cool in and of itself. I had already seen most of these spots over the years, so I wasn't really missing out.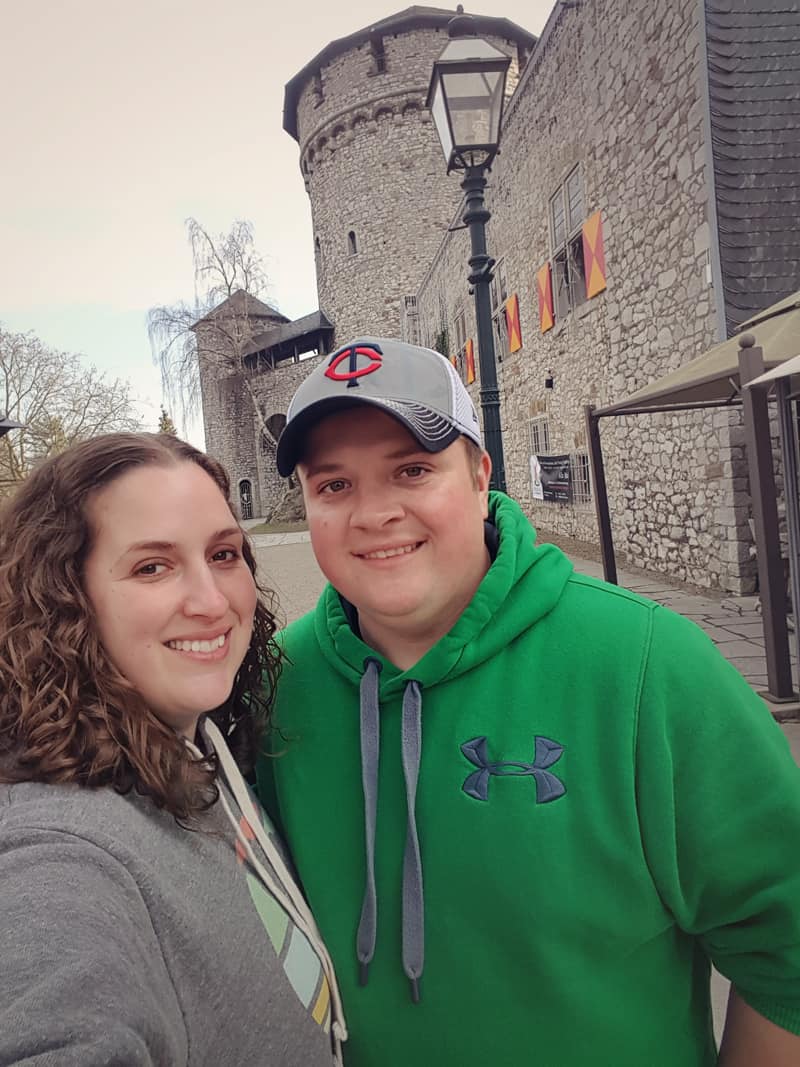 After our failed attempts to visit castles, we headed back to Eschweiler and decided to visit our old Gymnasium (high school). We ran into our old English & Gym teacher, Herr Knipshild, and said hello.
It was so great seeing all of the family again. From Philip, Lisa, Kari & Henni who were a big part of my life while there to my Oma, host-parents and sisters. They are all such amazing people. I truly wish that flights weren't so painfully long to Germany or I would visit far more often!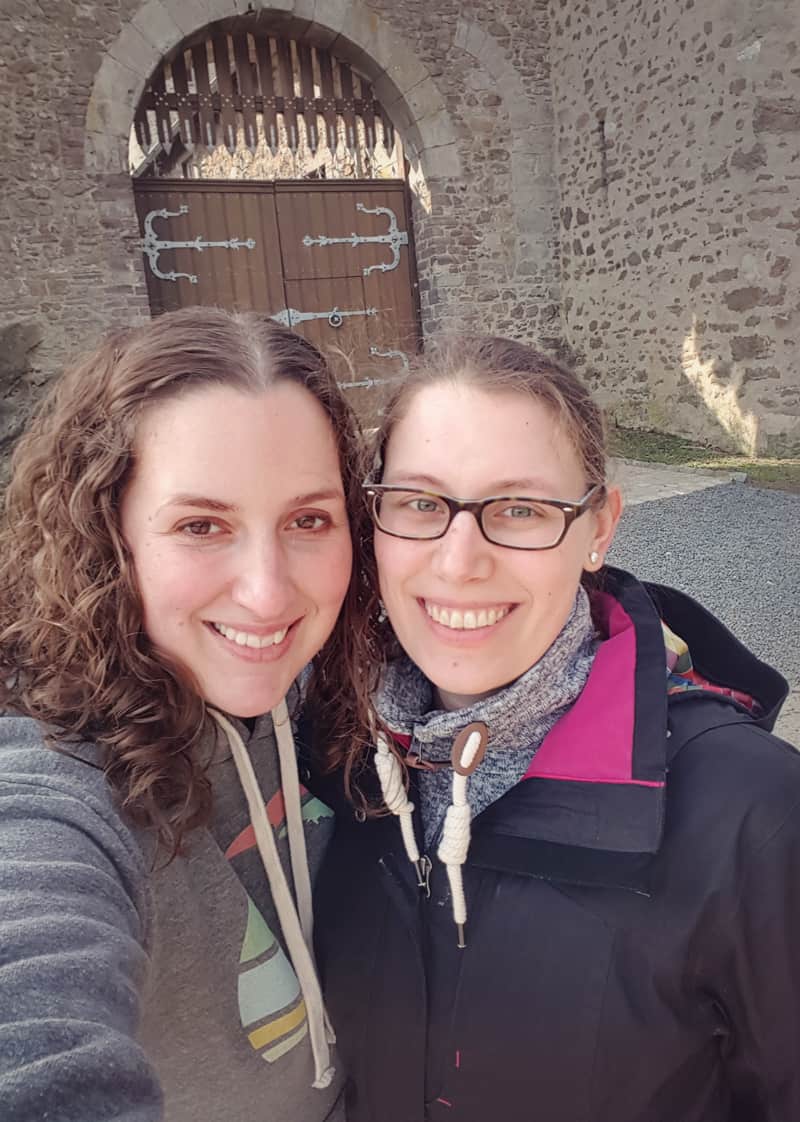 On Tuesday morning, they drove us to the train station in Aachen, where we caught a Thalys train to Paris. It was a quick 2.5 hour trip in comfort! There are far too many photos to add on to this already very long post, so I will have to share those at another time.