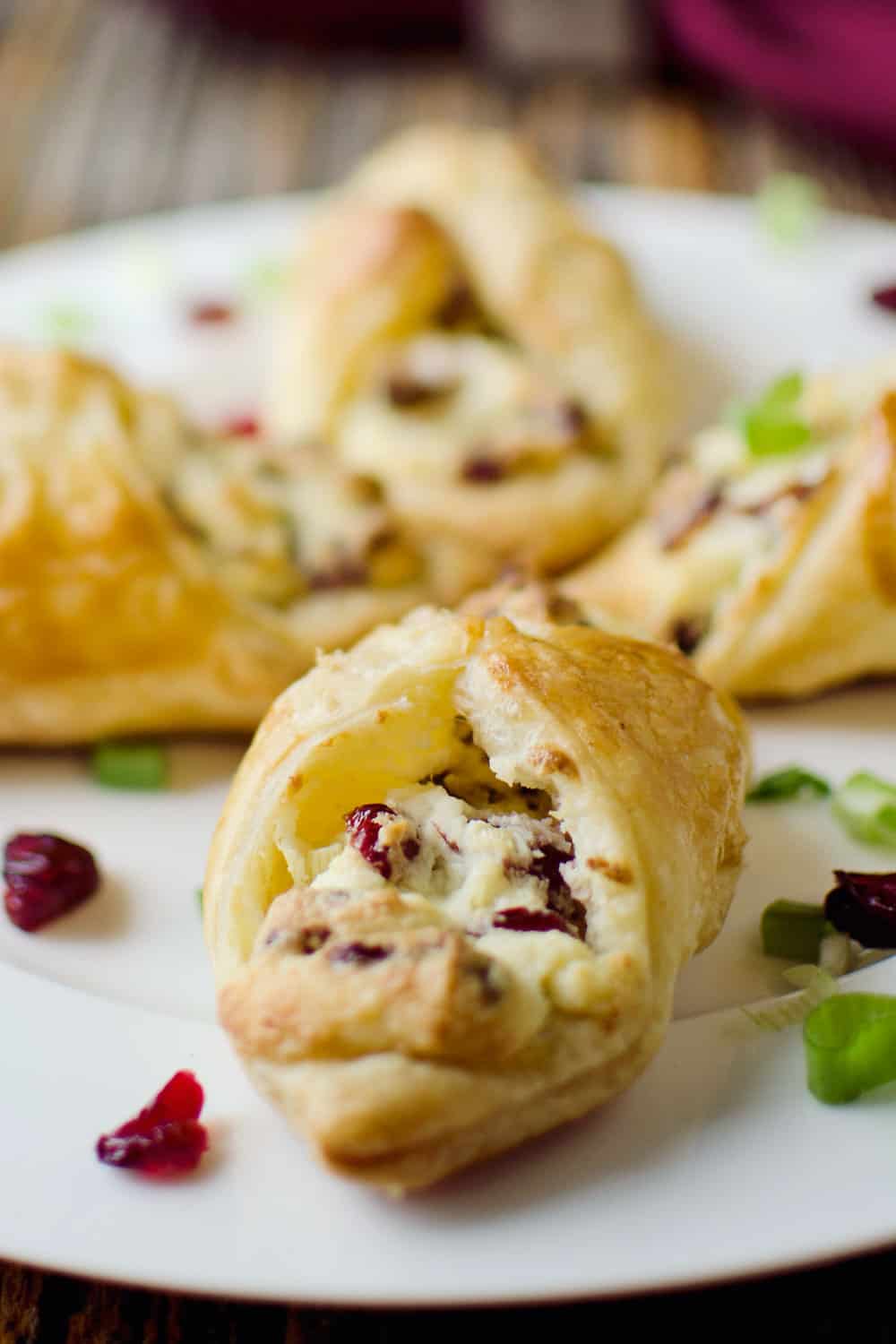 For some reason I used to be intimidated by the idea of using puff pastry. It just seemed like a fancy ingredient that I would mess up somehow. After using it for the first time, I quickly realized, that is the farthest thing from the truth. It is literally as easy as thawing it and cutting it into whatever shape you desire! So don't be intimidated by the use of puff pastry, instead embrace the delicious flaky layers it creates in this tasty appetizer!
This weekend, I finally got a chance to have a date night with my husband because it rained. That is about the only time I see my farmer husband this time of year, so I get rather excited about rain. As we sat down at a nice Italian restaurant, we began our usual debate over which appetizer to share. He is a steak and potatoes guy, and doesn't like the "weird" food that I do. Needless to say, he wanted the mozzarella stuffed bread sticks and I wanted a flatbread with pesto, candied walnuts, cranberries, etc. To resolve the debate, we naturally resorted to a game five-year olds use, rock-paper-scissors!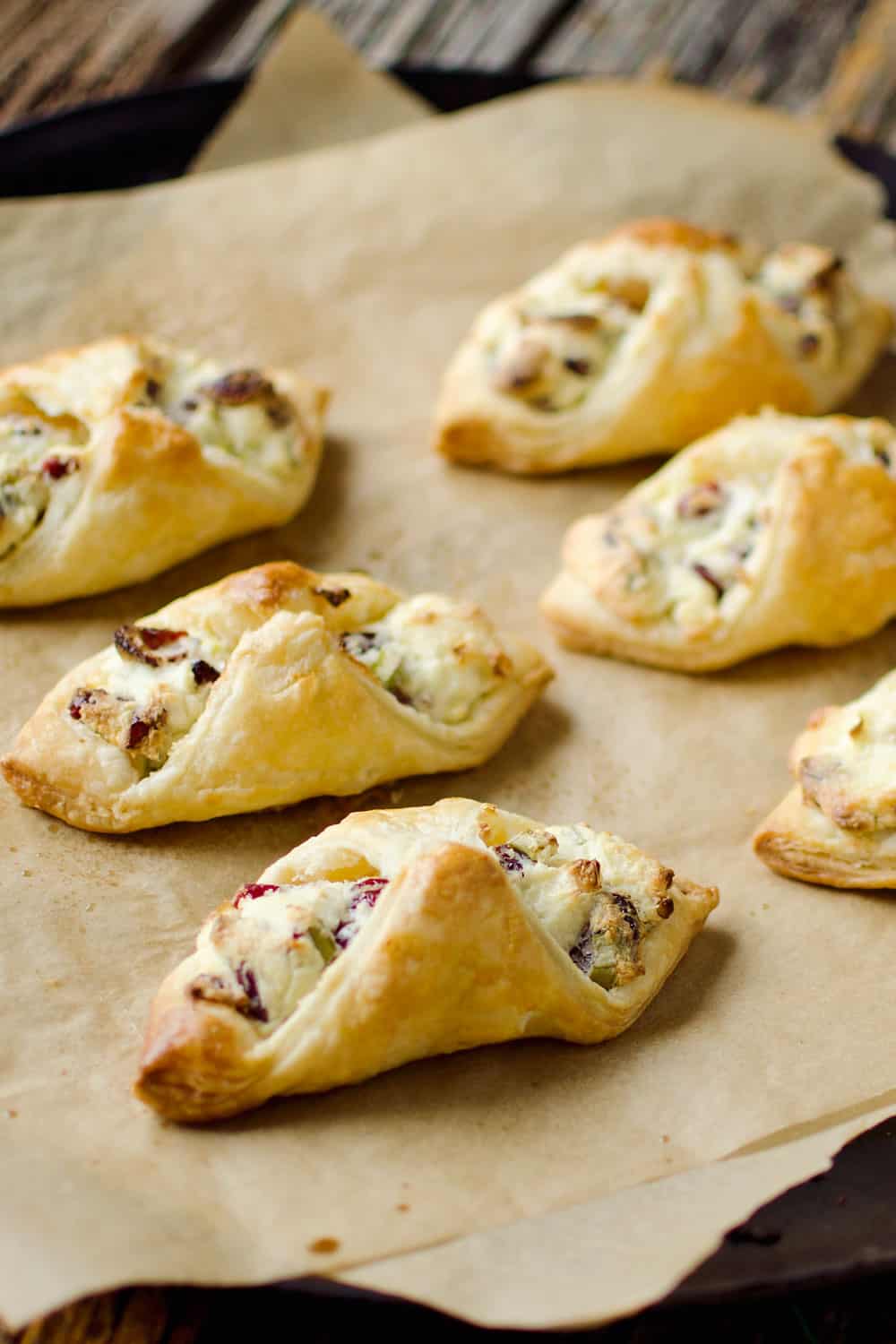 Yup, that was us in a nice restaurant at the table playing rock-paper-scissors, giggling the whole time. I was sure I would win, because I just seem to be lucky with things like that and I REALLY wanted to try that flatbread. Sure as heck though, after about 6 rounds of giggling and miscues, I LOST! Booo! Haha, oh well! So we shared some cheesy bread sticks but I ended up getting the most amazing entree, Chicken Marsala. It doesn't sound like anything special, but it was served over a bed of greens dressed in fig balsamic and wild mushroom risotto, topped with caramelized shallots. SO GOOD!
I need another rainy date night so I can go back for another order of the same thing. My husband might disagree with wanting more rain,  because too much rain isn't great for crop production. With all that said, I love a good appetizer, and these Cranberry and Whipped Feta Puffs are an amazing must-try.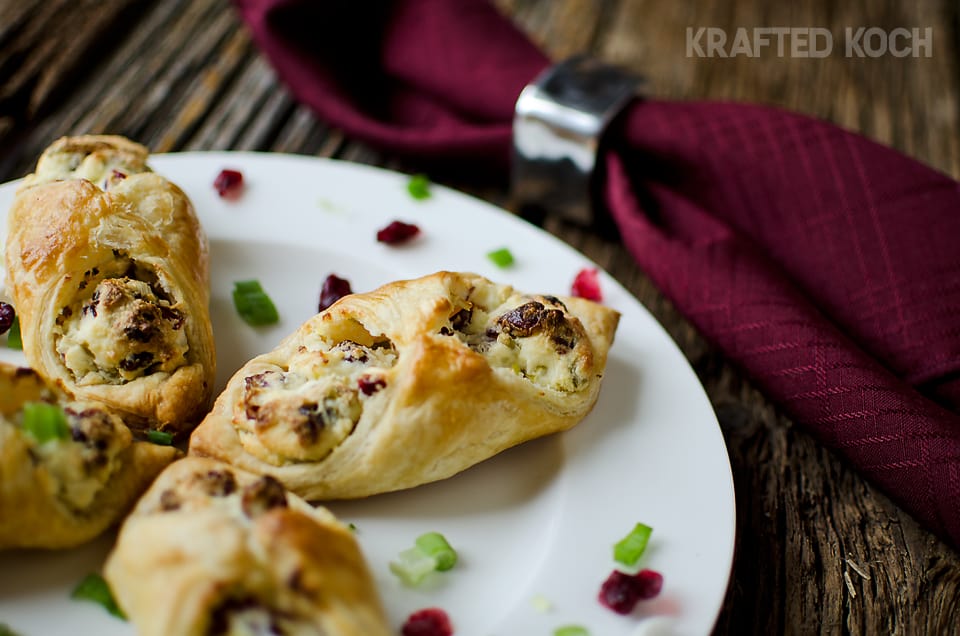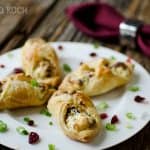 Print Recipe
Cranberry and Whipped Feta Puffs
Golden puff pastry is filled with creamy whipped feta, sweet dried cranberries and green onions for a burst of flavor in a flaky shell!
Ingredients
1

box puff pastry dough

8

oz.whipped cream cheese

1

c.

Feta

1

c.

dried cranberries

2/3

c.green onions chopped

salt & pepper to taste
Instructions
Preheat your oven to 400°. Let your puff pastry thaw in the refrigerator overnight, or sit it out on your counter for a couple of hours. Lay the sheets out flat and cute each sheet into 9 equal squares.

In a food processor combine the cream cheese and feta until smooth. In a medium bowl mix the whipped feta with cranberries, green onions and salt and pepper

Spoon 2 Tbsp. of the cream cheese mixture crosswise up each puff pastry square. Pinch two diagnol corners together, roll the pinched dough under a bit and pinch again. Be sure this is sealed very well or it will puff open when baking.

Place assembled puffs on a lined baking sheet and bake for 22-25 minutes at 400°, or until the puff pastry is golden brown.

Serve warm or at room temperture. Store in air-tight container.
 Looking for more great appetizer ideas? Check these out!